Feroke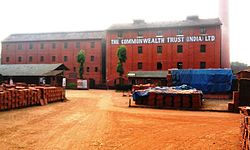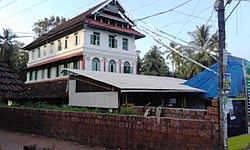 Feroke is a small town near
Kozhikode
in
Malabar
region, Kerala, India.
Understand
Feroke is an extremely beautiful place but the locals have overdeveloped the whole area with functional buildings and criss crossing roads. You have the sea, rivers and other water bodies wherever you look, but you must have the ability to ignore the traffic blocks and mindless commercialization.

Get in
Feroke has a major railway station. Buses are available from
Kozhikode
, 13 km. There is an airport at
Kondotty
19 km.
Get around
Autorikshaws charge ₹15.00 per km
Buses charge only ₹7.00 for three km.
Walking is impossible as numerous noisy motorcycles pester you even in village roads.
See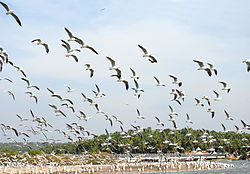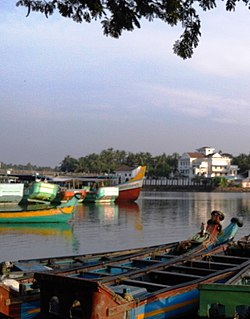 Ayyappa Temple

address: Mannur on Kadalundy Road

Arimbra Hills1,000 m above sea level

Bhagavathy Temple

address: Pediyattu Kunnu

ChaliyamBeach, Lighthouse, Fishing Village.

Childrens' Park

address: Near the Railway Bridge, Cheruvannoor

Very tiny park with swings, merry-go-rounds, and slides. Ideal for taking photographs because of the river, bridge and wooden boats.

Commonwealth Tile Factory

address: Feroke

Elamaram JettyFerry service across River Chaliyar for only ₹5 per head. Take the 4.15 pm bus to Edavannappara. Travel by bus/auto to Elamaram jetty. Cross the river and come back the same route.

KadalundyBird Sanctuary. Birds can be spotted only between November and February. (Herons, Sandpipers, whimbrels and Terns).

Shri Kurumba Temple

address: Mammili Kadavu

Very scenic rriveside footpath ending in a temple. Very photogenic place and ideal for long view photographs of Feroke town on the other side of Chaliyar river.

Shri Subramanya Temple

address: Pazhanchannur

Shrikandeswara Temple

address: Chaliyam

Tippus FortRemnants of a fort of some historical importance, built by Tipu Sultan with a tunnel to the river. This fort is advisible only for adventurous visitors as there is no maintenance and snakes and other hazards can be expected.

Paruthippara villageBuses are available from Ramanattukara bus stand at 6.20 pm and 6.40 pm.
Do
Beypore Sea Walk

address: Pulimoott

River WalkWalk from the Railway Station to the Commonwealth Tile Factory on the bank of River Chaliyar.

Visit a Rooftop farm

address: Chandran farm, Chaliyakath, Cheruvannur

Small rooftop farm growing rice, cabbage, lemon, ladies fingers, peas, carrots, brinjals, spinach, ginger and turmeric.
Buy
Apple Mall

address: Near Railway Station

Preethy Mall

address: Near Railway Station
Eat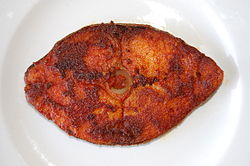 Bhaskar Bakery

address: Opp. railway station

56-year-old bakery (as of 2015)

Century Restaurant

address: Near railway station

No parking facility.

CFC Restaurant

address: Chungam

Parking facility.

Chick n Lezat

address: Pettah

For chicken sandwiches. Parking facility.

Grand Bakery and Restaurant

address: Chungam

Parking facility.

Smitha Hotel

address: Juma Masjidh Road

Snack Bar

address: Inside the railway station

Kadalundy Meenkada

address: Near Puthiyapalam, Kadalundi kadavu

This is a small eatery that functions from a house. Famous for its fish fries and meals. This place is open only during lunch hours from 12 pm to 3 pm every day.

Balakrishnan's Fried Fish shop

phone: +91 8606142305

address: Kadalundy

Speciality restaurant for fish on coconut paste and other ethnic varieties. Parcels need booking before nine a.m.
Sleep
Hotel Monarch

phone: +91 4952482830, +91 4952482690

address: Kadalundy Road

Sadeer Lodge

Soorya Galaxy

phone: +91 9388301018, +91 49524851140

address: Near Koyas Hospital
Go next