Fethiye
Fethiye
is in
Lycia
on the
Mediterranean
coast of
Turkey
.
Understand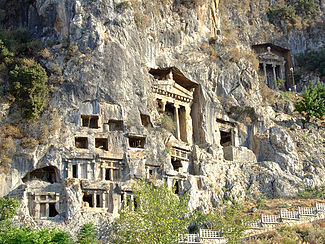 Fethiye is a tourist town with an international atmosphere. It has an excellent marina and good night life. The town also serves as an excellent base for touring the inland countryside, and is probably the only city in the world where you'll find sarcophaguses in the streets. These pre-Roman Lycian relics are especially spectacular when floodlit at night. The town has a population of around 50,000, but the population increases dramatically during the high season, from April to end of October, when off-shore residents spend their summers at their second homes.
History
In
Greek
times, it was named
Telmessos
, a flourishing city on the Glaucus Sinus (now known as Gulf of Fethiye). It was famed for its school of diviners, consulted among others by the Lydian king Croesus, prior to declaring war against Cyrus, and by Alexander the Great, when he came to the town after the siege of
Halikarnassos
. Telmessos was a member of the Delian League in the 5th century BC. It was taken by Alexander in 334 BC.
Orientation
The main area of interest is in the southern part of the city around
Atatürk Cd
covering the tourist harbour, the bar & club area to the
cave tombs
. Most budget hotels are located west from this street near the harbour. Resort hotels are mainly found in the north of the city near the beaches.
Climate
Summers are extremely hot with temperatures well above 40°C in July and August, you should drink plenty of water to keep hydrated which is important in a very hot place such as Fethiye. Winters are cool with temperatures around 14-20°C. Spring and Autumn are the wettest seasons, yet still very sunny, which is the best time to go for people who want a warm holiday that is not too hot like the summer, with temperatures around 20-28°C.
Get in
By bus
Fethiye has direct connections to many cities in the country including
Marmaris
,
Bodrum
,
Denizli
/
Pamukkale
(25 TL, 4 hours),
Antalya
(40 TL, 3½ hours, leaving about every hour),
Izmir
, and
Istanbul
(about 90 TL, around 14 hours) among others.
The
main bus terminal
is about 1 km east of
Atatürk Cd
.
By boat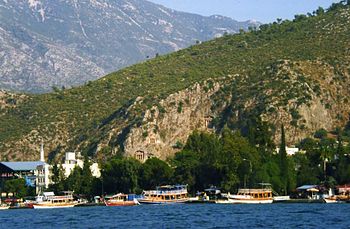 Private cruise companies operate non-scheduled services to
Marmaris
and along the peninsula to
Antalya
.
Day trips on wooden sailboats, called "gulets" include lunch and stops at different places. Prices and quality of food vary so shop around.
"Before Lunch Cruises" provides excellent food on board its three-day cruises. Remember to bring your own towel, soap and shampoo. Bedding doesn't seem "fresh" but looks clean. Boat is very clean. Most people sleep on deck in the summer.
By plane
The nearest airports served by international airlines are at
Antalya
or
Dalaman
. Antalya is about three hours driving and Dalaman about one hour from Fethiye. There is a bus service from Dalaman Airport to Fethiye, run by
Havaş
.
By car
D400
highway links Fethiye with north (
Akyaka
,
Marmaris
, and onward to
Muğla
and
Southern Aegean
) and east (
Antalya
), along the Lycian coast in the latter case. However, from Antalya, there is also a mountain road (numbered
D350
—and
E87
for part of its route) through sparse juniper woods of inner Lycia, that is in quite good condition (if not actually better than coastal highway) via
Korkuteli
, which also has a branch going north to
Denizli
. D350 significantly shortcuts coastal D400, which has a good share of windings on its way along the heavily indented coastline.
Get around
By dolmuş
There are multiple dolmuş busses running through the city.
The Karagözler–Otogar bus runs from the main bus terminal along Atatürk Cd & the port area for 2 TL per trip.

By motorcycle
A great way to get around Fethiye and the surrounding district is renting a motor-powered scooter. It costs about 35 TL, plus gas, for a full day. They are widely available on the streets. The beaches and the countryside are easily accessible. Regular bikes are also available, and the town is very walkable.

See
Cave tombs

The Lycian sarcophagus — There are a number of stone sarcophagii carved in typical Lycian style scattered around the town, with one of the most preserved ones lying in the yard of town governor's office (kaymakamlık) at the main street and other on the middle of the road heading uphill towards the cave tombs and Kayaköy.
Do
Beach activities - swimming, lounging, parasailing, paragliding, canoes etc. The Dead Sea/Blue Lagoon "Ölüdeniz" region has pretty warm water temperatures during summer season.
Hiking - Fethiye marks the beginning of the Lycian Way - a 500-km marked hiking trail running to Antalya. From here you can start hiking to Ölüdeniz, the next stations would then be Faralya and Kabak.
Tuesday Farmers' Market

12 Island Day CruiseAn armada of boats of all sizes leave their harbor berths each day between 10:00 and 10:30 and return at approximately 18:00. While you can charter the entire boat in advance, most are run on a first come first serve communal basis. The typical trip visits 12 islands, including 4 stops of about an hour each, where you can jump of the boat into crystal clear blue and turquoise water. Lunch is usually provided, but ask ahead what to expect. Also choose a boat that seems comfortable to you, is not too crowded and ask if they'll be playing loud music if that disturbes you. Bring your swimsuit, sunscreen, a towel and water.

Yacht charter in the Aegean Sea
Windward Islands, one of the worlds largest yacht charter companies, can take care of all charter requirements, from bareboat to luxury yacht in the Aegean Sea. Operating from 9 offices worldwide (USA, Spain, UK, Germany, Italy, France, Spain, Switzerland, Caribbean, Honk Kong and Dubai).
Paragliding Fethiye is one of the most popular places around Europe to try this extreme sport. The activity starts from Babadağ, a mountain around 1900 m high, and ends on the beach after a nice trip above Ölüdeniz. There are many schools and training centers which can provide training even for fresh beginners, or you are free to enjoy tandem flights which include the pilot and a passenger. Trips can cost in the range of 200 TL and 100 TL for photos (Nov 2017). The following link belongs to a very professional school.
phone: +90 (535) 734-57-87

address: Cloud 9 Restaurant, Oludeniz

Professional pilots for tandem experience. Accepting Bitcoin payments and traditional forms of payment.
Buy
Be informed before you buy a "Turkish" carpet. Do your homework before leaving home. The supply of Turkish carpets is getting low and Chinese copies are being sold. Also, real antiques are not allowed to leave the country.
phone: +90 2526336363

address: Atcilar Sokak no 6

Horseridingstable in Yaniklar with 14 well trained horses for advanced and novice rider. Trail rides and riding holidays
Eat
Good quick eats including a fish-sandwich (
balik ekmek
) can be found in the area just east of the corniche.
The
fish market
in the middle of town is surrounded by small restaurants that will cook your own fish to your liking, very reasonable and delicious.
Pasa Kebap has great meat and vegetarian options at good prices. Upstairs has cushion/floor seating but there is also lots of inside and outside table seating.

Peymane

phone: +90 252 614 0383

address: Eski Cami Sok. No. 7

Cute little family owned place that is a little more expensive than some of the other restaurants in the area, but is still cheap and has more variety and better ingredients. They also have probably the best vegetarian options available in town including a daily special (which is sold at an absolute bargain price).
Drink
If you are going to drink only one local special, let it be the Kar Şerbeti (Ice/snow sorbet). It is a refreshing drink/dessert, basically icy snow, mixed with pectin/grape molasses. The snow is collected from summits of Toros (Taurus) Mountains throughout the year. You can find it easily in the market/bazaar.
Ayran
is a popular yogurt drink some find refreshing. Beer is widely consumed, though neither Beer or Ayran have a special connection with Fethiye. The wines are acceptable, but generally not of a very high standard. You should be careful about the cocktail bars spread around the city, as some of them might be using cheap alcohol to compensate the expenses. Always listen to trusted recommendations.
Coffee
Keçı Coffee Roastery Cumhuriyet Mahallesi (east of the Fethiye Marina). Excellent coffeeshop / roastery, they serve V60, Aeropress, Chemex, etc. as an alternative to ubiquitous Turkish coffee and Nescafe. 14TL for a single serving custom coffee.
Sleep
Fethiye has hundreds of places to stay, like hotels, motels, hostels, pensions, apartments, caravan and camping grounds. They are all spread around the city in different districts. Even though there are a lot of places to stay in downtown, more options available in districts like Hisarönü/Ovacık (10 km from downtown) or Ölüdeniz (12 km from downtown). Many people choose to stay in those districts and travel to downtown for fun, shopping, and sightseeing.
Budget
Yildirim Guest HouseThe hostel has six basic rooms, and three dorms—a female one, a male one, and a mixed one with showers, restroom, television, and internet. This is the only hostel in town with air-con dormitories. Hot water may not always work so check it out. Friendly and helpful staff. Air conditioning and laundry services are available for small additional charges. Smoking permitted outside. Laundry for an additional 10 TL, home-made dinner 10 TL, drinks are same price as shops.

Çim apartments

address: 30. Sk

Run by the very friendly and welcoming Çim, the spacious & clean apartments are a good alternative to traditional hotels/hostels. In the evening Çim may cook a great Turkish dinner for 15 TL pp, and travellers often share a bottle of Rake in the evening. Shared bathrooms, breakfast included, some apartments have kitchen and a washing machine that may be used for free.
Mid-range
Yacht Boutique HotelIs located on the south side of town, close to the yacht pier and international port of entry. Very short walk to the boat tour docks and harbor attractions. Very clean and well furnished rooms with an outdoor pool and lounge. English speaking staff will help you with setting up local activities. Rooms start at around $100/night.
Splurge
phone: +90 252 614-83-60

address: Kalemya Koyu PK: 123

Large resort set on a private bay amidst pine trees, organizing the only international water ski cup in Turkey, with activities such as spa, tennis, fitness, aerobic, step, stretching, basketball, beach-volley, archery and water sports including wakeboard and scuba-diving.
Go next
The Blue Lagoon — a famous (perhaps the most famous in Turkey) beach area located in Ölüdeniz to south of Fethiye, with a pretty nice lagoon separated from open sea by a sandbar. About 30 minutes away by dolmuş.
Saklikent Gorge — a stunning geological site located inland on the Teke Peninsula (between Fethiye and Antalya), about 40 km southeast of Fethiye. This is a great place for a leisurely hike. If you want to explore the gorge a bit further upstream, be prepared for some clambering and getting wet!
Lycian ruins — located on outer islands, take a boat from Ölüdeniz.
Kayaköy Village — a hiking destination, these are the ruins of a Greek settlement abandoned in 1923 when the governments of Turkey and Greece mandated population swaps. Features some well-preserved structures, including a church.
Butterfly Valley and Kabak — two isolated canyons bordering the seashore to the south of Fethiye. They both feature waterfalls. Butterfly Valley is hippie haven (though with the growing interference of the mass tourism) situated in a narrow canyon with almost no overland connection to the rest of the world, while remoter Kabak is the perfect place to escape the package tourist groups, and a great place on the Turkish Mediterranean to camp and have a truly laid-back experience.
Weekly boat tours around the spectacular Lycian coast, also known as "Blue Cruise", all the way east to Olympos can be arranged through numerous companies from Fethiye during the high season (April to October).