Fife
Fife
(
Scottish Gaelic
:
Fìobha
) is a county in the
north east
of
Scotland
. It's a lowland peninsula, with the broad Firth of Forth to the south and the smaller Firth of Tay to the north, and great bridges for its gateways. Its name may derive from the Pictish kingdom of
Fib
.
Towns and villages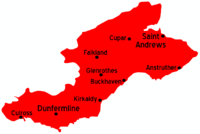 "The Kingdom of Fife" is a mix of urban and rural, in four areas:
West Fife
is close to the Forth rail and road bridges, so it's commuterland for Edinburgh, and there's a lot of industry interspersed with places well worth seeing.
is usually somewhere far beneath as you cross the bridge. Turn off and descend for Deep Sea World and vistas of the bridges.
, a former capital of Scotland, has an interesting Abbey.
just west has a navy base and is industrial.
is a gem, a charming 16th / 17th C restored coastal town.
West, upriver, the coast becomes muddy. The next bridge is Kincardine, for routes to Glasgow and Stirling. The coast is better eastwards:
is a small commuter town on the coast, with a stump of castle.
and Kinghorn are two further towns, then midpoint is
, birthplace of Adam Smith, "the father of modern economics".
Central Fife
is mostly industrial. There is little reason to visit Cowdenbeath, Lochgelly, Kelty or the county town .
however is worth seeing for its ruined palace.
is the last eyesore along the coast, then the view improves.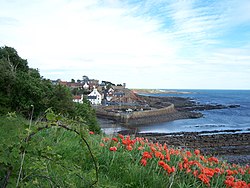 The East Neuk
is the coastal stretch east of Leven. Attractive little fishing ports here are Elie, St Monans, Pittenweem, , Crail and Kingsbarns.
, five miles out to sea, is a nature reserve swarming with birds and seals. It's usually visited by boat trip from Anstruther, occasionally from Crail or North Berwick east of Edinburgh.
North Fife
is close to the Tay bridges, and commuterland for Dundee. Inland are and other small places, but the standout is
, home of golf and the oldest university in Scotland.
Understand

While Fife is often looked upon now as little more than the northern commuter belt to Edinburgh and the town of St. Andrews its people are very proud of their past. Fife has a history steeped in economic achievement - from its founder father, Adam Smith (born in Kirkcaldy) to perhaps the world's greatest businessman/philanthropist, Andrew Carnegie (born in Dunfermline). This current tradition was upheld by the 2007 - 2010 UK Prime Minister, Gordon Brown.

Talk

The major language (as in the rest of Scotland) is English, but the Fife accent can be difficult to understand (for those not used to the variety of accent in the UK, and not as difficult as some areas of Scotland). Many people, as in much of the rest of Scotland, use a form of English known as 'Lallans' or Lowlands English which does include some words that you may not be used to (for example "aye" for "yes" or "ken" for "know").
"Braw" is used locally as a word for general approval that you may be unfamiliar with (even having experience with speaking to Scottish people). As in "That'd be braw" meaning "That'd be fine/great", or simply "Braw!" meaning "Great!" or "OK!".
However, you need fear not! Speaking (standard/normal/American/Australian/English) "English" will not make you incomprehensible to Fifers, and Fifers will generally try to make themselves understood to you if you have problems with the dialect (I wouldn't push it too far in a pub later on in the evening, however).
As with the rest of the UK do not expect foreign language capability to be great, or even good (with the possible exception of areas such as St Andrews where the people are more used to tourists). Most people are educated in French or German, some in Spanish or Italian, but generally not to a conversational level (that they remember!). There are, of course, exceptions to this rule.

Get in
By plane
Close to Fife is (
EDI
). It has a good range of flights across Europe, to London and elsewhere in UK; and it's west of the city so you can connect without getting embroiled in city traffic. To Fife, take the direct Stagecoach Jet 747 bus from Airport Stop G. This runs across the old Forth Road Bridge to Inverkeithing and Halbeath Interchange, 45 min. It costs £6.50 single and £12 for a return within 28 days, and runs daily 24 hours, every 20 mins daytime. Change at Inverkeithing for trains to Dunfermline, Kirkcaldy, Markinch (for Glenrothes), Ladybank, Cupar, Leuchars (for St Andrews) and Dundee and points north. Change at Halbeath for local buses around Fife.
Other options from Edinburgh Airport are to take the airport bus or tram to Haymarket for trains north. Or with a hire car, turn west and within ten minutes you're crossing the new Forth Bridge into Fife.
Glasgow Airport (GLA

)

has good connections across Europe, but it's wrong side of Glasgow for Fife: reckon a 90 min to two hour drive to most parts of the county.
You're unlikely to use Dundee Airport. It has a twice daily flight to London Stansted but that's all.

By train
LNER daytime trains run from London Kings Cross via Peterborough, York, Newcastle and Edinburgh to Dundee and Aberdeen, stopping at Inverkeithing, Kirkcaldy, Markinch (for Glenrothes) and Leuchars (for St Andrews). Scotrail trains from Edinburgh (and a few LNER from London) to Inverness stop at Inverkeithing, Kirkcaldy, Markinch and Ladybank, then Perth. From Birmingham, Manchester and Glasgow, head for Edinburgh and change at Haymarket. Overnight from London, take the Lowland sleeper from Euston towards midnight (not Sat), arriving in Edinburgh around 07:00, and change to a daytime train to Fife.
The last leg of the journey is usually on the Fife Circle train, which runs from Edinburgh twice an hour (M-Sat; Sun hourly) each way round. All trains run from Edinburgh and Haymarket over the Forth Bridge to Inverkeithing and are displayed as "Glenrothes with Thornton", whch is railway-speak for Thornton 3 miles from Glenrothes, you'd better have a taxi organised at the other end. From Inverkeithing two trains per hour continue east along the coast, stopping at Dalgety Bay, Aberdour, Burntisland, Kinghorn, Kirkcaldy and inland to Thornton, then anti-clockwise to return. And two trains per hour continue from Inverkeithing on the inland, clockwise loop to Rosyth (for Royal Navy base), Dunfermline Town and Queen Margaret, Cowdenbeath, Lochgelly and Cardenen to Thornton; then they return along the coast to Kirkcaldy, Inverkeithing and Edinburgh. It's sometimes unclear which "Glenrothes" train is coming into the station, so if in doubt at Edinburgh or Haymarket just hop on, and you've got until Inverkeithing to check whether to stay aboard or step off and await the following train.
The Fife Circle trains don't reach Markinch, Leuchars (for St Andrews) or Dundee so for these you need the Dundee / Aberdeen trains.

By car
Use the M90 motorway to access Fife from the north (Perth) or south (Edinburgh). A92 gives access from Dundee/Aberdeen. Also easy access from Stirling to Kincardine/Dunfermline via A985. A92/A985/A91 are major trunk routes through Fife.

By bus
Major bus stations in Kirkcaldy, Dunfermline, Glenrothes, St Andrews and a bus interchange in Cupar are served by Stagecoach among others (for example, some Megabus services make stops at Inverkeithing). There are also a few independent operators in the region, like Moffat and Williamson ltd. in North East fife. Tickets are not valid between operators however slightly more expensive multi-operator tickets are available in the region, in North East and East Fife (as well as parts of neighboring Angus and Dundee) the ABC multi-operator ticket is available on Stagecoach, Xplore Dundee (National Express) and Moffat and Williamson buses on a smart-card; there are also other tickets available on different schemes that have a wider reach and scope. See above for details of getting to Fife by bus from Edinburgh Airport.

Get around
Roads are in generally good condition and not too crowded. The only motorway (the M90) passes straight through Fife, and the dual carriageway network is limited - so only drive if you feel comfortable on single carriageway roads, and some even smaller roads. To get around most areas (including to get to St Andrews) you will need to take trunk roads and through towns. Many of these towns have traffic calming schemes in place that can be difficult to negotiate (for example in Colinsburgh) or have through roads that are very narrow (or have parking on one side) where traffic can only really pass in one direction at a time (for example in Kingskettle). Don't let this put you off, though - take your time and remember to drive on the left (keep yourself as driver and the steering wheel towards the center of the road at all times, just as at home!) and you can see some of the best parts of Fife - the North Fife Tourist trail through the East Neuk is a fantastic route to drive to St Andrews, stopping in the picturesque villages en route. Falkland has some bad blind corners, so take care.
Stagecoach Fife Bus 7 runs along the coast from Dunfermline to Inverkeithing, Dalgety Bay, Aberdour, Burntisland, Kinghorn, Kirkcaldy and Leven; M-Sat every 30 min and hourly on Sun.
Stagecoach Fife Bus 95 runs along the East Fife coast from St. Andrews to Leven via the picturesque East Neuk.
Stagecoach Fife Bus 99 connects Dundee and St. Andrews via Leuchars Station and is very frequent.
Stagecoach Express buses (buses with an 'X' prefix like for example the X26 which operates between Dundee and Glasgow via Fife) connect most major towns in Fife and can be a convenient and inexpensive alternative to the train. As a bonus these services often have free WiFi on board, though service can be patchy in rural areas and some buses are not yet fitted with high speed WiFi.
Moffat and Williamson operate the 64 bus from St. Andrews to Glenrothes, via Ladybank, this bus can be a useful way to explore North West and parts of North East Fife, connecting Cupar, Falkland, Auchtermuchty and St. Andrews without having to change bus. If travelling end to end it may be better to catch a more direct bus as the total journey time is around two hours.
Town service buses operate in some of the larger towns in Fife, as well as limited on-demand taxibus services some of which may be used by members of the public. Town services can be a good option for getting around medium sized towns quickly.
Bus and rail services are excellent (the 'Fife Circular' service runs from Edinburgh Waverley to all train stations in West and Central Fife. The main line service runs to Inverkeithing in West Fife, Kirkcaldy in East Fife and Leucars in North East Fife.)
There is an excellent series of cycle tracks throughout Fife. The cycle route from Edinburgh to Aberdeen also passes through Fife.
On foot you can take the Coastal Path which starts (and ends) at the Kincardine, Tay or Forth Road Bridges.
See
Culross 16 / 17th C village
The Secret Bunker: built as a control bunker for a nuclear war, now open to the public. It's near Anstruther.
East Neuk: charming, photogenic fishing villages, notably Elie, Pittenweem, Crail and Anstruther.
Kirkcaldy Museum and Art Gallery.
Falkland Palace, where Mary Queen of Scots was a girl.
MacDuff's Castle, near Leven
St Andrews of course.
Do

Get on your bike and enjoy the marvellous cycle routes
Visit the county's many fine parks (Beveridge in Kirkcaldy, Pittencrieff in Dunfermline, Lochore Meadows, etc.).

Eat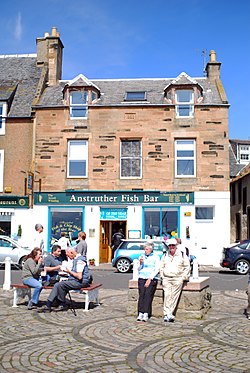 For Fish & Chips (or Ice Cream!) try the Anstruther Fish Bar , which has won awards. Be ready for a long queue at busy times, though.
The Pavilion in Elie is actually a (golf) pavilion, but offers good food (including local seafood) at a decent price. It's also an Internet Cafe.
If you're more adventurous, try lobster directly by the harbour in Crail (look for the small wooden hut).
Drink
Fife has many pubs: The Alpha Bar in Kirkcaldy; The Valleyfield Bar in High Valleyfield; Shardays in Lochgelly all offer a truly local experience.
The Stag Inn in Falkland is a nice pub with a pubby atmosphere. Cash only!
The Harbour Bar

address: High Street, Kirkcaldy

Fife's only pub with a micro brewery and a former winner of CAMRA's Scottish pub of the year and U.K. runner-up.
Sleep
Fife has a vast number of places offering accommodation. One of the easiest way to find them is using one of the following sites.
http://www.visitscotland.com .The accommodation page of Visit Scotland gives you access to accredited accommodation all through Scotland.
http://www.astayinfife.co.uk . Links to a selection of top quality B&Bs in Fife.
Stay safe

Crime in Fife is low, and serious assaults are uncommon. As always, it makes sense to avoid badly lit areas at night, especially in large towns, even though there is a slim chance of crime. Fife is served by an excellent police service.

Go next
If you head up the coast towards Aberdeen, don't overlook rejuvenated
Dundee
.