Figueres
Figueres
is a small city in
Catalonia
,
Spain
with a population of 40,000. It is the seat of the Alt Empordà county in the
Girona Province
and has a wealth of history spanning many centuries that has been preserved and shown in several museums in the area and in the compact Old Town. Being the last major town before the Spanish/French border, it serves as a fantastic base to explore the upper Empordá region that is awash in great food, wines, and beaches that represent the Catalan culture.
Understand
The city's main attraction is the world famous museum of native son, Salvador Dalí . After the Prado in
Madrid
, it is the most visited museum in all of Spain. It is often seen as part of a day-trip from
Barcelona
or the packaged hotels of
Costa Brava
.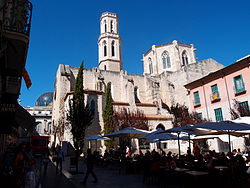 But beyond the museum, Figueres can be a pleasant place to spend a night or two. The town, much like Girona, is a relaxed alternative to Barcelona with cafés on side streets, and a compact Old Town core. The Empordà region in general will appeal to those interested in the history and/or burgeoning viticulture and gastronomy of Northern Catalonia. Figueres works well as a base for day trips to these destinations. Figueres is also 15 minutes by car or 25 minutes by train from the beaches of the Costa Brava.
The name of the town means 'fig trees' as they used to grow in great abundance around the area. Local youth often refer to the town as 'Figui' for short.
History
Figueres descended from two Roman towns, Juncària and Figàries, but the establishment of the town really started to happen in the 10th century as stated in records from the Sant Pere Monastery that was located where the Sant Pere church is today. As it was not an outpost border town in the Marca Hispanica (such as neighboring
Besalú
or Peralada), it was of little significance until it was made a Royal Town in 1267 and then much later, when the Sant Ferran castle was built from 1753 to 1766.
Once the castle was finished, fortunes changed a great deal for Figueres as it became the supply base for the castle. The population grew and it started its course towards being the major town of the region, despite occupation by Napoleon's forces from 1808-1814. Between 1831 and 1840, the Rambla was created by covering a dry riverbed, and became a center for the town. The shade trees that stand on the Rambla were planted in 1864. In 1877, the railway station was opened. In 1904, the town's most famous resident, one Salvador Domingo Felipe Jacinto Dalí i Domènech was born.
The Spanish Civil War (1936-1939) was quite hard on the town. The castle became the last outpost for Republican Spain and Franco's forces bombed the town with great ferocity. As was the case with a lot of the surrounding area, many structures were lost in the war, including the main theater, which stood in ruin for several decades.
Upon attaining critical and financial success around the world, Dalí bought the old theater in his home town and converted it in to the museum that we see today, and which is a major draw of tourism to the town.
Talk
As Figueres is in Catalonia and Catalonia is an autonomous part of Spain, everybody in Figueres can speak
Spanish
, albeit to varying degrees. Although
Catalan
was banned by the Franco regime and Spanish was the only language, the older generation above 60, when speaking Spanish, will often speak a form of "Spatalan", which is mostly Spanish but with a lot of Catalan tossed in. It can be difficult to understand at times for foreigners. Catalan is as separate a language from Spanish as French and Italian are. It is not a Spanish dialect.
Northern Catalan, which is spoken here, is strongly influenced by French through the interchange with French and Catalan speakers across the border . Such dishes as 'pa amb tomaquet' (bread with tomato) become 'pa amb tomate' with a soft 'uh' sound at the end. There are many more examples and one of the most difficult is when they say words that end with 'o' and say it with a long 'u' sound. If you make the effort to say neighboring town names in Catalan, make sure you understand the pronunciation and if you say Barcelona pronouncing the Castillian 'th' sound for the 'c', people will assume that you are speaking Spanish.
The generation under 35 will generally speak some if not a good deal of English and French. Some people may speak a little Italian and oddly enough, there is a large Russian-speaking community in Figueres.
Get in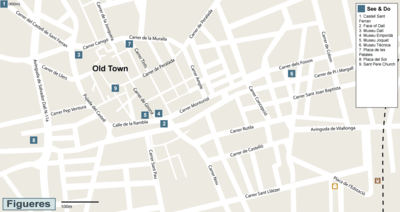 By rail
The
Renfe website
's English language version is a very solid reference, although other languages remain spotty at best. Due to the continued construction work, it is often advised to verify with the ticket agents at the station if your arrival time is crucial and make sure to double check for national holidays as few trains run.
Local
Figueres Local StationFrom Barcelona, take a train from Barcelona Sants, Passeig de Gracia, or El Clot-Aragó. A round trip ticket on the express or, Media Distancia (formerly Catalunya Express prior to the separation of Renfe in to two entities) line costs ~€28 and takes about 1 hr 50 min depending on delays for construction of the high-speed rail between Figueres and Barcelona, which can be anywhere from 5–45 minutes. The local ("Regional") costs ~€21 and takes around 2 hr 10 min. The local train station is 10 minutes on foot from the museum with clear signs pointing the direction. If you get lost, everyone in town knows exactly where it is if you ask for 'Dalí'.
All trains from Barcelona also stop at
Girona
on their way to Figueres. From Girona, it is a difference of 10 minutes in travel time between the different lines, although the Regional is 25% cheaper.
High Speed
Figueres Vilafant stationFigueres is (as of 2017) the only point where the French and the Spanish standard-gauge high-speed rail networks meet. The TGV and AVE high speed rail systems allow direct service to Paris in approximately 5 1/2 hours from Figueres and less than an hour to Barcelona with a stop in Girona. Because the "Figueres-Vilafant" station for the high-speed lines is in the neighboring village of Vilafant which is ~2 km from the center of Figueres, there is a bus which meets every arrival at the station. This bus, which will wait for the train if it is late, goes to the center of the town and the Figueres bus/train stations.
By plane
Girona/Costa Brava AirportThis airport is served by a number of flights, most notably by Ryanair who markets the airport as being closer to Barcelona than it actually is. There is a bus directly up to Figueres from the airport on Barcelona Bus (operated by Sagales.) The schedule for this bus is not ideal outside of summer months and so it is more advisable to take the bus to the Girona train station and take the train up to Figueres. There is also a bus by the same company to and from the airport and Barcelona that is quite frequent, if one is trying to schedule in Figueres with a Barcelona trip.
By bus
The bus station in Figueres is directly across Plaça de l'Estació from the train station with regular connections to Barcelona (stopping at Estació del Nord) and other destinations in Catalonia and up to Southern France.
Get around

All the sites for the vast majority of tourists going to Figueres are easily reached on foot, and there are plenty of benches and public spaces for a rest in the shade if one gets tired while walking around.
For those looking to travel outside of Figueres to smaller, historic towns, castles, restaurants, or wineries, there are several car rental offices (Europcar, Enterprise, Avis) next to the train station, although it is strongly advised to book ahead online to get better rates than just showing up.

See
Museums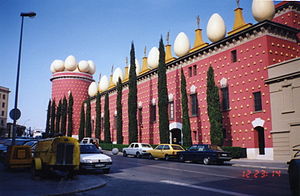 Theatre Museu Gala Salvador Dalí

phone: +34 972 677 500

address: Gala-Salvador Dalí Square, 5

This large museum is mostly devoted to the work of Salvador Dalí, who spent many years in his later life designing and living in it; the museum itself is Dalí's single largest work. Depending on your level of interest, a visit to the museum can be anywhere from one hour to most of the day. The central building was the old town theater, long vacant after being bombed during the Spanish Civil War. Even art fans who are otherwise lukewarm to Dalí's general artistry can find visiting here a rewarding experience, and may come out with new appreciation for the eccentric genius. The museum also contains displays of other Catalan artists, and Dalí's personal collection of work, ranging from old masters to Marcel Duchamp. Note that Dalí's most famous work, 'The Persistence of Memory ', is not in this museum, but in New York City's Museum of Modern Art. Many other major works were removed by Spanish authorities shortly after his death and displayed in the Prado, in Madrid. Usage tips: Reservation is not essential, but it will likely save you from spending half an hour in a queue. You can have audioguide for €1 per roomalthough Dalí's original concept was to not allow any guides explaining anything to visitors: they should understand as much as they're able to without help. Crowds are large during the summer months. Weekends are best avoided as the experience will not be pleasant. Also to be avoided are cloudy days in the summer as those on a beach holiday will inevitably make a trip to the museum to be their day event as the beach is less than ideal.

phone: +34 972 504 585

address: Sant Pere, 1, hotel París

A museum dedicated toys with more than 4,500 toys from many periods in history. It has toys from famous Spanish people, including Dalí.

phone: +34 972 502 305

address: Rambla, 2

This is the regional museum for Empordà on the Rambla in the center of Figueres. The displays range from archaeological objects like ancient Greek vases found in the area to Baroque and 20th-century paintings. The modern art collection pales in comparison to the Dalí Theater Museum, but it contains a few works of interest among many more mediocre pieces for art fans making an unhurried visit to Figueres.

Museu de la Tècnica de l'Empordà

phone: +34 972 508 820

address: Carrer dels Fossos, 12

A museum of various technology through the ages that has grown out of the personal collection of a couple started 30 years ago. On the 2nd floor is an absolutely breathtaking collection of antique typewriters. Opens only for a few hours depending on season.
Landmarks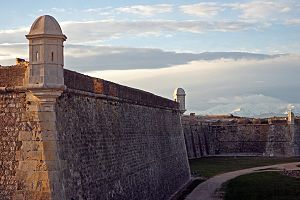 phone: +34 972 51 45 85

Billed as the largest castle in Europe, this is the primary reason why Figueres became the prominent town in the region as it acted as the commercial base for the castle which was built in the mid 18th century. It has a long history of being a prison (from the north side, you can see the new provincial prison across the highway), and was occupied by Napoleon's forces. Visiting it is a pleasant 10-minute walk straight up from the Dalí Museum. Walking around the perimeter of the castle is a flat, 3-km walk that gives a splendid view over the Empordà Plain out to the sea. Locals regularly come up to castle to walk or run around it as it is free to walk around and always 'open'. The interior is also viewable with hours that change depending on the season of the year and reasonably priced (€3 for an adult with free audio guide). Additionally there is a café inside the castle for those looking to relax.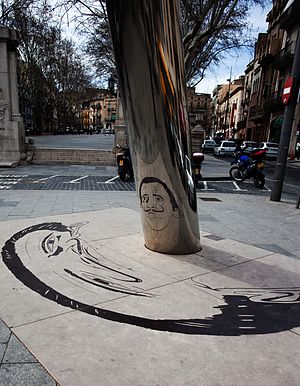 The Face of DalíAs an homage to their native son, the town of Figueres placed a surrealist tribute to him at the base of the Rambla. His face is stretched out and distorted when seen flat on the ground, but when viewed in the convex mirror next to it, it appears correct. Anyone who arrives from the train or bus station will pass this on the way to the museum and it makes for a free photo opportunity and introduction to the world of Dalí.

Figueres Old Town StreetsFigueres was settled along a river aptly named the Riera de Figueres. The boundaries of this river formed the core of the town that grew a good deal once construction on the aforementioned castle took place. In the early 19th century, the river was covered and became what is today the Rambla, which explains why the Rambla is such a central part to the town and a haven for those wanting to sit in the shade of the massive trees that line it. The streets retain their old charm and while not as historic as the pedestrian areas in Barcelona or Girona, Figueres is quite pleasant to walk around with any number of big brands shops mixed in with local businesses. Depending on the time of the year, there are often fairs or local vendors selling in the Rambla and main squares in the area, which provide additional entertainment.

Plaça de les PatatesThis historic square was named 'square of the potatoes' as it used to be where the Farmer's market for vegetables was held up until the 1950s. These days, this is a quiet square flanked by large shade trees and the façades of 17th-century buildings. While tranquil during the day, it is rather lively at nights, especially during the summer due to the two bar/cafés that have opened on the square. While the main local "scene" is still up on Plaça del Sol due to the row of bars and parking lot up there, many come to this square as it is a more pleasant atmosphere in the pedestrian zone where one can meet with friends and sit outside for a drink during the hot summer months.
There is an informal but large vintage and classic car museum on the road from Figueres to Empuriabrava-beautiful cars some fully restored and some for sale going back to the 1910s.
Do
City festivals
Every town in Spain, no matter what the size has a day of celebration for their patron saint known as the 'fiesta mayor' in Castellano or 'festa major' in Catalan. They are a celebration of the town with events that are free to the public such as concerts, art shows, and theater performances. While they make the centers very crowded, they are one of the most lively times to visit a town in Spain. Figueres happens to have two of these as well as 'parties of the street':
Festa Major de la Santa Creu On the 3rd of May.
Festa de Sant Baldiri On the 20th of May.
Festa Major de Sant Pere On the 29th of June
Other events
Festival Acústica A mostly free acoustic music festival at the end of August each year. It takes place in various squares and streets around the center of town.
Buy
Dalí souvenirs
For anyone who is in the market for Dalí knickknacks, Figueres is the place to find them.
Tot Art

address: Carrer de Llers, 6

Surrealist souvenirs galore and many other touristic items related to Dalí.

Art Surrealista

address: Carrer de Sant Pere, 23

A number of Dalí souvenirs as well as Surrealist-themed works of art.
General shopping
It is quite common for the people living in the south of
France
to visit Figueres for shopping purposes as the taxes are lower than in France. Because of this and the large tourism pull due to the museums and beaches, a great number of large brands have shops in Figueres including: Zara, Benetton, La Coste, Pull & Bear, and Women's Secret. While not the level of shopping one finds in Barcelona, the selection is quite decent overall and for those who require larger sizes in clothing and shoes, it is often the case that they can be found easier in Figueres than in Barcelona.
Local shopping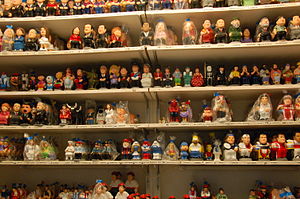 Figueres also has a number of older, locally owned stores that haven't been swept away by the tide of massive chain stores.
Chocolates and pastries
address: Carrer Sant Pau, 8

A fun shop with a wide selection of teas and chocolates.

Forn la barceloneta

address: Carrer de la Muralla, 21

An old shop with a large selection of local pastry specialties, especially during Christmas time.

Pastisseria Serra Lacasa

address: Plaça de la Adjustment, 6

A traditional shop with sweets, chocolates, and pastries typical to Catalonia.
Regional items
Fàbrega Ceràmiques

address: La Rambla

Ceramics that are quite typical of the Empordà region. The shop stocks most everything that there is. For those wishing for a larger selection, go to La Bisbal.

Rosa

address: Carrer de la Jonquera, 4

Very touristic, but for someone looking to buy items that are typical to Catalonia, they carry most everything.

Ymbert Dunjo

phone: +34 972 50 45 29

address: La Rambla, 32

An overall general store with electrical, painting, kitchen, and other general household items. They also happen to stock a good supply of Catalan items such as steel paella pans along with the portable gas burners for them, porrós (the wine pitcher you pour in to your mouth), and setrills (an olive oil container) as well as others. A good alternative to more touristic stores.
Wines
Celler de Can Nou

phone: +34 972 500 897

address: Elx, 6 - Lateral - Ctra. de La Jonquera

A bit out of the center, but still very easy to walk to, they offer a good selection of Spanish wines overall. They also have a selection of the higher-end Catalan wines from the area.

Vinos Salip

address: Carrer de la Jonquera, 6

A shop with some local wines, but more alcohols.
Eat
Local Catalan
specialties
include: oxtail soup, butifarra, fuet, seafood, paella, and of course gaspatxo. If 'patatas de Olot' are on a menu, make sure to give them a try: they are a slice of potato wrapped around ground meat and fried. While not terribly healthy, they are incredibly delicious. There is also an onion from the Figueres area called the 'ceba de Figueres' which is sought after because it is a great deal sweeter than a regular white onion. It can be eaten raw in a number of dishes.
Avoid
all the restaurants along Carrer de Jonquera from Perelada to Muralla. While edible, the restaurants on this stretch of street make sub-par food for beach tourists who don't want to walk far from the Dalí Museum. They are not a good representation of the food from the region.
Restaurants
La Botiga del Pa I

address: Carrer de Sant Pou, 19

A proper café with a wide selection of sweet items and breads, as well as comfortable seating, in a relaxed environment.

La Botiga del Pa II

address: Rambla, 3

Nice pastisseria; wide selection of bakery and confectionery. Good coffee; several sorts of branded tea, variety of fresh juices. Quite popular in the noon time. Personnel don't speak English.

La CabañaExtremely difficult to find. It is right off the N-11 north of town, next to a well-known "puti club" in the area called, Moonight. You need a car to get there. The interior is drab and uninspired. The exterior seating is on plastic chairs literally next to the highway. But the sliced jamón the serve is undeniably the best around and they have a selection of local and inexpensive wines. Diners will most likely be surrounded by a mix of southern French and Figuerans devouring large plates of jamón that are quite reasonably priced.

Calid

phone: +34 972 67 83 48

address: Pep Ventura, 13

An excellent local restaurant with a daily prix fix menu with dishes from the area including good gaspatxo in the summer. A 2-3 minute walk from the Dalí Museum. Fills up fast after 14:00.

address: Carrer Cap de Creus

Dali-inspired interiors: creative but simple; can be found by a painted old VW Beetle. Almost empty in the noon time as Catalans eat around 13:30-14:00. They have a sister restaurant in Girona which is admittedly a great deal cooler and definitely worth checking out if you like this one.

Filosofia

address: Carrer Tints, 10

A good place to generally grab a drink, but also with good dishes, typical of the area during lunch.

Pans & Company

address: La Rambla, 32

A chain sandwich shop with a good selection of affordable items for lunch, ranging from traditional Catalan types to others.

Shang Hai

address: Corriol de les Bruixes

The more well-known of the two Chinese restaurants in Figueres.
Drink
Bars
Plaça del Sol is the main "scene" of Figueres at night. There are a number of bars along this square which is really just a parking lot with the town library on it as well. Some of the bars allow smoking and some not. Overall, the offer is much the same with one bar usually being the "hot bar" of that particular month. True to the name, it's a much more popular place in the summer.
The other option is, Plaça de les Patates, which is a great deal more laid back.
Bar Gotic

address: Plaça de les Patates

Cool place on the Plaça de les Patates with a great terrace area as well as a cool interior and relatively cheap drinks.

Cafe Federal

address: Plaça del Sol

A decent bar in the area, next to other, lesser bars.

address: Sant Domènec, 4

As the name implies, a primarily beer bar with over 100 different beers to choose from. As with many places, serves tapas as well. Opens till late in the night
Wines
There has been an extensive history of wine cultivation in the area around Figueres dating back 2,600 years. There is a resurgence of viticulture in the region, and is creating some of the most noteworthy wines in all of Catalonia, especially for the price.
As Figueres is the seat of Alt Empordà, it also houses the offices for the local
DO Empordà
region which can be found at Avinguda Marignane, 2. The office can provide more information, although the website is extremely helpful in locating wineries.
For those wishing to make a tour of the wineries, you will definitely need a car as they are in far-flung villages around the area. Closest to Figueres are the wineries of
La Vinyeta
and
Perelada
. The former is a very new, modern winery started by a young winemaker who is making some of the most exciting wines in the region neat the village of Mollets. The later is a much more established winery that sits next to the castle of Perelada, which is a small town about five minutes by car from Figueres. Their wines are rather pricey, but they have grown to carry a high pedigree whether deserved or not. Perelada also charges for tastings, which is rather uncommon.
Outside of these two regions, a drive up to the village Cantallops is recommended as in addition to being a delightful town, it houses the wineries of
Vinyes dels Aspres
and Masia Serra. Both of these wineries are making splendid wines, especially the sweet Garnatxas (Grenache) and Moscatells. You will need to call Masia Serra before visiting though as it is rarely open to the public.
Another village worth visiting for wine is Capmany which has
Arché Pagès
and about 10 other wineries.
Heading in the other direction, one can go to Vilajuïga which has
Empordàlia
which makes the Sinols brand. Additionally, they also have wine 'a granel' or in bulk that is of high quality and can be bought for less than €1.50 a liter.
The local wine shops in Figueres sell all these brands for those wishing to take back something from Figueres that isn't related to Dalí.
Sleep
Figueres provides a variety of hotels, with rates much cheaper than in Barcelona, but generally comparable to Girona. In addition to actual hotel and hostel establishments there are a great many 'masias' in the area which are farm houses that were converted over to rural guest houses. The prices can be quite good and the accommodations very nice, although the proprietors rarely speak English and thus they can be tricuky to find at times.
Budget
Mid-range
Splurge
phone: +34 972 50 05 62

address: Avda. Salvador Dalí i Domènech,170

Definitely one of the nicest hotels in town, but also rather expensive. Convenient to those with cars as it is just off the main road through town, but is out of the immediate center. Excellent restaurant though.

phone: +34 972 500 616

address: Ctra. Olot

A three-star affair just outside the center on the road to Olot. Better suited to those with cars, but definitely one of the higher-end hotels in the area.
Stay safe
Figueres is overall, a very safe town. Violent crime is extremely rare and most issues resolve around petty theft when they happen. As is the case in many places, beware of crowded areas and events as pickpockets can frequent these venues.
In the summer, it can get quite hot as is typical with coastal Catalonia. Make sure to drink plenty of water and cover your head if sensitive to heavy direct sunlight.
In the winter, it can be quite cold at times. While snow is exceptionally rare in Figueres proper, driving on the E-15 or the AP-7 north to France could very well require chains or snow tires near La Jonquera at certain times due to the pass often receiving a decent amount of snow. Likewise, driving west from Figueres, the mountain roads climb in elevation quite rapidly and snow is common, so plan car trips accordingly.

Go next