Findlay
Findlay
is a city in
Northwest Ohio
and the seat of
Hancock County
.
Understand
History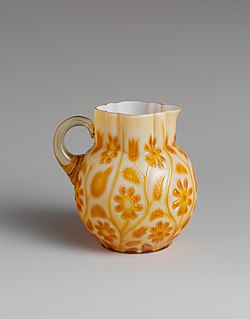 Findlay started as an American military outpost during the
War of 1812
. After the war Findlay began growing into a town, and was a stop on the
Underground Railroad
. Findlay became a booming city on its ties to the natural gas boom in the
late 1880s
. During this time Findlay became a manufacturing hub for glass and other energy intensive manufacturing. Late in the boom, Tell Tailor wrote the song Down By the Old Mill Stream while in Findlay, which became a barbershop quartet hit. While heavy industry and the gas itself went up in smoke, the legacy of the boom is felt in the institutions and architecture it left behind. Findlay Ohio has a large number of Victorian era buildings, and most of its public buildings and prominent institutions hail from that era as well. Now Findlay is a city with a few industries that survived, bolstered by it's cultural amenities and educational assets to provide services to nearby rural communities.
Culture
Because of it's location in Ohio, Findlay has strong agricultural and
equestrian
traditions, especially among those living on the outskirts of the city. Even today the Sheriff has a horse mounted posse, and the University of Findlay operates an equestrian program that has separate farms for
western
riding and English riding styles. While it's uncommon to see horse drawn carriages on the road as in Amish country, it's fairly common as a leisure activity, and competitions can be a big deal at the county fair. In the summer locals frequent country produce stands and the farmers market for fresh goods.
Downtown is more cosmopolitan. Artists tend to live or set up studios in the Jones block and other lofts. Socializing over
food and drink
is big, and it can be difficult to find a place to sit in popular downtown restaurants during the lunch rush despite Findlay's relatively small size.
The American flag is widely flown in Findlay from commercial buildings to private homes due to efforts from John B. Cooke, who purchased thousands of flags for people to fly in Findlay. Eventually, Findlay became known as Flag City USA.
Visitor Information
Get in
By car
I 75 N/S is the main highway cutting through west Findlay, with access from Toledo and Detroit to the north, or Dayton and Cincinnati to the south. There are two main exits to Findlay.
SR 224 E/W is a state highway that eventually reaches Akron to the east.
By plane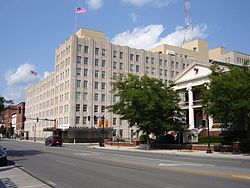 phone: +1 419 422-4182

address: 1615 Gray St

A general aviation airport with two grooved asphalt runways. One runway is 6,500 feet, and the other is 4,500 feet. Can support propeller and small jet aircraft. Sells 100LL and Jet A. 813 ft / 247.8 m above sea level. Tune to 132.850 for weather information.
Get around
By car
Findlay can easily be navigated by car, and parking outside the downtown core is rarely an issue. There is a parking garage downtown for when extended parking is needed.
By bus
HATS
runs a public shuttle that runs for limited hours on weekdays, as well as shuttles with more flexible hours to anywhere in the county if pre-arranged.
By Bike
Biking in Findlay is possible, if a bit treacherous. Motorists in Findlay don't like to share the road, so ride defensively.
By Foot
Downtown Findlay and the University of Findlay campus are both very walkable, and have shady sidewalks with ample crossings. The outskirts can be hit or miss - You might be walking on a nice sidewalk, the shoulder of the road, or in a ditch. Going from one side of the city to another can take hours, but is doable.
See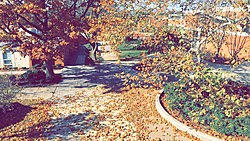 Museums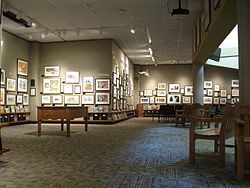 phone: +1-419-434-5521

address: 100 N Main St

The Mazza Museum is an art museum that focuses on children's book illustrations. The Museum has a collection of over 12,000 pieces, of which a small fraction are rotated for public viewing. The Museum often hosts authors for talks and book signings.

Black Heritage Library and Multicultural Center

phone: +1 419 423-4954

address: 817 Harmon St

A specialized library and teaching museum dedicated to multicultural history. Has an exhibit on African American Aviators, and an exhibit on Japanese culture. Hosts an annual Kwanzaa celebration.

phone: +1-419-423-4433

address: 422 W Sandusky St

This museum offers a look into Hancock County history, including farming implements, business products and memorabilia, and even a bathtub brought back by local veterans from the infamous USS Maine battleship, which was sunk off the coast of Cuba. Aside from local history, the museum houses a few international curiosities, such as a set of samurai armor. The main museum is based in the historic Hull House, itself a prime example of a Victorian era mansion. Other buildings on the museum campus include an 1840s log cabin, an 1860s farmhouse, A Transportation building featuring rare vehicles, and a civic history center. The museum has a small gift shop, and can be rented out for events.

phone: +1-567-250-9616

address: 1800 Tiffin Ave Suite 201

A museum oriented towards teaching children job skills. Exhibits are mostly geared at teaching normal jobs, but also include a few specialized fields such as robotics, banking, and visual arts.

Northwest Ohio Railroad Preservation

phone: +1-419-423-2995

address: 12505 C.R. 99

A small rail museum with a miniature quarter scale rideable train in the back. Offers themed seasonal activities during the holidays.

phone: +1 419-387-7773

address: 722 Ohio State Route 568

phone: +1 419 422-7847

address: 117 W Crawford St

An art gallery that occasionally hosts visiting artists and classes.
Architecture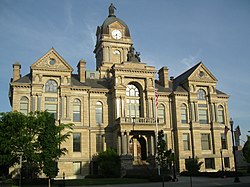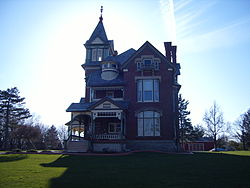 Findlay has some of the highest concentration of Victorian
architecture
in the United States. While most Victorian houses are still in private use, all can be observed quite well from the street or sidewalk, and many offer occasional tours or dinners.
First Hancock County CourthouseThe historic first courthouse building from 1833. One of the first buildings to be fitted with gas heating in Findlay.

Hancock County CourthouseA historic courthouse in downtown Findlay Ohio. Built in the oil boom era, it features ornate carvings and statues lining it's exterior, oil paintings and stained glass windows depicting scenes of justice on it's interior. Visitors are welcome, but must go through a security checkpoint (No weapons permitted).

Little Red School HouseA preserved one room schoolhouse. Includes a play yard and outhouses.

Charles H. Bigelow HouseA painted lady house built in 1888 on the north end of town.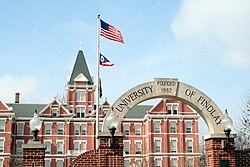 address: 1000 N Main St

A private non-profit university in the north end of town. The campus is centered around a unique Victorian era building known as "Old Main". Has a performing arts center, fine arts pavilion, theological seminary, and several athletics facilities that often host events. Has a small Japanese garden next to the Japanese program house. Has a few farms off the main campus dedicated to equestrian studies. WiFi is available on campus (Connect to the guest network).
Do
Events
Sports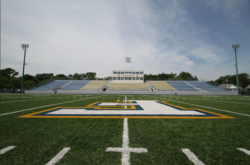 Donnell Park & Donnell StadiumDonnell Stadium is the largest football stadium in Findlay, belonging to the affluent Donnell Middle School, and shared with Findlay High School and University of Findlay athletic teams. It features art deco architecture, a football field, and a running track. Donnell Park is adjacent to the stadium and is centered around Donnell pond. The park features small cliffs and gardens, as well as a large fountain.

address: 3430 N Main St

Includes The Marathon Diamonds baseball and softball complex, The Cube Indoor Ice Arena, the Roethlisberger Football Field where Findlay Youth Football plays, a walking track, and a large playground.
Parks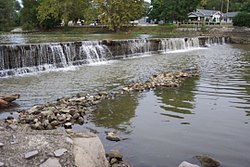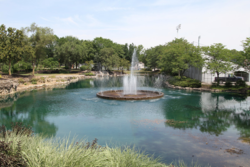 Parks in the area are either managed by the
City of Findlay
, or
Hancock County
.
phone: +1 419 424-7176

address: 231 McManness Ave

Findlay's oldest park. Has a public pool with water slides and diving boards, rentable boats at the Blanchard river bank, picnic shelters, sports pitches, and an outdoor band shell.

Upground ReservoirsThe largest upground reservoirs in Ohio. There is a trail around the perimeter of the reservoir dikes. Allows for shore and boat fishing of walleye, perch, bluegill, catfish, and bass. In the winter, the retaining hill becomes one of the few locations where locals can go sledding. In the winter, Ice fishing may also be performed, at the fisherman's own risk.

address: 1827 S Blanchard St

Includes baseball diamonds, soccer fields, a bike path, and a large wooden playground stylized as a fort.

address: 6100 U.S. Route 224 W

A country park featuring trails crossing vast woods and wetlands. Includes the historic 1847 McKinnis House and a 19th century garden. Often hosts living history programs.

address: 16618 Township Rd 208

Includes campgrounds, a dog park, bridle trails, an Arboretum, a disk golf course, a small lake with fishing piers, a lodge, sports pitches, and a winter sports center.

address: 1400 Oakwoods Ln

Includes a nature discovery center, wetlands, woodlands, a prairie, and a lake with boat launch and fishing pier.
Learn
phone: +1 567 429-3500

address: 3200 Bright Rd

The Findlay branch of the Toledo based community college. The Findlay campus includes some outdoor art installations, as well as a small library, bookstore, and restaurant. Outdoors, student run beehives and renewable energy installations can be observed. Aside from regular classes, it also offers some small workshops focused on personal enrichment, ranging from introductions to art and computer skills, to ghost hunting and beer appreciation. WiFi is available across campus. Offers Child Care services at their Child Care Center.

phone: +1-419-420-3342

address: 1150 Broad Ave

Provides vocational training in fields such as culinary arts or welding. Also offers a variety of single period classes.
Buy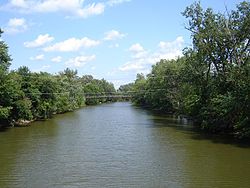 phone: +1 419 423-7500

address: 11326 County Road 99

A large antique mall with 300 antique dealers.

Farmer's MarketHosts craftsmen, produce vendors, community organizations, and food trucks. Also hosts live music.

phone: +1 419 423-8732

address: 1800 Tiffin Ave

Findlay's largest indoor mall. Hosts electronics stores, sporting goods stores, a bookstore, a Megachurch branch, and a small arcade among other businesses.

phone: +1 419 424-1112

address: 441 E Sandusky St

A shop that sells all manner of tabletop gaming supplies, as well as board, card, and other traditional games. Also hosts a variety of events related to the games they sell.

phone: +1 419 422-3936

address: 1800 E Sandusky St

A rustic country grocer that offers a deli, butcher, produce section, bakery, and a greenhouse serving seasonal plants, flowers, and other gardening supplies. For travelers, it's most useful for sampling local produce or getting a gift for a local.

Wolfe's Produce StandOffers a variety of fresh vegetables and fruits, as well as some prepared foods and confections. Open late spring through early fall.

phone: +1 419 957-9553

address: 610 S Main St

Bicycle shop. Sells bottle cap mirrors and offers bike fitting services.
Eat
Confections, Coffee, & Tea
phone: +1 419-422-4474

address: 400 W Main Cross St; 1217 Tiffin Ave

A local ice cream and confectioneries shop. The shop has a history dating back to the 1930s. Dietsch's ice cream and chocolate are prepared on premises, and have a unique flavor. Unlike many american chocolates, there is no waxy texture.

George House

phone: +1-419-425-3809

address: 1041 N Main St

A coffee shop across the street from the University of Findlay. Also sells some used books. Seating can be sparse on some nights. Fee Wi-Fi is available to customers.

phone: +1 419-423-7957

address: 328 S Main St

Serves Coffee, Tea, Smoothies, and various sweet biscuits. Friday Nights are open mic night. Saturday nights have live music from local musicians. Local art is showcased on the walls.

phone: +1-567-525-4680

address: 114 E Sandusky St

Sells coffee, tea, smoothies, baked goods, panini, and soup.

Fort Findlay Coffee & Doughnut Shoppe

phone: +1-419 425 5550

address: 1016 Tiffin Ave

Sells coffee, doughnuts, and bagels, as well as coffee beans to go.

phone: +1 419 423-1355

address: 1718 N Romick Pkwy

Sells a variety of spiced and flavored nuts.
Budget
Wilson's Sandwich Shop

phone: +1 419 422-5051

address: 600 S Main St

A classic hamburger diner from 1936. Wilson's sells staple fast food including burgers and malts. Has a naming jargon (IE: A Frosty = A Thick)

phone: +1 419-422-5778

address: 1201 W Trenton Ave

A popular local pizzeria that sells thin, crispy, pizza with a tangy tomato sauce, and filling pizza subs.

phone: +1 419 423-2846

address: 708 Lima Ave

The outside looks like a dive, but the inside is nice. Their Tex-Mex food can be cooked with sauces of different levels of spiciness on request.

phone: +1 419-422-9768

address: 15733 E US Route 224

A Golf Course and Restaurant. Classic style fast food is sold at the restaurant.

Ming's Great Wall

phone: +1 419 422-8992

address: 1535 Broad Ave

American Chinese fast food near the interstate, it tends to get rushed by students at lunch. Known for their almond chicken. They have a drive-thru, but you must call ahead to use it.

Keith's DugoutA baseball themed drive thru.

phone: +1-567-294-4274

address: 125 W Sandusky St

Serves excellent Asian and Mid East food

Fergie's Burgers, Pies, & Fries

phone: +1 419-306-1541

Sells burgers with a variety of patties, fried dessert pies, fires, and other american staples. Most of their customers are factory workers or truckers and their portions match with big burgers. Gets their meat fresh from a local butcher, and has one vegan burger option.
Mid-range
phone: +1 419 425-3354

address: 513 S Main St

A casual deli that sells sandwiches, soups, and other complementary foods. Also sells baked goods and craft sodas. The lunch rush often causes them to sell out of soup, so arrive before 11:30AM if you want the full menu. Local memorabilia and photos line the walls.

phone: +1 419 422-3863

address: 510 S Blanchard St

A bakery that is oriented around ready to eat food as well as typical bakery items.

phone: +1 419 422-8226

address: 3210 N Main St

A good Mexican cantina on the north side of Findlay.

Joey Fratello's Pizza

phone: +1 419 427-5639

Serves New York style pizza and calzones

phone: +1-419-425-8866

address: 1132 Tiffin Ave

Lebanese Restaurant that serves Shawarma, Hummus, Falaffel, Stuffed Grape Leaves, and Tabbouli. Serves specialty teas. Has many vegetarian options.

phone: +1-567-250-8978

address: 106 S Main St

Sells thin crust, cauliflower crust, and fold up pizza, flatbreads, and subs. Has a vegan cheese option.
Splurge
Drink
Pubs
Wine
phone: +1 419 424-0391

address: 540 S Main St

Carries over 400 wines and 100 beers. Offers weekly wine tastings every Friday for $10 and beer tastings every Saturday for $5. Occasionally hosts barbecues for themed meals.

phone: +1-567-250-8534

address: 326 S Main St

A self serve wine bar with over 28 wines on temperature controlled dispenser, which allows for small 1oz samples, half glasses, or full glasses. Despite the name, it also serves bottled beer. Hosts parties and live music.

phone: +1 419 408-3230

address: 1720 Northridge Rd
Sleep
Budget
phone: +1-419-422-0154

address: 316 Emma St

Includes free WiFi, and free breakfast.

phone: +1 419 408-3046

address: 1951 Broad Ave

Includes free WiFi, free Breakfast, and HD TV.

phone: +1-419-422-8863

address: 1600 Fox St

Includes free WiFi and free coffee.
Mid-Range
Splurge
Stay safe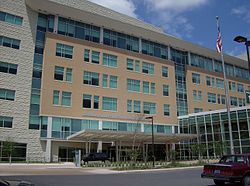 Findlay is generally a safe city and most crimes that do occur are minor.
If a phone is available and an emergency occurs, call 911 for assistance.
phone: +1 419-423-4500

address: 1900 S Main St
Weather
Every so often, the Blanchard river floods Findlay with some floods being
flash floods
. If a flood occurs, don't panic but be sensible and avoid contact with floodwater directly, as it may contain untreated sewage. In a particularly bad flood there are portions of I-75 may become unusable. Major Floods can downscale or close Findlay's public services and business for months after they occur, especially if that service or business is located downtown.
Connect
Many businesses, especially coffee shops and restaurants, have public Wi-Fi Hotspots.
The local area codes for Findlay are 419 and 567. Most cellular carriers have 4G coverage in Findlay.
Findlay-Hancock County Public Library

phone: +1-419-422-1712

address: 206 Broadway St

Offers free WiFi, public computers with internet access, and printers. Also has books, movies, and genealogy services. Often hosts special events featuring authors or entertainers.

US Post Office

phone: +1 419 423-1264

address: 229 W Main Cross St

A historic post office building in downtown Findlay. Offers retail services and PO boxes.
Cope
phone: +1 419 422-4424

address: 300 E Lincoln St

Provides indoor gyms, lockers, a whirlpool, and two indoor swimming pools for fitness. Regularly offers swimming lessons. Occasionally hosts workshops relating to fitness, as well as art. Also provides a babysitting service.

phone: +1 419 422-5151

address: 701 W Sandusky St

Findlay's local newspaper.
Go next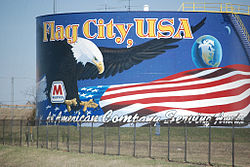 Villages and Hamlets
Bluffton - A small college town
Van Buren - A quaint village next to a large state park.
Houcktown An unassuming hamlet at a crossroads. Was the birthplace of William "Dummy" Hoy, who is credited with coming up with many of the hand signals used in baseball due to his deafness.
Cities