Finland Proper
Finland Proper
(
Varsinais-Suomen maakunta
,
Egentliga Finland
) is a region in
Western Finland
with a population of 460 000. It is the south-west corner of Finland, including much of the archipelago but not the Åland islands.
Regions
Cities
Municipalities
Understand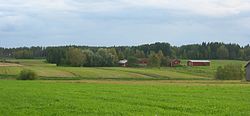 The name Finland was in medieval times applied only to this part of Finland, thus its present name.
Talk
The southern coast and archipelago is mainly Swedish-speaking, while the inland, the western coast and the northern parts of the archipelago are Finnish.

Get in
The area is well connected with the rest of Finland. You can get in by direct trains from Helsinki and Tampere (and sleeping cars from Lapland), however if you are travelling along the Bothnian coast bus should be your transportation of choice. Turku and Naantali have cruise ferry connections with Sweden. There is an airport in Turku, with some international connections.

Get around
Trains of the national operator
VR
can be used for travelling between some towns in the province.
The main towns are well connected with coaches, but check timetables (
Matkahuolto
) in time for minor villages.
Onnibus
offers discount bus service by a few routes.
To see the archipelago you can use one of several ferries and cruise boats, but outside the main routes you will often need some planning or a boat of your own (chartering is possible, there are also taxi boat services).
Finferries
operates many ferries between islands and from website of Finferries you can look for schedules.
See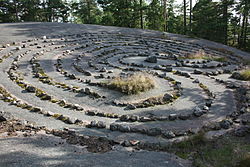 Moomin World park for children in Naantali
The Archipelago Sea
Kultaranta, the Presidential summer residence in Naantali
Turku castle and cathedral.
Do
Outdooring
Festivals
Enjoy music at Finland's oldest rock festival Ruisrock in Turku each July.




The Archipelago Trail





You can admire the unique land of sea and stony islands of the Archipelago within in just one day trip from Turku. It is accessible via road number 180 from Kaarina. The islands are interconnected with bridges and ferries. You can travel by bus, car or bike.
The entire Archipelago Trail ring road (Turku–Kaarina–Pargas–Nagu–Korpo–Houtskär–Iniö–Kustavi–Taivassalo–Turku) is 250 km long and can be taken from mid-May to end of September, with parts accessible all year round.


Stone labyrinth (jungfrudansen) in FinbyTake a short hike along a nature trail that leads to an old man-made stone formation or labyrinth, also called jungfrudansen. The map of the trail can be downloaded from (with description in Swedish and Finnish only).

MS Estonia MemorialWhen approaching the Pärnäs ferry terminal at the Nagu to Korpo crossing, take a little path across the road just opposite the bistro. After a few hundred meters you will reach a rocky shore with a memorial to the victims of MS Estonia sinking.



Go next