Fish Hoek
Fish Hoek
is a picturesque town situated about halfway down the
Cape Peninsula
, between
Cape Town
and
Simon's Town
. It is well known for its beach, which gets jam-packed on sunny days.
Fish Hoek is renowned for its friendly hospitality, proximity to all sorts of tourist attractions and activities besides boasting one of the best swimming beaches in the Cape. There is also a good
suburban railway
link with
Cape Town
to the north and
Simon's Town
to the south. As a coastal suburb of
Cape Town
, Fish Hoek is popular as a residence for commuters and holidaymakers alike. The traditional industries of 'trek' fishing and angling co-exist with the leisure pursuits of surfing, kayaking, sailing and sunbathing.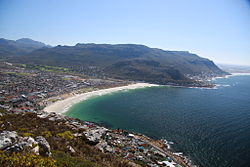 Understand
History
Fish Hoek or Vissers Baay or Visch Hoek appears on the earliest maps of the Cape. The arrival of European settlers in 1652 forced the indigenous population to leave the area, and during the 1700s farmers appeared in the Noordhoek area. Fish Hoek beach was used on an informal basis for whaling and fishing, but it was not until 1918 that it was laid out as a township.
The first grant of Crown Land in Fish Hoek was granted to Andreas Bruins in 1818. The land was sold several times before being bought by Hester Sophia de Kock in 1883. She was then a spinster of 51 years old. In 1901, late in life, she married a local farmer, one Jacob Isaac de Villiers who came to live with her on the farm.
Although she farmed wheat and vegetables she started providing accommodation for people who wanted to stay in Fish Hoek, and so became the first local tourist entrepreneur. Fish Hoek has remained, with its situation and views, a beacon of extraordinary accommodation ever since. Having realized that Fish Hoek was becoming popular she left instructions in her will that the farm was to be surveyed and the land sold as building plots, after the deaths of Hester and Jacob, the land was sold off, the first sale taking place in 1918.
This was the beginning of the town of Fish Hoek. People built holiday cottages at first, but as there was a good train service to
Cape Town
a more permanent community soon arose. By 1940 it was big enough to be declared a municipality and was administered by the Town Council until 1994. It is now part of the City of
Cape Town
.
Hester and Issac de Villiers, with other members of their family are buried in the small graveyard next to the NG Kerk (Dutch Reformed Church) in Kommetjie Road.
The farmhouse on the site of the present Homestead Naval Mess near the railway crossing became a hotel. The original building burned down in 1947.
Open boat whaling took place in Fish Hoek from 1817 to 1868 where Southern Right and Humpback whales were targeted. The whalers would attack female whales who had arrived to calve, and their newborn. Eventually all the whaling operations were closed down, and nowadays the whales know that it is safe return, and come to False Bay to calve. Whales can be seen from about August to the end of November, however sometimes they arrive as early as June.
In the early days of European settlement False Bay was teeming with fish. Trek fishing has taken place ever since. Harders and yellowtail are the fish most frequently caught but nowadays in greatly reduced numbers. "Trek" is Dutch for pull and refers to the pulling in of the net.
The original barn of the Fish Hoek Farm now called Mountain View can be seen in Cottage Lane. It has been converted into two cottages and is not open to the public.
Get in
By car
There are 3 main routes to Fish Hoek :
From the
north
: Via the Main Road (M4) along the east coast of the peninsula. From
Cape Town
you will pass through Cape Town's southern suburbs before reaching
Muizenberg
,
Kalk Bay
and
Clovelly
followed by Fish Hoek.
From the
south
: Via the Main Road (M4) along the east coast of the peninsula. From Cape Point you will pass through
Simon's Town
and
Glencairn
before you get into Fish Hoek.
From the
west
: Via Kommetjie Road (M65), which leads from
Kommetjie
,
Noordhoek
,
Sun Valley
and
Tokai
.
By train
MetroRail
operates frequent and reliable trains from
Cape Town
to Fish Hoek ; the route goes through the southern suburbs then via
Muizenberg
,
Kalk Bay
and
Clovelly
to Fish Hoek. From Fish Hoek the train goes on to
Glencairn
and
Simon's Town
. The section from Muizenberg to Simon's Town is right next to the sea and is very scenic. The station is on the corner of Beach and Station roads, one block from the Main Road and a 3-minute walk from the beach itself.
By bus
Golden Arrow
operates frequent buses to Fish Hoek along the Main Road (M4) from
Muizenberg
to the north and
Simon's Town
to the south. Buses also ply the route from
Kommetjie
and
Sun Valley
(via Kommetjie Road, the M65),
Noordhoek
(via Noordhoek Main Road, the M6) and
Tokai
(via Ou Kaapse Weg, the M64). Buses arrive at and depart from the train station (see above).
Get around
Fish Hoek "town centre" (the area around the beach, Main Road and train station) is small enough that it can all be covered on foot very easily.
Valyland Shopping Centre is about 15 minutes walk from the beach up Recreation Road.
Longbeach Mall (a large, relatively new shopping centre) is just over 4 km from the beach, westwards on Kommetjie Road (M65). Frequent
buses
and taxis ply this route, leaving from the train station.
See
Fish Hoek is rated as a great place for whale-watching and is only a few minutes drive from a colony of penguins at
Boulders Beach
. From
Simon's Town
, about a 15 minute-drive from Fish Hoek, there is shark-diving and a boat trips to see the seals. There are loads of excellent restaurants in Fish Hoek,
Glencairn
,
Simon's Town
,
Noordhoek
,
Muizenberg
and
Kalk Bay
, all of which are within 15 minutes of Fish Hoek.
Imhoff's Farm

address: Kommetjie Road (M65)

Monkeys, birds, camel rides and a snake park as well as several restaurants and craft shops.

phone: +27 21 782-4531

In 1926/7 Victor Peers and his son Bertram excavated the cave now known as Schildersgat, which later became known as Peers Cave. They found many stone tools and the remains of nine people, one of whom became famous as Fish Hoek Man. The skull has the largest brain area of any skull of its age found up until that time, and has been dated at 12,000 years old. In January 1941 Peers Cave was declared a National Monument. The location affords beautiful views across the peninsula to both oceans from across the valley and a peep into stone-age history.
Do
Next to the beach is the famous catwalk from which you can explore the rock pools and get great views across the bay. There are sections without handrails - potentially dangerous for children or the elderly.
Fish Hoek beach is rated as one of the most beautiful and family-friendly beaches in the Western Cape; along with
Boulders Beach
near
Simon's Town
it is probably the best and safest swimming beach in and around Cape Town. A shark spotting system with warning sirens is in place to protect bathers from the occasional visiting Great White, and an experimental shark net system.
The beach has restaurants and shopping close by, has changing rooms, showers and an excellent group of lifeguards.
Buy

Fish Hoek valley boasts three principal shopping nodes, namely, Longbeach Mall and Sun Valley Mall in the west, the Fish Hoek Shopping District in the east, adjacent to the beach, and Valyland which lies between the two.

Eat
There is an excellent selection of dining opportunities available within the Valley, with multiple coffee shops, restaurants, snack bars and take-aways providing a wide variety of choice which should satisfy everyone's tastes.
Some of the better-known places to eat in Fish Hoek include:
phone: +27 21 782-3066

address: Corner of Recreation & Beach Roads

Excellent family restaurant.

Betty's Coffee Shoppe

phone: +27 21 782-5628

address: Town Square, 63 Main Road

Light meals and cakes.

Bhandaris

phone: +27 21 782-1525

address: 146 Main Road

Indian food.

Billy's

address: Sun Valley Mall, Buller Louw Drive, Sun Valley

Sandwiches, muffins, fruit salad, yoghurt.

Blue Gecko

phone: +27 21 782-5723

address: 81b Main Road

Cake Creations Bakery & Bistro

phone: +27 21 782-8011

address: 11 Recreation Road

Coffee shop and bakery.

Capone's Pizza

phone: +27 21 782-7695

address: Shop 25, Valyland Shopping Centre, Ivanhoe Street

Sit down, take-away and delivery 7 days a week.

Chit Chat Coffee Shop

phone: +27 21 782-3050

address: Recreation Road

Light meals.

phone: +27 21 782-2631

address: Town Square, 63 Main Road

Part of the popular "Spur" franchise.

Espresso

address: The Arcade, 104 Main Road

Coffee shop and light meals.

Papa Jo's

phone: +27 21 782-3649

address: 90 Main Road

Formerly just a quiet restaurant and coffee shop, it is now a busy popular pub with live entertainment some weekends.

Fish Hoek Fisheries

phone: +27 21 782-2314

address: 43 Main Road

The most fantastic fish and chips take-ways in the south peninsula. Always popular with locals. Closed on Sundays.

Fish Hoek Sushi Bar

phone: +27 78 619-1388

address: The Arcade, 104 Main Road

Seafood.

Imperial Garden

phone: +27 21 782-9677

address: 38 Main Road

Chinese food.

Napoli Pizzeria

phone: +27 21 782-6962

address: 53 Main Rd

Probably the oldest surviving restaurant in Fish Hoek, serving Italian pizza and pasta.

Peacocks

phone: +27 21 785-5123

address: 6 Wood Road, Sunnydale

In the Pride Ridge Wildlife Sanctuary (formerly called Solole Game Reserve).

Sandi's Bistro

phone: +27 21 782-6809

address: Valyland Shopping Centre, Ivanhoe Street

Coffee shop.

Shin Thai

phone: +27 21 782-3406

address: 10 Beach Road

Thai, Chinese and Japanese food. Warm welcome. Excellent set menu available (ask for it).

Steers

phone: +27 21 782-9397

address: Town Square, 63 Main Road

Hamburgers, chips, etc.

St Elmo's

phone: +27 21 782-4325

address: Main Road

Pizza, take-away and delivery.

The Loft

address: AP Jones, 102 Main Road

Inside (upstairs on the first floor) the well-known AP Jones department store.

The Galley

phone: +27 21 782-3354

address: directly on the beach

Fabulous views of False Bay. Service is sometimes a bit slow, particularly in summer and over holidays, but the food is excellent.

Windsor Garden

phone: +27 21 782-3931

address: 83 Main Road

Breakfast, light lunches, Sunday roasts.
Drink
Fish Hoek is a "dry" town, which means that there are no bottle stores selling alcohol. You can however order beers, wine and other spirits when in a restaurant or pub.
The reason for this lies in the Deed of Grant when the land was granted to Andreas Bruins, it contained a clause that there should be no wine house on the property.
This old law was introduced at the time when wagon deliveries to
Simon's Town
were common and it served to prevent the drivers from stopping off for a drink (or two or three) and arriving in an intoxicated state in Simon's Town.
The residents of Fish Hoek were determined to keep bottle stores out of the town. In 1956, after having opposed many license applications they formed an association called The Defenders of Fish Hoek. They succeeded in getting the Liquor Act amended so that no further applications would be allowed. Under the new Constitution the Act fell away and after consultation with the local Magistrate residents voted for restaurant and bar licenses only.
Sleep
A wide variety of accommodation types are available in Fish Hoek, from self-catering, to guest houses and hotels.
phone: +27 21 782-5040

address: 11 Echo Road

4-star self catering or B&B accommodation in Fish Hoek. Since 1901, when Hester de Villiers opened her home to guest accommodation, Fish Hoek has remained, with its situation and views, a beacon of extraordinary accommodation. A Whale of a Time continues the tradition, offering superior self-catering and bed and breakfast accommodation.

Calders Hotel & Conference Centre

phone: +27 21 784-2400

address: 1 Recreation Road (corner of Beach Road)

Luxury hotel and conference centre across the road from Fish Hoek beach. 26 rooms.

phone: +27 21 782-6238

address: 43 Simon's Town Road (Main Road), Sunnycove

Luxury self-catering apartments. Tudor House is perched on the hillside above False Bay and has stupendous views looking north over the sea.

108onClovelly

phone: +27 82 466-4855

address: 108 Clovelly Road, Clovelly

Situated against the mountainside with beautiful views of the valley below, this secluded, tranquil family home offers two guest bedrooms, free WiFi, and a continental breakfast.
Go next
Kalk Bay
a small picturesque fishing village is just around the corner. It has a whole row of quaint little shops and a couple of great eateries, situated right on the sea, where we can drink the great Cape Wines, eat fresh seafood and watch the fishing boats coming in. St James is really great for the littlies, with a safe tidal pool and little changing boxes!
Muizenberg
has a magnificent beach that goes on for miles, with surfing and good swimming.
Towards Cape Point is the historical village of
Simon's Town
, a South African Naval base, which is great fun to visit. There is a statue of Just Nuisance, a Teddy Bear Museum and a Gemstone Factory.
A little further on is
Boulders Beach
, which has one of the few land-based African penguin colonies. These endemic penguins come right up onto the beach and among the resident's gardens, where they nest. Then on to Cape Point, where two oceans meet there are baboons and lots of wild flowers and animals in the Game and Nature Reserve. Curios are available from the African Arts and Crafts village.
Kommetjie
is famous for surfing (large waves), crayfishing and bird life.