Flagstaff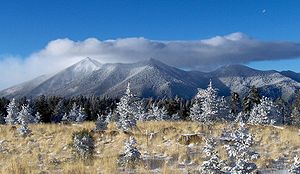 Flagstaff
is a city of over 67,000 people near the San Francisco Peaks mountain range of northern
Arizona
and the
Grand Canyon
. Situated at an altitude of 6990 feet, Flagstaff and much of the surrounding region are substantially cooler than the low desert that dominates the southern part of the state. Though still dry by east coast standards, enough rain and snow falls in the area to allow a forest of ponderosa pine trees to cover the landscape. Winters tend to be cold, and heavy snowfall is expected on an annual basis.
Understand
phone: +1 928-774-9541

address: 1 E Rte 66
Get in
By car
Flagstaff is at the intersection of Interstate 40, which runs west to
California
and east to
New Mexico
(following historic
Route 66
) and Interstate 17, which runs south to
Phoenix
.
By train and bus
phone: +1 928-774-8679

address: 1 E Rte 66

The daily Southwest Chief Chicago-Los Angeles line makes a stop in downtown Flagstaff. The westbound train arrives at 9:51PM and the eastbound train arrives at 6:06AM.

phone: +1 928-774-4573

address: 880 E Butler Ave
By plane
Flagstaff Pulliam Airport
(
FLG
) has regular scheduled commercial airline service. American Airlines provides service to Phoenix. There are also several air charter carriers.
The nearest major airport is Phoenix Sky Harbor International Airport (PHX). Driving time between Flagstaff and Sky Harbor is greater than the 150-mile separation would suggest; the airport is on the opposite side of Phoenix from Flagstaff, and traffic jams in Phoenix are a problem. Allow two and a half hours or more to get from one to the other by car.

Get around
Flagstaff is stretched out along historic Route 66, which runs roughly east-west. The fairly small (about 5 blocks square) downtown is on the western side of town, near the base of Mars Hill, the location of Lowell Observatory. Both I-40 and the BNSF railroad tracks run roughly parallel to Route 66. Northern Arizona University is south of downtown and the tracks, but north of I-40. Here the north-south oriented Milton Road, which becomes I-17, is the main thoroughfare, with Route 66 heading west north of the railroad underpass.
The city is fairly bike-friendly, with many roads having bike lanes. In 2006 the Flagstaff was designated a "Bicycle-Friendly Community" by the
League of American Bicyclists
. The
Flagstaff Urban Trails System
(FUTS) includes more than 50 miles of paved and unpaved trails that wind throughout the town and are used extensively for recreation and transportation. One well-traveled FUTS path runs along the south side of Route 66 from downtown to the east side of town.
The Northern Arizona Intergovernmental Public Transportation Authority operates
The Mountain Line
, fixed-route bus service that extends throughout Flagstaff and carries more than one million passengers per year.
See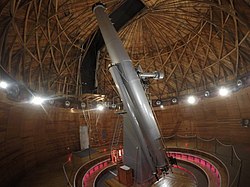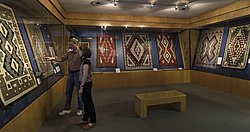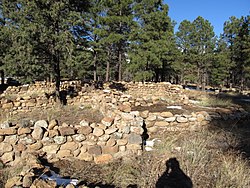 Do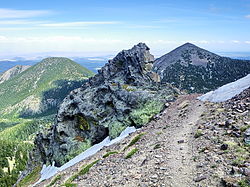 address: 22181 Resort Boulevard
Outdoors
The area surrounding Flagstaff is a hotspot for outdoor activities.
Many of the bicycle and outdoor sports stores in downtown Flagstaff carry Favorite Hikes: Flagstaff and Sedona and Mountain Biking Arizona Guide: Fat Tire Tales and Trails, two excellent guidebooks written by local Flagstaff mountain bike enthusiast Cosmic Ray.

phone: +1 928 779-5969

address: 202 E Hwy 66

Mountain bikes can be rented

Mount Elden

phone: +1 928-526-0866 (Ranger District Office)

This area is managed by the Coconino National Forest, and is an excellent starting point for exploring the area with numerous trails running up and alongside most faces of the mountain. One of the most popular trails is Elden Lookout Trail, which scales all 2800 ft (855m) from base to summit, and has access to the lookout tower at the top which looks down on the entire city. The trail can be accessed from Hwy 89 across from the Flagstaff Mall and next to the Ranger Station (35.230295, -111.579234).

San Francisco PeaksManaged by the Coconino National Forest, the San Francisco Peaks northwest of Flagstaff offer a number of hiking trails for all skill levels, as well as opportunities for mountain biking, rock climbing, camping, and skiing. The range is crowned by the 12,637-ft Humphreys Peak, and is held sacred by the Havasupai, Navajo, Hopi, and Zuni tribes. Maps and trail information can be obtained from the Coconino National Forest Headquarters (1824 S. Thompson St.).

phone: +1 928-779-1951

address: 9300 N Snowbowl Rd

Alpine skiing. One of only three ski resorts in the state of Arizona. Despite the surrounding desert, Flagstaff is a popular skiing destination for the Southwest due to the high elevation. Interestingly, the Snowbowl is one of the first ten ski resorts established in the United States. Snowbowl is in the San Francisco Mountains, which offer pleasant high-country hiking after the snow melts, including a trail to Humphreys Peak, highest mountain in Arizona. Access to some of the San Franciscos is restricted, as they're sacred to several of the area's Native tribes.

phone: +1 928-220-0550

address: 16848 Hwy 180

One of the southwest's best cross-country skiing areas with over 50km of well-groom ski trails and 25km of snowshoe trails. In the summer the trails are open for hiking and mountain biking. Trail passes and equipment rental prices are listed here; overnight cabin rental is also available.

phone: +1 928-213-2340

address: 1650 N Turquoise Dr

City-owned permanent indoor ice skating rink. Offers ice skating lessons, public skating sessions, and also hosts ice hockey games.

phone: +1 928-774-3144

address: 113 S San Francisco St

Northern Arizona Yoga Center is the largest yoga studio in town. This studio offers more than just yoga: they also host Salsa parties, Tango classes, Capoiera, Pilates, and Tai Chi. They are also a great supplier of yoga clothing and accessories. They are partners with the Vertical Relief Climbing Gym. Dual memberships are available.

Flagstaff Extreme Adventure Course

address: Fort Tuthill Loop Rd

A suspended obstacle course with more than 70 aerial challenges for children and adults.
Trailriding
phone: +1 928-774-1719

address: 4848 Lake Mary Rd

Offers guided horseback riding excursions forest land southeast of Flagstaff, ranging from 1 to 8 hours in length.

Morrison Brothers Windmill Ranch

phone: +1 928-606-3973

address: Newman Park

A working cattle ranch which now offers guided horseback riding excursions to day visitors, ranging in length from 1 to 1.5 hours.
Festivals and events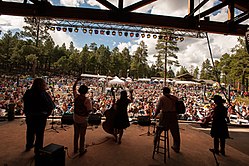 Buy
phone: +1 928-779-1935

address: 15 N San Francisco St

A good source of outdoor sporting gear.

Babbit's Backcountry Outfitters

phone: +1 928-774-4775

address: 12 E Aspen Ave

Stocks a good range of camping gear, and rents out some gear as well.

Bookmans Entertainment Exchange

phone: +1 928-774-0005

address: 1520 S Riordan Ranch St

This Tucson-based used bookstore chain also carries used CDs, DVDs, video games, etc. There is an onsite café, electric vehicle charging station, and free Wi-Fi, and pets are welcome in the store.

Flagstaff Mall & The Marketplace

phone: +1 928-526-4827

address: 4605 N Highway 89 F-36

Anchored by Sears, JCPenney, and Dillard's.

Starrlight Books

phone: +1 928-774-6813

address: 15 N Leroux St

An independent used bookshop.
Eat
Asian
phone: +1 928-774-5280

address: 1300 S Milton Rd

No frills, but excellent Chinese food and friendly service. Delivery too.

phone: +1 928-774-0047

address: 14 S San Francisco St

Downtown, centrally located serving decent Thai food. Get a seat by the window and view San Francisco Street while you dine. Takeout available.

address: 1926 N 4th St #8

Great Chinese food in a casual atmosphere. Takeout available.

Little Thai Kitchen

phone: +1 928-226-9422

address: 1051 S Milton Rd

A Thai restaurant popular with locals.

Pato Thai

phone: +1 928-213-1825

address: 104 N San Francisco St

Downtown, another popular one with locals.
Pizza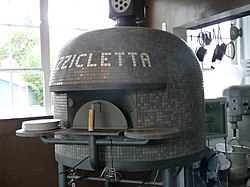 Mexican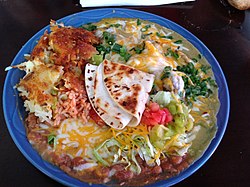 phone: +1 928-773-0065

address: 1551 S Milton Rd

Has great Mexican food and a great bar menu with afforable prices, though more expensive than some of the other local restaurants. A good family spot, but lacks authentic flavor.

El Charro Cafe

phone: +1 928-779-0552

address: 409 S San Francisco St

Located between the campus of Northern Arizona University and the downtown area, this an authentic Mexican food restaurant. The nachos are actually crisp and the enchilada sauce tastes how it should! Very affordable and very genuine.

phone: +1 928-779-1944

address: 522 E Rte 66

Located on the eastern fringe of downtown, yet another great locally owned Mexican restaurant.

phone: +1 928-779-0296

address: 1900 N 2nd St

Same location since the 50s, this a well-loved Mexican restaurant with great salsa and authentic dishes. Is busy most times so expect to wait to be seated.

MartAnne's Cafe

phone: +1 928-773-4701

address: 10 N San Francisco St

Mexican breakfast/brunch. Awesome food, huge portions at fairly reasonable prices. Cash only.
American/Southwest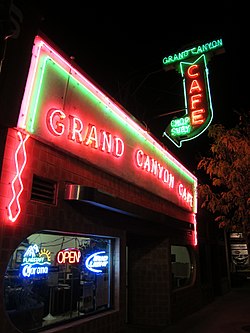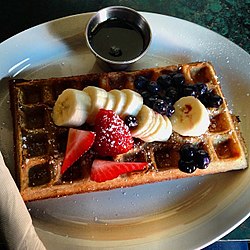 Grocery stores
phone: +1 928-774-2719

address: 201 N Switzer Canyon Dr

Has a full-service hot and cold deli, and onsite pharmacy.
Drink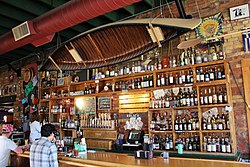 For beer fans, Flagstaff boasts several brewpubs and microbreweries.
Sleep
Because of its proximity to the Grand Canyon, Flagstaff has a wide array of hotels and other lodging, with over 5,000 rooms available. Cheap rooms are available at older non-chain motels, but you get what you pay for, and prices may not be that much cheaper than discount chains. Be sure to shop around and bargain as proprietors are often willing to drop prices during the off-season.
Many motels of the older variety are located along Route 66 east of downtown. More older hotels and most newer motels are located south of downtown along Milton Road. There are a few historic hotels downtown, as well as two hostels. Various B&B establishments can be found near downtown in older neighborhoods. Campgrounds and RV parks can be found on the outskirts of town. Note that the BNSF rail line is very busy and in many hotels train horn noise is prominent (though not overwhelming as no facility is directly on the tracks). Sensitive sleepers should look to the Milton Road area for more quiet. Visible from the I-40 freeway off the Butler Ave. exit on Lucky Lane is a large selection of national chain economy class hotels including
Econo Lodge
,
Motel 6
,
Quality Inn
,
Super 8
and
Howard Johnson
.
Budget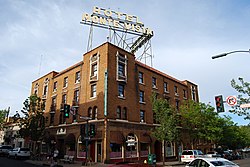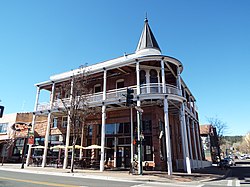 Mid-range
Splurge
England House Bed and Breakfast

phone: +1 928-214-7350

address: 614 W Santa Fe Ave

This well-respected bed and breakfast is just four blocks from Flagstaff's historic downtown. England house was built in the early 1900s and is now furnished with antiques from the late 1800s. Breakfast is served on the bright sun porch.

Little America Hotel Flagstaff

phone: +1 928-779-7900

address: 2515 E Butler Ave

Antique, continental flair. One of the more unique hotel experiences that Flagstaff has to offer. Free airport shuttle from 7AM-10PM.

phone: +1 602-628-3500

address: 2584 Cibola Ovi

3-Br Cabin with two king size fully adjustable beds with massage upstairs and two queen beds downstairs. Ralph Lauren bedding throughout. 55" 3D TV and fireplace in the great room.
Camping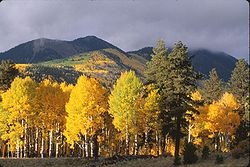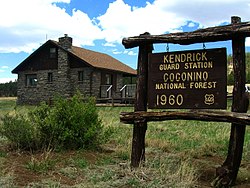 Dispersed camping
(free) is permitted almost anywhere in the Coconino National Forest, which abuts town in many places (i.e. Thorpe Park, Mt Elden). Specific sites set aside for dispersed camping include
Cinder Hills
,
Freidlein Prairie
, and
Marshall Lake
(free, no water or facilities). Some of the choicest camp sites are on the San Francisco peaks and inner basin where a breathtaking aspen color changes happen every fall.
Stay safe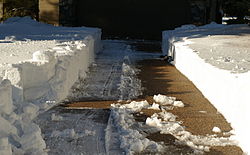 Although Flagstaff is well within the southern half of U.S., it receives more snowfall than just about any other American city. Always come prepared in wintertime.
There is not a huge crime problem, but certain areas noted below should be avoided, mainly at night.
Sunnyside, one of Flagstaff's larger neighborhoods, is on the east side of town (bordered by Cedar Ave. on the north, 4th St. on the east, Izabel St. and Cedar Hill on the west and Route 66 on the south). Sunnyside is an incredibly diverse and interesting neighborhood but is also one of the most poverty stricken neighborhoods in the city. Most points of interest are restaurants located on the edge of the neighborhood in the business districts which are generally safe any time of day. The area has been inflicted with some gang activity, mostly in the very center of the neighborhood. Just don't walk the neighborhood at night or hang out in an area that seems unsafe.
The other area that becomes unsafe at night is some areas of what locals call the "South Side". South of the railroad tracks, west of Lone Tree Road, east of Milton and north of the NAU campus is the general designation of this area. The exception being most of the areas along South Beaver St. and South San Francisco St., which are safe even at night because the night-time music, restaurant and bar scene that takes place along these streets. Areas closer to campus and on side streets such as South O'Leary and South Fontaine should be avoided at night. Though a lot of college students inhabit the area, drug addicts and transients do also, along with some gang activity.
Connect
phone: +1 928-213-2330

address: 300 W Aspen Ave

Public computers available. 30 minutes of wi-fi is available to visitors with valid ID; additional online access can be purchased.

East Flagstaff Community Library

phone: +1 928-213-2348

address: 3000 N 4th St #5

Public computers available. 30 minutes of wi-fi is available to visitors with valid ID; additional online access can be purchased.
Cope
Go next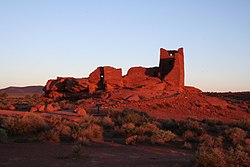 An unusual number of
national parks and monuments
are close to Flagstaff, the largest and most famous of which is the
Grand Canyon
, but there are three right nearby. Note that there is a $25 Flagstaff Area National Monuments Annual Pass which works for all three monuments, and covers entrance fees for up to four people—this may be cheaper for groups visiting multiple sites.
Walnut Canyon National Monument

phone: +1 928-526-3367

Contains a number of Native American cliff dwellings built in a narrow canyon. Two trails allow good views of the ruins and the canyon.

phone: +1 928-679-2365

Contains a collection of Native American ruins scattered along a circular drive that also passes by Sunset Crater (an extinct volcano). Probably some of the finest outside of Mesa Verde National Park in Colorado. Plan on spending most of the day on this loop drive.

Sunset Crater Volcano National Monument

phone: +1 928-526-0502

At the southern end of the loop drive that connects it to Wupatki National Monument, this monument contains a relatively new volcano. The main eruption around 1064 C.E. built most of the cinder cone, with the last eruption in 1260 C.E. adding the spectacular to the cone's top.
The
Grand Canyon
is just a short drive further, as is Navajo Country. Alternatively, head north to see Vermillion Cliffs National Monument. The detour through
Sedona
on the way South to
Phoenix
offers a scenic route west of the freeway.