Florence
Florence
(Italian:
Firenze
) is the capital of the region of
Tuscany
in
Italy
, with a population of about 366,500. The city is a cultural, artistic and architectural gem, and is inscribed on the
UNESCO World Heritage list
. The birthplace of the Italian Renaissance, Florence was the home to powerful families, creative geniuses and scientific masterminds who left their legacies in the city's many museums and art galleries. The city also has a very rich literary history, being the birthplace of the famous poet Dante, and standard Italian today is primarily based on the dialect of Tuscan spoken in Florence.
Understand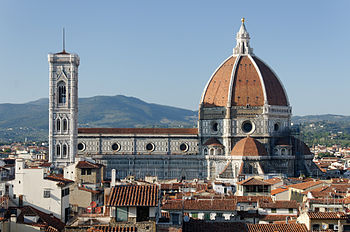 Politically, economically, and culturally, Florence was the most important city in Europe for around 250 years, from some time before 1300 until the early 1500s.
Florentines reinvented money, in the form of the gold florin. This currency was the engine that drove Europe out of the "Dark Ages", a term invented by Petrarch, a Florentine whose family had been exiled to Arezzo. They financed the development of industry all over Europe, from Britain to Bruges, Lyon and Hungary. They financed the English kings during the Hundred Years' War. They financed the papacy, including the construction of the papal palace in Avignon, and the reconstruction of St. Peter's and the Vatican when the papacy returned to Rome from the "Babylonian captivity".
Dante, Petrarch, and Boccaccio pioneered the use of the vernacular — the use of a locally spoken language, rather than Latin, and in their case, it was Tuscan, which, because of them, became the standard Italian language. Because Dante, et al., wrote in Tuscan, Geoffrey Chaucer, who spent a lot of time in Northern Italy and who used some of Boccaccio's little stories to inspire his Canterbury Tales, wrote in English. Others started writing in French and Spanish. This was the beginning of the end of Latin as a common language throughout Europe.
The Florentines, perhaps most notably Filippo Brunelleschi (1377-1466) and Leon Battista Alberti (1404-1472), invented both Renaissance and neoclassical architecture. These architectural styles revolutionised the way Rome, London, Paris and every other major city in Europe, from Barcelona to St. Petersburg, were built.
Florentines were the driving force behind the Age of Discovery. Florentine bankers financed Henry the Navigator and the Portuguese explorers, who pioneered the route around Africa to India and the Far East. It was a map drawn by the Florentine Paulo del Pozzo Toscanelli, a student of Brunelleschi, that Columbus used to sell his "enterprise" to the Spanish monarchs, and which he then used on his first voyage. Mercator's famous "Projection" is a refined version of Toscanelli's map, taking into account the Americas, of which the Florentine was obviously ignorant. The western hemisphere itself is named after a Florentine writer who claimed to be an explorer and mapmaker, Amerigo Vespucci.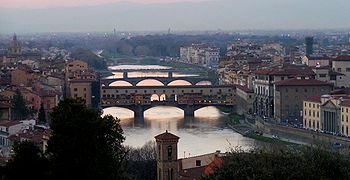 Galileo and other scientists pioneered the study of optics, ballistics, astronomy, anatomy, and so on. Pico della Mirandola, Leonardo Bruni, Machiavelli, and many others laid the groundwork for our understanding of political science.
Opera was invented in Florence.
And that is just a smidgen of what went on in this city, which never had a population above 60,000 from the first attack of the plague in 1348 until long, long after it became unimportant.
And there were the Medici, perhaps the most important family that ever lived. The Medicis changed the world more than any other family. Forget all the art for which they paid. They taught first the other Italians, and then the rest of the Europeans, how to conduct statecraft. For example, Catherine de' Medici (1519-1589) married Henry II of France (reigned 1547-1559). After he died, Catherine ruled France as regent for her young sons, and was instrumental in turning France into Europe's first nation-state. She brought the Renaissance into France, introducing everything from the châteaux of the Loire to the fork. She also was, to 16th and 17th century European royalty, what Queen Victoria was to the 19th and 20th centuries – everybody's grandmama. Her children included three kings of France, Francis II (ruled 1559-1560), Charles IX (ruled 1560-1574) and Henry III (ruled 1574-1589). Her children-in-law included a fourth king of France, Henry IV (ruled 1589-1610), plus Elizabeth of Hapsburg, Philip II of Spain (of Armada fame), and Mary Queen of Scots.
And that is without mentioning any "artists". From Arnolfo and Cimabue to Giotto, Nanni di Banco, and Uccello; through Lorenzo Ghiberti and Donatello and Masaccio and the various della Robbias; through Fra Angelico and Sandro Botticelli and Piero della Francesca, and on to Michelangelo and Leonardo da Vinci, the Florentines dominated the visual arts like nobody before or since. And this list does not include many who, in any other place, would be considered among the greatest of artists, but in Florence must be considered among the near-great: Benvenuto Cellini, Andrea del Sarto, Benozzo Gozzoli, Giorgio Vasari, Domenico Ghirlandaio, Fra Lippo Lippi, Buontalenti, Orcagna, Pollaiuolo, Filippino Lippi, Andrea del Verrocchio, Bronzino, Desiderio da Settignano, Michelozzo, the Rossellis, the Sangallos, Pontormo. And this list does not include the prolific Ignoto. Nor does it include the near-Florentines, such as Raphael, Andrea Pisano, Giambologna, the wonderfully nicknamed Sodoma and so many more, such as Peter-Paul Rubens, all of whom spent time in Florence and were educated by it.
Get in
By plane
The best airport for Florence is usually
Pisa International Airport
(
PSA
), just 2 km south of the centre of Pisa. This has extensive connections across Europe and beyond, and most budget airlines fly in there. There are direct buses between the airport and Florence Piazzale Montelungo, which is east side of the main railway station Santa Maria Novella. (On arrival, follow ramp into station to access city centre.) Buses are run by Autostradale (cream buses) and Caronna (black buses) every 75 mins or so till 00:40, taking 70 mins. Single fare €14, you can buy tickets in the baggage hall before exiting through Customs. Alternatively take "Pisamover" tram or airport bus or taxi to Pisa Centrale railway station, which has frequent trains to Florence SMN via Rifredi.
Florence's own airport is

Amerigo Vespucci International AirportKnown locally as "Peretola", this has only a single runway hemmed in by hills, and limited flights. However it's become a base for Vueling, flying via Barcelona, and direct destinations (some seasonal) include Amsterdam, Frankfurt, London City LCY, Munich, Paris CDG, Rome and Zürich. Reaching city centre takes 15-20 minutes by taxi or bus.


From airport by bus: The Volainbus shuttles between airport and SMN main railway station every half an hour from 05:30 to 20:00, then hourly to around midnight. The city bus stop is the ATAF-SITA bus station, west side of the railway station; some early morning / late night buses run from the corner of Valfonda and Piazza Adua north of the railway station. Fare €6 one way, €10 return, buy it on the bus.
You can save all of €4 by taking a standard city bus from Via Pratese; it's only 10 minutes walk but involves scuttling across the autostrada A11. Walk out of the terminal, ignore the airport bus stop, and cross the northbound carriageway of A11. Ignore likewise the bus stop midway, which has few services, but choose your moment to dash across the southbound carriageway - there's no crosswalk. Go under the flyover into Via Piantanida, the little residential street directly opposite, and turn right at the other end into Via Pratese. A bus stop, and a newspaper kiosk that sells tickets, are across the street. Tickets are €1.20: if the kiosk is closed just pay the bus driver €2 (and he won't give change). Any bus from that side of the street will drop you near SMN railway station, and they run about every 15 minutes.
To return to the airport from central Florence, a cheap easy option is the coach to Prato, which stops right outside the airport. They leave from the at the end of Via Nazionale near SMN station, round the corner from McDonald's. Look for big blue coaches. Buy your ticket (€1.20) from the CAP office right next to the bus stops. You can do this in advance. Buses run every 15 minutes from 06:00 to 23:00. Ask the driver for "aeroporto" or "Peretola" (the suburb it's in).
Taxis charge a €25 flat rate from the airport to anywhere in the historic centre of Florence, plus €1 per large item of luggage.

By train

Frequent direct trains connect Florence with Rome (90 mins), Milan (1 hr 40 min), Venice (2 hr), Naples (2 hrs 50 min) and Italy's other main cities.
Coming by train from other countries usually involves changing at Milan. However a direct Nightjet runs from Munich leaving around 20:00, reaching Florence around 06:00 and continuing to Rome, with the return leaving Florence towards 22:00 to reach Munich shortly after 08:00. The fare is about €100. This Nightjet divides and also runs to Vienna, with similar times.
Almost all trains run from the main station, Firenze Santa Maria Novella|alt=Firenze SMN on the north edge of the historic old town, near most accommodation and sights. There's a bank of Trenitalia ticket machines (cards or cash accepted) on the terminus platform concourse, staffed kiosks in the main hall, and various fast food options there and nearby. An underpass leads south into Piazza SMN.
A few regional trains bypass SMN, calling at Firenze Campo Marte, 2 km east near Florence Stadium, Firenze Statuto 1 km north of SMN, and Firenze Rifredi, 2 km north of SMN. Unless your ticket specifies otherwise, it's valid for any connecting train between those stations and SMN - you'll seldom have to wait longer than ten minutes. Otherwise take a bus or taxi from the street outside.

By car

Florence is well connected by good highways to the rest of Italy. Autostrada A-1 runs to Bologna, Milan and the North, and to Rome and the South. Use Firenze-Impruneta exit for these routes and for Siena via the "Fi-Si" highway. A-11 runs to Pisa and the West: for north of the river follow A-11 to the end, for south of the river turn onto A-1 south to Firenze-Scandicci exit.
Driving in the historic centre - inside the wide "viale" where the old city walls were (and still are, south of the river) - is strictly prohibited, except for residents with permits. This is ferociously enforced by camera - if you drive in the prohibited areas, you will be hunted down and sent a stiff fine - around €100 for every camera you pass before escaping the zone. The city raises over €50 million in traffic fines each year, half of this from traffic zone offences.
If you're just visiting for the day, use the Park & Ride areas at the edge of town, for instance Villa Constanza (described below under "By bus"). You can't leave your car overnight here.
If you're driving to pre-booked accommodation in the centre, check ahead with them: given your car registration (Italian targa) they may be able to get you a 30-minute waiver, barely enough to find the hotel in the warren of old streets, drop luggage and check in, then take the car out of the zone. Central car rental offices likewise have a waiver and permitted route to exit and re-enter the city.
Firenze Parking run a dozen or so edge-of-centre parking lots, with a long walk or a short bus ride to the centre. For example the lot just north of Piazza della Liberta charges €10 per day, €70 per week.
Near the centre, parking is more expensive: e.g. a garage costs €30 per night. On the street, you can only use a blue parking space, if you're lucky enough to find one free. White parking places are for residents only and yellow ones are reserved. The price is €1 per hour and charges apply from 08:00 to 20:00; leave the ticket visible inside the car. You need coins for parking, as the machine won't accept banknotes or cards.

By bus

Flixbus ply direct between Florence and Rome (3 hr 30, two per hour), Milan (4 hours, roughly hourly), Perugia (2 hours, 4 times), Naples (7 hours, every 2-3 hours), Geneva (12 hours, one overnight, else change in Milan), Marseille (9 hours overnight), Paris (17 hours), Munich (4 per day, 9 hours), Zurich (9 hours), Frankfurt (14 hours), Vienna (12 hours) and Budapest (14 hours).
Buses that originate or terminate in Florence run from the downtown bus station on Piazzale Montelungo next to SMN railway station. Buses that are passing Florence between other cities pick up and drop off at , just off Autostrada A-1 on the west edge of the city - take Tram 1. (And see "Get around: By tram" for practicalities.) The parking lot is short of shelter or other facilities.


Busitalia SITA Nord Autostazione

address: Via Santa Caterina da Siena, 15/17

Main bus stop for Tiemme SpA and CAPautolinee. Which serve many cities in Tuscany and beyond.

Get around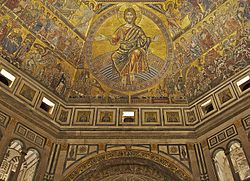 Firenzecard
The
Firenzecard
is a 72-hour pass giving access to some 80 museums, costing €85 per person (see "See"). It doesn't cover public transport, but you can add this with a Firenzecard+ for an extra €7 - this can't be bought separately. It covers you and any other family member under 18 travelling with you. Since the average entrance fee is €8.50, you'll need to see more than ten museums in your 72 hours to show a saving, but that target dwindles if you have other young family with you. It also gets you priority entrance; pre-booking is otherwise near-essential for the big name museums.
By foot
Most of the major tourist sights in Florence are within easy walking distance of each other. It is possible to walk from one end of the historic center of Florence to the other - north-south or east-west in a half hour. Walking is not only an easy way to get around, it also offers the chance to 'take in' much more of the city life. Be warned though, that electric motor scooters are small enough to fit where cars cannot. They are silent but quick and in the summer they often travel into the plazas. Some of the streets in central Florence are closed to traffic. Many more are simply too narrow for buses to get through. Therefore, bus and car tours are not recommended. This is a very small, very compact city that really needs to be seen by foot. And, of course, if you need to, you can always buy a new pair of shoes in Florence.
By bicycle
There is a
bike
rental service organized by the city. Bikes can be hired at several points in the city (and returned to the same place). One of the most convenient for tourists is located at SMN station. There are other locations at many railway stations, but often with restricted opening hours.
While there are hills north and south of the center of town, almost all of the historic center of Florence is easy for bikers, because it is as flat as a hat - flatter than that. But there is a problem: Traffic is terrible with buses, trucks, cars, motorcycles, motorbikes, bicycles, and pedestrians are fighting for almost no space. So pay attention.
Beyond the city bikes, some of the hotels in town provide their guest with free bicycles. Bike shops also often rent bikes and some of them organize guided bike tours in the countryside.
By taxi
Taxis are available, but it may be best if you have your hotel or the restaurant you are eating at call ahead. Taxis should be called by phone and the nearest one available is sent to you through the company's radio system with its meter ticking away. In Florence, it can be difficult to hail a cab from the street curb. You either call for one or get one at the very few taxi stands. One popular taxi stand is at the central Santa Maria Novella Train Station and in a few major squares. The first taxi in the taxi stand line should be free - ask in case of doubt. Most taxis do not take credit card for payment. Be sure to have cash and ask in advance in case you only have a credit card with you. Taxis in Florence are relatively expensive. Tipping is not expected, unless the driver helps you carry luggage etc.
By bus
Another way of getting around is by using the public buses from
ATAF
. A single ticket costs €1.50, a carnet of 10 tickets - €14. You can buy tickets at tabacchi (shops selling tobacco, which are marked with official looking "T"s out front"), kiosks/newsagents/bars where the symbol "Biglietti ATAF" is shown, as well as at the ATAF ticketing office at the bus station outside Santa Maria Novella train station. Within 90 minutes of stamping/swiping you can hop-off & hop-on on any bus of the urban ATAF network. Tickets need to be stamped when entering the bus (from the front and rear doors of buses - the central door is supposed to be exit only; though now it is more accepted to enter from the central door). If you are unable to find a ticket vendor, the automated parking kiosks will sell one for €1.50 and accept credit cards and coins. A ticket may also be available from the driver at €2.50 but there are no availability guarantees.
Unfortunately and completely against Italian law, it is not uncommon to see bus drivers talking merrily on their mobile phone while driving. Don't expect riders to complain about it and don't panic - they will still drive with the same non-comfortable style as when they are "only driving". Hold tight to hand rails as Florence traffic is unpredictable and frequent sudden braking is necessary. Bus rides are not by all means "smooth". Buses are "safe" but pick pocketing is quite common. Please keep a close eye to your belongings and avoid showing off cash, jewelry, etc. especially in very crowded buses (especially for lines 17/23/14/22 - generally speaking any crowded bus can give a chance to pick pocket).
By tram
There are two
tram lines
in the city. The first one runs from Villa Constanza Park & Ride on the south-western edge of the city, just off the A-1, so most users are commuters. It runs into town through the western burbs of Scandicci and L'Isolotto to SMN main railway station (25 mins), then turns north to Rifredi and the University / Hospital area. It runs daily 05:00-00:30 every three to ten minutes, and a single ride costs €1.50. The second, recently opened (as of 2019) line connects the airport and the near west side to the city centre and the Santa Maria Novella station.
By car
Don't even think of it - see "Get in". Just thinking of it is probably enough to incur a fine.
See
Stendahl Syndrome
"I'm pooped, and I'll scream if I have to look at any more putti or martyred flesh": the fancy name for this condition is
Stendahl Syndrome
.
Stendahl was the pen-name of the French writer Marie-Henri Beyle (1783-1842) – or at least his best-known name, as he generated pseudonyms on an industrial scale. As French Consul based in Milan, he had ample time (perhaps too much time) to soak up the artistic beauties of Italy, and in Florence he found them overwhelming: "As I emerged from the porch of Santa Croce, I was seized with a fierce palpitation of the heart . . . the well-spring of life was dried up within me, and I walked in constant fear of falling to the ground."
He was much given to histrionics and attacks of the vapours, and in 1979 local psychiatrist Dr. Magherini named this syndrome, claiming to see many examples among first-time visitors to Florence.
Weariness and even dizzy-dos are not uncommon after a hard spell of tourism in this city, but think carefully before claiming to suffer from Stendahl Syndrome:
a) It's not recognised in modern disease categories, so you'll be received with, at best, polite scepticism if you turn up at the local Emergency Room;
b) Good luck trying to claim the ensuing expenses on your
travel insurance
;
c) When you return late to work, the response of your workmates and of your boss is likely to outdo Stendahl in theatricality, and your fear of falling to the ground will be amply justified.
So if you feel the well-spring of life drying up in you, head into a bar or café, bang down an espresso, and skip whatever museum or church you planned to see next. Simple.
Consider whether you'll benefit from buying a
Firenzecard
, described earlier, but learn from Stendahl and don't try to see too much. Most tourists rush to do the Uffizi, the Duomo and the Bargello. These are indeed splendid, but you may wait hours to get in, and be jostled by tour groups. Pre-book if you know you want to see them; otherwise spread out and see stuff that is equally fine but less touristy. A long weekend here could comfortably take in a sprinkling of old churches, and a couple of museums or galleries. But leave time and energy for just enjoying the ambience.
Churches:
the standout is definitely the
Duomo
or Cathedral of Santa Maria del Fiore. But other fine churches north of the river include San Lorenzo, Santa Maria Novella, Santa Trinita, Santa Croce, Santo Spirito, SS Annunziata and Ognissanti. Highlights south of the river are Santa Maria del Carmine and San Miniato al Monte.
Art galleries:
aim to do at least one of Uffizi, Pitti Palace, Accademia, Bargello and the Museum of the Works of the Duomo. They are filled with the brilliant creations of all the renaissance big names: Donatello, Verrochio, Desiderio da Settignano, and Michelangelo. There's also a leavening of modern galleries.
City views:
the classic panorama is from Piazzale Michelangelo, on the hillside just south of the river, and from San Miniato al Monte a little higher up. But every tour bus pauses here for photos so it can get mobbed. Down on the riverside, perhaps the best view is from the south bank late afternoon, as Ponte Vecchio and the Centro Storico become bathed in honey-coloured light. There's also a great view from the dome of the Cathedral or Giotto's Bell Tower, and an even greater line to climb them.
Florence is featured in
Assassin's Creed II
; see
Assassin's Creed Tour
.
Piazza del Duomo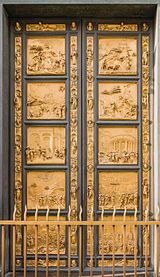 The Cathedral, Santa Maria del Fiore, is an astonishing confection dominating the piazza below and the skyline above. It's the third largest Christian church in the world, behind St Peter's in Rome and St Paul's in London. It's an early example of "technology-forcing" - like the US lunar missions of the 1960s, the 13th C Florentines started building it without knowing how they'd complete it, until along came Brunelleschi and his vast crowning dome. The eye-catching facade is 19th C. In front of the cathedral is the ornate medieval Baptistery, in use until modern times. Also in the piazza is the Bell Tower, designed by Giotto. The artwork from these buildings has been replaced by replicas, with the originals in the adjacent Museum of the Works of the Duomo. Buy a
combined ticket
online for €18 (concessions €3) to enter the following monuments (one entry per monument, valid for 72 hours after first use, book up to 30 days ahead;
all closed
first Tuesday of the month):
Museums
Book ahead for the big-name museums. All of these (plus Boboli Gardens) have a
combined booking portal
and there are several combi-tickets. In practice, it's Uffizi that draws the biggest crowds and so is hardest to access; your options are:
- Just wait in line. On a good day this could mean a 4-5 hour wait, hopefully in good weather. On a bad day you wait 4-5 hours outside in bad weather then they sell out and turn you away. This is especially likely on the first Sunday of the month when entry is free. Tuesday too is crowded, since it's closed Monday so there's pent-up demand.
- Go on an organised tour - these have a pre-booked slot and you step right in. Caveat emptor, as tour operations range from the shambolic and rushed to the sublime and educating.
- By a Firenzecard, so you skip the usual line. Upmarket hotels sometimes also have access to priority slots.
- Book online, paying €4 extra and pre-printing your email for a fixed time slot. Be there at least an hour ahead, because so many people are skipping line, there's a line to skip line.
- Book by phone on +39 055 294883, likewise paying €4 extra for a fixed slot and arriving an hour early. It's not clear how long you'll typically wait to get through by phone.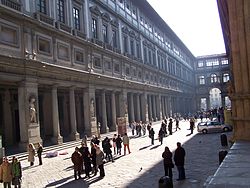 phone: +39 055 265 311

address: Piazza dei Giudici 1

This museum shows the evolution of the instruments used in various scientific fields such as mathematics, physics, biology, chemistry, astronomy. The room of Galileo Galilei shows some of his original instruments as well as models from his drawings. The room of Spheres and Globes houses an excellent cartographic collection. In a rather macabre twist the museum also has the middle finger of Galileo's right hand on display.

address: Palazzo Corsi on via dei Benci, 6

Displays art and furnishings of the 14th & 15th C. The building and art collection were owned by art historian Herbert Percy Horne.

address: Piazza della Santissima Annunziata 9B

The Etruscan art collection is particularly good.

address: Piazza Santa Maria Novella 10

Gallery of 20th & 21st-century art, on three floors of palazzo.

address: Piazza di San Pancrazio

Houses the work of that contemporary sculptor.
A Contemporary Art gallery is sited in , and there are several other collections around city centre.

Stibbert MuseumHas a great collection of armour and arms.
Old town centre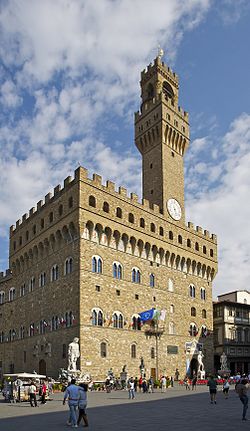 Palazzo VecchioOld city palace/city hall, adorned with fine art. The replica of Michelangelo's "David" is placed outside the main door in the original location of the statue, which is a symbol of the Comune of Florence. The site displays an important collection of Renaissance sculptures and paintings, including the Putto by Verrochio and the series of murals by Giorgio Vasari at the Salone dei Cinquecento (Hall of the Five Hundreds) - the hall which used to display the now lost Renaissance masterpiece, that is, the so-called Battaglia di Anghiari, by Leonardo da Vinci.

Piazza della Signoria is the grand open space in front: not quite a square, as Palazzo Vecchio blocks out one corner. Sights here are the equestrian statue of Cosimo de Medici, the Fountain of Neptune, the statue of David, and Loggia dei Lanzi, an open arched gallery of Renaissance sculpture.
Ponte VecchioThe oldest and most celebrated bridge over the Arno, and the only Florentine bridge to survive World War II. The design is distinctive: it's a three-arched bridge supporting a parade of shops supporting another bridge. It dates to 1345 (hence Ponte Vecchio, "old bridge"), with earlier bridges being swept away by floods, rebuilt and swept away again. At street level it's a pedestrianised cobbled arch. It's lined by shops, which were butchers until Renaissance times then - in an insight as dramatic as the discovery of perspective in painting - they realised that goldsmiths' shops paid higher rents and didn't stink; so from then to this day it's just been overpriced jewellery shops and market stalls. Above these is the higher bridge, the Vasari Corridor, a private walkway added in 1565 so that the Medici Dukes could move between Palazzo Vecchio (Town Hall) and Palazzo Pitti (their blingy residence) without mixing with common folk. On the south bank, the Corridor nowadays continues as a gallery of the Uffizi, and there is sometimes talk of extending this over the bridge, or otherwise making the space accessible. Nothing's come of this so far, so the common folk will have to continue admiring the scene from street level.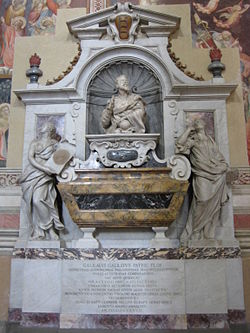 Santa CroceContains the monumental tombs of Galileo, Michelangelo, Machiavelli, Dante, Rossini, and many other notables in addition to artistic decorations. There is also great artwork in the church. Museo dell'Opera di Santa Croce (included in ticket) displays a flood-damaged but still beautiful Crucifix by Cimabue (Giotto's teacher), which has become a symbol of the disastrous floods of 1966. Ticket also includes Pazzi Chapel, a perfectly symmetrical example of sublime neo-Classic Renaissance architecture.

Santa Maria NovellaA beautiful church with great artwork, including a restored Trinity by Masaccio. Also, the Chiostro Verde, to your left when facing the front entrance of the church, contains frescoes by Paolo Uccello which are quite unusual in style and well worth seeing, if the separate entrance is open. Off of the church's cloister is the wonderful Spanish Chapel which is covered in early Renaissance frescoes.

OrsanmicheleA beautiful old church from the 14th century, which once functioned as a grain market.

San LorenzoThe façade of this church was never completed, giving it a striking, rustic appearance. Inside the church is pure Renaissance neo-classical splendor. If you go around the back of the church, there is a separate entrance to the Medici chapels. Be sure to check out the stunning burial chapel of the princes and the sacristy down the corridor. The small sacristy is blessed with the presence of nine Michelangelo sculptures.

San Marco ConventHouses frescoes by Fra Angelico and his workshop. Fra Angelico painted a series of frescoes for the cells in which the Dominican monks lived.

Great Synagogue and Jewish Museum of Florence

phone: +39 055 234 6654

address: via Farini, 6

Lovely Moorish-style synagogue built in 1882 and a museum with many artefacts and documentation of Florentine Jewish life going back many centuries; visits are guided.
The English Cemetery in the 19th century received anyone that the city's churchyards wouldn't receive, e.g. Orthodox Christians, but Britons and Americans were the majority. Famous names here include Elizabeth Barrett Browning, Fanny Trollope and Beatrice Shakespeare, a relative of William. There are lots of ornate gravestones with flowery inscriptions in multiple languages. It's on the ring-road 1 km east of the centre near Campo di Marte railway station.
South bank of the Arno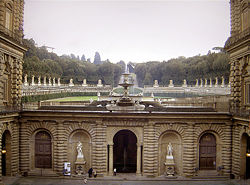 Santa FelicitaContains frescoes of the Annunciation and a painting of the Deposition of Christ by the brilliant and weird mannerist painter, Pontormo. They are to be found in the Barbadori Chapel, which is to your immediate right when entering the church.

Pitti Palace: see Museum listing above.

Boboli GardensElaborately landscaped and with many interesting sculptures, behind the Pitti Palace. Wonderful city views. Don't miss the Bardini gardens. Entrance to that is included in the combination ticket price for the Boboli, and it's a short walk from the Boboli Gardens. There are great views of the Duomo from the Bardini gardens.

Natural History Museum ("La Specola") is on Via Romana next to Pitti Palace. Open Tu-Su 09:00-16:00.

Santa Maria del CarmineFamous frescoes (Masaccio's Adam and Eve Banished From the Garden and others by Lippi and Masolino) in the Brancacci Chapel.

Piazzale MichelangeloPlaza on a hillside with a great view of the city. Go there by bus or climb the stairs and paths from the Lungarno della Zecca.

San Miniato al MonteThe Sacristy contains frescoes by Spinello Aretino. In the cemetery near this church there are graves of famous people of Florence, including Carlo Lorenzi (Collodi) - author of the famous Pinocchio. Also, turn around when you reach the top of the stairs before entering the church, to see perhaps an even greater view of the city than from nearby Piazzale Michelangelo.

Museo Stefano Bardini: collection of early Florentine art, housed in the Palazzo Mozzi just south of Ponte alla Grazia. It's open F-M 11:00-17:00.
Do
Great places to walk include along the Arno and across any of its bridges; through narrow, medieval back streets in the Santa Croce area; and in the Oltr'Arno - on the south side of the river, in many ways like Rome's Trastevere or Paris's Left Bank - but far, far smaller.
Climb the Duomo or CampanileTraverse the winding staircases inside the duomo or the nearby bell tower to see some of the best views of Florence. Not only can you see the Tuscan countryside in the distance and the impressive palaces and churches of Florence in the fore, but it also shows you just how large the Duomo is.

Stroll the Boboli GardensThese extensive gardens behind the Pitti palace provide excellent views of the city of Florence and numerous sculptures in a relaxed environment. Stop in the hilltop café, grab a drink and a seat outside and enjoy the view.

Street Performers by the Uffizi

address: in front of the Palazzo Vecchio

In the evenings street performers often put on a show here. Performances can range from violin duets to people dressed as sculptures. A nice place to stop while you eat your after-dinner gelato.

Enjoy the view from the Piazzale MichelangeloIt's a big square on a hill, but somewhat distant from the traditional tourist sites. It's easy to reach it even on foot using the stairs called "Rampe di San Niccolò". They are on the side of the Arno river just in front of the national library. Do this during the summer and during the night to admire Florence's lights.

Join a monastery: those aged 18-35 are invited to take a two-day spiritual retreat at Badia Fiorentina on Via del Proconsolo. Or just come to hear sung vespers at 6 pm and mass at 6.30 pm nightly in this peaceful church, filled with artwork. It's central yet virtually free of tourists.
Outside the city
address: Via Cassia 217, Terme di Firenze

The thermal waters of Impruneta spring from two sources and are used to treat respiratory diseases, liver, gastrointestinal, and skin allergies.
Learn
Photography
Florence Phography Workshop & Tour

phone: +39 348 840 0459

Discover Florence with your camera and with a professional photography teacher (a Vogue-featured American photographer) and a official Florence guide at your side.
Italian language
Cooking
Cooking ClassFlorence and Tuscany are becoming synonymous with "cooking class". Tuscan cuisine is appreciated worldwide and a cooking class experience is now more and more part of the attraction of Tuscany, as a way of carrying back home memories and improved cooking skills. There are many in the area, either in historical villas in the countryside or in central Florence, from Florentine use of tripe and giblets to the use of organic ingredients from the local producers, and classes range widely in size. During high season, make sure to book in advance.
Buy

There are a few places to buy things, from the high-end jewelry stores lining the Ponte Vecchio to some of the most famous shops in the world; Gucci, Pucci, Ferragamo, Valentino, Prada, Armani, Ermenegildo Zegna, Buccellati, Frette, as well as many more wonderful shops that aren't yet world famous. Souvenirs related to art and Florence's sights can be found everywhere. Books, leather goods, art handcrafted journals, frames, pencils etc. in that gorgeous Florentine paper with swirls of color and gold are great gifts.
It is increasingly difficult to find bargains, but keen-eyed shoppers can still find good deals on smaller, side streets running off of those above and elsewhere in the center of town. Better stores in/near the city center offer superb leathers at sometimes decent prices...perhaps after some bickering. Goldsmiths on the Ponte Vecchio display beautiful and quality work, but can be very expensive. Shops that are not located in the very centre of the city are significantly cheaper. There are also superb shopping streets, such as the Via Tornabuoni, the Via del Parione, and the Via Maggio. The San Lorenzo market is now largely for tourists. There are also a couple of collections of "outlets" in the suburbs.
Some of the most uniquely Florentine shops and sights can be found in the Oltrarno, which is Florence's "Left Bank" and home to countless generations of artisans. This section of town can be found by crossing "Ponte Vecchio" (the old bridge) or Ponte Trinità from the center. This "undiscovered" Florence is a must-see.
Beware:
If the police catch you while buying a knock-off version of something with a brand from an (illegal) street vendor, you can be fined up to €10,000. You'll see plenty of people on the street selling imitation Gucci sunglasses, Rolex watches, and Prada purses dirt cheap. It's okay if the item doesn't have a real brand on it, but buying a knock-off is illegal.
Eat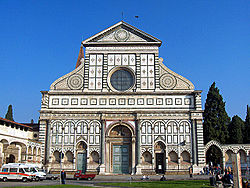 Remember that restaurants have separate prices for food to go or eaten standing up versus sit down service; don't try to sit at a table after paying for food or coffee from the restaurant's to go booth. Also ask always beforehand for the price if you want to sit at a table. Otherwise you might be uncomfortably surprised. Cappuccino
al banco
i.e. standing up might cost €1-3; but at a table €4.
Florence's food can be as much of a treat to the palate as the art is a treat to the eye. There is good food for any price range, from fine restaurants to take out food from window stands. The best price/quality ratio you will find outside the historical center where normal Italians go to eat. The worst ratio is probably in the neighbourhood of Mercato di San Lorenzo where there are a lot of tourist restaurants, while many of the best restaurants in the city are found in the Santa Croce district. In some, requests for pizza may be met with a rebuff. For local pizza look for small shops near the Duomo.
The best lunch places don't always turn out to be the best dinner places. Dinner in Florence really starts sometime between 19:00 and 21:00. If a place looks like they're preparing to close before 20:00, it might not be the best option for dinner. Reheated pasta is not very tasty.
Typical Tuscan courses include
Bistecca alla fiorentina
which is huge t-bone steak weighing from 500g to 1,500g. It has always price given per 100g, e.g.
€3.5 etto
(
an etto
is a "hectogram" or 100 gram-
ettogrammo
).
Crostini toscani
are crostini with tuscan liver pâté.
There is also a uniquely Florentine fast food with a 1,000-year history -
lampredotto
, a kind of tripe (cow stomach, or calf for preference, but a different part than the more familiar white "honeycomb" kind, dark brown in color; the name comes from its wrinkled appearance, which apparently reminds locals of a lamprey fish). The
trippaio
set their carts in the public squares in the center, dishing out the delicacy straight from the cauldron in which it is being boiled with herbs and tomatoes, chopping it and slapping the portions between halves of a Tuscan roll; the top is dipped in the broth. A mild green parsley- or basil-based sauce or a hot red one goes with it.
There are many
gelato
(Italian ice cream) stands; some connoisseurs consider the better Florentine gelato the finest in the world. Often
gelato
is made in the bar where you buy it. Because of this there are many exotic flavors of ice cream like watermelon, spumante or garlic. It's hard to find a gelato place open very late, so after dinner might not be an option. Near the Duomo though, there are a few places open after 22:00.
Tuscany is also the wellspring of
cantuccini
, also called
biscotti di Prato
. (In Italian, the singular of biscotti is
un biscotto
). It's traditional to enjoy them after a meal by dipping them in
Vin Santo
("Holy Wine"), a concentrated wine made from late-harvested grapes, but you can also buy bags of them in stores throughout the city and eat them however you like.
Budget
There are numerous
caffè
and
pasticcerie
where you can find excellent sandwiches.
Pizza sold by weight is an equally excellent solution for budget dining (vegetarian and vegan options are almost always available), as is any
caffè
displaying a "
Primi
" card in its window where you'll find pastas and other dishes at low reasonable prices. The delis (
rosticcerie
) are very affordable (and the food is often quite good), and some also have dining tables if you don't want to take away.
You can buy the makings for a picnic or snack at the Mercato Centrale. This large market has everything you might need, often at more affordable prices than supermarkets. The stalls will also sometimes vacuum seal whatever you buy so you can take it home with you.
A general rule: the closer you are to the historic old town, the higher the price.
phone: +39 055 475030

address: Via delle Ruote, 30 r

Budget restaurant with more formal front room, the eclectic middle room, or the peaceful outdoor garden in the back. Daily changing menu with vegan and gluten-free items clearly marked, desserts, salads, soups, hearty brown bread, and a good selection of coffee, tea, wine, beer, and liqueur.

phone: +39 055 239 6096

address: Via dei Cimatori, 38R

Good street food: panini (€4) and wine (€2+) from a tiny hole in the wall. Patrons eat on the sidewalk while resting their glass of wine on small shelves nested along the street wall.

address: Via S. Egidio 22r

Deli selling olive oil, but with an extensive sandwich bar, to sit in or to go. Student crowd, feels more Californian than Italian.

Trattoria Mario

phone: +39 055 218550

address: Via Rosina 2/R

Lunch only, no booking, you'll be seated with other walk-ins. Good food, try to save room for a meat main course.

Trattoria Le Mossacce

phone: +39 055 294361

address: Via Del Proconsolo, 55R

Reliable local eatery. Local produce and meats are prepared simply using traditional recipes and time-honoured tradition. Some pastas are made fresh daily, so ask for the daily special. If you want to experience Bistecca alla Fiorentina (Florentine-style steak), they do it amazingly without breaking your wallet. They sell and cut the steak from a larger rib slab in increments of 100g (with a minimum of 500g per serving).

Leonardo

phone: +39 055 284446

address: Via de' Pecori 11

Although there is a menu at the entrance, it is better to go straight in and pick what you like. You can also order Bistecca alla Fiorentina.

Tiona

address: Via della Scala 24R

Not that you'd admit to wanting a break from Italian food, but this small friendly Sri Lankan restaurant makes a refreshing change. Ayubowan!

Za-Za

address: Piazza del Mercato Centrale 26R

A very nicely decorated restaurant with many vegetarian choices. You can choose to sit inside or outside in the piazza. The menu is huge, lots of choices, and the prices are fair. Service is outstanding, they really cater to your needs. Make sure to try the chianti house wine. Note that they have two seating areas on the piazza: between are two other restaurants, Cantastorie and Garibaldi.
Mid-range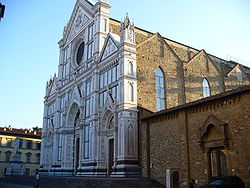 phone: +39 055 225197

address: Piazza T.Tasso, 14 r

Tourists seldom venture this far south. Traditional Tuscan food at decent prices. 1st courses at €7 and mains at €10 to €16. Vino at €4 / 0.5L. The rabbit, asparagus souffle and fiori fritti are excellent and the service very welcoming and warm.

"Il Latini" Restaurant

phone: +39 055 210916

address: Via dei Palchetti, 6r

Fun place, communal seating and lively staff. The steaks are good.
Osteria Dell'Olio, Piazza dell'Olio 10r, just west of Duomo. Good food with friendly service.

Palle d'Oro

phone: +39 055 88383

address: Via S. Antonino, 43/45R

Long-standing family-run Tuscan restaurant. This is where the locals come, not least for the low prices. Fixed price 2-course lunch or €13, dinner €14.

Trattoria Cammillo

phone: +39 055 212427

address: Borgo San Jacopo 57/R

Fairly good Tuscan cuisine, with a number of options for vegetarians and vegans. Make reservations or be there as they open.

phone: +39 328 821 1220

address: Corso dei Tintori, 36

Everything on the menu is vegan, from breakfast to dessert after dinner. The menu offers several cuisines: breakfast all day long, Italian cuisine classics like ravioli and "steak", burgers, and pizza; all with tasty vegan emulations of meat or with proudly vegetable tastes. The service is a little slow and forgetful, so have patience.
Splurge
phone: +39 055 235 80

address: Piazza Unità Italiana, 6

Fine dining with wonderful night panorama of the city.

phone: +39 055 242777

address: Via Ghibellina, 87

They've had the occasional bad night, but mostly draw rave reviews for exquisite meals at splurge prices: ravioli at €85 clearly needs to be something special. A bottle of wine will be well north of €100, but try the tasting menu.

Il Cibreo

phone: +39 055 234 11 00

address: Via Dei Macci, 118/R

Great choice of Tuscan food, with highly selected ingredients.

phone: +39 055 472 475

address: Via S.Gallo 112/r.

Although a bit of a walk from the main attractions, this restaurant speaks for itself with mandatory reservations. Great Italian food and atmosphere. Dinner often includes impromptu free drinks and lively table staff.
Dessert
Gelateria dei Neri

address: Via dei Neri 20r

Ice cream in many flavors, some experimental, all excellent.

Festival Del Gelato

address: Via Del Corso 75

50 flavors and has an upbeat atmosphere
Perché No Via dei Tavolini 19. Freshly made daily from quality ingredients. The pear will be made with real pears and will taste of pears. Typically fruit flavors will be made with seasonally available fruits. Chocolate flavor will taste of cocoa rather than chocolate milk-powder. If you are a chocolate fan, this is the place to go. Specialties are "sorbetto" (ice cream made with water rather than milk, both with fruit and standard flavors, and "mousse" ice creams. Ask for the "special" taste of the day.

Vivoli

phone: +39 055 292 334

Via Isole delle Stinche, 7/R. Close to Piazza Santa Croce. Vivoli has a good gelato fruit selection, so definitely try the fragola, or strawberry. Make sure that you ask for the cream on top as well, because it adds another element to an already great dessert.
Drink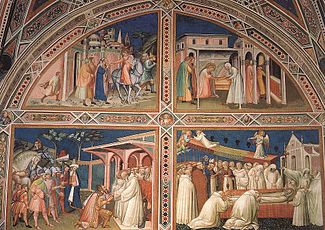 Tap water is safe but those who prefer bottled water will find it plentiful.
Make sure to sample the excellent wines of the region.
Chianti is the local wine that can be ordered cheaply. Many eateries will offer carafes of various sizes of "house chianti", usually for under €4.
Bars
La CiteA very nice and cozy cafe/bookstore. Good prices, nice atmosphere, good books. Borgo San Frediano 20r.

Enoteca Le volpi e l'Uva

phone: +39 055 2398132

The must of the tasting wines and savory titbits. Piazza dei Rossi, 1.
Uffizi Museum The bar at this museum offers an amazing view overlooking la Piazza della Signoria, but it's only accessible through the museum, so you'll have to buy a ticket.
Irish Pub (The Fiddlers Elbow) Piazza Santa Maria Novella. This pub has plenty of seating, in addition to live music and great staff.
Bebop-great coverbands everynight and a €4 pint. Can be found north of the Duomo on the right on Via Dei Servi, before you reach Piazza d Annunziata.
Ambrosia - Found in Piazza de Ambrosia. This is primarily a wine bar, and you can sample some great wines at a low cost provided you come with friends and share the price of whole bottles.
Rivoire Piazza della Signoria. Founded in 1872 this terrace facing the Palazzo Vecchio is a Florentine institution.
Paszkowski or Gilli. On the Piazza Republica, next to the hotel Savoy. The terraces on the other side of the piazza are equally pricey.

Été

address: Via Faenza 63

A lovely little café with warm service and good local beer and wine.
Clubs
Cavalli Club

address: Piazza del Carmine, 8

Roberto Cavalli, Italian fashion designer, has one his beautiful clubs in Florence. The inside has a stage with a projector of Roberto Cavalli's fashion shows running non-stop. The upstairs can be a private lounge for parties or VIP section on certain nights. This club was the most popular on Wednesday nights, but it's open on the weekends as well. It's black and leopard interior fits the natural and animalistic designs Roberto Cavalli creates. Roberto and his two sons are frequently at the club so look out! All ages are appropriate and the dress attire here is rather upscale. This is not just a seasonal club so all year visitors are encouraged to go.

phone: +393394298764

address: Via Giuseppe Verdi, 57/R

Bamboo Lounge Club is a great place for young adults and students to party. The music is great from European to American techno and many other worldwide DJs. Bamboo Lounge Club offers VIP tables and has two midsized bars. It is very clean and safe to be in. It is located on Via Giuseppe Verdi not far from the Duomo. Dress is a little more than casual, but not too upscale. The loud music, dancing, and exciting atmosphere gives people a chance to let loose and have fun. The club features mostly house, techno and hip hop music.

address: Via Pratese, 46

If you love house and electronic music this is the best club to go to. It's a two-story club, located on the outskirts of Florence, features DJ's from all around Europe, America, and Australia. This club also holds many concerts during the winter and summer. Many people come from all over to enjoy this clubs atmosphere. The dance floor is extremely large and is always very crowded. Be smart where you keep your bag and wallet because it's very easy to get pick pocketed in large clubs like this. This club usually has a cover of €20 and the drinks are rather expensive, but it is a great place to experience at least once. It is very different than most of the clubs in Florence because of the multi-story building. To venture here would be best by taxi or bus. Since it is located in the outskirts of Florence walking could be difficult and not advised. There are many people who can help in directions in the Santa Maria Novella Station.
Sleep
As elsewhere the price of hotels in Florence has been climbing quickly in the last few years. The golden rule here is if you want something cheap you'll have to stay outside of the historic center. The area around the train station is cheaper, but not as safe, especially for women travelers at night. If you are looking at big chain hotels you should be aware that they are usually quite a distance from the centre, the Novotel for instance is almost at the airport.
Certain hotels, particularly those oriented toward business travellers offer special reduced rates during the weekend (e.g. Starhotel Michelangelo) or during slow weeks like Baglioni. Sometimes you can also get a substantial discount by reserving online. In the train station there is a tourist information office which also offers hotel reservations; you can often get good deals through them at the very last minute, but it's not guaranteed.

Budget
There are quite a number of one or two star alberghi within a short distance of the station.
Young women can find accommodation with certain convents at very low prices, and usually in historic locations. On the other hand, you'll have to forget about any late-night Tuscan craziness.

Camping

There are campsites round the edge of town: to SW is Ostello Tasso Ente, north is Elite Firenze Gestioie SRL, NE is Camping Albergue, east is Me & Mom in Tuscany, and 3 others further east in Rovezzano. Camping Michelangelo south of town has closed.

Hostel
Bed and breakfast
Hotels
Mid-range
Splurge
Connect
Since there are a large number of tourists around, the center of Florence is brimming with webcafés and telephone call centers. Most evenings there are long lines for access to the phone-booths.
You can also buy a pre-paid card which will give you a steep discount on international calls by dialing a special number.
Wireless LAN access is becoming popular. Even when offered for free, you will need to provide your name and contact details to the provider of the service to obtain an access code. This is because of Italian anti-terror laws. Anonymous access is not possible.

Stay safe
Florence is generally safe and healthy, but beware the inevitable purse-snatchers and
pickpockets
. They thrive in crowds, particularly around SMN railway station and on the buses, sometimes working with a decoy such as an insistent beggar. If you have a bag with a classy, noiseless zipper, it will be opened.
Go next
Florence is a great starting point and base for a tour of Tuscany. Attractive day trips include Pisa, Lucca, San Gimignano, Arezzo, Fiesole, Lucignano, Siena, and of course the wine zone of Chianti. Greve in Chianti is the market town of the Chianti zone and it is in the hills surrounding Greve that you can rent a B&B room or a small apartment on a working vineyard for less than a hotel in Florence. The SITA Pullman buses take you to Greve and Panzano in about an hour. From then on you see few cars and many cypress and olive trees.
The SITA bus station is just west of the train station in Florence. This is where to go to catch a bus to Siena, San Gimignano, and so on. If you're at the roundabout, facing the train station, go 90 degrees left and stay on the left until just past the fork. You will see the entrance to the SITA garage on your right.
Fiesole is in the hills above Florence, only a short bus ride away from the centre. It offers a beautiful view of the sunset, and a small museum located on ancient Roman and Etruscan ruins of a temple and an amphitheater.

World War II Florence American Cemetery and MemorialThe cemetery is the final resting place for 4,402 American military dead lost during after the capture of Rome and the battle for the Apennines. A monument is inscribed with the names of 1,409 Americans whose remains were never found or identified. The atrium of the chapel contains marble maps of World War II Italy campaign.

Biking options outside of the city include the Chianti area, where you can fully enjoy the hills and the elegance of the landscape surrounding you, which has been taken care of endlessly through centuries. Strong scents can be enjoyed in Spring. The warm temperatures and usually stable weather in the good seasons can make the ride even more enjoyable. If you feel more energetic, ascents to Vallombrosa from Pontassieve through Tosi can be very enjoyable. You start from the Arno river plain and you end up in a thick, shady, fresh forest. In all cases, avoid the hottest hours in Summer and be aware of the traffic, which can be heavy and not cyclist-savvy, until you get in secondary or less populated roads.
UNESCO World Heritage Listed rural building complexes (Medici Villas and Gardens) are scattered around Florence.