Flores (Azores)
Flores
is an island in the
Azores
archipelago, an autonomous region of
Portugal
, in the Atlantic Ocean.
Understand
Flores is the westernmost Azorean island and is thus considered the westernmost part of Europe.
Faja Grande
is thus westernmost settlement of Europe, and is beautifully secluded.
It is located about 236 km northwest of
Faial
and rests on the american tectonic plate. Together with the small island of
Corvo Flores
forms the western group of the Azores. The length of 18 km and a width of 14 km contribute to its total size of 143 km². The highest point is the extinct volcano Morro Alto with a height of .
The most important place is Santa Cruz das Flores with about 1,700 inhabitants. The population of the island, which had amounted to almost 11,000 in 1849, has fallen sharply and is now only about 3,800.
The name of the island, which is of volcanic origin, is derived from the rich floral splendor. Short streams form numerous waterfalls. The coastline is predominantly formed by high cliffs. The interior of the island has idyllic crater lakes, such as the
Caldeira Funda
, between laurel forests.
Get in
By plane
Flores AirportA small airport opened in 1968 ) in the immediate vicinity of Santa Cruz das Flores, which is served by the Azores Islands São Miguel, Terceira, Faial and Corvo of SATA Air Açores. After São Miguel and Terceira there are regular connections from Central Europe via Lisbon. The travel time on these paths (incl. transfer times) from Munich is at least 12 hours.
By boat
Atlanticoline
operates a ferry service from
Faial
once a week, with travel time of approx. 6 hours.
Get around
By car
Various car rental companies operate on the island (Sunny Cars, Sixt, Europcar, Avis). A Renault Clio was offered in April 2016 for around 75 EUR / day.
See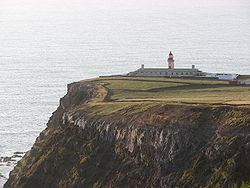 CaveiraFrom Caveira there is a dirt road that after a couple of km reaches .

Fajã GrandeVillage of 200 inhabitants, Fajã Grande is considered the westernmost of European settlements. The village has a pebble beach but the real boon is the possibility of excursions in the surroundings between waterfalls and natural pools surrounded by exuberant vegetation. Despite the uninviting name "Poço do Bacalhau" it is among the most famous natural swimming pools of Fajã Grande, It is fed by a waterfall with a jump of almost 100 m.

FajãzinhaVillage of 70 souls, about 3 km further south with other spectacular waterfalls. Fajãzinha is renowned for freshwater trout fishing.

Lajes das FloresA small town in the south, with the church Igreja Matriz Nossa Senhora do Rosário, a small whaling museum, a lighthouse and a yacht harbour

Santa Cruz das FloresCapital of the island, with the church Igreja Matriz da Nossa Senhora da Conceição and the Museum of Islands Museu das Flores in the former Franciscan monastery Convento de São Boaventura

CuadaA village abandoned in 1960 whose inhabitants emigrated to the United States; the houses were restored and converted into tourist accommodation.

The crater lake Lagoa Funda and another six crater lakes in the center of the island

Rocha dos BordõesBasalt organ pipes

Aguas QuentesSmall hot sulfur springs.

The summits Sete Pes, Burrinha, Marcel and Morro Alto

Gruta dos EnxaréusVisible only by boat, the grotto is the largest of the myriad caves that open at the base of the promontory "La Caveira", about 3 km south of the capital. The marine cave measures 25 x 50 and is of volcanic origin. Like the nearby "gruta de galo", it used to be a hiding place for pirate ships that then gave themselves to the boarding of the galleons coming from Brazil and the other Portuguese colonies. Today Gruta dos Enxaréus is one of the major natural attractions of Flores.
Do
Hiking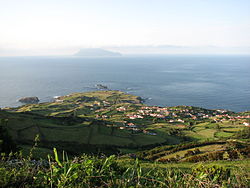 The
hike
between Ponta Delgada and Faja Grande is absolutely stunning. It is a bit challenging when you descend a good 300 vertical meters on very steep slopes at the end. For this reason, easy cycling is not very possible.
The Rother hiking guide for Azores describes the following tours:
From Costa to Fajá Grande (5 hours, available online)
Around Fajá Grande (2 hrs 40 mins)
From the Lagoas to Fajá Grande (3 hours)
From Fajá Grande to Ponta Delgada (4 hours 20 minutes)
Trilho das Barrosas (2 hrs 30 mins)
From Ponta Ruiva to Fazenda de Santa Cruz (3hrs 10mins)
Fajá do Conde (2 hours)
Ponta da Caveira (1 hour 30 minutes)
Porto da Lomba (1 hour 35 minutes)
Fajã de Lopo Vaz (3 hours 10 minutes)
Beaches
Fajá GrandeWith a natural swimming pool.

Ponta de Fajá Grande

address: At the waterfall

Fajá de Lopo VazWith a dark sand.

FajazinhaIn Riberira Grande.

Lajes das FloresWith a small sandy beach.

Ponta DelgadaIn the harbor bay.

Santa Cruz das FloresMultiple natural swimming pools.
Itineraries
No. 1
From Santa Cruz, a roadway faces south, bordering the eastern and southern coast and then returning to the main town along the hinterland. The list of POIs along the route and its branches: Gruta dos Enxaréus, Caveira, Lajes das Flores, Lagoa Funda and Lagoa Rasa, Rocha dos Bordões, Fajãzinha, Cuada, Fajã Grande and Morro dos Frades.
No. 2
From the capital, another roadway heads north towards Ponta Delgada where it stops. It is a scenic road with beautiful views of the high and steep north-east coast. The most interesting point is the bay of Alagoa, surrounded by islets and rocks covered with vegetation, Da Ponta Delgada is visible on the island of Corvo .
On foot
The mule track that runs from Fajã Grande along the northwest coast to Ponta Delgada. It is a spectacular but challenging route. Those who have no physical resistance can alternatively order a boat excursion.
Eat
Pastelaria Snack Bar Amanhecer

address: Rua Dr. Armas da Silveira 21, Santa Cruz das Flores

E-Legal

address: Rua Da Esperanca 28, Santa Cruz das Flores

Restaurante Sereia

address: Rua Dr. Armas da Silveira, Santa Cruz das Flores
Sleep
In Faja Grande,
Argonauta
is an excellent Italian-Portuguese bed-and-breakfast.
Hotel das Flores/Inatel

address: Zona Do Boqueirão, 9970-390 Santa Cruz das Flores

Servi-flôr

phone: +351 292 592 453

address: Antigo Bairro dos Franceses, 9970-305 Santa Cruz das Flores

Aldeia Da Cuada

address: Fajã Grande

Camping in Fajã

address: at the sea