Foça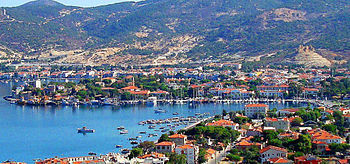 Foça
is a town in
Central Aegean
, just north of
Izmir
.
Understand
Foça, not unlike many others along the
Aegean coast
, is a town about 3000 years old. For most of its history, it was known as
Phocaea
/
Phokaia
, which was the
metropolis
("mother city", i.e. sailors of which founded the colony) of a number of cities in western Mediterranean, including
Marseille
,
France
.
Modern Foça is one of the towns with a well-preserved old town full of stone/Greek architecture on the Aegean coast, along with others such as
Ayvalık
,
Alaçatı
, and
Çeşme
, but perhaps the least known and the least travelled of them.
Foça was for long known for its local breed of roosters, but with the growing environmentalist movement, critically endangered
Mediterranean monk seal
(
Monachus monachus
)—after which, known as
fokia
in Greek and
fok
in Turkish, the town was named in the first place—largely replaced them as the mascot of the town. Around 20 individuals of this species, which is estimated to have a worldwide population of fewer than 600, live on the uninhabited islands just off Foça.
Foça is sometimes colloquially called
Eski Foça
("old Foça") as opposed to
Yeni Foça
("new Foça"), another town about 20 km to north, which was founded only about 800 years ago.
Get in
From the airport in
Izmir
, you can take the tram to its final stop. From there you can catch a bus to Foca.
See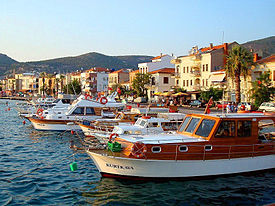 Do

Foca offers many boat tours, for approximately 40 TL (July 2012). The tour lasts from 1000-17:00 and stops at several of the small surrounding islands. Lunch is included in the tour and you can swim and snorkel at the various stops.

Eat
Palmiye CafePalmiye cafe is located in the middle of Foca's city center near the water. They offer a full traditional Turkish breakfast with free tea for 12 TL, hamburgers for 4 TL, Turkish coffee for 2 TL, and 0.5 liter Efes beer for 6 TL. They have friendly service and great prices.

Kale CafeKale Cafe is located just beyond Foca's "5 doors" medieval castle. They offer 0.5 liter Efes beer for 7 TL, and an assortment of frozen lemonade, milk shakes and other refreshing drinks. The cafe also offers a full assortment of food and appetizers for reasonable prices. Kale Cafe is located just in front of a swimming area allowing patrons to cool off in the water and return to drinking, eating, and relaxing in the outdoor cafe. Kale cafe is a great place to escape the crowd commonly found closer to the center.
Drink
Most places in Foca offer a selection of alcohol. In cafes, a half liter of beer is 6-8 TL, at bars and night life oriented locations prices can be 10 TL or higher. Turkish Raki is available in many places for reasonable prices. Drinks containing liquor can be a bit more pricey, so budget minded travellers should stick to beer or raki.
Dip BarDip Bar is a fairly well known bar among the locals in Foca. It offers a stage with live music inside, or a relaxing atmosphere outside. Inside a half liter beer on tap is 10 TL. The crowd is mostly younger and lively.
Connect
Foça is within the area code (+90)
232
, which it shares with many other towns and cities to north and south, including
Izmir
.