Fond du Lac
Fond du Lac
is a city in Fond du Lac County,
Wisconsin
. It is the seat of Fond du Lac County. The name
Fond du Lac
translates to
Bottom of the Lake
, referring to its location at the southern tip of Lake Winnebago.
Understand
Although Fond du Lac was founded in 1836, the area at the southern end of Lake Winnebago had been a busy place for centuries before. Native American tribes, including the Potawatomi, the Mascoutin, and the Winnebago shared the area as hunters, gatherers, and farmers. The first Europeans in the area were the French missionaries in the 1600s, followed by the French fur traders.
In the 1830s, James Doty, a federal judge for western Michigan Territory, bought the land at the foot of Lake Winnebago and developed it as a city in Wisconsin Territory. As such, it lay astride the Military Road (now roughly old US 151), which connected forts in Green Bay, Portage, and Prairie du Chien.
As Wisconsin approached statehood in the 1840s, there were plans to make Fond du Lac the capital of the new state. However, Judge Doty convinced the legislature to seat the capital in the Four Lakes area (present-day Madison) instead. During the Civil War, Fond du Lac was the site of Camp Hamilton/Camp Wood, a training camp for Union recruits.

Get in
By car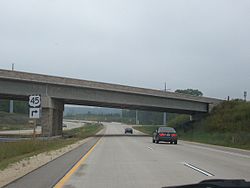 This is the most popular way to enter the city. U.S. 41 (now Interstate 41) runs through the western part of the city, from either Milwaukee to the south or Green Bay to the north. Travelers to Fond du Lac on Interstate 41 may use Exits 95, 97, 98, or 99. Hwy 151 approaches Fond du Lac from Madison, to the southwest, and runs along the southern and eastern edge of the city. Hwy 23 runs through the center of the city. To the east is Sheboygan, to the west is Ripon.
By plane
Fond du Lac County Airport

address: 260 S Rolling Meadows Dr

Charter flights are available; however, no major commercial airline serves the airport.
Commercial airline service for Fond du Lac is provided by Appleton International Airport (ATW), in
Appleton
. Flights are available to many U.S. destinations at pretty reasonable fares.
About 15 minutes north of the city, in
Oshkosh
, is Wittman Regional Airport (OSH). The airport does not have commercial service, but charter flights may be available.
By train
There is no passenger train service to Fond du Lac. Amtrak passengers may connect with Fond du Lac via a Thruway bus service from Milwaukee. However, a planned Amtrak route to Green Bay from Milwaukee will stop in the city. The route will be part of the Midwest High Speed Rail Initiative.
By bus
There is a Greyhound bus stop at the Mobil Gas Station on South Main Street in Fond du Lac.
Get around
By car
The easiest way to get around Fond du Lac is by car. The city is generally easy to navigate, and traffic rarely gets heavy. However, the city is bisected by the Canadian National Railway tracks. Be prepared to wait for passing freight trains. To avoid being stopped at crossings, use one of the only two grade separations in the city, at WI-23 (W. Johnson St.) and County Hwy. VV (South Pioneer Road) on the south edge of the city.
Main Street is the principal north-south artery in Fond du Lac. East-west streets are designated "east" or "west" (i.e. East Johnson Street) according to which side of Main Street you are on. The baseline east-west street is Division Street, which divides intersecting streets into "north" and "south" segments. Main and Division Streets intersect downtown. South of East Division Street there are a series of east-west numbered streets on the east side of South Main Street.
By bus
Fond du Lac area transit
, a small public bus service running Monday-Friday, until 6PM. Bus fare is $1.25, with half-fares for disabled and senior riders with appropriate ID. Phone number is: +1 920 322-3650.
By taxi
A couple of taxi services serve the city. Taxis must be called for ahead of time.
Ben's Budget Cab +1 920 322-8864
Taxi Cab +1 920 322-3656
Bailey Benny +1 920 322-3656
Quality Cab (North Fond du Lac) +1 920 322-3656
By bicycle
Fond du Lac is at the bed of what used to be Glacial Lake Oshkosh. As such, it is almost entirely flat; making bicycling a very good option. While the city streets have no designated lanes for bikes, most traffic is used to cyclists. Bikes are not allowed to be ridden on sidewalks in the city's downtown.
On foot
Visitors looking to travel mostly on foot should expect to do a lot of walking. The city is relatively large.
The
Fond du Lac Riverwalk
is a paved walking and bicycle trail that follows the course of the East Branch of the Fond du Lac River through the downtown area. It begins on Morris Street near Brush Street and goes north along the river, past the City-County Building and along Macy Street. Its north end is at Brooke Street along the river.
The
Brooke Street Trail
is a walking and bicycle trail that follows an old railroad bed along Brooke Street from south to north. It begins at Dixie Street, just west of Brooke, and extends to Scott Street, near Lake Winnebago.
Neither of these trails have dedicated parking areas at the trailheads, but there is ample street parking.
For long-distance hiking/bike trails in the Fond du Lac area, see the
To Do
section below.
See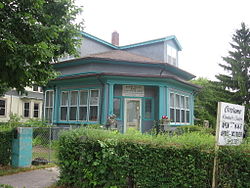 Fond du Lac LighthouseThe Fond du Lac Lighthouse is located at the north end of North Park avenue, in Lakeside Park. It was built in 1933 and restored in 1993. It marks the harbor entrance for the Fond du Lac Yacht Club. It has become iconic in the city, being incorporated into the city's official seal. Visitors may climb to the top of the lighthouse for a spectacular view of Lake Winnebago.

Octagon House

address: 276 Linden Street

The Octagon House was built as the residence of Isaac Brown, a trader and carpenter. It was built with nine secret passageways and spaces, including a tunnel to the woodshed. The house was used as a safe house on the Underground Railroad; a small storage space beneath the porch was used to hide runaway slaves. It was the home of Civil War Major Edwin Brown, who was killed at the battle of Antietam in 1862. Some modern visitors report hearing sounds of small children playing and laughing, and feeling cold hands touching them; these are believed to be the spirits of Edwin Brown's children. The house was featured on the History Channel's show Hidden Passages, as "the second-most haunted house in Wisconsin." The house is not open to the public, but may be seen from the exterior.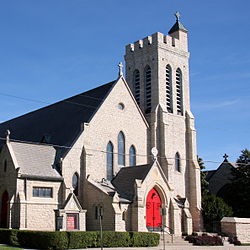 phone: +1 920 921-3363

address: 51 West Division Street

Built in 1884 to replace the previous cathedral, which had been destroyed by fire, the Cathedral of Saint Paul is the seat of the Episcopal Archdiocese of Fond du Lac, which includes the northeastern third of Wisconsin. The interior of the cathedral features exquisite wood carvings of the Apostles, Saint Paul, and about 25 angels. St. Michael's Chapel contains the sarcophagus of Bishop Charles Grafton, the bishop at the time of the completion of the present building.
Do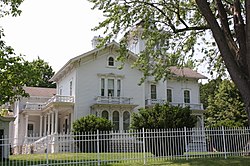 Historic Galloway House and Village

phone: +1 920-922-1166

address: 366 Old Pioneer Road

Operated by the Fond du Lac Historical Society, the Galloway House and Village is a recreation of a small Wisconsin village of the 1800s. Included are a print shop, a chapel, and a railroad station. The centerpiece of the village is the Edwin Galloway Mansion, home of the Galloway family from 1820 to 1926. The mansion is well restored and staffed with costumed guides. The Blakely Museum is also on the grounds.

Lakeside Park

phone: +1 920-322-3460

address: 555 N. Park Avenue

Fond du Lac's showcase park, at the southern end of Lake Winnebago. The park includes the historic Fond du Lac lighthouse, which is open to visitors, from 8AM to dusk from April 15 to October 15. There is a small amusement park, including a rebuilt historical merry-go-round and a train ride. There are two separate boat launches. There is a system of lagoons in the park, with a canoe rental concession. There is an old covered bridge, a fountain, and several pavilions which can be rented for special occasions.
Every June Fond du Lac's Walleye Weekend is held at Lakeside Park.
The city's Fourth of July fireworks display is held at Lakeside Park.
During the Christmas season Lakeside Park is transformed into a breathtaking scenario of holiday lights and displays, which can be seen by motorists driving though.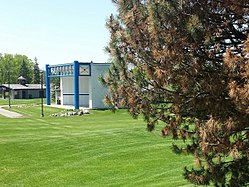 Fond du Lac Children's Museum

phone: +1 920 929-0707

address: 75 W. Scott St.

Buttermilk Creek Park

address: 700 S. Park Avenue

A large grassy park featuring a sledding hill and an outdoor amphitheater. It is the home to the Buttermilk Creek Festival concerts of the Fond du Lac Symphonic Band (W 7:15PM through the summer) and Music Under the Stars.
Buy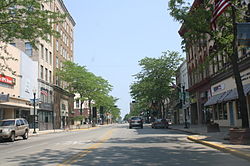 Historic Downtown District

address: S. Main Street between Fourth St. and Division St.

Fond du Lac's historic downtown area, featuring a variety of small shops and businesses in an area of turn-of-the-century architecture. There is street parking on Main Street or in several city lots behind the businesses, accessible from S. Macy Street (one block west of Main)

address: 835 W. Johnson St.

A modern indoor shopping mall featuring over 30 stores, boutiques, and restaurants.
Eat
Although it is a small city, Fond du Lac has many fine restaurants.
Gillies, an historical drive-in, is located just a few blocks further south. They are known for their frozen custard, and the Gillieburger, their peculiar take on the sloppy joe. Try one with a grasshopper malt.
Joe's Fox Hut, a pub on downtown Main Street offers some of the best pizza in town. Accommodations are refeshingly quaint, and the beer is cold.
Schreiner's, a casual dining restaurant with deep roots in the area is right off the Johnson Street exit on Highway 41, at 168 North Pioneer Road.
Ala Roma Pizzeria, across the street, serves homemade Italian food, with a full bar and plenty of room in a recently remodeled facility.
Gino's, an Americanized Italian restaurant, offers half price pizza on Sundays and Mondays. They specialize in Chicago-style and garlic-alfredo sauce pizzas. On these days, large parties will wait for at least an hour to sit, but you can enjoy happy hour in the meantime.
Trepanier's Backyard Bar & Grill at 838 E. Johnson serves great American-style food in an atmosphere reminiscent of a backyard cookout.
La Tapatia at 609 W. Johnson is a Mexican Restaurant, with delicious food and great service.
Drink
Irish's pub at Main and Western serves many fine beers and traditional ciders on tap. A pint of Guinness will run you $4. It is also a popular hang out for young professionals and college students looking to enjoy its relaxed, traditional atmosphere. Many colorful local figures can also be spotted at the bar, and almost all of them are up for a less-than-sober conversation that will enlighten you.
The cheapest drinks to be had are at Bud and Shirley's Riverside, four miles out of the city on Military Road, just over the 151 bypass. A small tapper beer will run you $0.75, and a Jack and Coke is $2.50. The atmosphere is extremely rural, and if the locals see you exhibit some skill at pool or darts, most will try good-natured bullying to get you to join their team in the local league.
*
The Main Pub
address: 241 S. Main St.
The classic "corner-bar" of Fond du Lac offers over 150 kinds of liquor to choose from and a martini menu.
Sleep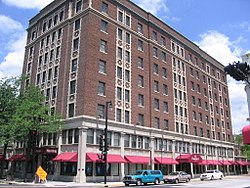 Comfort Inn Fond du lacFree continental breakfast buffet. Indoor pool, whirlpool. Free high speed internet.

phone: +1 920 923-3000

address: 1 N. Main St.

132 rooms and suites. Mancino's Downtown Restaurant onsite.

phone: +1 920 923-1440

address: 625 W. Rolling Meadows Drive

Renovated conference center. Oversized indoor holidome pool area, onsite restaurant Duffy's Steak House & Pub.