Forks
Forks
is a city in the
Olympic Peninsula
of
Washington
in the
Pacific Northwest
of the
United States of America
. Well-known due to the
Twilight
saga hype, this little charming town serves primarily as a transit point for visitors further exploring the beaches and mountains on the
Olympic National Park
, while the city itself has a number of attractions related to the movie that are worth seeing.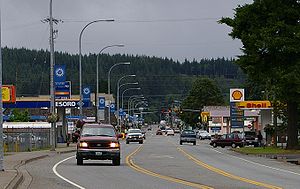 Get in
By car
The main route that goes through the town is U.S. 101. Forks is about 77 miles (roughly 90 minutes) west of Port Angeles, 2 hours north of
Aberdeen
and
Hoquiam
.
By bus
The for Clallam Transit and Jefferson Transit is located along Hwy 101 (Forks Ave locally) at 551 S Forks Avenue on the corner of Forks Ave and "E" Street, south of the high school. Buses travel more or less along US Hwy 101 and do NOT go into the Olympic National Park itself, Hoh Rainforest Visitor Center or the Olympic National Forest. They can only drop off along the road and it is up to the individual to hike into the park:
Clallam Transit provides bus services from Monday to Saturday in and around Forks (Rt #17); to Port Angeles (#14), to/from La Push (#15) and Neah Bay (#16).
Jefferson Transit-Olympic Connection travels along Hwy 101 between Forks and Amanda Park/Amanda Mercantile on Mondays through Saturdays. Connection with Grays Harbor Transit Rt #50 to Hoquiam & Aberdeen is at Amanda Park (Mercantile). There are no east-west roads across Jefferson County (Olympics Mountains) between the US Hwy 101 corridor and Port Townsend (major city and county seat of Jefferson County) without going all the around through Port Angeles. Passengers can also transfer buses in Aberdeen to continue further south along the coast or east towards Olympia and Shelton.

Rocket TransportationDoor to door service in the Olympic Peninsula (Port Angeles, Sequim, Forks) from Sea-Tac
By plane
The
Forks Airport
(for general aviation only) is one mile south of the city. While there is no commercial air traffic, the airport has a lot of general aviation traffic every day. An alternative is
Quillayute Airport
, , 20 minutes to the west of Forks, which has quieter traffic but a longer runway.
Get around
By car
The local roads are designed more or less around a grid system, where most roads are numbered based on their distance from the city center. Addresses also conform to the numbering of the roads around them. Nearly all streets run with the compass directions. Forks Ave (US-Hwy 101) divides east from west while Division St divides north from south.
By bus
The town of Forks is compact and can be easily covered on foot.
Clallam Transit Route 17
runs a loop around the town.
See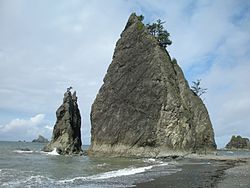 Forks is the key setting of the Twilight series by the author Stephenie Meyer and houses several sites featured in the novels and films.
address: 1411 S Forks Ave

The tourist center to Forks, visitors can pick up guides here for lodging, shopping, activities and dining. There are logging tours each Wednesday at 9AM that last three hours. Outside the Chamber of Commerce is a replica of "Bella's Truck" from Twilight.

phone: +1 360 374-6262

address: 191 S Spartans Ave

While not open to the public, the school is the setting for Bella and Edward's school in Twilight. The school sign was replicated for the movie and is popular with visitors for photos.

phone: +1 360 374-6271

address: 530 Bogachiel Way

The workplace of Edward Cullen's father in the Twilight series, there is a reserved spot in the parking lot for Dr Cullens.

Forks City Police Department

address: 500 E Division St

This is the setting in Twilight for the workplace of Bella's father Charlie Swan.

phone: +1 360-374-6806

address: 654 E Division St

Similar to the written description offered by author Stephenie Meyer in her first "Twilight" book (page 321), the house is nearly "a hundred years old . . . painted a soft, faded white, three stories tall", with a "porch . . . wrapped around the first story". The public is welcome on the front porch for a free view of the note left by Esme. Inside photo opportunities of the graduation caps and Carlisle's Office are available for $3 per person.
Do
address: Pacific Ocean Wild Beach

An iconic beach, part of the Olympic National Park. Lines of sprawling sea stacks. The lines of sand has an access to Little James Island and has a view of the La Push Marina.

Second Beach

address: Pacific Ocean

Fabulous 1½-mile walk on a safe easy path through beautiful tall trees to Tealwhit Point. Breathtaking! Great beach, tide pools and driftwood. Mystical.
Buy
phone: +1 360 374-6161

address: 950 S Forks Ave

The only grocery store in the city, cheaper wine but equivalent quality to big chains. Also houses an Ace Hardware and sporting goods.
Eat
Forks Coffee Shop

phone: +1 360 374-6769

address: 241 S Forks Ave

Diner with super-sized all-day breakfast and pastries. Eerie taxidermy ox and run-out interiors but the food is not a let-down.

phone: +1 360 374-9779

address: 140 Sol Duc Way

Decent Chinese food option in this small city. Offers both family and individual combos, and a wide array of both meat-based and vegetarian-based main courses. Popular as a to-go option.
Sleep
Bed and breakfast
Miller Tree Inn Bed & Breakfast

address: 654 East Division St

Historic 1916 farm house with 8 guest rooms, all with private baths and TV/DVDs. Two rooms have fireplaces and whirlpool tubs, while the Orchard Suite also features a small kitchen. The inn plays the part of the Twilight Series' Cullen House, which however looks nothing like the Hollywood version, which is located in Portland, OR. Hearty breakfasts, soft drinks, cookies, wireless internet and parking included.

phone: +1 360-374-9389

address: 194894 Highway 101 N

A stone and cedar home nestled on a ridge in the rain forest overlooking the Sol Duc River Valley. Antique furniture and collectibles are set off by the hand rubbed natural woods, rock work and unusual lighting. Guests can select their own menus and meal times, in addition to a wake-up call. All rooms have private baths. The gardens feature plants accented with seasonal flowering perennials and annuals, with an adjacent outdoor spa. A dessert and beverage bar is available to guests in the afternoon into the evening.
Motels
phone: +1 360 374-6243

address: 351 S Forks Ave

A large motel at the heart of the town. Old interior. Ample outdoor area for BBQ and a swimming pool.

phone: +1 360 374-9400

address: 352 S Forks Ave

A small motel at the heart of the town, across the Forks Motel. All rooms have air-conditioning. A few rooms are Twilight-themed, with black and red interior, even into the towels. Spotty Wi-Fi. In-house self laundromat available.
Go next
Visitors following the Twilight series usually combine their tours with a visit to La Push, the home of the Quileute Tribe in the stories. It is 14 miles west of Forks along Route 110, and is also accessible by Clallam Transit Route 15, which runs three daily services on weekdays (leaving Forks 7:20AM, 11:05AM and 3:35PM) and two on Saturdays (leaving Forks 9:20AM and 4:50PM).
Port Angeles is the largest city in the Olympic Peninsula, just an hour drive away northbound on Highway 101
Queets is a small town about 40 miles south of Forks along Route 101. On the way you'll pass through Kalaloch campground, with amazing views of the Pacific Ocean. There are many places to camp here, as well as cabins. Queets features a "general store" and a small village on the border of the Quinault Indian Nation.