Formosa (Brazil)
Formosa
("Beautiful") is a city in the state of
Goiás
, in
Central West Brazil
Understand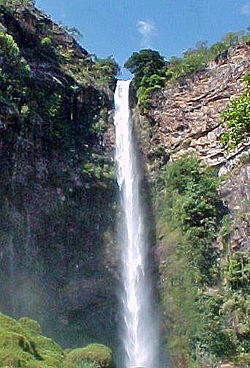 The first residents of the city of Formosa were the Paleo-Indians or paleoamerindios, who left cave paintings and rock recordings, dating back 4,500 years ago in the Stone Lapa and the Archaeological Site of Bisnau, located between the districts of Bezerra and JK.
The present Formosa city emerged in the mid-eighteenth century, when Goiás belonged to the captaincy of São Paulo. It was formed by former residents of the Arraial of St. Anthony, in the valley of the Paraná river, who fled their village after a strong malaria epidemic hit the region. Afraid of the disease, drovers and traders who came from Bahia and Minas Gerais camped in the area where Formosa is located today.
The town was named in honor Arraial dos Couros after the travellers who camped in leather tents that they brought to trade. The creation of the municipality of Formosa was on August 1, 1843.
The Cruls Commission trip came to the Central Plateau in 1892, from
Uberaba
heading into
Pirenópolis
. A team toured Corumbá, Santa Luzia (Luziânia) and Mestre d'Armas (Planaltina), arriving in Formosa on September 14, 1892. A team led by Mr. Luiz Cruls followed another path, straight to Formosa, and arrived earlier on August 23. On Sept. 15, the whole party left Formosa toward Mestre d'Armas, following the same route left by Viscount of Porto Seguro. The result of this trip was the demarcation of the Cruls quad, within which the new capital was built and inaugurated in 21 April 1960.
Get in
By plane
By car
Leaving Brasilia, take the direction of Sobradinho, and head straight through the BR-020. Total distance is 100 km.
Get around
By car

Access to some attractions may become problematic in the rainy season.

See
Outside the city
District Bezerra, 20 km, following BR-020. Huge archeological site. There are several locations, many of which are still unknown.
Waterfalls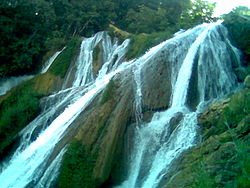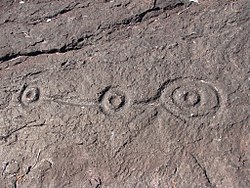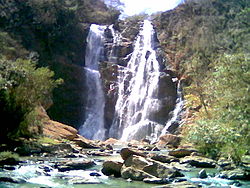 phone: +55 61 3631-0454

address: Rodovia GO 440

With 168 m, is the tallest waterfall in the Brazilian Central West. It lies within a protected area, Parque Municipal Itiquira. You cannot swim in the pit that forms just below this waterfall because the force of free fall of water is enormous. This offers a unique spectacle, worth to be seen. Just downstream, there are other wells with small waterfalls, very good for swimming. After the jump, the river forms a sequence of waterfalls, rapids and pools, covered by a dense forest. The park attracts many tourists from Brasilia (115 km). It has several mineral springs, and out of the park, a club with average infrastructure, restaurant, bars, cafeterias, camping, running water pools, hotel and chalets
Bisnau Waterfall - 20 km from the District Bezerra. 100 m long, 130 m tall, with 6 small waterfalls along the way, beside the great waterfall. There are two bathing pools, one on top of the waterfall and another at the end, plus a wonderful view, from a natural belvedere. You can descend the waterfall, climbing the wall next to it, or via rappelling, or even down a steep trail in the midst of the virgin forest. The waterfall is near the archaeological site of the same name, with indescribable figures in rock formations - are more than 29 archaeological sites nearby. In them, there are signs on the rock charts, ranging from rock excavations of the bas-relief paintings monochromes. The site hides big secrets of our ancestors, according to the local guides.
Lajedo - 19 km from District Bezerra. Looks like a human work, judging the perfection of the finish of the rocks that cover a large area of the Bisnau riverbed. Waterfall about 2 m tall, beautiful waterfalls with a vertical drop of 10 m, finishing in a well of crystal clear water, 3 m deep.
Poço Azul - about 35 km from District Bezerra, is a spring of translucent water, about 9 m deep, in the midst of a virgin forest, and you can see various species of fish.
Santana - about 16 km from District Bezerra, formed by the Rio Paraim, the waterfall Santana has two falls, the first is about 20 m high, forming a small pit; the second drop is largest, approximately 80 m. Access to the site is difficult, but is rewarded by the beauty and tranquility of the place. At the foot of the waterfall there is a pool where you can swim and fish.
Caves
Buraco das Araras (Macaws' Hole)- One of the largest quartzite sinkholes from Brazil and the second largest in the Central West, 105m deep and 295m wide, has in its midst a dense rainforest with giant ferns, typical of the site's Primitive age. The trail leads to a huge cave with an underground river where you can snorkel (you'll need a watertight flashlight). Point is really impressive, despite the difficult track; it is common to rappel down.
Gruta das Andorinhas (Cave of the Swallows) - A 21 km from District Bezerra. About 250 m deep, inside there is a pond with clear water.
Jabuticabeira Cave - At about 8 km from District Bezerra. 2 km long. Within it, runs a river with crystal clear and very cold water, forming deep wells. To make your crossing is necessary to walk through the river water; in some places, you need to swim due to depth. The darkness inside the cave is impressive, but with good flashlights you can enjoy the beautiful stalactites and stalagmites inside. This cave ends in a waterfall 8 m tall, with beautiful pool.
Toca da Onça (Jaguar's Nest) - A 14 km from District Bezerra. Passage of 200 m beneath a massive limestone boulder, located on the farm Capetinga. Gets its name because farmers claim that, formerly, the site was home to jaguars, who attacked the cattle ranches.
Eat
Restaurante Casarão

phone: +55 61 3631-2279

address: Praça Nossa S. da Conceição, 334 Centro

Restaurante Lancheria e Churrascaria do Gaúcho

phone: +55 61 3642-2855

address: Av Lagoa Feia, 1710 Formosinha

Restaurante Paladar

phone: +55 61 3631-7272

address: Rua Emílio Póvoa, 420 Centro

Restaurante Reis Wendt

phone: +55 61 3632-1665

address: Rua Sen Borba, 349 Centro

Dom Fernando Restaurante Rural

phone: +55 61 9968-2983, +55 61 9963-6879

Typical rural ambience, home-made quality food and products from Fazenda Estreito. Complete buffet with all the best options of Goiana and Mineira cuisines. Feijoada, pequi, lamb chops, oxtail, grilled goods, several types of pastries and salads with local made produce.
Sleep
Camping sites
CCB-GO-01

phone: +55 61 9957-3060

address: exit to S. João da Aliança (accesso from GO-430 to GO-118), 28km

Next to Fazenda Indaiá, home to four beautiful waterfalls.

Camping Lagoa Tur

phone: +55 61 3225 3788, +55 61 3224-7758

address: acesso pela GO-430 p/ Planaltina de Goiás (Lagoa Formosa), 30km
Hotels
phone: +55 61 3642-3001

address: Av. Ângelo Chaves, Nº 200, Bairro Formosinha

All rooms have fridge, TV, hot shower and WiFi. Parking, laundry and breakfast.

phone: +55 61 3631-3005, +55 61 3631-6075, +55 61 3631-6076

address: Rua Emílio Póvoa, nº 509, Centro

Free parking, breakfast and WiFi.

ABC Palace Hotel

phone: +55 61 3631-1030, +55 61 3631-8228, +55 61 3631-4923

address: Rua Honório Lobo, n°1 - Centro

Free parking, WiFi and breakfast. Visa and MasterCard accepted.
Go next