Fort Lauderdale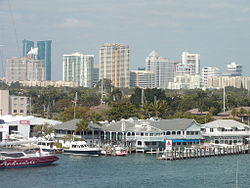 Fort Lauderdale
is a coastal city on the
Atlantic Ocean
in the
US
state of
Florida
. It is known as the "
Venice of America
" due to its expansive canal system. Situated in
Broward County
in
South Florida
, the city's population is over 170,000.
The city is most famous for its beaches and boats, and while the city of Fort Lauderdale is relatively small in area, the term 'Fort Lauderdale' is often used to refer to the larger metropolis that has grown up around it. It is the county seat for Broward county, and is part of the
Miami
-Fort Lauderdale-
West Palm Beach
metropolitan area, which has over 5.5 million people.
Understand

The first inhabitants of the land were Seminole Indians who arrived in the 18th century. During the Second Seminole War, Major William Lauderdale led his Tennessee Volunteers into the area and raised New River Fort on the site of the modern city in 1838. In 1893, a young Ohioan named Frank Stranahan arrived and built a house that served as the first trading post, post office, bank and town hall of the area. The house was built near the site of the New River Fort and still stands today as a museum, Stranahan House.
Fort Lauderdale was incorporated as a town in 1911, and became the seat of newly formed Broward County. It began as a predominantly agricultural community of dairy farms and citrus groves.
More growth came with establishment of the Naval Air Station, which is now Fort Lauderdale/Hollywood International Airport.
The city and its surrounding suburbs experienced tremendous growth following the end of World War II, and the arrival of home air-conditioning. In the 1960s, Fort Lauderdale became the center of Spring Break after the debut of the movie Where the Boys Are. It is now an anchor of the Miami-Fort Lauderdale-West Palm Beach Metropolitan area, the nation's 6th largest metro area.

Climate

Fort Lauderdale has a tropical rainforest climate. Summers are very humid with temperatures in the upper 80s °F and low 90s lasting into early fall.
The city sees most of its rainfall in the summer (the wet season). Winter is warm and mild and mainly dry (the dry season) with mild temperatures that are occasionally broken up by some rain when cold fronts come through.
May to September is the summer wet season. During the summer, it is warm and humid, with the prevailing wind bringing tropical breezes blowing up from the Caribbean, Gulf of Mexico and equatorial Atlantic. It is often clear and sunny in the mornings but as the land heats up the air rises and the sea breeze kicks in. This brings in more damp moist air from the sea and so by noon it often starts to cloud over, and then there are commonly short showers in the afternoon, which helps to cool the air off for a cooler and generally dryer evening. The Atlantic hurricane season largely occurs from late July through early November, with peak activity generally occurring from mid-August through early October.
Fort Lauderdale, positioned just above the Tropic of Cancer, owes a lot of its winter warmth to the Gulf Stream that runs just a couple of miles off shore. The Gulf Stream brings warm water up from the tropics year-round.
On a typical summer day the temperature does not get below 75 °F (24 °C). Summer temperatures are commonly in the high 80s to low 90s (30-35 °C), which is often relieved by the sea breeze, which in turn brings some afternoon thunderstorms.
During winter, humidity is significantly lower. The average daily high in the winter is usually between 65 and 75 °F (18-24 °C) and the low normally around 59 °F (15 °C), rarely dipping below 40 °F (4 °C) when a front comes through.
Fort Lauderdale receives abundant rainfall, most of it falling in the summer. The annual total of 63.8 inches (1488 mm) is one of the highest for a U.S. city. This sounds like a lot, but it does not rain that often; when it does rain, it is a real tropical downpour.

Water temperature
Fort Lauderdale has the Gulf Stream running next to its shoreline. This allows South Florida to have very mild winters and humid summers. The temperature of the water does not depend on temperature of the air, as the water continues to flow from warmer regions. In winters it is possible to have warmer water than the air temperature. Average coldest temperature of the water falls to 74 °F (24 °C), while temperature of the air may briefly fall as low as low 40s (6 °C). December is the last month of lukewarm 80 °F (27 °C) water; in January it quickly cools to its lowest, 74 °F (24 °C). In the end of May, it climbs to 80 °F (27 °F). However, a comfortable 84 °F (28 °C) comes only at the end of June. July is known for balmy 86 °F (30 °C) and August is the warmest month with shore waters reaching high 90s (37 °C), a temperature that holds until the middle of September. After September the temperatures start to cool off: October is 84 °F (28 °C), November 82 °F (27 °C), December is 80 °F (27 °F). For scuba divers the temperatures don't change much with depth: recreational divers might see a 2 °F (1 °C) degree difference from the surface temperatures.

Get in
By plane
South Florida has three airports with commercial service:
Fort Lauderdale/Hollywood International Airport

phone: +1 954 359-1200

address: 100 Terminal Drive

It is a major airport and popular low cost carrier destination. This is the most convenient airport to Fort Lauderdale. Spirit Airlines maintains a hub here; JetBlue, Southwest Airlines, Delta Air Lines, and United all also have substantial operations here. FLL is the main domestic airport for the South Florida region. It is also an emerging hub for flights to and from the Latin America and the Caribbean. Norwegian Air Shuttle operates routes to major cities in Europe and Scandinavia in particular, and British Airways has flights to London (Gatwick). There are also some limited charter flights to and from Europe. Emirates also offers a flight to Dubai. Many passengers are bound for or coming from cruises using Port Everglades, some two miles away. Many taxis, cruiseline buses, and hotel/motel shuttles make access to either easy.
Miami International Airport (MIA

), is 25 miles (40 km) south of Fort Lauderdale. It is the major international airport in South Florida, and known as 'The Gateway to the Americas'. Home of American Airlines' Latin American hub. There are frequent flights to Europe and many direct flights to the US West Coast; it is a 40-minute drive from Fort Lauderdale using I-95, but can be much, much slower during rush hour. You can catch the Tri-Rail from Miami airport to Fort Lauderdale station for about $4 a head. Then catch the linking bus, or get a cab from the station to the hotel. (More on Tri-Rail below). You can take a shuttle van from Miami Airport to Fort Lauderdale, price varies by destination but will be around $50 to $70 a head.

Palm Beach International Airport (PBI), 1000 Turnage Boulevard, West Palm Beach, +1 561-471-7420. This airport is another option. PBI, however, primarily serves the Palm Beach area and is the least convienent of the three airports for visiting Fort Lauderdale. Nevertheless, you can use Tri-Rail to get from Palm Beach Airport to Fort Lauderdale.
For general aviation:
By train
Tri-Rail, +1-800-TRI-RAIL. Tri-Rail is a commuter rail line linking Miami Airport, Fort Lauderdale and West Palm Beach in Florida. It is run by the South Florida Regional Transportation Authority. The 72-mile system has 18 stations along the South Florida coast. The train connects to the Metrorail in Miami at the Tri-Rail/Metrorail Transfer Station. For more detailed information refer to the entry. From Miami International Airport you can catch the Tri-Rail to Fort Lauderdale, and then a bus connects you the last mile downtown. Tri-Rail runs less frequently on weekends, so check the schedule.
Amtrak, 200 SW 21 Terrace, +1-800-872-7245. Provides service to cities up the Atlantic Coast of the United States via its Silver Meteor and Silver Star trains. Amtrak has two stops in the Fort Lauderdale Area, one in Fort Lauderdale located on Broward Boulevard and I-95, and another one in the suburb of Hollywood on Hollywood Boulevard and I-95. The train goes south to Miami and north to Boca Raton.

address: 101 NW 2nd Avenue

This is the first private passenger rail service to start anew in a long time serving a route from Fort Lauderdale to West Palm Beach since January 2018 with plans to connect to further cities in the time to come. Note that the station is not the same as the one served by Amtrak and TriRail. In 2019 the company was taken over by interests operating under Richard Branson's "Virgin" brand that already operates rail services in Great Britain and several airlines and the overall name was changed to "Virgin Rail USA". Virgin Rail USA have announced plans to expand their operations in Florida and plan to construct another rail line between Las Vegas and the Los Angeles area.
By car
Interstate 95 (I-95) is the major north-south artery along the east side of the city. It connects Fort Lauderdale with the downtowns in Miami and West Palm Beach and goes north to Jacksonville and beyond.
Florida's Turnpike runs north-south, west of the city. To the south it connects to Homestead and the Florida Keys. To the north it connects to Orlando and North Florida.
By bus
Intercity bus and shuttles typically stop at the airport, the Tri-Rail Sheridan Tri-Rail Station and/or at another location. Check their website links or call them regarding pick-up/drop off locations:
By ship
Port Everglades, on the south side of the city center, is the most active container port and second most active cruise port in Florida. It supports a high number of cruise ships with about ten thousand passengers arriving and departing each week. Many find Port Everglades somewhat more convenient and economical than Miami to park and stay overnight at local lodging, and then catch a shuttle to/from the ship's terminal. Numerous hotel/motel chains offer park/stay/cruise-shuttle packages. Most are also quite close to the airport.
Additionally,
Baleària Caribbean
runs a regular ferry from
Freeport
, in the
Bahamas
.
Get around
The east side of Fort Lauderdale, between down town and the beach, is criss crossed with canals. It doesn't matter if you are in a car, on bicycles, or on foot, you have to cross the canals where the bridges are. This is one town where a good map can save you a lot of backtracking. Surprisingly the best road map of the East side of town is the 'Dolphus Waterway Map".
The US 1 does
not
intersect with Las Olas Boulevard. Your map is wrong if it says otherwise. The US 1 passes under the river in a tunnel and goes under Las Olas too, re-emerging only at Broward Blvd. to the north. This confuses many people who are trying to navigate around Fort Lauderdale.
By car
The easiest way to get around Fort Lauderdale and South Florida is by car. If you are renting—all the major national chains, and several local ones, can be found here—it is substantially less money to rent a car from a location outside of the airport. The city is set up on grid system and is fairly easy to navigate. Downtown is roughly two miles west of the beach. You need to consult a map when on the East side of town because the canals divide up the city and you need to find the bridges.
Broward County is served by three major Interstates (I-75, I-95, I-595) and some U.S. Highways including
U.S. Highway 1
, US 27 and US 441. It is also served by Florida's Turnpike and State Highway 869, also known as the Sawgrass Expressway.
By taxi
Taxis are generally expensive, but available at almost any time and place.
Yellow Cab

phone: +1 954-777-7777

The largest company in the city.

Water Taxivia the Intracoastal waterway and New River. A different way to see the city, its beautiful waterfront mansions, and stately yachts.
By bus
phone: +1 954-357-8400

The county bus system. BCT provides connections with the bus systems in other parts of the metropolitan area: Metrobus in Miami-Dade County and Palm Tran in Palm Beach County. Buses are available, but often slow and inconvenient. There is a push to increase bus service.

phone: +1 954-761-3543

An inexpensive trolley serving the downtown, beach, and convention center areas. It also provides a link from downtown to the Broward Blvd Tri-Rail station. If you're looking for a cheap scenic tour through Fort Lauderdale, ride the Sun-Trolley or take the 11 bus along Las Olas Blvd and A1A.
By train
Tri-RailCommuter train which runs north and south parallel to I-95, connecting Miami, Fort Lauderdale and West Palm Beach. Tri-Rail provides access to South Florida's three major airports, as well as links to Miami's Metrorail. However, since Tri-Rail trains can sometimes be thirty minutes to an hour late and has trains coming every two hours apart on the weekends so you will probably have better luck taking the city bus system. Tri-Rail also does not offer a very scenic tour as it is just a commuter line through the back sides of town.
By boat
Fort Lauderdale is America's yachting capital, and as such has numerous boat charter and rental companies. There are many restaurants and bars along the intracoastal that cater to the passing yachtsmen and their guests.
Water Bus
has 11 pick up/drop off locations in east Fort Lauderdale along the Intracoastal Waterway and New River. Float to and from the hotels, shopping, restaurants, beaches and nightlife. Slow and costly, but worth it for the view and romance.
By bicycle
When you visit the beach you will see that many locals bike to the beach. Things in Fort Lauderdale are close, but often further apart than a quick walk. A bike makes everything much closer, and you don't have to find parking. By bike, it is only 10 minutes from the beach to downtown, the supermarkets, or the malls. A bike creates its own breeze so biking is not only quicker and less effort than walking, it's often cooler too.
You can rent a bike, or, if you know you are going to be staying more than a couple of days, it may be more cost effective to buy a $100 bike from a big discount store and sell it or pass it on when you go home. (If you stay a week, you can just about pay for a bike in the money you save on parking.)
There are bike lanes on the road by the beach on A1A and on Las Olas Blvd. going between the beach and downtown and the Riverwalk. Ride in the same direction as the traffic. It is common to take to the sidewalks on the bridges or on major roads when the bike lane disappears.
Because most things are quite close and Florida is very flat, bicycles are a very green, very sane, and relatively quick way to get around. You also get to see more, hear more, and be able to stop easily along the way to take pictures, something that is difficult to do when in a taxi or a car.
See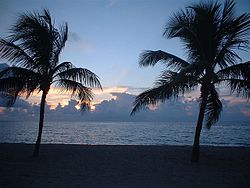 Fort Lauderdale Beach (The Strip)
The most popular section of beach is where A1A runs alongside the beach, between Las Olas Blvd north to Sunrise Blvd.
The "Elbo Room" bar, at Las Olas Blvd and A1A, was featured in the 1960s film
Where the Boys Are
. The movie led to the city's former reputation as a spring break mecca. The bar anchors the Southern end of the 'Strip', a strip of eating and drinking establishments that run along the land side of the beach road.
Spring Break peaked in the mid 1980s and the city now attracts a more upscale crowd. Fort Lauderdale is in the midst of a luxury condo building boom, this is displacing the hotels that once lined the beach.
The city is more cosmopolitan than most, having lots of Europeans and gay residents. The beach culture reflects the laid back nature of the community. You will find European food in the restaurants and bathers in thong swimsuits.
Beach Place

address: Located on A1A, north of Las Olas Blvd

A collection of bars, restaurants and retail stores connected to a Marriott hotel.

Bonnet House

phone: +1 954 563-5393

address: 900 N Birch Rd

Elbo Room

address: Las Olas Blvd and A1A

The most famous spring break bar, and one of the few remaining from that period.
Downtown/Las Olas Blvd
The downtown area, especially around Las Olas Boulevard, has seen dramatic growth in the past decade, and now hosts many new hotels and high-rise condominium developments. Other improvements include a wide array of new boutiques, art galleries and restaurants.
The entertainment district runs east-west along Las Olas Boulevard. East Las Olas Blvd has a mile of upscale shops and restaurants. Across the railway lines, West Las Olas caters to a younger crowd. There are funky nightclubs and restaurants between the railway lines and the Broward Center for the Performing Arts. In between East and West, there is a new set of shops called Riverside that sits on the RiverWalk. The RiverWalk runs along the north side of the new river, from the shops at Las Olas to the performing arts complex.
Broward Center for the Performing Arts

phone: +1 954-522-5334

address: 201 SW 5th Ave

Las Olas BoulevardAn upscale collection of stores, restaurants and bars near downtown.

Museum of Art

phone: +1 954-525-5500

address: E Las Olas Blvd

Museum of Discovery and Science

phone: +1 954-467-6637

address: 401 SW Second St

Old Fort Lauderdale Village & Museum

Stranahan House

phone: +1 954-524-4736

address: 335 SE 6th Ave
Wilton Manors
Wilton Manors is a city surrounded by Fort Lauderdale. It is a popular area for gays and lesbians. It has many guesthouses, restaurants, and bars/nightclubs catering to its gay clientèle. The busy center of the city is Wilton Drive near NE 26 Street. This is only two miles north of downtown Fort Lauderdale.
Elsewhere
African American Research Library and Cultural Center

Fort Lauderdale Swap ShopA large indoor/outdoor flea market with the country's largest drive-in movie complex (13 screens).

phone: +1 954-564-4521

address: 3109 East Sunrise Blvd

Contains some of the area's last stands of native forest, with short nature trails.
Do
The beachA prime attraction. There is parking just south of Las Olas Blvd or if that is full, there is plenty more under the Las Olas Blvd Bridge. The machines take cash or credit cards. There is more parking on A1A, North of Sunrise Blvd. Athletes enjoy running along the road by the beach in the early mornings. On Saturday mornings there is a continual stream. Best viewed from one of the numerous coffee shops or restaurants across the road from the beach. You can rent a bicycle and explore along the beach, or head inland via Las Olas Blvd, to explore the upscale shops that line Las Olas towards the downtown. From Las Olas the RiverWalk connects to the Arts and Entertainment district. Parking at some beach hotels is limited and with things quite close you will find bicycles are a good way to get around. Bicycle on the sidewalks if the traffic scares you.

BoatingYou can go boating on the miles of waterways. Take the water taxi, take a ride in a glass bottom boat or take one of the river cruises like the Jungle Queen. There is also sport or deep sea fishing. If boating is not your thing, then you can just watch the boats go by from the many waterfront bars and restaurants.

SW 2nd StreetOn Friday and Saturday evenings the bars and clubs along SW 2nd Street come alive with young people. If you are under 35 this is the place to be on weekend nights. Known by locals as Colee Hammock, this is the two blocks on SW 2nd St just West of the rail way tracks, near the Science Museum and Performing Arts Center. For tourists, or people over 35, there is the RiverSide complex with bars and restaurants just East of the same railway lines.
Sports
Golfing, snorkeling, scuba diving, and deep sea fishing are very popular sports in the area. The metropolitan area also offers the following spectator sports:
The Florida Panthers of the National Hockey League play at BankAtlantic Center in suburban Sunrise, Florida.
Sun Life Stadium in Miami Gardens is the home to the Miami Dolphins of the NFL and the annual Orange Bowl college football game held in early January. The stadium is 17 miles South-West of Fort Lauderdale.
Major League Baseball's Miami Marlins play home games at Marlins Park in Miami, 28 miles southwest of Fort Lauderdale.
The Miami Heat of the National Basketball Association play at AmericanAirlines Arena in downtown Miami, located 23 miles south of Fort Lauderdale.
International Swimming Hall of Fame is located at Fort Lauderdale Beach.
South Florida also hosts the college sports teams of Florida Atlantic University, Florida International University, Nova Southeastern University, and University of Miami.
The Fort Lauderdale Strikers of the North American Soccer League play at Lockhart Stadium in North Fort Lauderdale only 12 miles from the downtown area.
Personal fitness
There are sports and events held year round; although less frequent in the summer due to the intense heat. There are so many local running races during the cooler months that they may be held just several weeks apart.
Greater Fort Lauderdale Road Runners
keeps a central listing of running races on their web site.
The swimming Hall of Fame pool complex is one block back from the beach. A world class venue where top athletes swim. There are a number of national swimming meets throughout the year.
There are a good number of local Triathlons, mostly the shorter sprint distances.
Other
Jungle Queen. Dinner cruise featuring sites along the New River in and around downtown.
Pier Fishing at Commercial Blvd, Atlantic Blvd, Hillsboro Blvd and Dania Beach. Each area has long piers into ocean, and fishing available.
Bahia Mar Marina. Just across from the beach. You can walk around the marina and look at luxury boats and yachts owned by the well-heeled. On one jetty there is a monument and plaque announcing slip F-18 as an American Literary Landmark - this is where author John D MacDonald's fictional hero, Travis McGee , moored his 52-foot houseboat The Busted Flush (21 Travis McGee novels were published).

Flamingo FishingA drift fishing boat that makes 3 trips daily from the Bahia Mar Marina. The boat supplies all the equipment and supplies needed for deep sea fishing.

Lagerhead Cycleboats

phone: +1 954-300-2401

address: 1525 SE 15th St #5 Fort 33316
Buy
Fort Lauderdale, and South Florida in general, is a shoppers paradise. There is something to satisfy everybody's shopping desires. Here are is a list of some of the main districts/destinations:
Shops on Las Olas Blvd, little specialty shops and upscale restaurants line Las Olas Blvd, starting down town and running east on Las Olas Blvd for a mile, to SE 15th Avenue. Most shops and restaurants are open late in the evenings.
Galleria Mall, Sunrise Blvd and Bayview Dr. Fort Lauderdale's regional mall. Has over 200 stores including: Neiman Marcus, Macy's, Dillard's, and Saks Fifth Avenue. This is only 1/4 of a mile, about ten minutes walk from the beach.
Sawgrass Mills, in city of Sunrise at Sunrise Blvd and NW 136 Ave. One of the world's largest malls for shopping, dining, and entertainment.
Broward Mall, in Plantation at Broward Blvd, and University Drive.
Coral Square Mall, in Coral Springs at Atlantic Blvd. and University Dr.
Festival Flea Market, in Pompano Beach on Sample Rd, just east of Florida's Turnpike. Large indoor flea market.
Pembroke Lakes Mall, in Pembroke Pines at Pines Blvd. and Flamingo Rd.
Pompano Square, in Pompano Beach at US1 (Federal Hwy) and Copans Rd.
Aventura Mall, large, upscale regional mall located in Aventura.
Boca Town Center, large, upscale regional mall located in Boca Raton.

Swap Shop

phone: +1 954 583-2221

The Swap Shop is an older flea market west on Sunrise Blvd. at a drive-in movie. Along with getting your hair braided you can shop for fruits, vegetables, clothes, nick knacks, and practically any other things other locations would not have.
Independent Stores
Clothes Encounters

phone: +1 954 522-2228

address: 1952 E Sunrise Blvd

Huge selection of funny t-shirts along with basic swimwear and gifts.

Flagler Antiques

address: 720 Flagler Dr

10,000 square feet of antiques.
Shop at Swap Shop. Get your hair braided there Phone: +1 954 583-2221. The Swap Shop is an older flee market located east on Sunrise Blvd. Along with getting your hair braided you can shop for fruits, vegetables, clothes, nick knacks, and you can practically find other things that other locations would not have.

Zoo 14

phone: +1 954-763-9666

address: 1208 NE 4th Ave

Men's designer clothing and club wear.

phone: +1 954-530-3109

address: 2541 E. Sunrise Blvd

Women's designer clothing and accessories.
Work
Once heavily reliant on tourism and the very large marine industry, Fort Lauderdale's economy is now diverse and based on many small and medium business.
Several large companies are based in the Fort Lauderdale area including: AutoNation USA, CBS Interactive, Citrix Systems, DHL Express, Spirit Airlines, Merchant Financing Leads, and National Beverage Corp. Due to its proximity to Miami, Fort Lauderdale is emerging as a location for Latin American headquarters for companies such as Microsoft.
Fort Lauderdale is a major manufacturing and maintenance center for large and expensive private yachts. The boating industry is responsible for over 100,000 jobs in the area. With its many canals, and proximity to the Bahamas and Caribbean, it is also a popular place to keep a yacht, and a major stop for nautical staging and refitting.
The boating industry is being squeezed out because waterfront property continues to increase in value and this is forcing some marinas and shipyards to sell out or relocate out of the area. The total number of available boat slips is also declining as marinas are more actively seeking a few large mega-yachts instead of several smaller boats.
Even so, the marine industry continues to grow, catering more and more to the mega yachts. There is now a section of the old State Road 84 that has been renamed Marina Mile where the mega yacht industry is booming.
During the 1970s, the city's tourism was largely driven by younger people, because Fort Lauderdale was infamous for being THE spring break destination for college students. This changed in the late 1980s when there was a crack down on underage drinking. Fort Lauderdale is now less of a college spring break destination and does more year round business with European families and upscale US tourists. The city also has a booming cruise ships industry: every day there are shiploads of tourists leaving and arriving at the sea port.

Eat
Fort Lauderdale has countless dining options. Among the most popular areas are Las Olas Blvd, Olde Town Fort Lauderdale, and the Beach.
Downtown/Old Town/Las Olas Blvd
Big City Tavern

address: 623 E.Las Olas Blvd

Great atmosphere, outside seating available. Sandwiches to steaks served.

Capital Grille

address: Galleria Mall

Upscale restaurant featuring excellent service and great steaks. Incredible wine selection.

Cheesecake Factory

phone: +1 954-463-1999

address: 620 E.Las Olas Blvd

At base of Riverside Hotel where Las Olas meets the Tunnel. Popular chain featuring a large menu and countless desserts.

Chima

address: E.Las Olas Blvd

Excellent Brazilian rodizio. Great salad bar too.

Jalisco

phone: +1 954 462-9695

address: 700 N.Federal Hwy

Small, family-owned Mexican restaurant. Looks can be deceiving as excellent, yet affordable cuisine is served with a smile.

Laffing Matterz

phone: +1 954 763-5236

address: 219 S. Andrews Ave

After you dine on chef-prepared fare, their cutting-edge musical satire will leave you wiping tears of laughter from your eyes!

Mango's

address: 900 E.Las Olas Blvd

Popular and reasonably priced. Outside seating is available and there is often live music.

PF Chang's

address: Galleria Mall

Popular national chain, serving non-traditional Chinese food.
On the Beach/The Strip
phone: +1 954-727-7090

address: 1140 Seabreeze Boulevard

Modern Mexican cuisine, made-to-order guacamole & tequila cocktails.

Monster Subs

phone: +1 954 463-7997

address: 1978 E Sunrise Blvd

Sub shop known for handing you some of the meat to sample while you are waiting for them to make your sub.

Trina

address: Fort Lauderdale Beach Blvd (A1A)

At the Atlantic Hotel. Award winning restaurant featuring a Florida-Caribbean cuisine.

St Barts Coffee Shop

address: On the beach (A1A), 2 blocks south of Las Olas Blvd

Outside tables under umbrellas. It's where the locals go for coffee and breakfast.
Wilton Manors/Close In
Alibi

phone: +1 954 565-2526

address: 2266 Wilton Dr

Wilton Manors. Gay bar & casual restaurant (hamburgers & sandwiches). Friendly, diverse "straight-friendly" crowd; lunch & dinner served both indoors & outside under covered patio area. Very reasonably priced.

phone: +1 954-202-0000

address: 2389 Wilton Dr

Thai and Asian-fusion food. Great food, great atmosphere, enjoy the patio year 'round

Mai Kai

phone: +1 954 563-3272

address: 3599 N. Federal Highway

Along Polynesian food, you can view a show with fire.
Rosie's, Wilton Drive. Great hamburgers and lite fare, with large outdoor seating area. Fun gay-themed restaurant, with live music on weekends.

Tasty Thai

phone: +1 954-396-3177

address: 2254 Wilton Dr

Wilton Manors. True authentic Thai Cuisine, get there early for dinner and get a complete meal at a reasonable price.
Lauderdale by the Sea area
Pomperdale

phone: +1 954-771-9830

address: 3055 East Commercial Blvd

An excellent New York Jewish style deli.

phone: +1 954-776-5092

address: 4404 El Mar Dr

Lauderdale-By-The-Sea. Great place for breakfast, lunch and dinner or just drinks. Next to the beach. $8-12. Try the banana nut pancakes, they are to die for.

phone: +1 954 776-8101

address: 101 E Commercial Blvd

Really cool restaurant with a great outdoor bar. Perfect for people watching and 50 yards from the ocean. They have arguably the best happy hour in town: 50% off all drinks from 5-7PM, 7 days a week. Food and drink are both great—try the flatbreads or the cowboy steak.
Drink
Fort Lauderdale's former reputation was built by Spring Break, and the city still does not disappoint. There are countless places to have a drink from little 'hole in the walls' to the ultra chic.
phone: +1 954-766-0001

address: one east commercial blvd

A fun place for all ages with free live music from techno, pop to the beatles every day at 10PM

phone: +1 954 937-8546

address: 1401 SW 1st AVE

Cold-pressed raw, organic juices and smoothies. Zen Bar offers a wide selection of superfoods & also features a beautiful collection of crystals.
Downtown/Old Town/Las Olas
Riverfront is a collection of stores and bars on the west side of the downtown district.

Tarpon Bend

address: 200 SW 2 St

Great beer specials and popular on weekends.

Voodoo Lounge

address: 100 SW 2 Ave

Old Town. Popular dance club.
Beach/The Strip
Beach Place is on A1A across from the beach. It has many bars and restaurants, and is very popular on the weekends.
Elbo Room famous spring break landmark at Las Olas Blvd and A1A.
Fat Tuesday's, Beach Place. Great ocean views and strong frozen drinks. Perfect combo for fun.
Shooters is on the Intracoastal Waterway, south of Oakland Park Blvd. Very popular with the yacht crowd, as there are boat slips available.
Hole In The Wall
Grady's Bar

address: 905 S. Andrews Ave

At is a hangout for locals, open since 1940. Cheap drinks and food, cash only.
Flossie's Bar and Grill 3985 Angler's Avenue on the opposite side of I-95 from the airport. Outdoor tiki bar with live music some nights. Popular biker hangout.
Wilton Manors/Gay & Lesbian
Georgie's AlibiAt the Shoppes of Wilton Manors. Wilton Dr. and NE 6 Ave.

BoomA nightclub at Shoppes of Wilton Manors. Wilton Dr and NE 6 Ave.
Oakland Park
Sleep
Connect
Phone

In order to make local phone calls, all ten digits of the phone number are required. As such, you'll notice that all local phone numbers include an area code. The local area codes are 954 and 754, and you don't dial a 1 first but do dial the area code, i.e. you dial 954-555-1212 or 754-555-1212.
To call anywhere else you must dial 1, then the area code, i.e. to call to Miami from Fort Lauderdale you dial 1-305-555-1212.
Area codes for Miami are 305 or 786 and for Boca Raton and Palm Beach it is 561.

Media
Fort Lauderdale is served by two English-language newspapers, the Sun-Sentinel|South Florida-Sun Sentinel and The Miami Herald, as well as two Spanish language|Spanish-language newspapers El Sentinel del Sur de la Florida|El Sentinel and El Nuevo Herald.
Fort Lauderdale is considered to be part of the Miami media market, which is the 12th largest radio market and the 17th largest television market in the United States. Television stations serving the Miami area include WAMI (Telefutura), WBFS (UPN), WBZL (WB Television Network|The WB), WFOR (CBS), WHFT (TBN), WLTV (Univision), WPLG (American Broadcasting Company|ABC), WPXM (i television network|i), WSCV (Telemundo), WSVN (Fox Broadcasting Company|FOX), WTVJ (NBC), WPBT (PB), and WLRN (also PBS).

Stay safe
Fort Lauderdale can be very safe but there are some parts of town you should probably avoid if you are on foot at night. Like all cities, you should ask advice on what areas are safe and what to avoid. The areas likely to be frequented by the tourists, along the beach, shopping along Las Olas and down town are safe. This would be the NE and SE parts of the city. You should use more caution if the address is on the West side of the city NW or SW. The intersection of Andrews Ave and Broward Blvd designates the NW NE SW SE sections of the city. Avoid the NW and SW areas, especially at night. The central part of Broward County West of Andrews Ave to the Florida turnpike is not a place for tourists. Suburban cities that should be avoided include Lauderdale Lakes, Lauderhill and especially Sistrunk.
Rental cars stand out as obvious targets for thieves, so never leave valuables in a visible place (put any purchases or valuables in the trunk) and always lock your car doors.
Tourists may find South Florida drivers get impatient with the heavy traffic during high season. Try to plan your route before setting off and remember that US1 tunnels under Las Olas Blvd and the river. It may look like the two intersect on a map but they don't. South Florida has quite a few senior citizens on the road mixed in with their crazy teenaged offspring, so be alert.
Emergency telephone number for fire, police and rescue emergencies is 911.

Cope
When driving, realize traffic is heavy, and there are people from all over the world with completely different driving habits. This feeds South Florida's reputation for having rude drivers. The problem lies in different people with different driving habits and that their ages run from 16 to over 100. Drive carefully and defensively.
Consulates
Fort Lauderdale has a few honorary consulates, but most diplomatic missions in the area are in
Miami
, and a few are in
Coral Gables
.
Go next