Fort Mill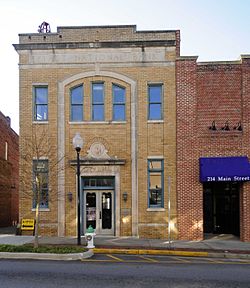 Fort Mill
is a suburban town with about 35,000 residents located along the I-77 corridor in the northernmost part of
South Carolina
between
Rock Hill
and the city of
Charlotte
in
North Carolina
.
While Fort Mill is not on most tourists' agenda and is primarily a commuter town, it has a few restaurant options and offers a short day trip to residents of Charlotte and Columbia.
Understand
History
The town of Fort Mill was established in 1873, taking its name from a colonial-era fort built by the British and a grist mill on nearby Steele Creek. The Catawba Indians made their home in present-day Fort Mill for many years. Scotch-Irish settlers began arriving in the 1750s and 1760s and a small settlement soon developed. Fort Mill grew rapidly in the late 19th century as textile mills were established. After many textile mill shut-downs the town continued to grow rapidly and became a major suburb of Charlotte.
Climate
The Fort Mill area has a humid subtropical climate, characterized by humid summers and cool dry winters. Precipitation does not vary greatly between seasons. July is the hottest month, with an average high temperature of and an average low temperature of . The coldest month of the year is January, when the average high temperature is and the average low temperature is . In the summer months, afternoon thunderstorms are typical and are sometimes severe containing strong winds and hail. During the winter months, snowfall is fairly light and rare, only occurring on average one to three times.
Please note climate information is based out of the Rock Hill/York County Airport.
Visitor information
Get in
By car
Fort Mill is located on I-77, just across the state border from
Charlotte
,
North Carolina
at exit numbers 83-90. U.S. Highway 21 is also a major road that runs through the town and is accessible from Pineville to the north and Rock Hill to the south.
By bus
The 82x commuter bus operated by
Charlotte Area Transit System (CATS)
between Charlotte and Rock Hill stops at the northwestern edge of Fort Mill. That being said, it's unlikely to be a reasonable way to get to Fort Mill. Not only is its stop far from the main attractions, it's geared towards commuters, so it only goes one way in the morning and the other way in the late afternoon. You're better off driving.
Get around
Fort Mill is a large spread-out town and is best accessible by car. Cycling is allowed, but bike routes are limited to smaller residential streets.

See
Peach orchards

Fort Mill Downtown Historic District

address: Main Street

Fort Mill's historic downtown features a few restaurants and shops centered around historic buildings on a Main Street.

phone: +1 803 802-3646

address: 107 Clebourne Street

phone: +1 (803) 547-2273

address: 345 N White Street

Local park minutes of Fort Mill's historic downtown offering trails and large wide-open spaces.
Do
Buy
Popular shopping areas in the town of Fort Mill are listed below.
phone: +1 803-802-8696

address: 950 Market St

classic downtown street with specialty shops and restaurants.

address: Kingsley Park Dr

Unique shopping area with small stores and restaurants
Eat
Popular restaurants in the town are listed below. There are also numerous local and national chain restaurants along the I-77 corridor in Fort Mill.
phone: +1 803 547-2201

address: 217 Main Street

Compact, cheery outpost serving elevated Southern-inspired entrees, salads and sandwiches.

phone: +1 803 548-4626

address: 213 Main Street

Local chain offering build-your-own burgers, milkshakes and draft beer served in an industrial-chic diner

phone: +1 803-547-4024

address: 990 Market St

Upscale seafood spot also serving steak and pasta.

phone: +1 (803) 802-4449

address: 975 Market St

Casual restaurant serving traditional Italian dishes, gourmet pizza & wine in a bistro-like setting.

phone: +1 (803) 396-7372

address: 936 Market St Suite #103

Cool bakery with a playful vibe featuring a daily cupcake selection and classic flavors.

Captain Steve's

phone: +1 (803) 547-2340

address: 1975 U.S. HWY 21

Casual seafood restaurant with jumbo portions also serving steak & chicken.

phone: +1 (803) 547-1122

address: 1646 SC-HWY 160 Suite #106

Hip burger joint with quick bites and takeout offered.

phone: +1 (803) 547-5522

address: 855 Gold Hill Road Suite #111

Rotisserie chicken & homestyke fare served in a laid-back spot with an outdoor patio.

phone: +1 (803) 548-0036

address: 940 Market St Suite #122

Local hip Asian bistro offering sushi & healthy options.

phone: +1 (803) 547-4100

address: 400 North Doby's Bridge Road Suite #101

Relaxed pizza parlor with unique toppings and wings.

phone: +1 (803) 548-5257

address: 124 Confederate Street

Simple, southern cafe featuring eloquent dishes and pastries.
Drink
Sleep
Hampton Inn & Suites Fort Mill

phone: +1 803 578-2600

address: 1520 Carolina Place Drive

phone: +1 803-548-0156

address: 1385 Broadcloth Street

phone: +1 803 802-0300

address: 1655 Carolina Pl
Stay safe
Fort Mill Police Department

phone: +1 (803) 547-2022

address: 111 Academy Drive

Fort Mill Fire Department

phone: +1 (803) 547-5511

address: 121 Town Hall St
Go next
Charlotte—hop just across the border to North Carolina's largest city with numerous restaurants, bars and shopping malls with a pristine central district known as Uptown.
Rock Hill—Just south of Fort Mill, this South Carolina town offers numerous outdoor activities and quite a few local restaurants in its historic downtown.
Pineville—Neighboring Fort Mill, this Charlotte suburb has a large shopping mall and charming downtown.