Fort Pierce
Fort Pierce
is a small city on the
Treasure Coast
of
Florida
. The city is most commonly referred to as "The Fort" in reference to the old fort on Indian River Drive.
Understand
Fort Pierce is the oldest incorporated city in St. Lucie County, with a bustling and historic downtown area, close location to beaches on the Indian River Lagoon and the Atlantic Ocean by its extension to Hutchinson Island, and many famous celebrities visiting every summer at the Sunrise Theatre. Ft. Pierce has a population of 43,601 by the 2013 US Census Estimate; Fort Pierce is also a part of the
Port St. Lucie
metropolitan area, or the
Treasure Coast
, an area populated at almost 600,000.
Fort Pierce is a small railroad city along
Florida's
east coast, being the location of a mid-sized rail yard with track rights owned by the Florida East Coast Railroad, with track all the way to Miami and Jacksonville, and South Central Florida Express, with track from the downtown yard to
Clewiston
and
Sebring
.
FP is becoming more and more modernized, but slowly and steadily. Downtown is considered the hot-spot of the city due to its blossoming commercialism, amazing Spanish-colonial buildings, celebrities performing at the Sunrise Theatre, and an amazing Christmas display yearly at Avenues A and Orange. There's a lot of fun going on with the marina and many interesting shops on the thoroughfares of Orange Avenue and Avenue D. Fort Pierce is also a college town, home to the primary campus of Indian River State College and its public safety training complex.
Get in
By car
Fort Pierce, like many cities has many major highways running through the city. Major highways include I-95, US-1, and Florida's Turnpike.
By
Interstate 95
, you can access Fort Pierce by:
Exit 126 at Midway Road. Going west will take you to Okeechobee Road, which is what the locals call State Road 70. Going east will take you to the beach.
Exit 129 at Okeechobee Road. There are many hotels and fast food restaurants near by. Going west will take you to Okeechobee and further to Bradenton. Going east will put you closer into the heart of downtown.
Exit 131 at Orange Avenue. Going west will take you out to the "country" area of the city with many ranches. Going east will take you into downtown.
Exit 138 at Indrio Road. Services are east of the exit.
By
Florida's Turnpike
, you can access Fort Pierce by:
Exit 152 at SR 70, or Okeechobee Road.
One special thing about the Okeechobee Road area between I-95 and the Turnpike is that it is considered to be a crossroads, where two highways are within a driving range of less than a mile. Businesses, from hotels to restaurants, are abundant in this State Road 70 corridor. Businesses along State Road 70 don't just exist at the cross roads, but also run along to US-1.
US-1
and
A1A
run through the heart of downtown, and A1A almost parallels US-1. A1A runs along the barrier islands of the east coast, from Miami to the Jacksonville area. The local name for A1A on Hutchinson Island South crossing onto US-1 is "Seaway Drive".
By plane
Fort Pierce is home to the St. Lucie County International, the local airport. Here, you can buy a plane to fly from place to place, due to no commercial flights.
If you want to get in by a commercial flight, your best options are:
phone: +1 407-825-2001

address: 1 Jeff Fuqua Boulevard, Orlando, FL 32827

This airport is outside of the region, but is used to get into the region, serving almost all global US cities.

Melbourne International Airport

phone: +1 321-723-6227

address: 1 Air Terminal Pkwy, Melbourne, FL 32901

Serves Atlanta, Charlotte, and Washington DC at Dulles.

Palm Beach International Airport

phone: +1 561-471-7400

address: 1000 Palm Beach International Airport, West Palm Beach, FL 33406

Serving major airports from Boston to Dallas.
By train
There has been much talk and controversy about the Florida East Coast Railroad and Amtrak giving the
Port St. Lucie
area, possibly Fort Pierce, a train station that serves passengers. If these plans go through, they will be serving the Florida East Coast Railway on rails that have not been touched by the rumbling wheels of passenger trains since the mid-1900s. Also, there has been controversy of a high-speed rail project from
Miami
to
Orlando
with a station in
West Palm Beach
; a station may be placed in the PSL area as well to accommodate. The full plan is rebuilding a passenger line to re-connect the Treasure Coast and the Space Coast with the rest of the country, serving from Martin County to northern Brevard County. The closest stations to date are in
Okeechobee
and
West Palm Beach
.
address: 209 South Tamarind Avenue West Palm Beach, FL 33401

Ticket office, waiting room, and two different routes going two ways!

address: 801 North Parrott Avenue Okeechobee, FL 34972

Platform station with shelter. Only a stopping location, no ticket office yet.
By bus
phone: +1 775 461-3299

address: (bus station) 7150 Okeechobee Rd

They also have additional stops at a Shell Station on 1795 SW St Lucie West Rd in Port St Lucie and at a Sunoco Gas Station on 8418 20th St in Vero Beach. The gas stations stops do NOT sell tickets.

phone: +1 407 649-4994

address: (bus stop) Port St. Lucie-Fort Pierce Service Plaza

Bus between Miami-Dade and Orlando

phone: +1 321 604-7188

address: (bus stop) Port St. Lucie-Fort Pierce Service Plaza
Get around
By car
In Fort Pierce, the roads are the easiest way to get around. Major roads lead to the highways, and Downtown Fort Pierce can tend to get crowded at any time of day, but you can take in the view of the Spanish-colonial style buildings as you drive through Downtown.
By bus
The cities of Fort Pierce,
Port St. Lucie
,
Jensen Beach
, and now
Vero Beach
are all served by bus through the
Treasure Coast Connector
. Service extends from 43rd Street SW in Vero Beach to Avenue D in Fort Pierce via the northern routes, and from St. Lucie West in
Port St. Lucie
to the Treasure Coast Square Mall in
Jensen Beach
.
Route 1 takes you from the Treasure Coast Square Mall in Jensen Beach through Port St. Lucie to the city hospital, the civic center, and the Prima Vista Crossings shopping center, ending in Fort Pierce at the Intermodal Transit Facility.
Route 2 extends from the Intermodal Facility to the airport and the Taylor Creek Commons.
Route 3 takes you through southern Fort Pierce along Okeechobee Road to the Intermodal Facility.
Route 7, the newest route of the Connector, takes you from the Fort Pierce Intermodal Facility through Lakewood Park via 25th Street and Kings Highway to Vero Beach.
There is only one transfer point in Fort Pierce: the Intermodal Facility on Avenue D for Routes 1, 2, 3, and 7; for Indian River County transfers, there is a stop at IRSC on Route 3 and South Point Plaza on Route 7.
By boat
Fort Pierce is a city built on the water, and it is no coincidence that using a boat is one of the easiest ways to get around the city. Fort Pierce may not have many navigable canals like neighboring Port St. Lucie, but most of Fort Pierce is a waterfront city. The city boundaries extend to the Atlantic Ocean. Downtown is a mostly waterfront area, with many restaurants and businesses on the water.
See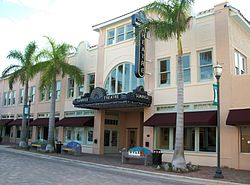 Arcade Building - At one time, the largest commercial building in the city, and was a big part of the redevelopment and renovation of the city and its downtown

Boston House

phone: +1 772 464-4672

address: 210 Savannah Rd

Harbor Branch Oceanographic Institute

Historic Main Street

Manatee Observation and Education Center

phone: +1 772 466-1600

address: 480 N Indian River Drive

Learn about manatees and the fragile ecosystems of the Treasure Coast at the Manatee Center.

phone: +1 772 595-5845

address: 3300 N Highway A1A

The Navy Seal Museum has exhibits, the history of the SEALS, and scuba adventures for the brave ones.

Old Fort Park

Old Fort Pierce City Hall

St. Lucie County Marine Centre

address: 117 South Second Street

This Mediterranean Revival style theater has hosted many big names, such as Ringo Starr and Pat Benatar. Tickets can be bought at the box office if one plans to take in a show, be it comedy, jazz, or rock.
Do
Go boating in the Fort Pierce Inlet.
Wander around the historic downtown, gazing at the outstanding "Spanish-colonial revival"-style buildings.
Stroll along the beach and catch a tan.
Catch a performance at Sunrise Theatre in Downtown.

St. Lucie County Aquarium featuring the Smithsonian Marine Ecosystems Exhibit

phone: +1 772-462-3474

address: 420 Seaway Drive

Visitors can explore six different Florida marine habitats and learn about the complexity and importance of marine ecosystems. The largest aquarium is a model of a Caribbean coral reef. Other displays include living models of seagrass, mangrove, estuarine and nearshore habitats, as well as a deepwater Oculina coral reef. There are several smaller aquarium displays and a touch tank for you to meet local sea creatures. Feeding Frenzy tours daily at 10:30am and Snack Time tours daily at 2:30pm. Behind-the-Scenes tour Saturday at 2:00pm.

Skatetown USA

phone: +1 772 461-0266

address: 4301 Orange Avenue

Skating rink located on Florida State Road 68. Best skating rink in the county. As well as skating, you can play at the on site arcade or hold your birthday there.

A. E. Backus Gallery and Museum

phone: +1 772 465-0630

address: 500 N Indian River Drive

This museum houses the greatest paintings of A. E. "Beanie" Backus and the Florida Highwaymen.

phone: +1 772 465-0366

address: 700 W. Weatherbee Road

Founded in 1973, the St. Lucie Community Theatre performed all across the county until settling down at the Pineapple Playhouse at the border of Fort Pierce and Port St. Lucie. Many plays are put on from September to May each year, so grab a ticket while you have a chance!
Buy
Fort Pierce's shopping economy is built on mostly fishing, as well as commercial "big-wig" names in retail, even some small businesses carrying big names. Not what you'd expect, but it gives you the right tools to enjoy one of the greatest activities on the Treasure Coast.
Galleria of Downtown

phone: +1 772 801-5729

address: 100 S 2nd Street

Small shopping mall in the historic downtown.
Bealls stores are commonplace in Florida, and the only Bealls in the city limits is at the Sabal Palm Plaza. Bealls carries large names in fashion and clothing and they mainly sell in South Florida.
The Arcade Building in Downtown at one time was the largest commercial building in St. Lucie County. There aren't many stores in the Arcade, however it is making a comeback and lots of spaces for rent.
Eat
Drink
phone: +1 772-461-0880

address: 2 Avenue A

A local favorite, the Tiki Bar is an iconic FP symbol near the Indian River. Dine under an authentic thatched roof while watching the waves strike the beach and surfers catch their next wave.

Boozgeois Saloon

phone: +1 772 466-4255

address: 720 U.S.1

This cocktail bar and liquor store has a tremendous selection of any liquor you would enjoy. A small business considered a favorite among the locals.
Sleep
A majority of hotels in Fort Pierce are located in one part of the city. This part of the city is referred to as the "crossroads" because the Turnpike and I-95 are closest by distance here, and it gives you a chance to change your traveled highway if your plans call for such.
Connect
The area code for Fort Pierce, Port St. Lucie, and the Treasure Coast is 772. There are many post offices in the area, but POs in the city limits are located on Orange Avenue and Midway Road, depending on where you stay.
address: 1717 Orange Avenue; 5000 W Midway Road

The local post office sorts and delivers mail, what is expected of a post office.
Stay safe
Fort Pierce may be an interesting city, but there is one area (numbered streets and lettered avenues) that is considered a "ghetto" or a "hood", where crime is abundant, and there has been at least one shooting a year. Exercise caution when in that area, and keep your windows up when driving, particularly at night.

Go next