Fort Worth
Fort Worth
is a city in the
Prairies and Lakes
region of
Texas
. With a population of approximately 661,000, it is Texas's 5th largest city. It is part of the
Dallas-Fort Worth Metroplex
, which has a population exceeding 6 million. Sometimes referred to as Cowtown, it is by far closer to its cowboy roots than neighboring
Dallas
.
Understand
Fort Worth grew from a military camp established at the close of the Mexican War by Gen. Winfield Scott, and named for Gen. William Jenkins Worth who fought in the war. Forty-two men of Company F, 2nd Dragoons, established the camp on June 6, 1849. The Fort Worth to Yuma, Arizona stage line was established in 1850. The city became the seat of Tarrant County 1860, and after the Civil War, it became a major shipping and supply depot for cattlemen.
Climate
Fort Worth is located in the American South, and has a subtropical climate with mild winters, hot summers, and a wet spring and fall in between. In winter and summer it can also be a very dry place, as it receives warmer, drier weather from the Mojave Desert in the west and the Great Plains in the north.
Winters are generally mild, with average highs in the mid to upper 50s (10-15 °C) and average lows around the freezing mark (0-5 °C). It is not uncommon for Winter days with highs in the upper 60s (~20°C) with the following days high temperature 20-30 degrees cooler. It may snow in Fort Worth a couple times a year, and occasionally winter temperatures will not get above freezing (32°F, 0 °C), but for the most part winter is just relatively dry and cool. There is, however, the danger of freezing rain and ice storms.
Spring and fall bring very pleasant temperatures, but spring is also known for its storms. Fort Worth is at the Southern tip of Tornado Alley, and springtime weather can be quite volatile and severe storms often occur. Summers are hot and dry - but often humid - with temperatures frequently surpassing 100 °F (38 °C).
Average precipitation in Fort Worth is 33 inches (830 mm) per year.
Neighborhoods
TCU

address: 2900 S University Dr,= 76109

The TCU area is dominated by the campus. Some unique restaurants and boutiques are mixed with standard college fare, but the campus is beautiful and shows up in force (and in Purple) for gamedays

address: 400 Main St,= 76102

Sundance Square is a city park in downtown that plays host to multiple events year round. Night and weekend parking is free and additional security patrols not only keep the area safe, but also can help you find your next destination.

StockyardsA national historic district, the Stockyards is the iconic background for which Fort Worth is known. The backdrop is all things western from cattle drives and BBQ to country music and belt buckles. No trip to Fort Worth is complete without a quick stop here.

The Cultural DistrictHome to world class museum, the stock show & rodeo as well as numerous restaurants and merchants, this area hosts many of Fort Worth's main attractions. Located across the Trinity River, 2 miles west of downtown, this area could be though of as uptown. The area is also known as West 7th.

Near SouthsideAlso called South Main and Magnolia, this is the area where artists and more liberal mindsets are welcome. The area hosts multiple of the cities micro breweries, bars and restaurants. The area is undergoing a renaissance with new building and merchants, but the growth is keeping with the vibe of the current culture.

Southwest Fort WorthWhile not a single neighborhood, Southwest Fort Worth has a collection of different shopping areas and neighborhood restaurant clusters.
Get in
By plane
All the major American carriers and many international ones provide scheduled passenger service into the (
DFW
), located from downtown Fort Worth. This airport is one of three major hubs for American Airlines. American Airlines is also headquartered in Fort Worth.

By train
The at 1001 Jones St is the central hub for Amtrak inter-city trains and Trinity Railway Express (TRE) commuter trains to Dallas, along with Greyhound inter-city bus service and local bus service provided by the T. TRE trains can provide a stress-free way to travel between the two cities during rush hour and also serve the more historic at 1600 Throckmorton St on the south side of downtown.
Amtrak's Texas Eagle provides daily service between Chicago, Illinois and San Antonio, Texas with stops in Fort Worth and Dallas. Also, Amtrak's Heartland Flyer provides daily service between Fort Worth and Oklahoma City, and points in between. Woefully underfunded, passenger train service in the United States is a slow but scenic way to travel, if you aren't too concerned about arriving on time.
Alternatively, arrive from DFW Airport on TEXRail, another commuter train that provides direct rail service from the airport to downtown Fort Worth.

By car
Fort Worth may be easily reached via I-20 or I-30 from the east or west, or by I-35W from the north or south. I-35 splits into two branches north of the Dallas/Fort Worth metropolitan area, the west branch going to Fort Worth and the east branch (I-35E) to Dallas. The branches rejoin to the south.
Car rental companies include:

By bus
Get around
Mass transit
Buses
and
trains
link many areas of town over mid-range distances.
Trinity Rail Express
has commuter train service between downtown Fort Worth, DFW Airport and downtown Dallas. Service is Monday through Saturday. No scheduled services on Sundays and most major holidays.
Molly the Trolley
bus service provides local public transportation in areas like downtown Fort Worth, the Historic Stockyards, and to Sundance Square during lunchtime. Hours of operation vary by route.
By bike
See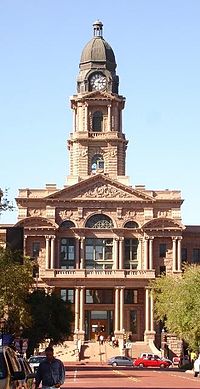 Museums
phone: +1 817 332-8451

address: 3333 Camp Bowie Blvd

A collection of artwork that ranges from 3000 BC to the mid-1900s. Although the collection is small, it boasts such big names as Matisse, Goya, Mondrian and Picasso, among others. The museum building itself is a highlight of architectural modernism, designed by American architect Louis Kahn.

Modern Art Museum of Fort Worth

phone: +1 817 738-9215

address: 3200 Darnell St

The museum, located in an imposing, appropriately modern building, houses a large permanent collection and hosts many important traveling exhibitions. The building is designed by Japanese architect Tadao Ando.

phone: +1 817-738-1933

address: 3501 Camp Bowie Blvd

Extensive collection of American art and photography featuring many works by Frederic Remington and Charles M. Russel.

National Cowgirl Museum and Hall of Fame

phone: +1 817-336-4475

address: 1720 Gendy St

Museum and association which honors women of the American West who have displayed courage or spirit and who have distinguished themselves while exemplifying the pioneer spirit.

National Multicultural Western Heritage Museum

phone: +1 817 534-8801

address: 3400 Mount Vernon Ave

Highlights the historical influence of non-White cowboys in Texas.

phone: +1 817 967-1560

address: 4601 Hwy. 360

All you could ever want to know about the history of American Airlines. Great for kids, as it includes hands-on, interactive exhibits.

Stockyards Museum

phone: +1 817 625-5082

address: 131 E. Exchange Ave

Located in the 1902 Livestock Exchange Building, this museum showcases the history of Fort Worth.

Fort Worth Museum of Science and History

phone: +1 817-255-9300

address: 1501 Montgomery St.

Family based hands on science and history museum, boasts traveling exhibits and the Omni-imax theater.

Oscar E. Monnig Meteorite Gallery

phone: +1 817-257-6277

address: 2950 West Bowie Street

Small museum with astonishing collection of pieces of the sky, well-documented. Touch a piece of Mars!
Attractions
Sundance Square20 blocks of shops, bars & restaurants, brick-paved sidewalks and historic buildings. Well lit and popular with tourists and locals, Sundance Square is frequently the center for outdoor events such as concerts and art festivals.

Bass Performance HallA state-of-the-art venue presenting concerts, musicals, and theatrical performances throughout the year.

Fort Worth StockyardsJust north of the downtown area is the historic Fort Worth Stockyards, where you'll find Texas style nightlife at bars like Billy Bob's. The Stockyards are also home to a weekly rodeo. Held every Friday and Saturday evening, and billed as the "World's First Indoor Rodeo," it attracts competitors from around the country . The Stockyards is also home to Riscky's Barbeque, considered by locals to be the best barbeque in the area.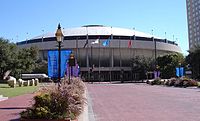 phone: +1 817-759-7555

address: 1989 Colonial Parkway

Come see the animals and interactive exhibits.

phone: +1 817-871-7686

address: 3220 Botanic Garden Blvd

The sprawling gardens includes a large flower garden, lawn, indoor tropical forest, and a beautiful Japanese garden.
Do
Learn
Eat
Fort Worth is similar to many Texas cities in that there are two main food groups, BBQ and Tex-Mex. While tastes are changing and multiple options are available, these will still be your best two bets in the city. A growing food truck scene is starting to make a presence in the city, and some of the local breweries are making drinks worth recommending to friends.
Budget
Mid-range
Nonna Tata

address: 1400 W. Magnolia Ave

Certainly one of Fort Worth's smallest restaurants, Nonna Tata is also one of its best. With only 21 seats indoors and another 30 outdoors, the restaurant fills up early and often develops long waits on weekends. Absolutely amazing authentic Italian food, with a menu that changes weekly and amiable service. BYOB, cash only, no reservations.

phone: +1 817 989-4700

address: 4651 West Freeway

DFW's best gourmet grocery also has a formidable cafe attached, with amazing, huge custom sandwiches, cheap and great pizzas and international noodle dishes made for you, a mind-boggling prepared food section and $15 meals for two bagged and ready to go. Any kind of food you could want, done extremely well, for grocery story prices, plus a generous selection of wine and beer.

phone: +1 817 656-0080

address: 5901 Watauga Rd.

Fine dining in a Conoco station.

phone: +1 817 332-0083

address: 915 Currie St

The "Outlaw Chef" cooks genuine Southern/Texican food in one of the most unique and exciting ways you'll find in Fort Worth. Super laid-back setting, with genuine Texas food and genuine Texas music. Happy hour before 6 and whenever it's raining.

phone: +1 817 624-1246

address: 109 E Exchange Ave

For the cowboy tourist. A strong cowtown theme predominates in this Stockyards-area steakhouse. Come for the atmosphere first, the food second.

phone: +1 817 626-4356

address: 2201 N. Commerce St.

A Fort Worth legend, dine family style in a large converted mansion or in its beautiful expansive gardens with lush vegetation and calming pools; choose from one of two menu options nightly. There is frequently a line around the block in good weather, so arrive early or be prepared to wait. Great margaritas. Cash only (ATM on site).

phone: +1 817-870-2002

address: 841 Foch St.

Mexican restaurant locally renowned for their excellent Tex-Mex and friendly owner (Al) and staff.

King Tut

phone: +1 817 335-3051

address: 1512 West Magnolia Ave.

Egyptian restaurant with excellent Middle Eastern cuisine.

phone: +1 817 438-0206

address: 335 W 3rd St.

The best sushi in Fort Worth, downtown.

phone: +1 817 3-EATVEG

address: 1314 W. Magnolia

The only strictly vegan restaurant in Fort Worth, Spiral Diner has an eclectic menu that will not let you down on taste. One of Fort Worth's finest restaurants regardless of dietary restriction.

phone: +1 817 377-2777

address: 5301 Camp Bowie Blvd

Excellent and diverse Tex-Mex menu, friendly staff, decent happy hour before 6PM.
Splurge
phone: +1 817 738-5489

address: 4259 Bryant Irvin Rd

Chef Jon Bonnell's southwest-themed masterpiece.

phone: +1 817 877-3999

address: 812 Main St

One of the finest steakhouses in the world, with an excellent wine list. It is, however, extremely expensive, and you will have to wait a little while even if you have a reservation. Don't come here for anything other than steak, but if you are looking for steak, it is hard to beat.

phone: +1 817 850-9996

address: 3405 W. 7th St

Merges the finest of high-class Mexican dining with the most refined New American aesthetic for an unparalleled culinary experience. The most interesting and diverse wine cellar in the city.

phone: +1 817 336-1009

address: 310 Houston St

One of the most widely acclaimed restaurants in Texas, and one of the first to bring "Cowboy cuisine" to the forefront of the refined American palate. Online reservation system.

Saint-Emilion

phone: +1 817 737-2781

address: 3617 W 7th St

The best French country food in Fort Worth, and a cozy dining experience.

Vidalia's

phone: +1 817 210-2222

address: 222 Main St.

Located inside the Renaissance Worthington, this high-end establishment fuses traditional upscale Southern and Cowboy cuisine in a remarkably low-key fine dining establishment.
Sweets
address: 2905 Race St, 76111
Nice little authentic Ice Cream parlor. Makes their own flavors as well as rolls their own waffle cones.
address: 1201 W Magnolia Ave #115, 76104
Tiny ice cream parlor serving creative flavor combos frequently with lines out the door at multiple times in the day
Drink
Sleep
Budget
Mid-range
phone: +1 817 361-9797

address: 5900 Cityview Blvd

Another chain hotel, but more upscale than Motel 6.

phone: +1 972 929-9097

address: 4700 W. John Carpenter Fwy

phone: +1 817 885-8700

address: 601 Main St

Renovated rooms with modern amenities.

Courtyard Fort Worth Fossil Creek

phone: +1 817 847-0044

address: 3751 NE Loop 820

Radisson Fort Worth South

phone: +1 817 293-3088

address: 100 East Alta Mesa Blvd

Three-star hotel with amenities including indoor heated pool, restaurant, lounge, room service, fitness room, and business center.

phone: +1 817 335-7000

address: 1701 Commerce St

Residence Inn Fort Worth University

phone: +1 817-870-1011

address: 1701 South University Dr

SpringHill Suites Fort Worth University

phone: +1 817-878-2554

address: 3250 Lovell Ave

Extended stay hotel located near the convention center.

TownePlace Suites Fort Worth Southwest

phone: +1 817-732-2224

address: 4200 International Plaza

Courtyard Fort Worth University Drive

phone: +1 817-335-1300

address: 3150 Riverfront Dr
Splurge
Lockheed Martin Plant
Options ideal for travel to the Lockheed Martin Aeronautics plant: 200 N Grants Ln, adjacent to the Fort Worth Joint Reserve Base (JRB, formerly Carswell Air Force Base):
Hampton Inn

phone: +1 817-560-4180

address: 2700 S Cherry Ln

Clean, good breakfast buffet.

Holiday Inn Express

phone: +1 817-560-4200

address: 2730 Cherry Ln

Residence Inn by Marriott

phone: +1 817-870-1011

address: 1701 S University Dr

Spring Hill Suites

phone: +1 817-878-2554

address: 3250 Lovell Ave
Connect

Good cellular phone coverage by all major providers throughout the city and all major roadways. Internet hot-spots available at most Starbucks Coffee locations, DFW Airport, and FedEx Kinko's offices.
Daily newspaper:

Stay safe
As with any other large city, be vigilant in Fort Worth. The city's central arts and entertainment district is well policed, however, as so long as you make sure you lock your car and hide any valuables inside, all that you need is a little extra awareness of your surroundings. The city's freeways can be quite dangerous if you are not accustomed to driving in such high volumes of rapidly moving traffic; keep this in mind when you are planning a trip.
Areas best avoided after dark are the Southeast Side (especially in the Stop Six section), all apartments on East Side, the Como neighborhood, and the Trails/Calmont neighborhood.
The Stockyards bar and club district can get rowdy on Friday and Saturday nights, but the nightlife at Sundance Square in Downtown is more laid back.

Cope
Gym workout
24 Hour Fitness and LA Fitness (which now includes Ballys) have many locations throughout the area. If you have a regular membership with either of them from back home your membership is good here. Note that some memberships are only good for one location and will cost extra to access a different gym/club than the one you normally go to at home. Ask before leaving. Otherwise day passes range from $10-20. Bring a lock and towel.
Kadampa Meditation Center Texas, 4812 Camp Bowie Boulevard, +1 817-303-2700. Offers relaxation meditations and meditation classes to increase inner peace.
Go next