Framura
Framura
is a city in
Liguria
near
Cinque Terre
.
See
Chiesa della Madonna della NeveAn old chapel, it houses several paintings like the canvas of the Madonna col Bambino and Saints John the Baptist and Sebastian, dating back to the seventeenth century, a painting of Jesus Christ with Veronica, dating from the eighteenth century, and an oil on canvas depicting "Christ at the Column", the sixteenth century and probably of pictorial school of Luca Cambiaso.

Watchtower of the ninth centuryMilitary defense construction of the Carolingian period

Watchtower of the XVI centuryA watchtower Built during the domination of Genoa.

Chiesa parrocchiale di San MartinoThe ancient parish of framurese territory was born as a monastic complex of the dependencies of the abbey of San Colombano of Bobbio between the tenth and eleventh centuries. Mentioned for the first time in 1128 is further documented in 1192 as a parish of the diocese of Genoa. Its parish jurisdiction included eleven parishes in the villages of today's Deiva Marina, Carro Carrodano and corresponding approximately to the ancient Podesta Framura of the Republic of Genoa. The establishment was completely restructured in the fifteenth and sixteenth centuries, however, keeping some elements of the first romanesque building.

Chiesa parrocchiale di San Lorenzo

phone: +39 0187 823125

It holds a Deposition of Jesus of the painter Luca Cambiaso.

Ancient hospitalAccording to a plaque affixed to the facade of the building, it was built by Giuliano de Dugo and it dates back to December 27, 1400.
Do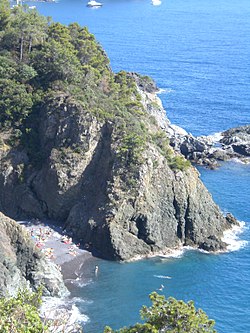 Bike rent "Pesciocan"

phone: +39 334 7310828

address: Località Chiama
Buy
Bakery Bennati Maria Rosa

phone: +39 0187 810142

address: Localita' Setta 67 - 19014 Framura (SP)
Eat
Hotel Augusta

phone: +39 0187 823026

address: Località Anzo, 12, 19014 Framura

phone: +39 0187 810007

address: Localita Setta 93, 19014 Framura (SP)

Hotel Restaurant Silvia

phone: +39 0187 810520

address: localita Costa, 5, 19014 Framura (SP)

phone: +39 0187 823086

address: Loc. Costa 1 - 19014 Framura (SP)

Agriturismo "La Foce del Prato"

phone: +39 0187 810223

address: Loc Foce del Prato, 2, 19014 Framura

Pizzeria "La rotonda"

phone: +39 0187 810174

address: 32, Localita' Setta - 19014 Framura (SP)
Drink
Bar "La Cueva"Open from June to October

address: Spiaggia Torsei Framura
Sleep
phone: +39 0187 823026

address: Località Anzo, 12, 19014 Framura

phone: +39 0187 810225

address: Via Ravecca 12, 19014 Framura (SP)

phone: +39 0187 823086

address: Loc. Costa 1 - 19014 Framura (SP)

Hotel Restaurant Silvia

phone: +39 0187 810520

address: localita Costa, 5, 19014 Framura (SP)