Franciacorta
Franciacota
is in
Lombardy
,
Italy
. This region is famous for the production of wines: white, sparkling and red.
Cities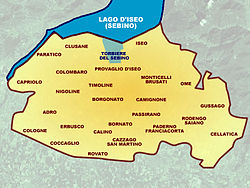 The most important towns in Franciacorta are:
- by Lake Iseo, it has many historical buildings such as the medieval Oldofredi Castle, the Parish Church and the first monument ever built to Giuseppe Garibaldi.
- by Oglio River, it is the biggest town of the region.
Other destinations
- by Lake Iseo, it was a fishermen villages and it is famous for the Roasted Tench with polenta (in Italian: Tinca al forno con Polenta).
Talk
In this region you can speak Italian, often Lombard and in touristic areas also English and German.

Get in
By plane
The nearest airport is:
Bergamo-Orio al Serio international airport

phone: +39 035 326323

address: Via Aeroporto 13, Orio al Serio

The fourth busiest airport in Italy, it serves many destinations in Europe and North Africa. Its main airline is Ryanair; other companies are Wizzair, with flights to the Central-East Europe and Air Dolomiti, which connects the airport with Munich.
Other airports in the surrounding area are:
By car
To reach Franciacorta by car you have to take the highway

(
Milan
-
Venice
) and to exit at
Rovato
or
Palazzolo sull'Oglio
.
By train
You can reach Franciacorta with the following railways:
See
In the region there are many medieval castles and monasteries.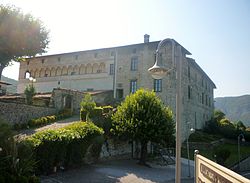 Carmagnola Castle

Situated on a little hill in the historic centre of the village, this castle was built under the government of Oldofredi, a local feudal family, in the 14th century, but its current name is more recent: in 1427 the Republic of Venice obtained this castle and then it was given to an important chieftain, Francesco di Bussone, called Carmagnola. It has a square plan with a central court, and in the past there was a deep defensive ditch with a drawbridge.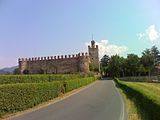 Passirano CastleBuilt around 1100 AD, it had a defensive function. Today it is private and you can't enter inside. In conserves a part of the moat, some round towers like the Specola Tower where in the 18th there was an astronomic observatory. It has got Ghibellines battlements.
Drink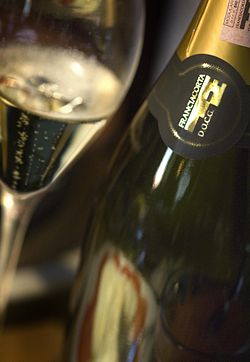 Franciacorta is famous for the homonym sparkling wine with DOCG status. It was the official sparkling wine at
Expo 2015
in
Milan
. Other DOC wine produced in this region are called
Terre di Franciacorta
and are divided into two categories: a Burgundy-style
Bianco
based either on Chardonnay or Pinot bianco or a blend of both, and a Bordeaux-style
Rosso
based on either Cabernet Franc or Cabernet Sauvignon or both, and Merlot, with smaller amounts of Nebbiolo and Barbera.