Franconian Switzerland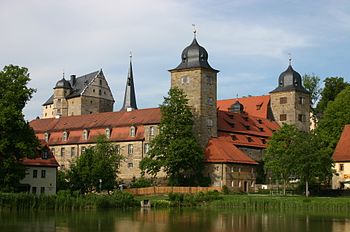 The
Franconian Switzerland
(German
Fränkische Schweiz
) is an upland in
Franconia
, northern
Bavaria
and a popular tourist retreat. Located between the Pegnitz River in the east and the south, the Regnitz River in the west and the Main River in the north, its relief reaches 600 m in height.
Understand
The Franconian Switzerland is one of the oldest and most popular holiday areas in
Germany
. It was given its name by Romantic artists and poets in the 19th century who compared its landscape to
Switzerland
.
The Franconian Switzerland is the region with the highest density of breweries in the world.
Talk
Overall, this is a rural area so many people might speak with an audible Franconian tinge to their German. However, hotels — and especially the bigger ones — will almost always have someone who can speak English, and generally people will be very helpful and open-minded if you try to speak German even if they themselves will switch to English immediately.

Fees and permits
There are no fees or permits needed to enter the area.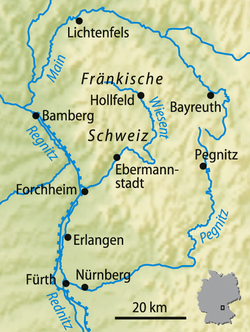 Get in
By train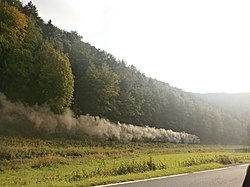 Ebermannstadt is considered the "entrance to Franconian Switzerland", and regular trains from
Forchheim
connect to that city year round. Pegnitz and
Bayreuth
also have regular connections with regional trains. Other than that, this area is badly served by public transport.
From Ebermannstadt there is a
tourist steam-railway
to Behringersmühle going on most weekends in the summer and some special occasions in the winter.
By bicycle
Although the steep slopes can take their toll on untrained riders, the view of the scenery and the landscape more than make up for it.
By car
Especially during weekends in the summer, the small roads that go through this area often can't deal with the mass of people coming and going. As many roads are very curvy, it is also difficult to overtake anyone driving very slowly — which is quite common due to people enjoying the scenery from their car and only going in places where 100 km/h is allowed.
Get around
The area is surprisingly underserved by public transport and its roads are prone to congestion on weekends in the summer. There are however, good hiking and bike trails if you are fit enough to manage the steep slopes.

Cities
See
There are numerous castles and castle ruins in this area dating from medieval to early modern times. They are in various states of use today. Some are merely ruins, hardly distinguishable from piles of stones, whereas others have been converted to hotels or can be visited in guided tours.

phone: +49 9228 9540

address: Marktplatz 1, Thurnau

address: Pottenstein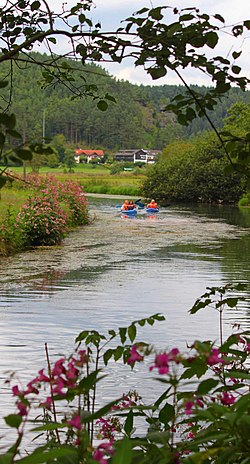 Do
address: Bahnhofsplatz, Ebermannstadt

The scenic railway from Ebermannstadt to Behringersmühle was converted into a heritage railway when commercial services stopped. Today, the , standard-gauge line operates steam locomotives pulling historically restored passenger coaches. The St. Nicholas rides are also popular with children, although you have to register early.
===Canoeing===
The River Wiesent is the only river for paddling, canoeing and kayaking in the Franconian Switzerland. The stretch of river, around 28 km, is especially recommended for fans of light white-water (Class I Easy and Class II Medium).
Caving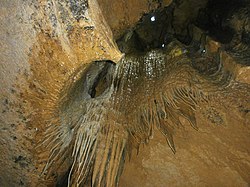 Franconian Switzerland has more than 1000
caves
of every size.
address: Schüttersmühle 5, 91278 Pottenstein

A nice limestone cave about 2 km out of the delightful village of Pottenstein with many fascinating rock formations

address: 91346 Wiesenttal

SophienhöhleRun by the same people that also run Burg Rabenstein, a nearby castle, this cave offers breathtaking limestone formations and an honest to god, real cave bear skeleton that was discovered on site.
Most caves are full of bizarre columns of limestone and stalagmites and stalactites of various shape and size. Guided tours telling you about the history of the caves and their discovery and pointing out particularly spectacular rock-formations are widely available and usually the only way to access the caves. Most parts of the cave will be around 4°C year round.
Rock climbing
Franconian Switzerland is a big draw for both German and other European rock climbers. Every climber has to come here once in his lifetime to have at least a look at the famous "Action Directe" climb. The limestone in this area is plentiful and the local scenery and breweries make it a nice weekend retreat. By German standards the safety (number and quality of rock-bolts) is really high here, though it does not reach French standards. See
frankenjura.com
for online topographical maps and access descriptions.
Buy
As this is a rural area in Germany, cash is the name of the game. While some places do accept credit or debit cards, do not rely on it. Apart from negligible exceptions, no currency other than the euro will do you much good, and even if you happen to get your US dollars accepted, the exchange rate you will most likely get will be abysmal. Don't even try with other currencies.

Eat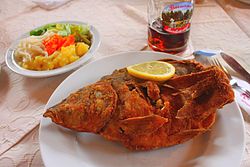 Baked carp is perhaps best eaten in early autumn from one of the village restaurants that have their own pools so there is no doubt the fish is fresh. As autumn turns to winter, the carp may well have been imported from further east where there is also a tradition of eating carp for Christmas. Some recipes call for the fish to be stewed in beer or cooking wine rather than baked. If the fish is locally sourced, it is more likely than not to be of the local Aischgründer mirror carp variety which has been raised locally for many centuries but is more expensive to buy.
Franconian Switzerland is also one of the biggest cherry growing regions in Europe. During the season, cherries can be had at almost every roadside for very affordable prices.
For some other regional foods see
Franconia#Eat
phone: +49 9241 3311

address: Marktstr. 29, Büchenbach/Pegnitz

phone: +49 9242 201

address: Balthasar-Neumann-Straße 6, Gößweinstein
Drink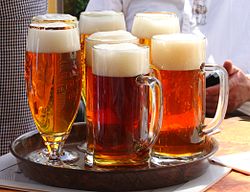 Beer-drinking could easily be put in our "Do" section as a thing to do in Franconian Switzerland. The density of breweries is the highest in the world and literally every village has its own pub serving home brewed yeast juice at very reasonable prices, along with hefty local Franconian cuisine. See also
Breweries in Franconia
lists breweries, beer cellars, brewery museums.
Sleep
Hotel Plaza

phone: +49 9191 977790

address: Nürnberger Straße 13, Forchheim

phone: +49 9202 95400

address: Schönhof 10 - 11, Waischenfeld

apartments
Stay safe
The biggest hazards in this region are natural. When climbing or canoeing you should apply general rules of safety to minimize any risk of injury or accident. Other than that, this region is as safe as it can get.

Go next
Visit
Bamberg
to see the medieval town and try the local smoked beer (Rauchbier) or to
Bayreuth
, is famous as the host of the Richard Wagner Festival, furthermore the
Markgräfliches Opernhaus
is listed on the UNESCO World Heritage List.
Nürnberg
and
Erlangen
are also reasonably close for a day trip.