Frankfort (Kentucky)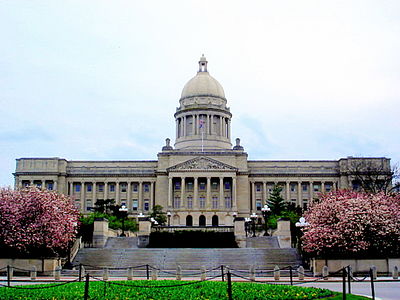 Frankfort
is the capital of
Kentucky
. A small city of about 25,000 residents, it is in the
Bluegrass Region
about 50 miles (80 km) from the state's largest city of
Louisville
and 25 miles (40 km) from
Lexington
.
Understand
The historic core of Frankfort is hidden in the deep valley of the Kentucky River, completely invisible to travellers on Interstate 64. Author William Least Heat-Moon once wrote about the city, "If you're ever looking for the most hidden statehouse in America, look no farther than Frankfort." The river, whose main course runs from southeast to northwest, makes a rough S-curve through the city, dividing it into four major parts:
Downtown — The historic business district, in the valley and north of the river (which flows east-west at this particular point). This region of Frankfort is characterized by charismatic, old-fashioned, antebellum style buildings holding shops, cafes, restaurants and museums.
South Frankfort — Home to the State Capitol, in the valley and south of the river; mostly residential apart from the Capitol. The governor's mansion and capitol are surrounded by floral gardens and lawns.
East Side and West Side (also "East Frankfort" and "West Frankfort") — The more modern areas on either side of the valley, with more shopping options.The "West side" of town has traditionally had the most concentration of modern stores, restaurants and hotels. However, companies have started to put more focus on the East side, with new shopping complexes, restaurants and attractions being completed monthly. The East side is also home to many traditional Mexican restaurants.
Get in
By car
I-64 connects Frankfort with
Lexington
to the east and
Louisville
to the west. US 60 (which connects to Versailles) parallels I-64 along most of its route through Kentucky. US 127 South connects Frankfort with the Blue Grass Pkwy and Harrodsburg to the south. US 127 North, a winding road, is the shortest route to Northern Kentucky and
Cincinnati
. US 460 offers a short route to Georgetown (the Toyota plant) and I-75.
By plane
Capital City Airport, US 60 West, +1 502 564-3714. General Aviation.
Blue Grass Airport, Man'O War Blvd. at Versailles Rd., Lexington, +1 859 425-3114, . Passenger jet service.
Louisville International Airport, I-264 at Exit 11 (past I-65), Louisville, +1 502 368-6524, . Passenger jet service.
By train
There is no Amtrak service to Frankfort.
Get around
Car rental
Budget Rent-A-Car,1070 Versailles Rd., +1 502 695-4189.
Enterprise Rent-A-Car, 220 Versailles Rd., +1 502 695-5542.
Bus
Frankfort Transit, +1 502 875-8565.
Taxi
Blue Grass Cab, +1 502 682-3393.
Capital City Cab, +1 502 875-5078.
See
Cemeteries
Daniel Boone's Grave at Frankfort Cemetery

phone: +1 502 227-2403

address: 215 East Main St

The gravesite of Daniel and Rebecca Boone in a setting overlooking the city of Frankfort. Other notables buried in the cemetery are Presley Neville O' Bannon, first American to raise the American flag on foreign soil and inspire "The Shores of Tripoli" in the Marine hymn; artist Paul Sawyier; Joel T. Hart; Theodore O'Hara, author of "Bivouac of the Dead"; professional wrestling valet Elizabeth Hulette, better known as Miss Elizabeth; Vice President Richard M. Johnson; and 17 Kentucky Governors.
Greenhill Cemetery, Corner of East Main & US 60, +1 502 564-7005. Features the only monument in the state honoring Kentucky's African American Civil War Soldiers. It is one of only four monuments in the country dedicated to African American Civil War Soldiers. The 14-ft monument was erected by the Colored Women's Relief Corps in 1924.
Covered bridge
Switzer Covered Bridge, KY 1261 Switzer off US 460 East. Built in 1855, this covered bridge is the only example of a Howe Trussed bridge in the state of Kentucky. It has been restored from major flood damage, which occurred in 1997. An area by the bridge offers a peaceful place to picnic.
Distillery
phone: +1 502 223-7641

address: 1001 Wilkinson Blvd

Buffalo Trace Distillery is on an ancient buffalo crossing that became a pathway for westward moving explorers, pioneers and settlers. Distilling began here over two centuries ago, making it the oldest distilling site in the United States. The distillery boasts 12 of the largest fermenters in the industry, and a four-story still tower.
Government Buildings
Thomas D. Clark Center for Kentucky History

address: 100 West Broadway St

Short walk includes 167,000 square foot Thomas D. Clark Center for Kentucky History, plus two National Historic Register treasuresthe 1830s Greek Revival Old State Capitol and the 1850s Old State Arsenal. 12,000 years of rich Kentucky history, inspiring architecture, exhibits and collections examining Kentucky's culture, politics and military history. The remolded exhibit "Hall of Governors" is also worth seeing. The museum is also home to state of the art archives that can be visited during normal business hours.
Executive Mansion, +1 502 564-8004. Located across from the Capitol building and overlooking the Kentucky River is the Governor's mansion, constructed of native limestone, was modeled after the Petit Trianon, Marie Antoinette's summer villa. Tour includes the state dining room, ballroom, reception room and formal salon.
Floral Clock, +1 502 564-3449. Located on the West Lawn of the Capitol Grounds and planted with thousands of colorful flowering plants, the face of this clock is 34 feet in diameter.

Kentucky Vietnam Veterans MemorialCoffee Tree Rd., off the East-West Connector (KY 676). Overlooking the city, the names of all Kentuckians who died in Vietnam are etched in granite beneath the memorial sundial, with the point of the gnomon's shadow actually touching the veteran's name on the anniversary of his death. Recognized as one of the most original and unusual memorials in the nation.

phone: +1 502 564-3449 (info),+1 502 564-3000 (schedule tours)

address: 420 High St

The oldest official executive residence in the U.S. still in use. The federal mansion was home to 33 Kentucky governors from 1798-1914. Seven U.S. presidents visited. Still the official residence of the Lieutenant Governor, but no holder of that office has lived in the mansion since 2003. (A 1992 change to the state constitution stripped the position of almost all of its constitutional duties, making it unnecessary for lieutenant governors to live in Frankfort.)
Old State Capitol, Broadway and Lewis St., +1 502 564-1792. This national landmark was Kentucky's seat of government from 1831 - 1910. Greek Revival structure includes a unique, self-supporting staircase held together by precision and pressure.
Kentucky State Capitol, Capital Ave., +1 502 564-3449. Completed in 1910, the Beaux Arts design features 70 columns, decorative murals and sculptures of Kentucky dignitaries. Also, the First Lady Doll Collection, changing history and culture exhibits are featured on the first floor.
Historic homes
phone: +1 502 564-3000

address: 700 Louisville Rd

Built in 1900, by George Franklin Berry, a prominent distiller, this Georgian Revival mansion is situated on a bluff overlooking the State Capitol. The most outstanding feature is an elaborate music room built in Gothic Revival style with pipes rising behind an intricately carved oak grill, with a massive cathedral organ. Wood carvers spent two years carving ornamentation for this one room.

phone: +1 502 227-2560

address: 218 Wilkinson St

Liberty Hall (1796) is the Federalist style mansion of Kentucky's first senator, John Brown. This architectural masterpiece from Kentucky's first decade is lavishly decorated with local antiques owned by four generations of Browns that lived in the house. The grounds contain the largest formal boxwood garden in Kentucky with nearly three acres of beautiful, perennial and annual borders.

address: 218 Wilkinson St

The Greek-Revival Orlando Brown House, built in 1835, is the residence designed by Kentucky's most famous architect Gideon Shryock. It is splendidly furnished with antiques owned by the three generations of the Brown family that lived there until 1954.

Zeigler House

address: 509 Shelby St

Frank Lloyd Wright, recognized as the greatest American architect, designed his only house built in Kentucky for the Rev. Jesse R. Zeigler. The 1910 prairie-style house, now completely restored by Jane and Jim Brockman, has a lighted stained glass case surrounding the fireplace at the ceiling, the only one designed by Wright during his prairie period.
Movies
Franklin Square Cinema 6, Franklin Square Shopping Center, US 127 South, +1 502 875-9000.
Scenic views
Scenic Overlook, Louisville Rd., US 60 West. Scenic overlook allows visitors a panoramic view of the city of Frankfort and the State Capitol, nestled in the Kentucky River valley.
Wildlife viewing
phone: +1 859 873-5711

address: 1305 Germany Rd

Observe wildlife at a bio-diverse bird blind, hiking trails, and numerous events. Operated by the National Audubon Society, the fields, forests and wet areas are a haven for birds, mammals and wildflowers. Hiking trails meander about this 374 acre nature center nestled along the Kentucky River.

Salato Wildlife Education Center

address: 1 Sportsman's Ln

An educational center with interactive and interpretive exhibits featuring native plants and animals. Scheduled wildlife education programs for children and adults are offered year round.
Do
Art
address: 3355 Lawrenceburg Rd

Josephine Sculpture Park is free and open every day from dawn until dusk. Experience our rotating exhibit of large outdoor sculptures and community artworks in the beauty of Kentucky's native, rural landscape. Enjoy the art and the outdoors on foot or on bike through artist-led or self guided tours.
Golf
Juniper Hill Park

address: 800 Louisville Rd

18-hole golf course.

Duckers Lake Golf Course

address: 421 Duckers Rd

18-hole championship golf course.
Lakeview Park, US 460, Steadmantown Rd. & Georgetown Rd., +1 502 695-8431. 9-hole, Par 3 family golf course.
Horseback riding
A Little Bit of Heaven, US 127 North, +1 502 223-8925. Guided trail rides and horse rentals for all levels. Picnic sites, hayrides, indoor classroom and restroom facilities. Cold drinks and snacks available. Various lesson packages for children and adults. 8 miles north of Frankfort. Come have fun.
Water activities
address: 7323 Peaks Mill Rd

Or (800) K-CANOE-1. 8 miles north of Frankfort, Canoe Kentucky provides a network of water adventures: canoeing, kayaking, duckies, tubing, fishing, swimming, camping, hiking and caving. Canoe Kentucky's environmental/educational training division offers kayak and canoe classes with certified instructors. Guided or self-guided canoe trips and raft rentals available over mild whitewater Class I and II, depending on the stream.
Live music
phone: +1 502 875-3009

address: 235 W. Broadway

Live music from nationally acclaimed artists, organic coffee drinks, homemade soups, sandwiches, a wide selection of imports and micro-brews, local bourbon, handcrafted cocktails and a good wine list.
Learn
Kentucky State University, East Main St., +1 502 597-6000, . KSU is a small, unique liberal studies university founded in 1886. Founded for the state's African American community during the era of legalized segregation, KSU has long been integrated, but retains much of its historic African American character. Hume and Jackson Halls are on the National Register. Jackson Hall contains a public art gallery which features exhibits by KSU students and the Center of Excellence for the Study of Kentucky African Americans. Blazer Library contains over 350,000 volumes, has a special African-American collection, and is open to the public. KSU has facilities available for meetings and conferences. Athletic events, concerts, art exhibits, theater productions and public lectures are available to the public.
Buy
Eat
Downtown
East Side Diner

phone: +1 502 227-1868

address: 859 E Main St

Gibby's, 212 W. Broadway, +1 502 223-4429.

Jim's Seafood

phone: +1 502 223-7448

address: 950 Wilkinson Blvd

phone: +1 502 875-3009

address: 235 W Broadway

Home-style soups, sandwiches, breakfast and desserts available all day, along with a wide selection of organic coffees and, wine, local bourbon, handcrafted cocktails, micro-brew beers.

Linney's Pizza

phone: +1 502 875-4685

address: 717 E Main St

Marshall's Backstretch Diner

phone: +1 502 223-5006

address: 232 W. Main St

Melanie's On Main

phone: +1 502 226-3322

address: 238 W. Main St

Oasis

phone: +1 502 227-3456

address: 334 St. Clair St

Serafini, 243 W Broadway, +1 502 875-5599.

The Dragon Pub

phone: +1 502 875-9300

address: 103 West Main St

The Cheesery Deli

phone: +1 502 223-7648

address: 34 Fountain Place

The Terrace

phone: +1 502 227-5100

address: 405 Wilkinson Blvd
South Frankfort
Capital Annex Cafeteria, Capital Annex Bldg., +1 502 564-3142. M-F, 7AM-2:15PM.
Cliffside Diner, Old Lawrenceburg Rd., +1 502 223-3173.

Rick's White Light Diner

phone: +1 502 223-0900

address: 114 Bridge St
East Side
Arandas Mexican

phone: +1 502 695-4002

address: 193 Versailles Rd

Brando's Restaurant

phone: +1 502 695-0078

address: 3710 Georgetown Rd

China King Buffet

phone: +1 502 695-8055

address: 268 Versailles Rd

China Wok, Eastwood Shopping Ctr., +1 502 695-9388.
Garcia's, Brighton Park.

LaFiesta Grande

phone: +1 502 695-8578

address: 314 Versailles Rd

Linney's Pizza & Pasta

phone: +1 502 875-4686

address: 717 E Main St

Office Pub and Deli, 614 Comanche Trail, +1 502 227-9585.

Pizza Inn

phone: +1 502 695-4102

address: 302 Versailles Rd

Rose's Pub

phone: +1 502 695-3853

address: 150 Elkhorn Ct
West Side
Adelia's Bakery & Cafe, 1140 US 127 South, +1 502 227-9492.
Brando's Restaurant, 1227 US 127 South, +1 502 875-4400.

phone: +1 502 875-0485

address: 1502 Louisville Rd

Casa Fiesta

phone: +1 502 226-5010

address: 801 Louisville Rd

Johnny Carino's Italian, 1303 US 127 South, +1 502 223-4401.
Miss Ramey's Tea Room, 76C Michael Davenport Blvd., +1 502 875-1236.

My Guadalajara

phone: +1 502 696-9164

address: 1232 US 127 South

New China, 1309 US 127 South, Ste 8, +1 502 226-3400.
Super Buffet, 1055 US 127 South, +1 502 223-8333.
Thai Smile, 19 Century Plaza, +1 502 227-9934.
Drink
Coffeehouses
phone: +1 502 875-3009

address: 235 W Broadway St

The Kentucky Coffeetree Cafe offers weekly live music by top regional and national musicians. Performances are typically of the bluegrass, folk, singer/songwriter, and Americana genres. Homemade soups, sandwiches, breakfast and desserts available all day, along with a wide selection of organic coffees and, wine, handcrafted cocktails, micro-brew beers.
Pubs
Bottom & Grill

phone: +1 502 875-2829

address: 338 Saint Clair St

Brick Alley

phone: +1 502 875-2559

address: 325 Saint Clair St

Cave Lounge, 100 Workhouse Aly, +1 502 875-8858.
Cooter Brown's, 6 Century Plz S, +1 502 875-7838.
Doo Wop Shop, 505 Eastwood Shopping Ctr, +1 502 695-3107.

Downtown Bar

phone: +1 502 352-2700

address: 331 Saint Clair St

Jim's Tavern

phone: +1 502 875-0775

address: 638 Holmes St

Office Pub & Deli, 614 Comanche Trl., +1 502 227-9585.

Parleys Tavern

phone: +1 502 848-9002

address: 1410 Versailles Rd

Saylor's Restaurant & Lounge

phone: +1 502 227-9282

address: 900 Louisville Rd

Scottzo's Pub

phone: +1 502 875-0222

address: 765 Holmes St

The Dragon Pub

phone: +1 502 875-9300

address: 103 W Main St
Sleep
Bed & Breakfast
address: 519 Ann St

Enter a circa 1849-Civil War Home with the charm and history of yesteryear. Located in the heart of the Historic District, you'll enjoy your stay in a home rich in the history of Frankfort's political forefathers.
Hotels
phone: +1 502 695-6111

address: 80 Chenault Road

Bluegrass Inn

phone: +1 502 695-1800

address: 635 Versailles Road

U.S. 60. 61 rooms. Cable TV with HBO, complimentary continental breakfast, outdoor pool, senior citizen discounts, rooms with refrigerators, non-smoking rooms.

address: 405 Wilkinson Blvd

189 rooms. Located Downtown, adjacent to Frankfort Convention Center. Within walking distance of KY History Center, Historic Distirict, downtown shops and restaurants. 7 executive suites. Interior corridors. Meeting and banquet facilities for 500. Covered parking. Restaurant and bar on site. Hot Breakfast Buffet. Indoor pool, sauna, exercise room and game room.

phone: +1 502 875-2200

address: 1051 US 127 South

122 rooms, outdoor pool, continental breakfast, non-smoking rooms.

Fairfield Inn & Suites Frankfort

phone: +1 502 695-8881

address: 40 Chenault Drive

phone: +1 502 223-7600

address: 1310 US 127 South

123 rooms. Interior corridors. Meeting facilities for up to 80 people. Outdoor pool and exercise room. Handicap accessible. Complimentary Continental Breakfast.

Holiday Inn Express Hotel & Suites

address: 1000 Vandalay Drive

67 rooms, 3 jacuzzi suites, indoor heated swimming pool, 24 hour guest laundry, fitness center, business center, and meeting room.

University Lodge

phone: +1 502 223-2041

address: 711 East Main St

50 rooms. cable TV with HBO, senior citizens discount.
Campgrounds
Elkhorn Campground

address: 165 Scruggs Lane

US 460 East. At the forks of Elkhorn Creek, campground offers electric, water and full hookups. Tent and trailer sites, camp store, swimming pool, showers, dump station, fishing, miniature golf, LP gas, laundry, playground and pavilion.

Still Waters Campground, Marina & Canoe Trails

address: 249 Strohmeier Road

US 127 North. Located on the Kentucky River, at the mouth of Elkhorn Creek. RV & tent areas have water/electric at all sites and sewer to most RV sites. Two primitive camping areas. Camp store, concessions, dump station, and bathhouse. Boat ramps, bait, canoeing and kayaking on the Kentucky River and Elkhorn Creek. Fishing, skiing, hiking, and old fashioned recreation.
Kentucky River Campground, Steele Branch Rd. off US 127 North (6 miles north of Frankfort), +1 502 227-2465. Features electric and water hookups, primitive camping, and bathhouse, 25-ft barbecue pit, two shelter houses, cable TV, RV supplies, propane gas, sewer hookups to all campsites, Kentucky River boat ramp, fishing, playground and laundry facilities.

Lakeside Arena Campground

phone: +1 859 873-9155

address: 1385 Duncan-Millville Rd.

Campground shares facility with Lakeside Arena.
Go next