Frankfurt
Frankfurt
(German:
Frankfurt am Main
) is the largest city in the German state of
Hesse
, and is considered the business and financial centre of Germany. It is the fifth largest city in Germany after
Berlin
,
Hamburg
,
Munich
and
Cologne
. The city is known for its modern skyline, and for hosting the headquarters of the European Central Bank, the Deutsche Börse stock exchange and numerous German financial services companies. Furthermore, it hosts some of the world's most important trade shows, such as the Frankfurt Auto Show and the Frankfurt Book Fair. Located on the river Main at a crossroad of the German
Autobahn
system and connected to several
high-speed rail
lines, with Germany's busiest airport on its outskirts, Frankfurt is one of the most important transportation hubs of Europe.
Understand
Frankfurt is a city of contrasts. Wealthy bankers, students and hippie drop-outs coexist in a city that has some of the highest, most avant-garde skyscrapers of Europe next to well maintained old buildings. The downtown area, especially Römer square and the museums at the River Main, draw millions of tourists every year. On the other hand, many off-the-beaten-track neighbourhoods, such as Bockenheim, Bornheim, Nordend and Sachsenhausen, with their intact beautiful 19th-century streets and parks are often overlooked by visitors.
It's the heart of the Rhine-Main region, spanning from
Mainz
and
Wiesbaden
in the west to
Hanau
in the east and
Gießen
in the north to
Darmstadt
in the south and has some 5,500,000 inhabitants in the whole surrounding metropolitan area.
Frankfurt is the place where Germany's major autobahns and railways intersect. About 650,000 people commute to the city each day, not counting some 700,000 people who live here. With a huge airport — the third-largest in Europe — it is the gateway to Germany and for many people also the first point of arrival in Europe. Further, it is a prime hub for interconnections within Europe and for intercontinental flights.
In the years following 1968, especially in the late 1970s and up to the early 1980s, Frankfurt was a centre of the left wing
Sponti-Szene
, which frequently clashed with police and local authorities over politics and urban design issues (specifically whether or not old buildings should be torn down). Several members of these radical groups went on to have quite respectable careers in politics, among them Daniel Cohn-Bendit (long time leading MEP for the Greens) and Joschka Fischer (Foreign Minister and Vice Chancellor 1998-2005), though their erstwhile radical and violent antics did hurt them in their later political careers.
Frankfurt has one of the highest percentage of immigrants in Germany: about 25% of Frankfurt's people have no German passport and another 10% are naturalized German citizens. With about 35% immigrants, Frankfurt is one of the most diverse of German cities.
Frankfurt is home to many museums, theatres and a world-class opera.
Territorial subdivisions
Frankfurt is divided into 16
Ortsbezirke
, which are further subdivided into 46
Stadtteile
. As Frankfurt is an expansive city with a large area given its population, most of those are of little interest to a tourist, with most attractions concentrated in the
Ortsbezirk Innenstadt I
(there are four
Ortsbezirke
starting with
Innenstadt
("inner city"), distinguished by Roman numerals). Some
Stadtteile
of particular note are:
Altstadt (Römer areal) - the heart of Frankfurt's old town, largely rebuilt after the Second World War
Innenstadt - named confusingly (sharing its name with the larger Ortsbezirke) is the part embracing the Altstadt up until the old city fortifications, still visible as a green belt on the city map. The home to the most of Frankfurt's skyscrapers
Bahnhofsviertel - the densely-built part of the city immediately facing the Hauptbahnhof, hosting the most hotels in town and its red light district
Gutleutviertel - the area south of the tracks leading up to the Hauptbahnhof, with a modern residential quarter on the Main
Gallus - the area north of the Hauptbahnhof tracks known most for the past-2010 Europaviertel development (a new city quarter with apartment blocks and offices built around the wide Europaallee next to the fairgrounds)
Bockenheim
Westend - the most expensive part of Frankfurt by land values, mostly covered with low-rise residential buildings and villas, but also several skyscrapers on its edges
Nordend
Bornheim – Popular area with small shops, cafés and restaurants, as well as historic taverns and half-timbered houses. See listing below.
Sachsenhausen - the historic southern bank of the river Main, which preserved its typical 19th-century character, very different from the modern northern bank punctured by skyscrapers. Includes the Museumsufer museum collection directly at the riverbank. See listing below for further details.
Höchst – Formerly a separate small town, now a suburb. The small Altstadt, around the Schloss, is one of the closest places to central Frankfurt that you can see large numbers of traditional timber-framed buildings that didn't get destroyed in the war. The square by the Schloss has some very nice traditional Gaststätte to eat or drink in. See listing below for further details.
When to visit
The best times for Frankfurt are late spring to early autumn. The summers tend to be sunny and warm around 25°C (77°F). Be prepared, however, for very hot summer days around 35°C (95°F) as well as for light rain. The winters can be cold and rainy (usually not lower than -10°C/14°F). It rarely snows in Frankfurt itself.
If you intend to stay overnight, you may wish to avoid times when trade fairs are held, as this will make finding affordable accommodation a challenging task. The biggest are the Frankfurt Motor Show (
Automobil-Ausstellung
) every two years in mid-September (next in 2017) and the Book Fair (
Buchmesse
) yearly in mid-October; see
Fairs
for details.
Tourist information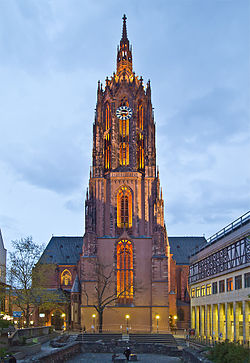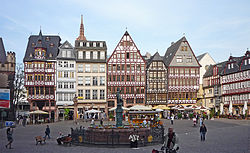 There are two offices for tourism information:
phone: +49 69 2123-8800

address: Römerberg 27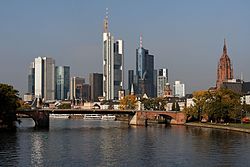 Get in
Frankfurt is the heart of central Germany and as such, it is one of the most important transportation hubs. It has excellent connections by rail, road and air. Reaching and leaving Frankfurt is easy.
By plane
Frankfurt Airport
Frankfurt Airport
(
FRA
) is among the busiest in Europe — fourth in passenger traffic after London Heathrow, Amsterdam Schiphol and Paris Charles de Gaulle Airport. Frankfurt is the banking centre of Germany and hosts numerous international trade fairs. Therefore all major airlines and all airline alliances fly frequently to Frankfurt and connect it to every inhabited continent and all major cities in the world. The German flag carrier Lufthansa is the main airline in Frankfurt and offers most connections. Lufthansa also has several domestic feeder flights to and from Frankfurt that also serve business travelers.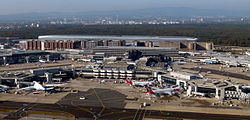 The airport is connected to downtown Frankfurt by taxi, bus (line 61 to (Frankfurt South Station), and most easily by S-Bahn (fast commuter trains).
To get to the city by S-Bahn, take lines or in the direction of Offenbach Ost or Hanau at the regional train station, Frankfurt(M) Flughafen Regionalbahnhof, on the lowest level of Terminal 1 (entrances in section A and B). If your plane lands or departs from Terminal 2, count in another 15 minutes as you need to move between the terminals with either the shuttle bus or the monorail Skytrain (both are free of charge, just follow the signs). If you want to go downtown, get off at , or , which are in the heart of the city. If you want to change to long-distance trains get off at (Frankfurt Central Station). The ride from the airport to the central station takes about 20 minutes. You have to purchase a ticket at the vending machines (only cash) in the train station before boarding the train. The adult ticket costs €4.80 (€2.80 for children).
If you want to go to the airport by S-Bahn, take the or in the direction of Wiesbaden. Don't take the , since it does not stop at the airport.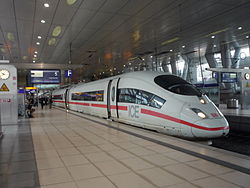 Regional trains RB and RE to Mainz, Wiesbaden, and Hanau stop at the same place as the S-Bahn to Frankfurt.
Connections outside the Frankfurt region have a separate long-distance train station, Frankfurt(M) Flughafen Fernbahnhof. Here, you can board high-speed long-distance trains (Inter-City and ICE) to Cologne, Munich and other national and international destinations. Local train tickets are not valid on ICE or IC.

Hahn Airport
The smaller airport called Frankfurt/Hahn (HHN), mostly used by no-frills airlines, advertises proximity to Frankfurt. However, Hahn is far away from Frankfurt and it takes about 90 minutes to drive there from downtown to cover the distance. For that airport, if you have to use it at all, allow more time in your travel plans and budget. A bus from Frankfurt/Hahn to Frankfurt Main airport and on to Frankfurt Hauptbahnhof (Frankfurt Central Station) costs about €14 and leaves roughly every hour. Tickets are available from the kiosk outside in front of the main entrance.
Frankfurt/Hahn is not far (9 km) from Traben-Trarbach, which lies by the Mosel river and has a train station. The streets between the airport and Traben-Trarbach are not lit at night and have no sidewalk.

By train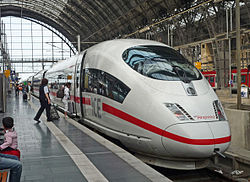 Frankfurt has three major train stations: Hauptbahnhof (main station), and the above-mentioned one at the airport (Flughafen Fernbahnhof). However, several inter-city trains that stop at the airport do not stop at Hauptbahnhof. Long-distance trains leaving from Hauptbahnhof do not stop at Südbahnhof, while a few long-distance trains pass by Hauptbahnhof and only stop at Südbahnhof. Check the timetable to make sure you are going to the right station!
Frankfurt Hauptbahnhof is one of the biggest and busiest train stations in Europe, so it's definitely worth a visit. Frankfurt has connections to most German cities - and neighbouring countries especially to the south and west - via InterCity and high-speed InterCity Express trains. There is no problem to get a connection to any train destination from Frankfurt.
Frankfurt train stations are very large, confusing, labyrinth-like places for newcomers. Allow extra time to locate the boarding area for your train. Don't hesitate to ask someone for help the first time. There is a large departures signboard above the main exit/entrance with destination and platform information, and you can also get information from the railway travel office in the station.
From the main ticket office at Frankfurt you can buy 5- and 10-day rail travel cards which allow you to travel around Germany using all train services, including the Intercity ones. These are a significant saving on individual train fares. The 5-day ticket costs €189 and the 10-day ticket €289. You cannot buy these tickets from regional train stations.
In addition to regular Deutsche Bahn trains and regional trains on which DB tickets are valid, Frankfurt is also served by Locomore on their Berlin-Stuttgart service. Tickets can be bought through Flixbus, but DB tickets are not valid and there is no BahnCard discount. That said, Locomore tickets are usually considerably cheaper than comparable DB tickets.

By car
Frankfurt is connected to several autobahns and can be easily reached by car. Try to avoid rush-hour and especially snowy days, as car traffic can easily break down. Parking is definitely a problem in most areas. Especially during big conventions—such the Internationale Automobilausstellung (International Automobile Exhibition) in September, or the Frankfurter Buchmesse (Frankfurt Book Fair) in mid-October—you should consider using the well designed park-and-ride system If you intend to stay mostly in Frankfurt and only make day-trips to the bigger cities in the surrounding area, consider leaving the car altogether and arriving by train, as Frankfurt has a superb public transport system (see below).

By bus
Fernbusbahnhof Frankfurt am MainThis new bus station opened in 2019 to cope with rising demand for intercity buses in the 2010s
Get around
By public transport


Frankfurt has a good, co-ordinated public transport system of Underground
(U-Bahn)
, tram
(Straßenbahn)
and bus. Public transit nerds will be quick to point out, that the "U-Bahn" is actually a bit of a misnomer, given the fact that it has moved traffic sections in the outskirts, more in line with systems called "Stadtbahn" in other German cities. The
RMV
site has basic information and timetable information available in English and other languages. The U-Bahn (metro) stations are signed with a white capital "U" on a blue background

. For connections to the suburbs or airport, use the S-Bahn, signed with a white "S" on green background . Almost all S-Bahn lines and two U-Bahn lines (, ) come together in the city-tunnel in central Frankfurt ( and ), beside line , which ends at Central Station. If you want to go to the old city take the U-Bahn to or tram line 11 or 12.
The S-Bahn, run by Deutsche Bahn, connects the downtown areas to outer-lying suburbs as well other cities in the region, such as Mainz, Wiesbaden, and Darmstadt. Beware that the S-Bahn is notorious for its delays. If you need to get somewhere on time, allow for some buffer time. In the morning rush-hour, delays of 5–15 minutes are common. If you are catching a plane or have another similar time-critical appointment, allow an extra 30 minutes to be on the safe side. Other services (subway, tram and bus) are usually more punctual.
Tickets
You can get single trip, all-day and weekly tickets. You can get tickets for one person or a group of up to five people travelling together.
You must use a
ticket machine
to
purchase a ticket before boarding
. Ticket machines can be switched to English. You have to press
Einzelfahrt Frankfurt
for a single trip in the city and
Tageskarte Frankfurt
for a day ticket in the city. If you want to ride to airport, you have to press
Einzelfahrt Frankfurt Flughafen
or
Tageskarte Frankfurt Flughafen
. If your destination is outside Frankfurt, you have to look up your destination on the list provided at the machine, enter this number with the numeric keypad, then press the button for the type of ticket you want (
Einzelfahrt
- single trip;
Tageskarte
- day ticket). Also, every station has some stations listed as "short distance" destinations (
Kurzstrecke
); tickets to those are cheaper. If you have the opportunity, ask a bystander to explain the vending machines to you the first time you want to buy a ticket. Unlike in other German cities, tickets purchased are valid immediately. You cannot purchase single trip tickets in advance, but time tickets (day, week, month) can be chosen according to the date, which you have to know in advance.
Fares are based on the
zones
you travel through. Central Frankfurt is all contained with a single zone (zone 50) so tickets (except short trip tickets) are all the one fare. In this central zone a single trip ticket costs €2.90 and a day ticket costs €7.20. For the central zone and the airport zone together a single trip ticket costs €4.80 and a day ticket costs €9.35. Group day-tickets (5 people: €11.30 / 16.40) cost less than two individual day-tickets, so are better value if you are travelling together and purchasing day-tickets. Discounts are available for children of age 14 and under.
If you are visiting attractions and museums then consider buying a
Frankfurt Card
. It allows unlimited travel on Frankfurt's public transport system (city zone and airport) and discounts in many museums. The Frankfurt Card is available as a one day and two day ticket, and for a single person or a group of up to five (1 person 1 day €10.50, 2 days €15.50; group (max. 5 persons) 1 day €22, 2 days €32) . These tickets are not sold at the vending machines. You can buy the Frankfurt Card at the airport (arrival gate B, terminal 1), at travel agencies, railway stations, at the tourist information desk at Hauptbahnhof, at the tourist information desk at Römer, or in advance online. A one-day one-person Frankfurt card including airport transportation is cheaper than the equivalent public transport ticket that includes the airport.
A fine of €60 applies for riding
without a valid ticket
.
By taxi
Frankfurt has plenty of taxi drivers to service the many business travellers. The city is not too big, although fares tend to be expensive. Watch out for taxi drivers that take detours if they notice that you do not know the city. Still, for door-to-door transport, taxis are a way to go.
Most taxi drivers love to drive to the airport because it's longer than inner-city fares, but not all taxi drivers are licensed to go there. They tend to drive very fast because most German business travellers expect them to do this. If you feel uncomfortable, let the driver know and he will slow down.
Blacklane
- offers an extensive fleet of vehicles for business travellers. An airport transfer service from city centre to Frankfurt Airport is about €30.
In the main tourist areas downtown there are also human-powered bike taxis that convey one or two passengers. For those not too keen on walking this may be a convenient way of seeing the sights.
By car
Avoid using your car in the city, especially in tourist "hot spots" like Sachsenhausen (especially on a Saturday) because of congestion and a severe lack of parking spaces. It's very limited, and people tend to park in places they're not supposed to. This ends up costing a fair bit if your car gets towed, which it often will. If you want to enter the city, your best bet is to use a
Parkhaus
(parking garage, which charges a fee of €1 per hour or €8 for the whole day) and then either walk, or take public transport.
Many areas are reserved for local residents, in and outside the city. You will see the areas marked by parking signs that indicate a local permit is needed during certain hours during the day. The wording to be aware of is "Parkausweis Nr.X" (where X is a number). If you park in these spaces you risk a fine.
Even vehicles registered in countries other than Germany need a
"low emissions" sticker
(on the inside of the windscreen) to legally enter certain signposted environmental protection zones in Frankfurt. (The stickers are valid for all low emission zones in Germany.) Labelling a vehicle with these emission stickers, also often called "fine particle stickers", is voluntary, but vehicles without this sticker - even those with foreign number plates and even those that would otherwise meet the criteria - are not allowed into environmental zones without risking a fine of €40.
Also, remember that Germany has strict laws about driving under the influence of alcohol, only allowing 0.5mg of alcohol per mL of blood. That's just about one beer or glass of wine. Although there are Autobahns without speed limits, when there are speed limits, these are enforced rigorously. Radar traps are frequent. Heavy on-the-spot fines can be levied. The laws pertaining to tailgating have been sharpened, and the fines have gotten larger.
By bicycle
Frankfurt is
bike-friendly
, featuring an expansive network of bike lanes. While there are various rental-bike companies in Frankfurt, they are relatively rare and situated in inconvenient areas of the city for travellers. A more convenient source of rental bikes may be Deutsche Bahn. Look out for their rental bikes, marked in the colours red and white and the letters "DB".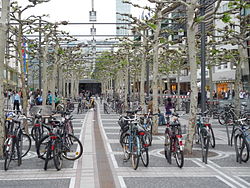 These bikes are available from April to December and can be found pretty much anywhere in the city - especially at street corners, which are the major pick-up and drop-off points. You can rent these bikes 24/7 just using your cell-phone and your credit card. German citizens can also sign-up for direct debit from their checking account. For instructions on how to use this service, call the number on the bike or go their website.
Another service is offered by nextbike. Sign up (either online or via their hotline) and rent bicycles and return them at any station all over town. Rates are charged by the half-hour (€1) and are capped at €9 per day.
GoetheRad

phone: +49 1765 052 8599

address: Landwehrweg 1

Bike Rental and Repair
See
While most of the buildings in the inner town were destroyed during the second world war, many of them in Römerberg have been meticulously restored. The imposing town hall and the cathedral St Bartholomeus where emperors of the Holy Roman empire were crowned in the 17th and 18th centuries are among them. Walk on top of a tower or get to the Main for good views of the skyline.
Historical attractions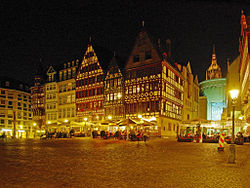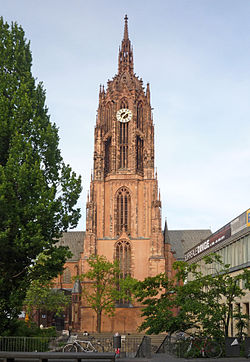 RömerbergRömerberg is the historic centre of Frankfurt, with a number of beautiful buildings, including the town hall and a church from the 14th and 15th century. The name Römer itself refers to the town hall of Frankfurt, which itself received this name from the prominent main building , which has existed since at least 1322 and was bought by the city administration in 1405. Fortunately, large parts of the Römer's façade survived World War II. The marks the centre of the Römerberg, while the (a 12th-century church, current form since the 15th century) is on its southern side. The square is replete with beautiful half-timbered houses, many of which were destroyed during World War II, and completely rebuilt afterwards. One exception is the (also known as Haus Wertheym), which was first mentioned in 1383 and for which the current building dates from around 1600, presumably making it Frankfurt's oldest historic restaurant. Walking towards the Main river, you can further see the (Rententurm), a 15th-century fortified tower in late Gothic style, which is connected to the , a 12th-century castle building that was later modernized but never completely destroyed. Numerous cafés and shops can be found at the square itself and in the vicinity. Behind and north of the Haus zum Römer, the town hall was extended in 1900–1908 with the construction of the Neues Rathaus building complex, a series of Gothic/Renaissance style buildings. This includes a tower known as and the , a bridge connecting two buildings within the complex, both best viewed at Bethmannstraße/Paulsplatz.

Dom-Römer-ArealUrban revitalization of the Dom-Römer complex, in which a number of old historic buildings have been rebuilt from scratch – incorporating only a few original artifacts – based on old pictures and drawings. The area includes the Steinerne Haus at Markt 44, a medieval-looking building first erected in 1464 that had already been rebuilt in the 1960s. The street known as Alter Markt or simply as Markt was in fact one of the most important ones in the old town. Upon being crowned in the cathedral, the new emperors of the Holy Roman Empire would take this path to proceed to the Römerberg and Römer, where the ceremonial procedures continued. This area also includes the remains of an ancient Roman settlement that used to be known as the Archäologische Garten, but reopened indoors as part of the new Dom-Römer-Areal revitalization project. The completed area was officially inaugurated in September 2018.

KaiserdomThe main cathedral with its 95 m high tower, built in Gothic style in the 14th century. From 1562 to 1792, emperors of the Holy Roman Empire were crowned in the cathedral. It is possible to ascend the tower to a platform at 66 m height, affording excellent views over the city. For this, you will need to enter via a separate entrance at the southern side of the cathedral and climb over 300 steps in a narrow winding staircase.

Eiserner StegRelatively well-known bridge for pedestrians, built in 1869. It is just a minute away from the Römer. Crossing the bridge leads you to Sachsenhausen and provides good views of the skyline.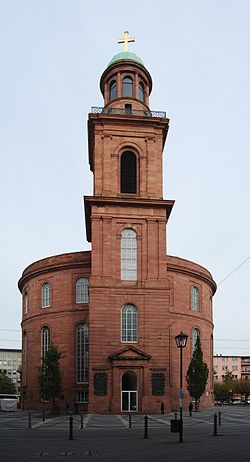 address: Paulsplatz 11

A church with important political symbolism in Germany. This was the seat of the first democratically elected parliament in Germany in 1848. Here the revolutionaries wrote the 1848 constitution that sadly was never put into effect. Like most historic buildings in the city centre, it was destroyed during World War II, but was also among the first buildings to be rebuilt after 1945 (with different interior). Today the building is used as a memorial site and an event centre, including hosting the awarding of the Peace Prize of the German Book Trade.

address: Liebfrauengasse/Neue Kräme

14th century Roman Catholic church and monastery.

HauptwacheA public area that is often considered the central hub of Frankfurt's modern downtown area due to its importance as a public transportation station and its central location, right between the main shopping street (Zeil) and the Rossmarkt (another public square), and just south of the 15th century Eschenheimer Turm (Eschenheim Tower). The place is named after a Baroque building ("Hauptwache") more or less in its centre. The building was constructed in 1730 to house the local city militia, as Frankfurt was an independent city at the time. When Frankfurt became part of Prussia, the building gradually lost its original function. Since 1905, it has instead been serving as a café ("Café Hauptwache"). Other attractions include the Katharinenkirche, and the Palais Thurn-und-Taxis.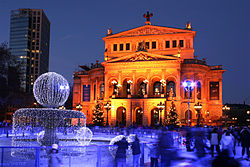 phone: +49 69 134 0400 (for tickets)

address: Opernplatz 1

Renaissance Opera Building in the centre of the city. A busy square with fountains can be found in front of it. It was opened in 1880, but it has not been used for operas since the rebuilding after the war, but for concerts, congresses, and similar "fancy" events.

phone: +49 69 21111515

address: Börsenplatz 4

The Frankfurt stock exchange building, still in use, see the bull and bear statues just outside. You cannot enter the building unless you have registered for a guided tour at least one working day in advance.

SachsenhausenBy crossing one of the bridges from the city centre you reach the Sachsenhausen part of the city south of the Main river. The old town part, , especially in Kleine Ritterstraße and Große Ritterstraße (two streets near Affentorplatz), is famous for its old cider bars (see the "Drink" section for more information) and traditional half-timbered houses, many of which survived World War 2 (unlike much of the city centre). The (Church of the Three Kings) at Dreikönigsstraße 30 was built in 1880, replacing an older 14th century chapel. The Catholic (Church of the Teutonic Order) dates to the Middle Ages but suffered substantial damage during World War 2 and needed to be restored after the war. You can also walk along the river bank or visit the Schweizer Straße (see the "Buy" section).
Skyline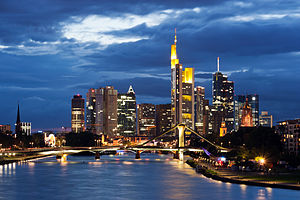 Frankfurt has some of the tallest buildings in Europe (the Commerzbank tower is the highest office building of Europe), and the tallest in Germany. Its skyline is unique for the country, as the high rises are concentrated in a relatively small downtown area, giving Frankfurt the looks of a metropolis. One of the reasons for this are the lax zoning laws compared to the rest of Germany. Elsewhere, building such high rise buildings is almost - if not outright - impossible. The skyline is the reason why Frankfurt is sometimes called by the nickname
Mainhattan
.
For a view of the skyline try the Main river bridges. The eastern bridges offer the best view, in particular the Ignaz-Bubis-Brücke and also the Alte Brücke. For a great view including the new European Central Bank building, the train bridge in Ostend and the new bridge behind it provide excellent views. Also, when you approach the city from the airport via the subway, stay to the right side of the train. Just before the train approaches the Frankfurt central station it enters a big curve, and from here you will have a nice first glance of the skyline. For another good view of the skyscrapers take a walk from northwards.

phone: +49 69 3650-4878

address: Neue Mainzer Straße 52-58

This building is special as it is the only Frankfurt high-rise tower that is open to the public with an elevator to the viewing platform at a height of 200 meters. From here, you will have a good view of Frankfurt and the surrounding area. Make sure to go on a clear day, and if you're in Frankfurt in Autumn or Spring you might wish to try to go up a short while before sunset. That way, you can witness how the city changes from day to night-life. The viewing platform will be closed during severe weather.

European Central BankThis skyscaper complex is the seat of European financial power and decisions. The building was completed in 2014. Guided tours are available but advance registration is required.

Henninger TurmA 120 m (330 ft) tall grain storage silo tower. Inaugurated in 1961, it remained by far the highest silo tower in the world until 2005. The top part used to have rotating restaurants and observation decks. Unfortunately, the original silo tower was demolished in 2013, and rebuilt as a modern 120 m (390 ft) tall residential tower with a similar external appearance. A new restaurant is slated to open at the top.
Other attractions
phone: +49 69 2123-3939

address: Siesmayerstraße 63

The Palmengarten is one of two botanical gardens in Frankfurt. There are special exhibitions and events throughout the much of the year.

phone: +49 69 21239058

address: Siesmayerstraße 72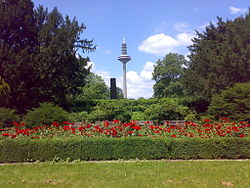 GrüneburgparkThis is Frankfurt's largest public park. Even though there are many parks in Frankfurt, the Grüneburgpark is probably the most liked. It is close to two campuses of the university: many young people meet there, and many business people jog there after work.

Campus WestendArchitecturally interesting campus of the Johann Wolfgang Goethe-University. Includes the IG Farben building, the former corporate headquarters of IG Farben and largest office building in Europe from 1930 until the 1950s.

St. LeonhardskircheLate Romanic church built in 1219, and transformed in accordance with the Gothic style in the 15th century. English-language Catholic mass service on Saturdays and Sundays.

BornheimA nice residential quarter with a lively market and beautiful medieval houses which survived the war intact (unlike the city centre). The most important and lively street is the Berger Straße, which runs from downtown all the way to the oldest parts of Bornheim. The more central downtown part of the Berger Straße (actually in the Nordend district) features a variety of small and often trendy little stores, cafés, and restaurants. Alt-Bornheim, the older part of Bornheim around the northeastern part of the Berger Straße (within walking distance from subway stop ), is famous for its historic Ebbelwoi (a local cider) taverns, some of which have been around for several centuries.
StaufenmauerRemains of the old city wall (1138–1254) can be seen in the Fahrgasse and at the Liebfrauenkirche. More prominent examples of the city fortification built in later years include the Eschenheimer Turm (1428) near Hauptwache and the Friedberger Warte (1478, rebuilt 1637), which is on the Friedberger Landstraße a bit outside the main city centre.

Palais Thurn und Taxis

address: Große Eschenheimer Straße

18th-century palace of the Princely House of Thurn and Taxis. In the 19th century, it served as the parliament of the German Confederation. Unfortunately, apart from the front façade, most of it is reconstructed. The reconstruction has a smaller scale than the building's original 18th-century size.

address: Eckenheimer Landstrasse 194

Main cemetery, where you can find several mausoleums, over 150 year old tombstones, and the final resting places of philosophers Arthur Schopenhauer and Theodor W. Adorno.

KatharinenkircheBaroque-style Lutheran church at Hauptwache. Constructed 1678 to 1681 at the site of a former monastery, destroyed during World War II, and restored 1950 to 1954. The tower stands 54 m tall.

address: Schöne Aussicht 2

Former public library building, constructed 1820-1825 in neo-classical style.

phone: +49 69 2123-3735

address: Alfred-Brehm-Platz 16

phone: +49 151 17591919

address: Am Rödelheimer Wehr 15

The pittoresque and unique Swiss style pavillon once hosted famous German poets like Goethe and Brentano. Refurbished in 2002, it is open for guided tours. Located in a nice park which has a faded rose garden, some art nouveau sculptures, Europe's oldest gingko-tree and plenty of lawn to enjoy a splendid day.

Höchst Old TownThe old town of Höchst with its castle and small medieval streets full of half-timbered houses. is actually an ensemble of multiple castles dating from the 13th to 16th centuries. (Justinuskirche) dates to 850, making it Frankfurt's oldest surviving building and one of the oldest churches in Germany, a rare opportunity to see a church with Carolingian architecture. Further east, the baroque was built from 1772 and includes a beautiful garden complex with pavilions, sculptures and the Neptune Fountain. It was constructed on behalf of the Bolongaro brothers, who had come from Italy and set up Europe's largest snuff tobacco factory in Frankfurt. Höchst is also known as the 2nd-oldest porcelain manufacturing site in Germany. The (Höchster Porzellan-Manufaktur, Palleskestr. 32) welcomes visitors wishing to learn about the traditional manufacturing process, while the beautiful 16th century houses a museum with over 1,000 porcelain exhibits.

Amtsgericht und Landgericht Frankfurt

address: Heiligkreuzgasse 34

Frankfurt's courts are housed in an ensemble of buildings, including the main building erected in 1884–1889 in Neo-Renaissance style and a second building just behind it built in 1913–17 in Neoclassic style.

Odeon

address: Seilerstraße 34

Small museum building built in 1816, now housing a dance club.

Stiftstraße 6-10

address: Stiftstraße 6-10

Beautiful historic buildings built in 1903. Stiftstraße 8–10 is a rare example of Art nouveau in Frankfurt. Stiftstraße 6 has a colorful façade.

Frankfurt Airport's Airport Tours

address: Terminal 1, Concourse C, Level 2

Frankfurt Airport, one of the busiest in Europe, offers several different guided tours, including a Fire Department Tour.
Museums
Museums in Germany are generally closed on Mondays (there are exceptions); the exact opening hours on other days depend on the museum. If you want to visit a museum on a public holiday, check with them before to be sure they open on that day.
The museums in Frankfurt offer a wide range of exhibits. Many museums are clustered on both banks of the Main in a district called
Museumsufer
(Museum Riverbank)
. To get there, take the subway to (southern bank) or (northern bank), then walk towards the Main river. You can see the downtown skyscrapers when you leave the station
Schweizer Platz
, that's the direction you have to take. There are enough museums in Museumsufer to keep you occupied for a while, and it is especially suitable if you are staying in Frankfurt only for a short time.
The
Museumsufer Ticket
is valid for admission to all municipal museums on two consecutive days and is available at all Frankfurt museums. Individual visitors €18, concessions €10, families (2 adults and children) €28.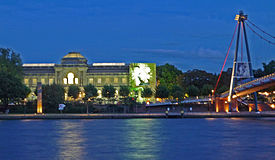 At the Museumsufer
All of the following museums are at the Museumsufer in Sachsenhausen. You have a number of options to get there, e.g. or Bus 46 (Museumsufer Linie) to "Städel". It is also just a 10 minute walk from across the Eiserner Steg bridge, or 10 minutes from the main train station over the pedestrian bridge Holbeinsteg.
phone: +49 69 605098-0

address: Schaumainkai 63

It is named after Johann Friedrich Staedel. The museum displays various works of arts, both modern and old. There are also varying exhibitions at any time. Behind the museum is the Städelschule, an art school with a cheap cafeteria.

phone: +49 69 6330-4128

address: Schaumainkai 83

The broad exhibition range covers all types of art – painting, photography, sculpture, graphic art, architecture and applied arts. Usually the exhibitions focus on artist that have some sort of connection to Frankfurt or the Frankfurt region. It presents works on loan from public and private owners, which are often stored in depots or private collections and therefore not otherwise accessible to the general public. There are also varying exhibitions at any time. Public guided tours for groups such as pupils or adults by arrangement.

phone: +49 69 2123-4037

address: Schaumainkai 17

The museum for applied arts and design hosts just that in a beautiful Richard Meier designed building. The small park around it is a popular hangout in summer and there is a small posh restaurant on the ground floor.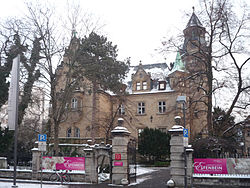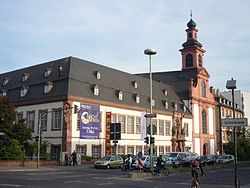 address: Deutschordenshaus, Brückenstraße 3-7 / Walter-Kolb-Straße

Founded in 1990 through a donation of 800 icons from the 16th-19th century this museum today has about 1,000 icons and today also has special exhibitions for modern icons.
Other museums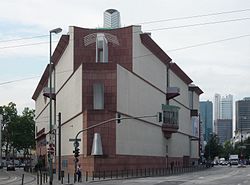 Do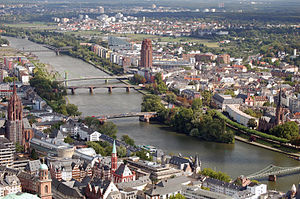 Culture
Frankfurt Architectural Photo Tour, Free photography course of architectural fine arts

The Dresden Frankfurt Dance CompanyModern ballet in Frankfurt playing at the Bockenheimer Depot.

address: Eschenheimer Anlage 40

The cinema shows a couple of movies in English.

phone: +49 69-24231620

address: Gallusanlage 7

See a play at the largest English-language theatre in continental Europe

phone: +49 69-212-49-49-4

address: Untermainanlage 11

Not to be confused with the historic Alte Oper building, this modern building is where to go to see an opera performance. State subsidized performances make this a relatively affordable place to see high quality productions

phone: +49 69 21237000

address: Carlo-Schmid-Platz 1

A theatre venue of the Städtische Bühnen Frankfurt, for opera and dance performances.
Fairs
Frankfurt's trade fairs are known to have taken place as early as in 1160. The
Messe Frankfurt
is one of the world's largest exhibition centres, hosting a continuous stream of exhibitions small, large and gargantuan — the Motor Show draws almost a million visitors. Most fairs are open to the public for at least part of the time, and can be a fascinating if somewhat overwhelming experience if you're interested in the theme. The Messe has its own S-Bahn train station, , two stops away from the Central Railway Station (from platform 104, underground), and there's also the subway stop. Advance tickets for fairs often allow free use of all RMV public transport. Trains to the trade fairs are announced in English.



Sports

Go swimming at Titus-Thermen or Rebstockbad, which both also have whirlpools and sauna facilities. Or visit any of the other public indoor or outdoor pools in Frankfurt. The biggest outdoor pool is next to the Nidda in Rödelheim part of Frankfurt: Bretano bath. Some of the bigger complexes outside the city limits include Taunus-Therme in Bad Homburg and Rhein-Main-Therme in Hofheim.

phone: +49 69 2123-9308

address: Am Bornheimer Hang 4

Ice skating for amateurs or watch ice hockey games by the local teams.

phone: +49 6195 5151

address: Mainblick 51a, 65779 Kelkheim

A sports facility complex that features high rope courses, golf (no membership required), indoor climbing and bouldering, squash, and other activities.

phone: +49 69 9541-6560

address: August-Schanz-Straße 50

Opened in the winter of 2012, this hall is still expanding and has boulders in various difficulties for beginners to experienced ones. The route setter is very experienced and the crew friendly. Only the air can get "powdry" at peak times. From time to time there are organised competitions.

phone: +49 69 95415170

address: Homburger Landstraße 283

The DAV Kletterzentrum opened for climbing in spring 2013. It offers up to 15 m high walls with many routes.

phone: +49 69 4080-2770

address: Flinschstr. 45

This gym has tough boulders for enthusiastic climbers.




Walks

In the summer, a walk along the river Main is a nice thing to do. A lot of people will spend a sunny afternoon walking or sitting there on a lawn or playing frisbee or football. It's a relatively quiet area, considering it's in the heart of the city. Nearby cafes and restaurants allow you to have a drink in between. The only disadvantage is that it can be quite crowded when the weather is nice; try going during business hours on a weekday unless you're looking for a crowd.
Go for a walk in the City Forest (Stadtwald) in the south of Frankfurt. With about 48 km², it is regarded as the largest inner-city forest in Germany. Six playgrounds and nine ponds make the forest a popular tourist attraction. The forest can be reached via tram line 14 direction Neu-Isenburg/Stadtgrenze from Frankfurt South Station (). Trams 12, 19, 20 and 21 also connect the Stadtwald with downtown Frankfurt.
Go on top of the Feldberg mountain, the highest mountain of the Taunus. Take a train from Frankfurt central to Königsstein and then go to the main bus place (Parkstraße). Buses via Feldberg depart every 2 hours. Get on top of the observation tower at the Feldberg. If it's cold, have a hot chocolate with cream (Heiße Schokolade mit Sahne) at the tower's kiosk.

LohrbergHead up the Lohrberg, where you can enjoy beautiful views of the city, as well as of the local vineyard (the last remaining one in Frankfurt). There is a small restaurant with outdoor seating and an apple orchard serving homemade apple juice and Ebbelwoi (local cider). Other amenities include a small pool for children and a barbecue area (bring your own).




Events

There are various fireworks displays throughout the year. Many major events - like the Museumsufer festival are ended with very well done fireworks. Check your local event schedule; if you are in the city these are always worth your time. The exception are the New Year fireworks, which are unorganized and less than spectacular. Good vantage points are the Main bridges, or the river banks.




Other activities

The RMV offers a tour of the city in the so-called Ebbelwei Express, a special tram that offers music, apple wine, and pretzels. Probably very stereotypical and more suited for people who do not mind "tacky" tourist traps.
About once a month, an old steam engine train rides along tracks on the northern riverbank of the Main. Prices vary, starting at €4 for an adult.

address: Schwanheimer Bahnstraße, 60529 Frankfurt am Main

A small zoo with monkeys, snakes and other animals. Kids can pet rabbits, horses, donkeys, and goats, or ride ponies.

River cruises along the Main River

address: Mainkai at Eiserner Steg

There are two companies offering river cruises along the Main River, and both of them depart from Mainkai near the Eiserner Steg bridge in the Old Town. There are short sightseeing cruises as well as longer tours heading towards the Rhein river and its scenic spots.



Learn
address: Diesterwegplatz 72

The official German language institute with a vast range of courses to learn German in Goethe's hometown.

Johann Wolfgang Goethe University

phone: +49 69 7980

address: Senckenberganlage 31

Founded in 1914, this urban university offers a wide range of faculties. Today, the university has 38,000 students on 4 major campuses: Campus Bockenheim, Campus Riedberg, Campus Westend, Campus Niederrad.

address: Sonnemannstraße 13

Vast range of language courses, cooking classes and other educational courses.
Work
Frankfurt is one of the better locations in Germany to start looking if you want to find a job. It is the centre of national and international banking/finance and there are also many high tech, chemical and pharmaceutical companies in the Rhine-Main area. All of these are more willing to accept people with no or less than adequate German skills if you can offer any other special skills.
Last but not least the airport and companies working for trade fairs, as well as several companies in the so called "Industriepark Hoechst" always need people who speak English and other (seldom spoken) languages. Especially low skilled and very high skilled jobs are available. Make sure you have the proper permits and papers; working illegally can get you into a lot of trouble.

Buy
Frankfurt is a great place for shopping, as it caters both to tourists and to the local population, so you can find anything from haute couture to ridiculously cheap, and most of the shopping possibilities are located in the centre. The majority of shops are open until 20:00, though some of the larger stores downtown may close at 21:00 or 22:00. In general, shops are closed on Sundays.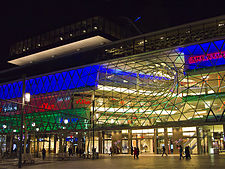 Shopping streets
The Zeil is the main shopping street in Frankfurt and in fact one of the most frequented shopping streets in Europe. This area caters to all sorts of shopping needs. There are big department stores such as Galeria Kaufhof and Karstadt as well as numerous other larger shops along the Zeil. Head to the top floor of Galeria Kaufhof for a restaurant with amazing views of the city. The lower levels of both department stores sell food products from all of the world. There are also shopping complexes like the Zeilgalerie and MyZeil, which is notable for its remarkable architecture, including the longest shopping mall escalator in Europe. Some of the surrounding streets, e.g. Liebfrauenstraße, Schillerstraße, and Kaiserstraße, have a lot of interesting smaller shops. Head to the Goethestraße for upscale shopping.
Schweizer Straße: small, traditional shops with local specialties, take subway to .
Berger Straße: smaller trendy shops and cafés, take subway to or .
Leipziger Straße: smaller shops, take subway to station.
Markets
address: Hasengasse 5-7

A market hall with a large variety of local and international vendors ranging from fresh produce to ready-to-eat food and drinks.

Flea MarketAlong the river in Sachsenhausen during which time the road is normally closed to traffic.

Farmer's Market at KonstablerwacheLocally produced vegetables or fruits are found also directly from regional ecological producers.

SchillermarktFresh meals and local products are sold at the groceries market directly in the centre at this shopping street.
Shops
phone: +49 69 9550-2229

address: Grüneburgweg 6

Excellent choice of cheese and fresh vegetables. The shop has affordable lunch soups and also does custom deliveries.

phone: +49 69 71 71 35 36

address: Eppsteiner Straße 26

Sells gourmet food. It has bread, cheese, fresh pasta, pasterys and a lot more.

Mammut Store Frankfurt

phone: +49 69 46099069

address: Fahrgasse 111

The shop sells clothes and stuff from the alpine Swiss brand. The quality of the brand means that the producto also translates in the demanded prices.

phone: +49 69 55 38 69

address: Kornmarkt 12

The book shop has travel guides for all over the world and many maps. Ideal for you to checkout before jumping to the next destination.

phone: +49 69 534100

address: Eschersheimer Landstraße 555

Exists since 1983 and mostly sells road race bikes. They are passionate for bike sport.

phone: +49 69 952 948 44

address: Woogstr. 21, Ginnheim

The small shop at the outskirts of Frankfurt has a long tradition since 1929 selling bikes. One can see their passion for bikes in how well they keep the records of their sold bikes and repairs. The prices are really fair and the road- or mountain-bike can be repaired or tuned at any wish.

Hessen ShopSmall chain of shops selling unique locally produced or locally themed goods. Locations in Bockenheim (Leipziger Straße 49), Sachsenhausen (Diesterwegstraße 22), and downtown in Kleinmarkthalle (Hasengasse 5).
Shopping centres
phone: +49 61 0973-3630

address: Borsigallee 26

An older shopping mall targeted more at the local population.

phone: +49 69 580-9020

A large modern shopping mall in the north of Frankfurt. Many of the shops there can also be found in the downtown Zeil area. The mall is both inside and outside, hence people are still allowed to smoke here, which you may find bizarre. Inside it has a big swimming pool called Titus Therme.

address: Europa-Allee 6

The shopping centre opened in the summer 2013. It has it own parking. There is a terasse on top with a café. Otherwise you'll find around 170 different shops.
Eat
There are of course restaurants all over Frankfurt. One notable area for dining may be what is locally known as the
Fressgass
(a literal translation would be "munching alley"). The correct name of this street is
Große Bockenheimer Straße
. As the nickname implies, the
Fressgass
features many cafés, restaurants, and deli food stores. It is a popular area to dine after going shopping. Take the subway to station or . In late May to early June (exact dates vary each year), the
Fressgass Fest
takes place with food stands, cheap beer and live music. The area also has a few notable historic buildings, such as the beautiful rococo style house at Große Bockenheimer Straße 31 built in 1760 and the two 18th century half-timbered houses at Kleine Bockenheimer Strasse 10 and 12.
If you are looking for an in-depth paper-based restaurant guide, a popular publication is
Frankfurt Geht Aus
(Frankfurt is going out), a magazine style dining guide of the city. It can be bought for €4.80 at many kiosks and book stores, or at the Tourism Information at the central station.
Traditional Hessian dishes
Typical specialities from the Hessian region are:
Handkäs mit Musik – A cheese from curdled milk.
Frankfurter Grüne Sauce (also known as Grie Soß) – A thick sauce made from eggs and 7-9 fresh herbs. Typically served with potatoes, hard-boiled eggs, or occasionally with a Schnitzel in a dish known as a Frankfurter Schnitzel.
Frankfurter sausages (Frankfurter Würstchen) are well-known internationally, but it is here that you can try the original kind, consisting of pork.
Frankfurter Rindswurst – another kind of sausage, quite different from Frankfurter Würstchen, that is very popular in this region. These consist of beef only, and were created in part to appeal to Frankfurt's large Jewish community. The ones from Metzgerei Gref-Völsings (at Hanauer Landstrasse 132) are the most well-known.
Sachsenhäuser Schneegestöber (also known as "Frankfurter Schneegestöber") – A dish consisting of Camembert cheese, cream cheese, onions and bell pepper powder. Available only in select restaurants.
Frankfurter Rippchen – Cured pork, slowly heated in sauerkraut or meat broth.
Bethmännchen – A pastry made mainly from marzipan and almonds. Popular during Christmas time.
Many of the above dishes are typically eaten while drinking Apfelwein (see
Drink
). Most restaurants in Frankfurt feature international food, so you have to specifically search for restaurants serving traditional ones. For popular restaurants in Frankfurt, it is highly recommended to reserve in advance as the restaurant might otherwise not have any free tables left.
Budget
Best Worscht in Townplace where you can try "Curry-Wurst", which is a sliced beef sausage served with ketchup and curry spices, and considered one of the most popular German fast food products. The Best Worscht in Town chain is special in that it also serves extremely spicy variants, using some of the hottest spices available from different parts of the world. There have even been televised hot sausage eating competitions with on-site medical staff to take care of the participants. Stores can be found on Berger Straße, in the Nordwestzentrum, and other locations. These are just stands without any seating.

phone: +49 694 128 90

address: Hanauer Landstr. 568

In this small brewery of Frankfurt with rustig and authentic interior you find typical german food and their own beer.

Bizim DönerA small suburban shop with fantastic kebab.

phone: +49 69 2424-6080

address: Gutleutstraße 13

Eastern African food. Decoration is special (sand as floor) and reservation is important, as for dinner they offer only specific times

Jade

phone: +49 69 27135988

address: Moselstraße 25

Small Chinese place with an international crowd. Excellent food served in enormous portions for a very cheap price. The menu is in Chinese, English and German. Very friendly service.

Pizzeria 7 Bello

phone: +49 69 236099

address: Niddastr. 82

Good lunch option for fast pizza and pasta. Popular during summer as they have a small terrace on the side walk.

Pizzeria Charly Braun

phone: +49 69 492-941

address: Röderbergweg 121

A small place with cheap and excellent pizza. Pasta and salad also served. Locals usually call in an order and pick up in twenty minutes.

phone: +49 69 2729-5728

address: Ludwig Straße 12

A very short walk north from the main train station you find daily Indian all-you-can-eat tasty buffet and at a good value. South Indian buffet on Saturdays. Idly, dosas, vada, Ppani puri, Manchuria, bajjis are available. Very friendly staff.

phone: +49 69 573974

address: Krautgartenweg 1

Expands in summer time over to tables in the garden. It has local authentic food to fair prices and good fresh quality. It is popular as after dinner from the Frankfurt Goethe University faculty. The local "Apfelwein" (Ebbelwoi) is recommended.

phone: +49 69 97 693 374

address: Kaiserstraße 66

purely vegetarian, authentic Indian cusine, near the central station

phone: +49 69 69715266

address: Goldsteinstraße 132-134, Niederrad

Their chicken-tika with fries sub would do a British take-away proud. Very basic but good value.
Mid-range
phone: +49 69 612565

address: Schweizer Straße 71

The restaurant serves a variety of traditional local dishes, and is home of some of the best Apfelwein in Frankfurt, as it is made in house. Be sure to try the "Handkäse mit Musik" for an appetizer.

phone: +49 69 95 64 87 84

address: Kleine Bockenheimer Str. 14, 60313

Bistro-style bar with special lunch menus and excellent specific dinner food. One can sit in the street and enjoy a good glass of wine, a long drink or a fancy cocktails like "Dark and Stormy". There are many Gins to choose from.

phone: +49 69 95 20 93 60

address: Hügelstraße 168a, 60431 Frankfurt am Main

Better to reserve your table in advance as the place fills up quite quickly thanks to the good French cuisine with fresh food. The location is a bit a typical, but easily reachable by public transport.

address: Kaiserstr. 73

Hipster burger place near the train station. Good food and nice atmosphere.

Fennischfuchser

phone: +49 69 253855

address: Mainzer Landstraße 95

German cuisine near the railway station where you can try some Hessian specialties. The prices are reasonable.

Iwase

phone: +49 69 283992

address: Vilbeler Straße 31

Considered by many to be the best Japanese food in the city. Not much larger than a hole in the wall, but the staff is authentic Japanese, and the food delicious.

Ichiban

address: Düsseldorfer Straße 11

A Taiwanese restaurant near the main railway station serving Chinese food, sushi and some dishes from elsewhere in East Asia. You can choose from the buffet or from a menu. Wonderful food and popular among both Asians and Westerners, locals and travelers alike. It is open for lunch and dinner and closes for a few hours in the afternoon. The buffet was a little more expensive for dinner, around 15€.

phone: +49 69 29 28 28

address: Große Friedberger Straße 32

The Thai restaurant has many choices and offers more than decent green curry for reasonable prices.

phone: +49 69 281529

address: Kornmarkt 11

Traditional German cuisine right in the centre. It has specific breakfast choices.

phone: +49 69 288287

address: Weckmarkt 13-15

The restaurant serves food to a young crowd. There are many drink choices.

phone: +49 69-707-69-100

address: Hamburger Allee 45

One of the most popular restaurants.

phone: +49 69 209768-90

address: Domplatz 6

Traditional Bavarian restaurant, perhaps a bit touristy, right behind the cathedral near Römer. It's difficult to get a table at weekends without a reservation.

Quan Van

phone: +49 69 599723

address: Schwarzburgstr. 74

The Vietnamese kitchen is said to be excellent and offers Vietnamese food to affordable prices.

phone: +49 69 951 533 13

address: Ginnheimer Stadtweg 120

Nice little restaurant serving German cuisine and fresh daily dishes. It has also specific vegetarian choices.

phone: +49 69 15393000

address: Weißadlergasse 15

The restaurant serves food close to real Austrian cuisine.

phone: +49 69 4940764

address: Baumweg 19

Baumweg 19/Steinweg 7 : in case you want a change from German cuisine: a good Thai restaurant with reasonable prices. It has also a specific vegetarian section.

phone: +49 69 57 38 88

address: Alt Hedernheim 41

This traditional place has an idyllic garden with very old trees. The food is typical and very regional, nevertheless it has many options for vegetarians. The present by the house adds to the stylish environment of a pleasurfull dinner.

phone: +49 69 614559

address: Schweizer Straße 67

Schweizer Straße 67 (Sachsenhausen) : restaurant serving traditional local dishes, located in a building with painted façades.

address: Zeil 116 -126

This is a cafeteria-style self-service restaurant atop the Galeria Kaufhof department store at the Hauptwache. The food is unremarkable and average at best (even if prepared to order before your eyes), but the real reason to go there is the absolutely best view you can get of the Frankfurt's skyline and the Hauptwache from its 7th floor terrace. The Galeria Kaufhof is directly accessible from the Hauptwache U-Bahn/S-Bahn station, so you can pop in for a quick bite or just coffee and cake and enjoy the view.

phone: +49 69 697693710

address: Oberschweinstiegschneise 65,

German restaurant and beer garden in the woods south of the city. Good food (German and Veggie) and drinks. Only negative is very close to airport runways so can be noisy at times.

address: Niedenau 50

Traditional Italian Restaurant close by to the Alte Oper and Deutsche Bank in Westend.
Splurge
Drink
Frankfurt is a
young
city where socialising and parties are always high on the agenda. Sachsenhausen, Bockenheim, Bornheim, Nordend and the city centre are the main areas of action.
Due to Frankfurt's large financial industry and business travellers, parts of its nightlife cater to a more upscale audience. At some such venues, sneakers may not be acceptable. However, there are also plenty of bars and clubs for other kinds of audiences, including for students, hipsters, fans of R&B and Hip Hop, or of alternative rock music.
For a quick beverage on the go, there are also small shops all over the town called
Trinkhalle
, which are usually open well into the night. Most of the times one orders and buys directly from the street. Drinking alcohol on the street is legal in Germany.
Near the central train station there is a rather seedy red light district – heavily patrolled by police/Ordnungsamt – with large brothels, porn cinemas and bars. Strip clubs like the
Golden Gate Frankfurt
are popular for bachelor/bachelorette parties at the weekend and similar joints are in walking distance. Check pricing upfront to avoid problems with bouncers afterwards.
Bars
While mostly associated with Sachsenhausen, you will find good bars all over the city.
address: Neue Mainzer Str. 66-68

The door requires a suit/dress and proper shoes. The location offers a great view over Frankfurt due to being on the 22nd floor. The club is very exclusive and hence pricy.

Bar ohne namen

phone: +49 69 2575-5388

address: Eschenheimer Tor 3

Very minimalist place with fair prices that attracts many peoples. Even if crowded, service is friendly.

phone: +49 69 293533

address: mainkai 7

This cocktail bar offers excellent drinks in a stylish atmosphere. The bar has its own whiskey selection. Better be well dressed for the door. Coming late, one has to wait a bit outside until space is found inside.

phone: +49 69 4908-3695

address: Sandweg 6

This place has small snacks and good wines.

phone: +49 69 776400

address: Jordanstraße 13

It streams important football matches. The tavern is usually very packed.

phone: +49 69 30088444

In summertime a relaxed bar with view on the Höchst castle and the Main river. Good place to stop by on a bike tour from Frankfurt to Wiesabaden.

phone: +49 69 219993-11

address: Kleine Hochstr. 5

Since 1962 exists this cultural tavern. It offers drinks for mixed public of all ages. Sometimes it asks for entry for the musicians or lecturers, but generally it is free entry.
Cafes
There are few cafés on Großer Hirschgraben. Café Karin and Walden are very popular with the locals. During the summer, you can enjoy one of the open air rooftop bars.
Clubs
There are
many
clubs in Frankfurt that cater to business people and organise corporate events. The German favour for electronic music results in a wide variation of clubs that offer this music. Alternative music is a niche market that cater the roots of the migrants in Frankfurt.
Ebbelwoi
The "regional speciality"
Ebbelwoi
(literally "apple wine", sometimes spelled
Ebbelwei
, or listed as
Apfelwein
or
Äppler
in standard German) is technically an apple cider, but tastes very different from other kinds of ciders. Most locals drink their ebbelwoi with a dash of sparkling water. Just order a glass by asking for a "Sauergespritzte" or simply a "Sauer". People who are not used to the taste may also prefer to order a sweeter version, a "Süßgespritzte", which is ebbelwoi with a dash of lemonade, though this might earn you some disapproving looks from locals. If you are in a group you can also order a Bembel. This is a traditional clay jug that comes in different sizes and keeps the apple wine cool (this is also a good souvenir that you can buy in some stores). Possmann is a well-known brand of ebbelwoi, while the "Frau Rauscher" edition has a pleasant natural taste with some yeast left into it.
Mispelchen
are another more recent local specialty and tend to be available in the same kinds of traditional restaurants and taverns that serve ebbelwoi. A Mispelchen is served in a small glass and consists of apple brandy and a whole loquat fruit on a tooth pick as well as optionally some loquat syrup.
Alt-Sachsenhausen, a part of the suburb Sachsenhausen south of the Main river, is particularly famous for its bars and
Kneipen
(a German type of pub) serving ebbelwoi. However, these days, some parts of Sachsenhausen are mostly for tourists. Good options in Alt-Sachsenhausen are Dauth-Schneider, Struwwelpeter and Lorsbacher Thal. Another option in Sachsenhausen is along Textorstraße, a two minute walk south, where you can still find a row of authentic places catering to locals (Germania, Kanonensteppel, Feuerrādchen).
Not as famous as Alt-Sachsenhause, but also well known, is Bornheim (located in the north) which also some biergarden-like ebbelwoi establishments on 'Berger Straße' and the surrounding area. Some of the popular traditional ebbelwoi places in Bornheim are Solzer, Zur Sonne and Zur Schoenen Müllerin.
Sleep
Frankfurt has plenty of accommodation but during major trade fairs, prices at even the cheapest hotels will suddenly skyrocket with charges of over €300/night quite common. Plan well ahead and alternatively, consider staying in nearby cities like
Darmstadt
,
Neu-Isenburg
,
Bad Homburg
,
Mainz
or
Wiesbaden
which are under an hour away by S-Bahn. If none of these works then
Mannheim
might be a last resort as it is 30mins by ICE high-speed train (but the train ticket is rather expensive unless bought in advance).
Frankfurt is the banking capital of Germany so most people are business travellers with an expense account. If you intend to stay for longer periods, ask for discounts or corporate rates. If you need to depart early or arrive very late then hotels around main station are a valid alternative to expensive airports hotels as it is just a 10 minutes ride from Terminal 1 by local train. See the
Frankfurt Airport
article for accommodation options in the vicinity of the airport.
Many of the hotels in Frankfurt are located around the Hauptbahnhof, but this is also the red light district in Frankfurt and is also known for the many beggars and druggies who hang around. Although the area is well policed and quite safe, many tourists are often left with a somewhat negative impression of Frankfurt after staying in this area.
Budget
Mid-range
The mid-range segment is the main battle ground between privately owned/run hotels and the major chain hotels (Mercure, Courtyard, Meininger etc.). During the weekends and at non trade fair dates substantial discounts are possible but vice-versa during trade fairs prices at least triple!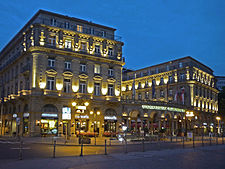 Niederrad
Many hotels billed as "Frankfurt Airport" are in the district of Frankfurt-Niederrad between the airport and city proper. The S-Bahn is just one station away from the airport station. The hotels are within walking distance of the train station, but most at a distance you would not want to drag a suitcase.
Splurge
Stay safe
Frankfurt has one of Germany's highest crime rates, though, in part, only for statistical reasons: smuggling and similar offences at the airport as well as anything concerning credit card fraud anywhere in Germany is registered in Frankfurt, since the main credit card clearing company is based in Frankfurt. Furthermore if you count crime per person, you don't include a good chunk of people working but not living in Frankfurt.
Physical crime is in general concentrated in the red-light district around the central train station, which also is the hangout of many drug dealers/junkies, although even there you are usually safe during the day and moderate evening hours. Frankfurt is safe and it is highly unlikely that you will face armed robbery or other violent crimes. Use your common sense and avoid drunken or aggressive people at night. In general, firearms are an uncommon sight in Germany and the police have a very no-nonsense approach to people wielding guns or even knives. If shots are fired, the police are never far away, as this very rarely happens.
If you have a problem or are being harassed, ask the police for help. The German police and the Frankfurt Ordnungsamt (City Enforcement Officers) are clean, competent and willing to help. Germany is very bureaucratic but structured; as long as you behave respectfully toward the police, you should have no problem. Don't consider buying and smuggling drugs, these are major offences with dire consequences. Lately, bogus police officers have been an issue. All real officers have a green card with photograph and number, and no officer will check cash. Ring 110 if you get any trouble.

Drugs and beggars
The central station area (Hauptbahnhof) is known for being a centre for homeless people and drug users. The situation has improved, but you will still occasionally be bothered by beggars. The drug addicts generally don't bother people, and the beggars will ask for Kleingeld (small change), which by their definition is anything between €0.20 and two euro. One way to fend off beggars is just to say you do not speak German (and this might just be true for you anyway!). They will often switch to English then, so just pretend you can not speak that either (just shake your head, or say "No English") and they will get frustrated and leave you alone. If you think you are up to it, you may find it useful to know one or two sentences in the Frankfurter dialect to mimic locals, as tourists are often regarded as more profitable targets for beggars. Some of these phrases would be Hör auf! (stop it), Lass mich in ruh! (leave me alone) or Mach dich ab! (go away!). A polite Nein, danke (no thanks) will usually not do.

Connect
Internet
There are a number of Internet cafés in Frankfurt of varying prices and quality. Free Wi-Fi at coffee shops is getting more and more common but most businesses require some purchases of food or the likes to get the code.
La maison du pain
offers Wi-Fi. Various other hotels offer Internet access but usually at a charge.
Burger King (corner Liebfrauenstraße / Holzgraben) near offers free Wi-Fi in its restaurant, as does Starbucks near Hauptwache (Börsenplatz).
Phone
Besides public pay phones and mobile phone services, a large number of stores sell prepaid telephone cards. This is especially useful for international calls. The PTT multi-media store - 65 Baseler Straße, offers competitive rates for international calls (10 cents per min to the UK) Some other stores also offer in house phone services. Another easy to reach store that seems reliable is in the subway station.
You may also visit one of the plenty Internet cafés, since they almost all offer cheap phone calls via Internet.
Post offices
The postal service in Germany is
Deutsche Post
. The four easiest-to-reach full-service postal offices are easy to locate:
Inside Frankfurt Hauptbahnhof (central station) by the long-distance ICE/IC trains; near McDonalds.
In the Karstadt department store (ground floor) on the Zeil shopping street.
On Goetheplatz
At (i.e., Südbahnhof, Southern Station), take exit Diesterwegplatz and cross the square; the post office is to the left.
Cope
Consulates
phone: +49-69 247-0980

address: Zeppelinallee 23

phone: +49 69 7535-0

address: Gießener Str. 30

U.S. Consulate General Frankfurt

phone: +49 69 795 09 60

address: Zeppelinallee 35

French Consulate General Frankfurt
Go next