Frankfurt Airport
Frankfurt Airport
(German:
Flughafen Frankfurt am Main
;
FRA
) is the largest airport in Germany and a global aviation hub located on the outskirts of Frankfurt am Main in the state of Hesse.

Understand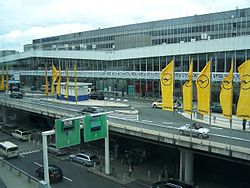 Frankfurt Airport is among the busiest in Europe, fourth in passenger traffic after
London Heathrow Airport
,
Paris Charles de Gaulle Airport
and
Amsterdam Schiphol Airport
; it is also the twelfth busiest airport in the world. This is due to various factors: Frankfurt is Germany's financial capital, and is located centrally between western Germany's major metropolitan regions (the
Ruhr
and Munich).
Frankfurt is Lufthansa's main hub. Lufthansa and the airport have had a symbiotic relationship for decades and both have grown enormously as a result. Lufthansa holds some shares in the airport, with most of it still publicly owned (Lufthansa was fully privatized in the 1990s but retains informal political connections). Most of Lufthansa's long-haul flights originate or terminate in Frankfurt. Many other airlines also serve the airport, including almost all other Star Alliance carriers. Ryanair, Easyjet and Wizz Air are the no frills airlines with a significant presence at the airport. Lufthansa still flies all domestic routes to and from Frankfurt despite having transferred other domestic routes to its subsidiary Eurowings. Lufthansa also uses some ICE trains from Stuttgart and Cologne as "feeder flights" to the airport as part of its
air rail alliance
with Deutsche Bahn.
Terminals
The airport has two terminals, with a third scheduled to open in 2021. Frankfurt Airport is still in the same place where it was originally built in the 1930s, and the main Terminal 1 opened in 1972. This means capacity increases have been achieved by constantly improving and expanding existing infrastructure, so Frankfurt Airport is in many ways quite compromised and not as efficient or pleasant as newer German airports, such as
Munich Airport
.
Terminal 1
Terminal 1 is separated into Concourses A (inside Schengen passport control), Z (the level on top of A, Non-Schengen passport control), B and C (which seems to be for certain destinations with higher security requirements such as Israel, with the exception of Schengen gate C1). Be aware that if you are changing planes to an international flight on a Z gate, you will be required to go through a checkpoint where you present your passport before you get to the concourse, and plan accordingly.
Terminal 1 is a multi-level maze with poor signage. Level 1 is arrivals, Level 2 check-in and departure, Level 3 is an access bridge to hotels and the long-distance rail station, Level 0 has access to parking, below which is the regional rail station. Lufthansa tries to reduce confusion for Business Class passengers (and Gold & Silver Star Alliance card holders): they have a designated check-in area in Terminal 1 A. First class passengers of Lufthansa and Swiss, as well as Lufthansa HON Circle card holders, are allowed to check-in in the
separate First Class terminal
on the right side of Terminal 1, which has its own driveway. All Star Alliance economy class travelers and other Star Alliance partners are checked in in Terminal 1B & 1C.
Terminal 2
Terminal 2 is separated into Concourses D and E.
Terminal transfers
Terminals 1 and 2 are connected (both landside and airside) by a free Sky Train (monorail). The Skytrain leaves from Terminal 1 zone B. There is also a free shuttle bus. Luggage carts are not allowed on the Sky Train.
The transfer between Terminal 1 and 2 takes around 15 minutes.
Flights
Airlines
Lufthansa Group: Lufthansa, Austrian Airlines and Swiss
Star Alliance: Air Canada, Air China, Air India, All Nippon Airways, Asiana, EgyptAir, LOT Polish Airlines, SAS Scandinavian Airlines, Singapore Airlines, South African Airways, TAP Portugal, Thai, Turkish Airlines, United Airlines.
as an exception, Qatar Airways (oneworld) and Middle East Airlines (SkyTeam) use Terminal 1B. All other oneworld and SkyTeam airlines use Terminal 2
other unaffiliated airlines, including Condor and El Al
Terminal 2:
oneworld: American Airlines, British Airways, Cathay Pacific, Finnair, Iberia, Japan Airlines, Qantas Airways, S7 Airlines.
SkyTeam: Aeroflot, Air Europa, Air France, Alitalia, Czech Airlines, Delta Air Lines, KLM, Korean Air, Vietnam Airlines
other unaffiliated airlines, including airBaltic, Etihad and Emirates
Always confirm the information on your ticket and boarding pass, and the information provided by the airport
online
and on displays at the airport itself.
Departures
Terminal 1: Departures is on level 2, zones A, B, C and Z.
Terminal 2: Departures is on level 2 zone D and E.
Check-in to gate
If you have difficulty walking, request assistance getting to the departure gate, it can be up to a kilometre away.
Arrivals
Plane to baggage collection
Not all planes park at a gate and you will often have to take a bus to get you from the plane to the terminal. If you are in a hurry, rushing off the plane does not always make things quicker, being last on the bus standing next to the door is key. Sometimes for flights with tight connection times you have to take a different bus from the tarmac.
If you are a frequent user of Terminal 1B you can make passport control quicker by applying for retina recognition. Next to passport manual check control, where there are often long queues, there is a machine which can scan your passport and then your eyes. To register there is an office in the corner of Terminal 1 landside, section A level 2. Terminal 1Z has automatic face recognition machines which will work with new European passports.
On arriving at Terminal 1Z and 1B do not be surprised to have to ascend and descend many stairs, or with Terminal 1A expect a long walk. When coming into 1B you enter the main concourse before baggage claim. Look for the escalators heading down in the middle of hall B.
Ground transportation
Situated in the center of Germany, the airport has good connections to the whole country and is a stepping stone to other parts of Europe and the world.
By train
Frankfurt airport has two dedicated railway stations, one for regional trains (S-Bahn, RE) and one for long-distance high-speed trains (ICE/IC). Regional trains from
Frankfurt
and other local towns come into the Regionalbahnhof on the lowest level of Terminal 1 and are two sets of escalators to check-in. Long distance trains arrive at the international station which is connected to Terminal 1 by a walkway (5 to 10 minutes).
Frankfurt(M) Flughafen Regionalbahnhof
The regional train station,
Frankfurt(M) Flughafen Regionalbahnhof
, with convenient connections to the city of Frankfurt and other local towns and cities, is on the lowest level of Terminal 1 (entrances in section A and B).
To get to the city with the S-Bahn (fast commuter train), take lines or in the direction of
Offenbach
Ost and
Hanau
. If you want to go downtown, get off at Frankfurt Taunusanlage, Frankfurt Hauptwache or Frankfurt Konstablerwache, which are in the heart of the city. If you want to change to long-distance trains get off at Frankfurt Hauptbahnhof
(Frankfurt Central Station)
or Frankfurt Südbahnhof
(Frankfurt South Station)
. The ride from the airport to the central station takes around 20 minutes. Be sure to purchase a ticket at the vending machines in the train station before boarding the train. The adult ticket costs €4.90 (€2.80 for children). Day tickets are usually profitable up from the second travel within the respective zones. Check the
RMV webpage
and
Frankfurt#By_public_transport
for journey and ticket details.
To get to the airport with the S-Bahn, take the S8 or S9 in the direction of
Wiesbaden
or
Mainz
. Don't take the — while it has the same general direction and leaves the central station at the same platform, it will go along the wrong side of the river Main. The line S1 does not stop at the airport.
Regional-Express trains (RE) to Mainz, Frankfurt Hbf, Frankfurt-Süd and Hanau stop at the same place as the S-Bahn.
Frankfurt(M) Flughafen Fernbahnhof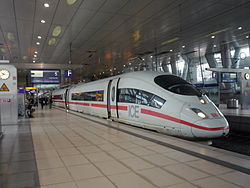 The long-distance train station,
Frankfurt(M) Flughafen Fernbahnhof
, was built after the
Regionalbahnhof
when traffic levels grew beyond the capacities of the latter. It is one of only two train stations in Germany only served by long-distance (Intercity and ICE) trains. The station is in a separate structure reached via a walkway two levels above arrivals in Terminal 1. The walk to the terminals is marginally longer than from the regional station, but this is balanced by the numerous direct connections to places as far away as
Munich
,
Amsterdam
or
Basel
.
By car
The airport is in the south-west quadrant of Frankfurter Kreuz the Autobahn intersection of the A3 and A5; the busiest motorway intersection in Europe.
Access to Terminal 1 and Terminal 2 are reached by separated exits of the (B)43. Drop off is possible in-front of both terminals just outside of check-in halls, simply follow the signs for the required terminal (Departure:
Abflug
, Arrivals:
Ankunft
), but there is a 15-minute limit on waiting which is controlled and it is often very difficult to find a space. There is between the first class entrance and the start of terminal 1A departure level a small entrance to a short stay parking area, first 5 minutes is free, so useful for drop-off.
For parking in Terminal 1: P1 is closest to check-in (5 minutes walk) being only one floor above or below entry to the main complex. P2/3 and P5 are also close but add an extra 5 minutes waiting for the elevator. Parking for Terminal 2 is conveniently under the check-in hall. P1-5 and P8 have all a female parking facility.
Although the long distance rail station and Hilton hotel can be clearly seen from the Autobahn, getting to them is not self-explanatory. To park there follow signs to
The Squaire
and take a short monorail trip. If you're just dropping someone off, go westbound on the B 43, just after the Terminal 2 exit get in the far left lane.
There is also holiday parking south of the airport on Airportring and a number of private long-stay parking facilities in surrounding towns as suburbs of Frankfurt such as in Frankfurt-Niederrad.
Occasionally the Autobahn is clogged with traffic. A few tips for getting round the jams:
From the north if hold-ups on the A5 or from the north-west if the A3 is blocked, take the A66 to the (B)40 direction Kelsterbach. This road will get you to the access roads, K823 Airportring, from where you can get to the terminals.
From west if the A67/A3 is block and from the south if the A5 is blocked take the (B)486 to Mörfelden. Take Virolles-Ring, the first(last) road on the west of the village. This will get you to Airportring, but as it has to go round the runway and has a number of speed cameras on the route only use if the autobahn is a total standstill.
From the East when the A3 is busy there is little alternative, only possibility is to head into Frankfurt and get onto the (B)43 from there.
By rental car
Most major car rental companies have offices in Terminal 1 level 0 section A and in Terminal 2 just after arrivals baggage exit.
If you are new to
driving in Germany
, this is a baptism of fire. The airport is at the crossroads of the A3 and A5 providing you with good access to all of
Germany
and
Central Europe
.
Car return is to the airport parking: for Terminal 1 P30; for Terminal 2 P8. There is an Esso fuel station hidden on the traffic island off the B43 exit to terminal 2 and a Shell on Airportring west of Terminal 1, neither of which you will find using the normal approaches to the airport. Unfortunately there are no other fuel stations near the airport so best to refuel at the service stations on the autobahns or head into a nearby town such as Frankfurt, Rüsselsheim, Kelsterbach or Langen if you have time.
By bus
Take bus line 61 to
Frankfurt Südbahnhof
(Frankfurt South Station).
Some European long distance buses and
Intercity buses in Germany
(e.g. Flixbus) stop at the airport although more serve a stop closer to Frankfurt's main station. The pick-up and drop off point is car park P36 which is outside just north east of Terminal 1 (arrivals level). It is within walking distance of Terminal 1, there are also airport shuttle buses to and from the area to the terminals. At the airport bus station there is only a small toilet area and an outside seating area.
There are some airport shuttles, particularly to/from
Hahn
.
Get around

This is a large airport to walk around both sides of border control. In both terminals landside of border control think up and down levels as well as staying on the floor you are on for shops and restaurants. There is a people mover and a bus between Terminals 1 and 2.
When changing terminals by bus make sure to use the yellow terminal shuttle buses, as they are free of charge. There are public buses that connect both terminals on their way to Frankfurt or other cities around, however to ride them you need a valid ticket. Getting caught on one of these busses without a ticket will result in a €60 fine. If you are unsure about the busses, the "SkyLine" people mover is always free of charge.

Wait
Lounges
There are two lounges accessible to all passengers for a fee:
Airline lounges include the following:
Air France/KLM (SkyTeam)

Cathay Pacific
Lufthansa has at least one lounge in each terminal area for Star Alliance gold members and a few that are available to silver frequent traveler members. Some have luggage lockers and shower facilities.
Other amenities
Visitor terrace

address: Terminal 2

The airport has a long visitor terrace on top of Terminal 2. It also offers 45-minute airside bus tours (adults €8, hourly from 11:00 (holidays) or 13:00-16:00, ticket booth is at the bridge between Terminal 1 and "Frankfurt Airport Center", follow signs and information for Flughafen Erlebnisfahrten ("Airport Experience Tour").

Play area

address: Terminal 2 level 4, landside

For kids there is a play area to climb around.
Terminal 2 has surprisingly little shopping, eating and other entertainment amenities after the security check if you are departing from the European ("Schengen") gates; just a cafe, a quite small tax free shop, a newspaper kiosk and some automats where you can buy coffee or snacks. In other words, it is a fairly boring place to spend hours waiting for your plane. If you are departing on a flight that leaves Europe, there are several options to choose from.
Longer stays
If your layover is very long, you may be interested in the nearby bird reserve, the Schwanheimer Duene (Dunes of Schwanheim) .
Eat and drink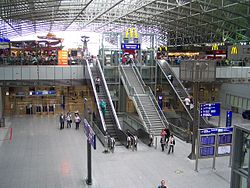 Terminal 1
There are many possibilities both sides of border control in Terminal 1. Airside of Terminal 1 section B has a reasonable choice (
after passport control, up one set of escalators
); there are numerous sandwich places on the airside of A, and though the selection on the airside of C and Z is more limited, there are still good choices.
Landside of Terminal 1 there are a number of choices on level 2 and level 0. For example:
Heberer's Traditional BakeryTheir slogan is "Handiwork, tradition and passion for 120 years," and this is a place that walks the walk. Their sandwiches are great - not only way better than anything you can find in many other airports, but downright delicious, made on fresh bread with excellent, fresh ingredients, albeit somewhat expensive (over €5 apiece). If your flight leaves from Concourse Z, consider passing by their Concourse A location and waiting until after passport control to patronize their Concourse Z location.
address: Terminal 1, Concourse A, Level 2

address: Terminal 1, Concourse Z, Level 3
Hermann'sGerman sausages plus.
address: Terminal 1, Concourse B, level 2

Good place for waiter service, not so hectic as other places.
Food court

address: Terminal 1, Concourse A, level 0

Several restaurants, but most popular are the Thai restaurants, usually with a long queue. Most guests are business travellers and airport employees who are rather short on time.
phone: +49 69 69029265

address: Terminal 1, Concourse A

Sells good, but of course pricey, warm and cold sandwiches, soups, coffee, juices and chocolate either to go or to eat in their small space. Exists also on the "A+ Bouldevard" as lounge.
address: Terminal 1, Area Z, Level 3

Don't be put off by the touristy Bavarian theme. Serves good German food.
Terminal 2
Airside of Terminal 2 has a very limited choice; best to use facilities landside, top level 4.
Frankfurt(M) Flughafen Fernbahnhof - Squaire
On the floor above the station platforms there are a number of coffee bars and bakeries. Another floor higher you can find a Paulaner German restaurant, Little Italy, an Alex and Jing Jing Asia Restaurant.
Buy
ATMs are scattered around the airport, with several in the check-in and arrivals concourse.
There are a number of fashion shops, newsagents and a pharmacy in Terminal 1 landside, level 2 concentrated in area B and towards A. There is a new shopping area including the Tegut supermarket on level 0. As this is the only place open a Sunday in the area it is also useful for emergency purchases. There are the typical duty free and luxury shops airside of Terminal 1 in areas B and Z.
Falke

phone: +49 69 697 06871

address: Terminal 1, Shopping Boulevard, B

The shop sells exclusive socks and high-quality underwear.

Lufthansa WorldShopSpend your Miles&More miles on travel gear, gadgets with Lunfthansa branding and other stuff. You can also pay in euros or by using a combination of euros and miles.

phone: +49 69 695973890

A fairly large supermarket.

phone: +49 69 69525848

Another supermarket.
Connect
Wireless Internet access is available from Telekom. You get 24 hours of free internet (renewable every 24 hours) by filling a simple form with your name and e-mail address. This information is not checked, so any combination of numbers and letters will suffice. Broadband access can be obtained from other providers (for a fee).

Cope
Terminal 1 has public showers for €6 (includes towel, foot mat, shower gel, and hair dryer). One location is in the B Departures area, in the Shopping Boulevard, across from "TUMI". The other is in the secure area of B Concourse (good for transit passengers), Level 2, near gate B 30 and the duty free shopping.
There is
luggage storage
in both terminals for €7 per bag per day.
Prayer room

address: Terminal 1, B Concorse, Level 2

Prayer room

address: Terminal 2, D Concorse, Level 3
Sleep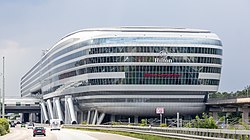 Night curfew
Frankfurt airport operates with a strict night curfew that sometimes leaves passengers stranded at the gate and requires an additional night at an airport hotel. Most airlines book their clients either in the Sheraton or the Intercity hotel. Therefore rooms can be completely booked shortly after 23:00. Keep that in mind if you are a late arrival or in need of a hotel room late in the evening.
There are three hotels within the airport complex and a fourth that is on the grounds but requires a bus transfer. Four nearby, a bit of a hike the other side of the Autobahn (best to take a taxi if you have luggage), while the neighborhoods of Frankfurt-Niederrad, Frankfurt-Süd,
Kelsterbach
,
Neu-Isenburg
,
Mörfelden
,
Langen
,
Raunheim
and
Rüsselsheim
are all within close proximity to the airport, and many hotels in these areas offer airport shuttles.
Other nearby hotels
Niederrad
Many hotels billed as "Frankfurt Airport" are in the district of
Frankfurt-Niederrad
between the airport and city proper.
Frankfurt-Niederrad S-bahn is just two stations away from the airport station. The hotels are within walking distance of the train station, but most at a distance you would not want to drag a suitcase.
Nearby
Mainz
and its surrounding area is a more pleasant area to stay than the airport's environs but it is on the other side of the Rhein
(Rhine)
and, with limited bridge crossings, could lead to traffic hold-ups on your return to the airport - potentially problematic for morning flights. However there are direct and reliable train connections to the airport, making Mainz nearly as convenient as Frankfurt.
If your final destination is not Frankfurt but another city in Germany it is often better to take the train than get a connecting flight. In bad weather the first thing that happens is that inland flights are stopped. Also check with your airline (or with Deutsche Bahn) whether they offer rail&fly, which means that your plane ticket includes a train ride both to and from your airport in Germany connecting to any train station in Germany as well as Basel (CH) and Salzburg (AT). This is often the cheapest and most comfortable option and sometimes even faster overall.
If you have a connecting flight that is cancelled due to strike or bad weather check with your airline or with Deutsche Bahn whether they have a good for train agreement in place. Domestic connections should not be a problem at all, but they can sometimes offer you inner-European connections as well. If you have reason to believe that you will be held up for two or more days even long distance train rides become an option if they are available with your ticket. Keep in mind that some airlines offer this service for flights to and from Germany but others don't, so check in advance. More information at
rail air alliances
.