Franklin (Venango County)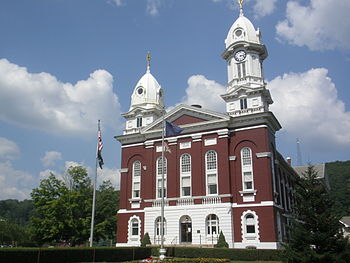 Franklin
is a city in Venango County, in the
Erie Region
of
Pennsylvania
, in the
United States of America
.
Understand
Franklin was founded in 1741 by the French during the
French and Indian War
, where French Creek meets the Allegheny River. When the British saw the French had built a fort, they sent
George Washington
, who would later become the nation's first president, to tell the French that the territory had already been claimed by the British. The French refused, and proceeded to amass an army (including local Indians) to attack Fort Pitt and Fort Dusquesne in modern
Pittsburgh
. When the British began to attack Fort Niagara, the French were forced to send their troops north and the territory was claimed by the British. After American independence from
Great Britain
, the layout of the city was redesigned by
Andrew Ellicott
, who also helped design the layout of
Washington, D.C.
With the discovery of oil in nearby
Titusville
in 1859, wealthy oil tycoons moved to Franklin, quickly changing Franklin from an unknown to a wealthy, bustling town. With large fires consuming the oil fields in 1892 and 1894, the wealthy dispersed as quickly as they had come.
Today, Franklin, together with
Titusville
and
Oil City
, is known as the
Oil Region
. Although the town remains rather quiet, the oil boom has left the city with many historic buildings. The architectural features range from Victorian to Gothic Revival; it is said that all of the architectural styles used in the state from 1830 to 1930 can be observed in Franklin. The Episcopal Church also shows off the city's former wealth, with its complete collection of Tiffany Windows and mahogany pews. The Appalachian Mountains and forests that surround the area also make it a popular destination for hikers and bikers looking to get out of the cities to experience nature.
Climate
Located in America's northeastern region, all four seasons can be experienced in Franklin. Spring and summer are often warm, but not uncomfortably so. August is generally the hottest month. In the autumn, the leaves typically begin to change colors around late September and early October around Applefest. It begins snowing around November. Lake-effect snow is not as great a concern in Franklin as it is closer to Lake Erie; however, it does occasionally cause heavy snow showers.
Tourist Information
City of Franklin Events Coordinator

phone: +1 814 437-1619

For those wishing to schedule tours of the city or want travel pamphlets sent to their homes.

Franklin Area Chamber of Commerce

phone: +1 814 432-5823

address: 1259 Liberty Street

Stop by to find out information about the area and its attractions. There are people there you can talk to, as well as pamphlets and brochures to take with you. You can also purchase some local souvenirs.

Venango County Historical Society

phone: +1 814 437-2275

address: 301 S. Park St

Contains information about the city and has a nice $1 Walking Tour booklet with three self-guided tour options and information about the buildings. If you are interested in a guided tour of the town, call or stop in to get details about tour dates.
Get in
By plane
phone: +1 814-432-5333

address: Chess Lamberton Field

Is a small local airport, with daily flights to and from Pittsburgh. Because of the limited flight options, many visitors prefer flying into Erie or Pittsburgh and then driving to Franklin however, flights are have become very affordable with government subsidies, so it may be more worthwhile to fly directly here from Pittsburgh.
By car
Route 322 runs through Franklin from the east and west, and Route 8 travels through Franklin from
Erie
to the north and
Pittsburgh
from the south.
By bike
If you are travelling from
Oil City
or
Emlenton
, you can enter Franklin by bike via the bike trail, which passes through Franklin. From there, you can easily travel to the downtown area.
Get around
On foot
Liberty Street contains shopping areas, the Barrow Civic Theater, the Courthouse, and the parks, making it a great place for those travelling on foot. St. John's Episcopal Church is also nearby, so visitors can see all of these without having to drive around however, not all of the sites are in walking distance, so those hoping to see more than the downtown area will need to take the bus or drive.
By car
The sites in Seneca, such as the mall and roller skating rink, can be reached from downtown Franklin by travelling on Route 322 East. For Two Mile Run County Park and Tri-City Speedway, drive down Rocky Grove Avenue. Rocky Grove Avenue becomes Route 417 outside of the city, but they are exactly the same road.
By bus
Franklin is served by the
VenanGO Bus
, which also has stops in
Oil City
and the Cranberry Mall. It costs $1.50 for adults and $0.75 for children ages 6-11. Children 5 and under, as well as Senior Citizens with PA Transit Passes, can ride for free. Buses operate from 8AM to 4PM and generally arrive at each stop once per hour, making it most convenient for shopping trips.
See
Much of the downtown area was placed on the National Register of Historic Places in 1984 for its architecture and history. Many of the shops, public buildings, and residences date back to the days when Franklin gained an immense amount of oil wealth. Notable historic buildings include the Courthouse, Public Library, churches, the Liberty Street shop buildings, and the Galena-Signal Oil Company building, which was once an oil refinery. The houses along Elk Street are exquisite examples of the Greek Revival architecture. Many other architectural wonders can be found scattered throughout the city.
phone: +1 814 432-5161

address: 1145 Buffalo Street

From the outside the church is a stunning example of Victorian architecture. However, from the inside the church is even more breathtaking. St. John's Church includes one of three complete collections of Tiffany windows in the world. All of the windows in the church were commissioned by St. John's and created by the Louis Comfort Tiffany Studios. The "rose" window above the North entrance is the second largest Tiffany window in the world, also said to be one of Tiffany's personal favorites. The pews of the church are also quite beautiful, as the wood used to make them is all from the Amazon Rainforest in South America. Guided tours are available and may be scheduled by calling the church and making a reservation with a church docent;

phone: +1 814 432-8350

address: 1261 Liberty Street

A museum dedicated to antiques related to music, such as phonographs, organs, and player pianos. Not only do visitors get to learn about the music-makers, you also get to hear all of them played. It may seem like an odd museum at first, but the tour is quite entertaining. Downstairs is an antique shop open year-round. You can visit the shop without taking the tour if you wish.

Venango County Courthouse

phone: +1 814 432-9610

address: 1168 Liberty St

The construction of the courthouse was completed in 1868. It was designed by Philadelphian architects and built by a local builder. It was made in the Italianate architectural style, most visible in its uneven towers. Inside the courthouse there are displays of Native American artifacts, such as arrowheads and pottery, from Venango County and nearby areas.

Fountain Park & Bandstand ParkThese parks flank the courthouse on both sides, with Fountain Park to the right and Bandstand Park to the left. The parks are over 200 years old, as they were incorporated into the original city layout in 1795. The Civil War Monument was built just a year after the war ended in 1866. It contains the names of over 400 men from Venango County killed in the war. It is one of the oldest Civil War monuments in the state. The Egbert Memorial Fountain in Fountain Park was built in 1886 in memory of Dr. A. G. Egbert who gave a lot of his oil wealth back to the town. Bandstand Park contains a Vietnam Memorial, Revolutionary War Memorial and, of course, a bandstand where the Franklin Silver Cornet Band, one of America's oldest traditional town bands, plays regular concerts every summer. Applefest takes place in these parks every October.

Franklin Antique Mall & Wild West Museum

phone: +1 814 432-8577

address: 1280 Franklin Avenue

Although most of the items are for sale, this antique mall is also set up as a museum. There are a wide variety of antiques and knick-knacks to look at, from armor to posters to toys. As antiques are sold and new antiques are brought in, you are likely to notice something new every time you visit.

Venango County Historical Society

phone: +1 814-437-2275

address: 301 South Park St

The Hoge-Osmer House is headquarters for Venango County Historical Society, and is also a house museum. The house was built by Thomas Hoge in 1866 at the close of the Civil War. The Newton Osmer family moved into the house in the early 1890s and made many renovations and additions.
Much of the furniture on display belonged to the Osmer family and is original to the house, along with the light fixtures and Italian marble fireplaces. The house museum has many changing displays that include clothing, household items, tools and archival artifacts from the Society's collections that help to tell the story of the history of Venango County.
Venango County Historical Society also houses a Genealogical Research Library and Archival Resource Center, and is the designated repository for Venango County artifacts.
Sibley Mansion

phone: +1 814 676-2007

address: 870 River Ridge Rd

Also referred to as Sibley Castle and River Ridge, it is the former residence of Joseph Sibley, the founder of an oil refining company called Galena-Signal Oil (the company building still sits in downtown Franklin today). Sibley gained a lot of wealth from his business and was a known friend of Rockefeller and President McKinley. In fact, President McKinley was traveling with Sibley when he was assassinated in 1901. The Sibley Mansion was built in 1913 and Sibley lived there until his death. Today the mansion is owned by Life Ministries and used for their retreats however, they do offer tours sporadically throughout the year.
address: 1578 Pittsburgh Rd

A very odd site indeed is the real space capsule from an Apollo CM located in front of the Dairy Queen. Only four of these capsules have not been converted into scrap metal; one is located in the Smithsonian Museum in Washington D.C. and another is on display in Cape Canaveral. The one you see in Franklin is privately owned, along with the other which is not on display. If you're interested in learning more about it, enter the Dairy Queen. There is a tv inside displaying information about the capsule (along with ads for various Dairy Queen foods).
Do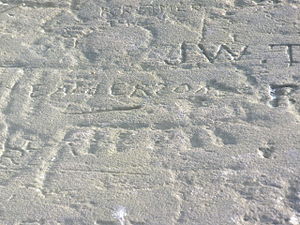 Walking ToursWith so many historic Victorian buildings, representing a wide array of architectural styles, visitors often come just to walk around the town to view the buildings. There are a few ways in which you can do this. If you just want to see the architecture, you can do the self-guided walking tour. These Walking Tour Guides are available at Franklin City Hall or Franklin Chamber of Commerce. The Franklin Rotary Club offers guided walking tours during Applefest. Those interested should call in advance (+1 814 437-2072) to find out more information about specific tour dates. Other groups, such as the local Garden Club, offer House and Garden Tours during 4th of July Festivities Week.

phone: +1 814 676-6116

address: 471 Beach Rd.

Two Mile Run is a tucked away just off Route 417 around a man-made lake. You can fish in the lake, boat, and swim at Crosby Beach. Around the beach there are also paddle boat rentals and volleyball nets. Two Mile Run has many different hiking and mountain bike trails for those who are more interested in exploring nature and the surrounding forests. In the wintertime, visitors can enjoy ice fishing and sled-riding or snowboarding on the hill near the entrance of the park. There are pavilions that can be used by the public when they have not been rented. For accommodations, visitors can camp or make reservations to stay at either the cottage or farmhouse (see "Sleep").

Allegheny River and Samuel Justus Bike Trail

phone: +1 814 432-4476

Extending through Franklin midway, the 15 mile bike trail spans from Oil City to Emlenton. In Franklin it is borders the Allegheny River. While much of the trail is lined by trees, the trail passes through two old railroad tunnels, abandoned sites from the days of the oil industry, and other natural sites, such as the waterfall near the entrance of the Rockland Tunnel and the Indian God Rock, containing Native American pictographs carved over 1000 years ago (along with name carvings and graffiti). The trail is especially beautiful amidst the autumn foliage. Along with biking, many people also come to walk and roller blade. There are also spots along the trail for picnicking and/or resting. In Franklin, the trail can be accessed along Route 322 just after crossing the 8th Street Bridge. You can bring your own bikes or rent them at the Country Pedaler.

phone: +1 814 437-3440

address: 1223 Liberty Street

Featuring a variety of theater performances from local actors, as well as comedy acts, instrumental performances, and other special productions. See the website to find out about what will be showing during your visit.

phone: +1 814 676-0477

address: 3430 Route 417

A race track hosting a variety of events, from the typical racecars to motorcycles and bus races.

Outdoor Alleghent River Services

address: 250 Elk Street

O.A.R.S. provides an exciting way to experience the Allegheny River and French Creek with their kayak and canoe rentals.

Masterson's Family Lanes

phone: +1 814 432-4310

address: 1244 Buffalo Street

With only 8 lanes, it's rather small however, this is only a problem during peak hours when it is usually necessary to make reservations in order to ensure you will have a lane. Like most bowling alleys, Masterson's offers cosmic bowling and a concession stand.

Seneca Skating Rink

phone: +1 814 677-5700

address: Brandon Rd, Seneca

A roller skating rink with great music from today, as well as dance hits from the 90s. There is a snack bar inside, as well as a small room for kids to dance in. Races are held periodically, which are just for fun, so anyone can participate. It's most popular among youth, but many adults come to skate, as well.
Golf
Lucky Hills Golf Course

phone: +1 814 432-3900

address: 136 Warren Road

A reasonably challenging nine hole golf course. There is also a driving range.

Wanago Golf Club

address: 314 Chestnut St, Reno

The Club's 18-hole course offers a 6134 yard, par 71 challenge. Beauty and character define the course with challenging greens, strategically-placed sand traps and magnificent scenery. Wanango is an A W Tillinghast designed course.

Sleepy Hollow Golf Course

address: Sugarcreek Road, Route 427, Cooperstown

Excellent 9 Hole Golf Course
Events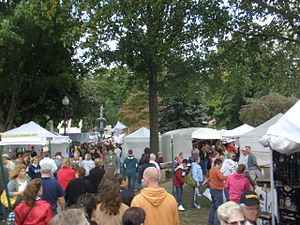 Franklin on Ice

phone: +1 814 437-1619

Franklin's "cure for the winter blaughs", visitors gather to watch sculptors turn huge blocks of ice into beautiful works of art! If you find the cold is too much, check out the chili contest to sample the area's best chilis. Visitors can view the sculptures until they melt!

May Garden MartFountain Park is in full bloom on this first Saturday & Sunday in May. A wide variety of florists and garden suppliers are on hand to supply you with anything you may need to plant, decorate and work in your garden and around your home.

4th of July Festivities Week

address: Downtown Franklin

Week-long celebration features concerts each night. The biggest day of this celebration falls on the Saturday before the 4th. This is LibertyFest and features the LibertyFest Parade and the Vogues at Bandstand Park. The week is capped off by a fantastic fireworks display at Riverfront Park.

Taste of Franklin

address: Downtown Franklin

Taste of Franklin Weekend – Sample the tastes, shops and sounds of Franklin. Shop at the Annual Old Fashioned Bargain Days. Take-in the finals of the Taste of Talent Vocal Competition and the Taste of Franklin on Sunday (first Sunday of August) which features a variety of local foods to sample for very reasonable prices. Franklin is for Foodies and this day is a food lover's delight!

Rock In River Festival/PA Stone Skipping ChampionshipThis River Festival features crafts, a rock decorating contest, kayak rides and the fun of watching amateurs and professionals (including Guinness World Record Holder, Russ Byars) compete for the Pennsylvania state championship of skipping stones across the water.

phone: +1 814 432-5823

The legendary Johnny Appleseed was said to have travelled through Franklin spreading his appleseeds throughout the area, and Applefest celebrates the now-abundant apple trees in the area. The largest craft show in Western Pennsylvania, Applefest vendors fill both Fountain Park and Bandstand Park, selling a wide variety of goods, such as woodwork, paintings and jewelry. There are also many food vendors, with some of the biggest sellers being apple dumplings, apple cider, gourmet apples... you get the picture! Along with all of the crafts and food, performances and events are also held each day. Rides in horse-drawn wagons are available throughout the festival, the Applefest Race is on Saturday, and the Sunday car show on Liberty Street ensures that the crowds stay all weekend long.

Light Up NightHeld on the Saturday before Thanksgiving, Light-Up Night is a favorite celebration of the locals. The festivities kick-off with a parade on Liberty Street and continue with a fireworks display impressive enough to rival many larger cities! Throughout the evening, visitors can buy food and hot chocolate and view the Christmas tree exhibit in the Barrow Civic Theater.
Buy
phone: +1 814 676-3406

address: 6945 US Route 322

A typical small town mall, with clothing, electronics, jewelry, nail salon, and a few specialty shops. Food options are limited to the Asian Express, Two Cousins Pizza, and Pretzel Plus. The local movie theater is located within the mall and was recently renovated.
Downtown
In Downtown Franklin, most of the shops are located along Liberty Street. The street itself has a nostalgic feel that makes browsing pleasant (and even more so since the parking meters were removed). A few of the more unique shops are
Something Clever
, offering unique clothing and accessories,
Franklin Press
with a variety of toys and games, and the antique shops,
Liberty Street Antiques
and
DeBence Antique World
.
Liberty Galleria

address: 1255 Liberty Street

New - Franklin's Retail Incubator - many retailers under one roof.

Feldman Jewelers

address: 1260 Liberty Street

Feldman's has been in downtown Franklin since 1871 and carries modern and estate jewelry along with distinctive giftware.

Daffin's Candies

address: 1231 Liberty Street

Daffin's Candies, Hallmark cards and gifts, including Precious Moments, Jim Shore, candles, and accessories for birthdays, anniversaries, or any day.

Franklin Press & Charlotte's Gift Gallery

address: 1246 Liberty Street

A fun shop selling unique toys and gifts, as well as office supplies.

Phillips Flowers and Gifts

address: 1237 Liberty Street

Sells flowers,candles and accessories, plush animals, balloons and a unique assortment of gift items.

Something Clever

address: 1264 Liberty Street

Women's clothing, unique gifts including Brighton jewelry and Vera Bradley and leather items, along with all types of accessories and decorative home items.

Callaghan's Pharmacy & Gifts

address: 1262 Liberty Street

Cards and local gifts. A traditional retail pharmacy.

Corner Cupboard and Deli

address: 1200 Buffalo Street

Choose from deli meats and cheese, as well as bulk foods, snacks, spices, rolled butter, milk, eggs, homemade breads, cookies, jams/jellies, relishes, pickles.
Eat
Deets Sugar House

phone: +1 814 676-1097

address: 182 Tarr Rd

The best place in Franklin for ice cream, Deets is known for giving generous portions! Although most people come for the ice cream, the hot foods, like subs and pizza, are also quite tasty.

Leonardo's Restaurant and Pizzeria

phone: +1 814 432-8421

address: 1267 Liberty Street

One of the most popular restaurants in Franklin, serving excellent pizza and hot subs, as well as other Italian dishes.

Cozumel Mexican Restaurant

phone: +1 814 676-2640

The most authentic Mexican food in the area, Cozumel's serves both delicious and affordable food. The menu contains a wide variety of food options, as well as alcohol. Complementary chips and salsa. The restaurant was once the entrance to a small amusement park. As a result, you can enjoy a game of miniature golf outside for $5.

phone: +1 814 432-4955

address: 1234 Liberty Street

An up-scale restaurant that features dishes inspired predominantly by Italian and Mediterranean cuisine. Seafood and vegetarian dishes are particularly popular.

phone: +1 814 437-6997

address: RR 2

For those tired of fast food and pizza and hungry for homestyle cooking, Kings is a popular option. Kings is a Pennsylvanian chain restaurant, but its one of Franklin's most popular restaurants, and it also stays open later than most others.

French Creek Cafe

phone: +1 814 437-6860

address: 1242 Liberty St

A popular restaurant for breakfast dining. For lunch, they offer fantastic paninis, wraps, and other healthy foods. Be aware that this is a lunch and breakfast restaurant only, as it closes at 3PM.

phone: +1 814 437-3663

address: 1327 Elk St

This breakfast and lunch cafe changes its menu daily, as dishes are adapted to incorporate in-season ingredients. In general, you'll find various quiches, scones, and pancakes for breakfast and pastas, wraps, and a variety of sandwiches for lunch. Cooking classes are offered. Those interested must call in advance, as a limited number of students are accepted.

Rochelle's Family Restaurant

phone: +1 814 432-2625

address: 1233 Liberty St

More popularly known as Fox's Pizza Den, Rochelle's is a pizzeria serving the typical varieties.

The Uptown Bistro

phone: +1 814 432-8900

address: 1235 Liberty Street

A grill serving burgers, sandwiches, and salads. There is a nice selection of desserts for those with room, with a various pies and cheesecakes to choose from.

phone: +1 814 437-7771

address: 1340 Liberty St

Enjoy eating on the porch in seasonable weather where local singers and musicians perform on Wednesdays and Saturdays during the summer and a DJ plays your favorite songs on Sunday evenings. The Terrace offers elegant fine dining on Friday and Saturday evenings with special menus from Chef Asa in the Heritage Room. McGinnis' Irish Pub and Grill is downstairs and offers a touch of the Emerald Isle with its authentic pub and food.

Uncle Louie G's Gourmet Cream Ices

address: 1241 Liberty Street

The Best of Brooklyn is now in Franklin. 38 flavors of Italian cream ices and 26 flavors of gourmet ice cream.

The Scoop

address: 414 12th St

A local ice cream parlor, serving a variety of ice cream, hot dogs, and other foods.

Primo Barone's Restaurant and Lounge

address: 1564 Airport Road Franklin Pa, 16323

Connected to the Venango Regional Airport. Beautiful view, great Italian dishes, excellent service!

Bistro by Pizza Joe's

address: 1145 Liberty Street

Pizza and sandwiches.

Summer House Coffee

address: 1236 Liberty Street

Quaint, locally owned cafe. Along with a selection of coffees, teas, and speciality drinks, Summer House also has breakfast pastries and gelato. Free wi-fi available.
Drink
phone: +1 814 437-6636

address: 1117 Liberty Street

Although it's rather small, it's quite popular with the locals.

phone: +1 814 432-7010

address: 1213 Liberty St

Better known by its former name, The Celtic, it's one of the most popular eateries in town, it is a nice place to take your family in the daytime and your friends at night. During the warmer months, there is seating outside, as well as inside. Because it is within walking distance of Foxtales Pub, many people begin their nights here and then go to Foxtales later on in the night.

McGinnis' Irish Pub & Grill

address: 1340 Liberty Street

Located downstairs at The Commons at Franklin. An authentic Irish restaurant and pub, complete with Irish music and decor. They're known for their home-made fish and chips and wide variety of dishes straight from the Emerald Isle. Offers 10 beers on tap and various other well-known beers and local microbrews. Patrons have their choice of eating in the pub or dining room. Enjoy drinks and the game with friends as you watch large screen television in the "Craic" as you relax in comfortable leather furniture.
Sleep
Connect
Internet access is available at the Franklin Public Library.

Go next