Franklinville
Franklinville
is a town and village in
Cattaraugus County
,
New York
.
Get in
By car
Franklinville's main drag is
State Routes 16 and 98
(called
Main Street
within the village borders), which run concurrently with each other north-and-south through the center of town. To get to Franklinville from...
By plane
In practice, arriving in Franklinville by plane usually means flying into
Buffalo Niagara International Airport
. However, a closer alternative is
Bradford Regional Airport
(
BFD
) in Bradford, Pennsylvania, which is served with daily commuter flights from Pittsburgh via Southern Airways Express: four on weekdays, two on Saturdays, and three on Sundays.
If you'll be flying your own plane in, check out...




By bus


Franklinville is located on Coach USA s Buffalo-Olean line:

Southbound buses depart from the Metropolitan Transportation Center at 181 Ellicott St. in downtown Buffalo on weekdays at 7:30AM, 1PM, and 6PM, Saturdays at 10:20AM and 4:30PM, and Sundays at 6PM, passing through the Buffalo Niagara International Airport, East Aurora and various points in between and arriving in Franklinville roughly two hours later.
Northbound buses depart from the parking lot of the Olean Center Mall at 400 N. Union St. in Olean on weekdays at 5:15AM, 10:15AM, and 3:30PM, Saturdays at 7:35AM and 1:30PM, and Sundays at 3PM, arriving in Franklinville roughly 25 minutes later.



See
Cattaraugus County Historical Museum

phone: +1 716 353-8200

address: 9824 Route 16, Machias

Located on the first floor of the Old Stone House in Machias, this museum contains a wealth of historic photographs and artifacts covering daily life in pioneer days, the contributions of local residents to the Civil War and the two World Wars, and the history of the Cattaraugus County Fair. A range of special events and temporary exhibits appear frequently on the programming schedule, and there's an onsite research library for those who want to dig a bit deeper.

phone: +1 716 676-2590

address: 3031 Route 98 South

The Howe-Prescott House is one of the oldest extant buildings in the area: it was erected circa 1814 by a family of prominent abolitionists (a movement that was extraordinarily strong in the hamlet of Cadiz, just a short distance south of Franklinville village center) and served as a station on the Underground Railroad in the years before the Civil War. Under the ownership of the Ischua Valley Historical Society, nowadays it's done up as a pioneer homestead, with exhibits and demonstrations illustrating life in the very earliest days of white settlement in Western New York.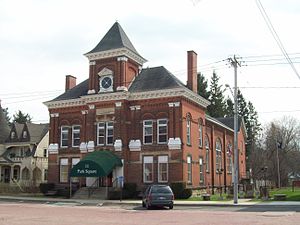 phone: +1 716 676-2590

address: 9 Pine St.

Quite the misnomer: no hardscrabble log dwelling, this turreted, three-story Queen Anne beauty was built in 1895 for Simeon Robbins, a local resident who struck it rich during the Klondike Gold Rush in the Yukon, hence its name. It's been restored by the Ischua Valley Historical Society to its original appearance — the first floor is fully furnished with antique furniture, while the upper floors are given over to historical exhibits concerning the history of the local high school, Ten Broeck Academy; the Ontario Knife Company (the oldest extant one in the country, headquartered in Franklinville since 1889), and archived newspaper articles and other historic documents.

Park Square Historic DistrictThis beautifully-preserved nucleus of downtown Franklinville was added to the National Register of Historic Places in 1986. Around a quaint, brick-paved central square, where Main, Chestnut, Pine, and Elm Streets meet, you'll see an arrangement of historic commercial and municipal buildings in a variety of 19th- and early 20th-century architectural styles such as Queen Anne, Italianate, and Neoclassical. In the middle of it all is the verdant village green, where events are frequently held.
Do
Ischua Valley Country Club

phone: +1 716 676-3630

address: 8093 Route 16, Farmersville

Far from the hoity-toity, members-only affair you usually think of when you hear "country club", at Ischua Valley everything's friendly, down-to-earth, and open to the public. Bisected by the lovely Ischua Creek, the club's 9-hole, par-36 golf course becomes 18 holes and par 72 when you realize that each hole has two different sets of tees — play through twice for a different scenario each time! If golf isn't your game, Ischua Valley has also got a bowling alley, and if you're hungry, the fish fry at the onsite restaurant is renowned.

Skateland of Franklinville

phone: +1 716 676-2655

address: 70 S. Main St.

To call Skateland an old-fashioned roller rink would be to sell it short: this Franklinville perennial on the cusp of its fourth decade of existence is a youth hangout of a multifaceted bent. Not only roller skating but also laser tag, a video arcade, inline hockey, and (in the summer) outdoor batting cages and a go-kart track are on offer. And on Friday and Saturday nights, the skating hall becomes Passions, Cattaraugus County's only teen dance club.

Western New York Maple Festival

phone: +1 716 557-2498

Held annually during the last weekend of April each year since 1962, the festival attracts tens of thousands of visitors to the village each year. It showcases local area maple producers and their maple syrup and maple products. The event is highlighted by a pageant, a parade, pancake breakfast, ham and leek dinner, trade show, craft fair and dozens of vendors.
Eat
Frankeez

phone: +1 716 676-2333

address: 100 S. Main St.

Frankeez is open all year round, but the menu says "SUMMER" in big bold capital letters: served at this casual walk-up snack bar (with limited indoor seating) is a modest but delicious range of simple fare from off the grill and out of the deep fryer. The order of the day is burgers, hot dogs, chicken wings and fingers, fries and onion rings, and — above all — delicious hard and soft-serve ice cream that's the perfect way to cool down on a hot day. The loaded chili cheese fries are a must.

Jackie's Village Restaurant

phone: +1 716 676-9973

address: 9 Elm St.

Just a stone's throw from Park Square is where you'll find this "where everybody knows your name" type of place, where good old-fashioned homestyle American comfort food (think meatloaf, mac & cheese, and scratch-made soup of the day) is served by "the kind that know everybody's normal order". Don't worry, though: even if you're not from around these parts, the service is friendly, the prices are reasonable, and the food is tasty — especially the home fries served at breakfast! Cash only.
Groceries
phone: +1 716 676-5951

address: 99 N. Main St.

You know the drill. A limited range of groceries and miscellaneous other stuff sold cheap.

phone: +1 716 676-3697

address: 17 S. Main St.

That's no mere convenience store tucked behind the Sunoco gas station in the middle of downtown Franklinville: it's a full-service grocery store, with fresh produce, meats, dairy — the whole nine yards.
Farmers markets
Franklinville Farmers Market

phone: +1 716 676-9181

address: Main St. at Pine St.

Locavores take note: Park Square is the venue for this weekly event where folks can buy fresh, seasonal, New York State-sourced goodies — fruits and vegetables, eggs, maple syrup, honey, prepared foods, and the like — direct from the grower. The folks who sell here know their product and know their customer, so if you're a foodie with a burning question about a particular product or you're keeping your ears to the ground for any cooking tips — either for this week's Recipe of the Week or in general — the Franklinville Farmers Market is the place to inquire.
Drink
Legends Bar & Grill

phone: +1 716 676-7013

address: 5 Park Square

Nestled snugly into one of the historic brick Italianates on Park Square, Legends is a place that walks a fine line: it manages a rollicking good-time atmosphere (with a pair of pool tables, frequent live rock and country concerts featuring local talent, and a lively bar well stocked with whiskey and bourbon) without being off-putting for young families with kids or other more mild-mannered travellers. There's also a limited food menu of pub grub, pizza and wings.
Sleep
Campgrounds
phone: +1 716 676-3225

address: 6629 Abbotts Rd., Lyndon

"Our goal is to promote camping as affordable lodging but a recreational adventure", proclaims Camp Emerald Acres' website — and true to the spirit of that statement, there's quite a bit more to this expansive campground than just several hundred serviced and unserviced campsites, RV sites, and cabins. In fact, with amenities like a horseshoe pit, volleyball court, 30-foot (9m) above-ground pool, fishing pond, extensive hiking trails, kids' playground, and frequent theme nights and special events — not to mention a camp store with all the snacks and supplies you might need during your stay — you might call Emerald Acres a destination unto itself. Open May 1-Oct 10.

phone: +1 716 676-2776

address: 3900 Jarecki Rd.

380 acres (155 ha) of summer fun in the shade of a statuesque pine forest (hence the name) in the foothills of the picturesque Allegheny Mountains. Shamrock Pines counts 110 tent campsites, of which 89 include electrical hookups, as well as a number of RV sites — not to mention a pool, a network of trails open to hikers, bikers, and horseback riders, and a large lake in the center of it all with a boat launch, fishing, and a rustic cabin on the shore that sleeps four (available for weekend or weekly rentals only). Downsides: customer service is a weak link, and woe be to those who contravene camp rules. Open Apr 15-Oct 15.

phone: +1 716 676-2327

address: 3510 Bear Creek Rd., Machias

The Woods at Bear Creek is for those who want an experience that approximates camping but can't bear to part with their creature comforts: located on 750 acres (300ha) of forested hills and meadows, this upscale "glamping" resort features 16 two-bedroom, climate-controlled guest cabins with either two queen beds or one queen and two sets of bunk beds, each with a flat-screen satellite TV with Internet access, swanky leather furniture, an outdoor campfire area, and a private golf cart for guest use. As well, the property is brimming with things to do: hiking trails, kayaks, canoes and paddleboats beckon the active outdoorsy folks, there are tennis and basketball courts for sports fans, a 1,400-foot (425m) zipline for adventurers — or just chill out poolside or while casting your line into the 20-acre (8ha) fishing pond.
Daily Bread Bed & Breakfast

phone: +1 716 449-2814

address: 3024 Bakerstand Rd.

If you're big on privacy, Daily Bread may be the bed-and-breakfast experience for you: rather than being divvied up into multiple units, the entire downstairs apartment of this picture-perfect brick Victorian Gothic cottage just outside the center of Franklinville is, in the words of its Facebook page, "exclusively yours during your stay... your home away from home". Your air-conditioned bedroom contains a private ensuite bath, mini-fridge and microwave, and there's also a living room with a TV and Internet access, and even a game room with a dartboard and a pool table. Plus the owner is a retired chef, so naturally breakfast is a real crowd-pleaser. First-time guests require a $50 advance deposit on the room rate, but it's money well spent.
Connect
phone: +1 716 676-5715

address: 5 N. Main St.

Part of the Chautauqua-Cattaraugus Library System. Offers 11 wired computer terminals as well as broadband wireless Internet throughout the whole property.

Franklinville Post Office

phone: +1 716 676-3042

address: 14 S. Main St.
Go next