Franschhoek
Franschhoek
(Dutch for 'French Corner') is a city in the
Cape Winelands
of
South Africa
.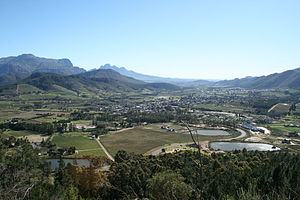 Understand
Franschhoek was founded by French Huguenots settlers (hence the name), who fled the Inquisition in Europe and were looking for a little hide-out on the other side of the world. They found it in the fertile valley of Franschhoek - which they called "Oliphantshoek", as the valley had a lot of elephants.
Even though most people don't speak French, many of the street names, restaurant names and wine farms in the 'French Quarter' have French names.
Franschhoek makes a serious attempt at being the food and wine capital of South Africa and there are many fine restaurants. It's a great place to relax, enjoy top food and wine, in a spectacular atmosphere.

Get in
Only one road (R45) leads to Franschhoek from
Stellenbosch
or
Paarl
. For a more scenic drive, you can enter Franschhoek all the way over the "Franschhoek Pass" - a spectacular mountain route leading into Franschhoek from
Villiersdorp
.
There is a taxi service (small buses with loud music and often loud drivers) from
Stellenbosch
and from
Paarl
.
There's no train service.
Get around
You can walk along the main street to have a look at the shops and various restaurants and a stroll through the streets off the main street will show you some nice old houses.

See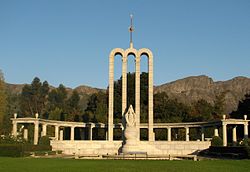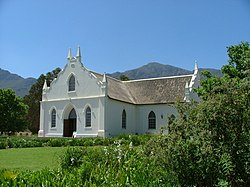 Franschhoek is a place to relax. Stroll up or down the main street and take your time to have a look around. The mountains surrounding Franschhoek are spectacular and there are many places you can reach within easy driving distances.
phone: +27 21 876-2532

address: Corner of Hugenot&Lambrecht St

phone: +27 21 874-9000

address: L'Ormarins Wine Farm
Do
Rent a bike to go up and down the hills along the wine farms.
Go fishing to some of the lakes nearby
Go wine tasting in some of the many excellent wineries. Some are reachable on foot from the village; you can use a shuttlebus or arrange a wine tour for those that aren't
Eat at some of the fantastic restaurants in Franschhoek

phone: +27 21 876-4042

address: Place Vendome Lifestyle Centre, 13 Main Road

Wine tours and scenic tours in the winelands. Also offer transfers to Cape Town and the airport, accommodation and car rental.

Chocolate tour at Huguenot Fine Chocolates

address: Huguenot Road, Franschhoek, 7690

The store offers a small lecture and demonstration on how chocolate and resulting confectionary is made. You also get to try some. There is no admission fee. Tour starts twice a day at 11AM and 3PM, lasts approximately 40 min. Registration is not required, just show up at the store. If you wish to pay something there is a tip jar in the showroom or you can simply buy something in the store.
Buy
Franschhoek has many wonderful small family run shops.
The shopping experience along the main street has grown and there is a wonderful variety of unusual and unique shops.
Peacock Blue is a men's clothing store which makes linen shorts and shirts in a huge variety of colours. They also sell numerous styles of shorts, polo golfers swimwear shoes exception knitwear both cashmere and pure wool in their own designs. They also stock international brands like Scotch & Soda.
Indian summer next door is a famous independent ladies boutique, they have a sister shop in London it certainly is very different with a large local following with dresses from London, cashmere, semi precious jewelry, swimwear and jeans.
Charlotte Isabellina is a ladies' boutique - very smart, very chic - specialising in Louisa Spagnoli an exciting brand from Italy.
Tracys diamonds in the same name building opposite the church has a world-wide following for their expertise design and keen prices.
Anpa jewlry is another firm favourite with semi-precious stones set into unique and fabulous pieces designed and made in Cape Town.
Art in the Yard is a wonderful contemporary art gallery situated behind The salmon Bar one of the best restaurants in Franschhoek. They ship worldwide
Ebony is an eclectic mix of treasures and art mainly sourced from the vibrante African contemporary art and crafts scene.
Sacred ground artisan bread and great coffee.
Jade sells pearls and unique and tasteful jewellery.
Penchant another great independent jewellery store. The pieces are all designed and made locally.
Beluga Bear wonderful selection of babies and young childrens clothes and gifts.
Masquerade items for the home, linens, candles, soaps - tres jolie et chic!
Biccs homemade ice cream, breads and coffee.
African Art Gallery gifts
Tsonga great locally made shoes and handbags, men's and women's.
Chocolates made in the village are a speciality not to be missed
Eat
There are many excellent restaurants in and around Franschhoek. Along the main road are a number of very good restaurants.
phone: +27 21 876 4056

address: 48 Huguenot Rd

A charming bistro-style restaurant with a welcoming and unpretentious atmosphere. Specialities include crispy roast duck, fresh mussels and an excellent steak selection.

The Tasting Room at Le Quartier Francais

Reuben's

Haute Cabriere

phone: +27 21 876-3016

Lunch only, bookings essential, excellent view over the valley.
Drink

Wine is plentiful and cheap.
Haute Cabriere and La Petite Ferme (see above) sell their own wines. Just outside of the village are two top wine estates, Le Grand Provence and Boschendal, where tastings are available daily. There are also many other smaller wine estates in the area. Virtually all welcome visitors and tastings can be arranged with most.

Sleep
Go next