Frascati
Frascati
is one of the
Castelli Romani
, historic hill towns to the South East of
Rome
. It is a small relaxed town perfect for a getaway from the metropolis of Rome. World famous for its white wine which is recently winning an array of awards. Frascati has a slower pace of life, cleaner air, and a far more casual feel than the nearby capital.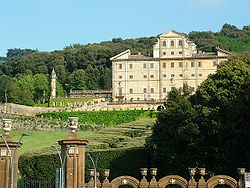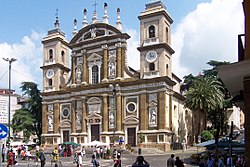 Understand
In 1943, Frascati, the seat of the German Fieldmarshall Kesselring, was heavily bombed by American B17s. Around half of its buildings were destroyed by a total of 1300 bombs. Many people died in that air strike and in a second air strike on January 22, 1944, the day of the battle of
Anzio
. The city was liberated from German occupation on June 4, 1944.
Although you probably won't notice it from a casual visit, Frascati is an important scientific center. It hosts Italy's National Institute for Nuclear Physics, as well facilities of the European Space Agency, and The Spaceguard Foundation, which aims to protect the world from collision with objects in space.
Get in
Just 21 km from Rome, Frascati is easily accessible by public transport or in your own car.
It is very convenient to the Ciampino airport now used by a number of the budget airlines like Ryanair and EasyJet.
Trains run from Roma Termini approximately every hour. They take about 30 minutes and cost around €2. Check the Trenitalia website for further details. This was one of the first railway lines built in Italy.
Buses run daily from Rome. Check the Cotral website for details.
If Driving from Rome, take Via Tuscolana from just South East of the centre of Rome and follow it all the way to Frascati. Couldn't be easier.
See
Frascati is famous for its villas, in particular Villa Aldobrandini, which dominates the town. These villas were built in the 16th Century by the Roman aristocracy as status symbols and for social activities. Most have been restored since being damaged in World War II but the cost of maintaining such buildings these days is horrendous.
Villa AldobrandiniAlso known as the Belvedere because of its dominant position, with a view all the way to Rome. The inside of the villa cannot be visited but the gardens are accessible on weekdays with a pass obtained from the IAT tourist office in Piazza Roma.

address: Piazza Marconi 6

This building was the former stables of the Villa. It houses an archaeological museum with pieces collected from the ancient Roman town of Tusculum, about 5km from Frascati. There are also scale models of the villas of Frascati.
Do
Take part in the passegiata in the evening: wandering up and down the main street, preferably with a gelato, checking out everyone else doing the same, or in the daytime, you can visit a winery.
Buy
address: Frascati

City Pass, giving at least 10% discount on wine estate visits, tours, restaurants, hotels, moped hire, courses and includes a free mp3 walking tour download and wine tours
Eat
Porchetta is a speciality of the region: whole spit roast pork. Many places around the town will have most of a pig sitting in a cabinet, usually served by carving a few slices and placing them between pieces of rustic white bread. Perhaps nothing could be a better match for a glass of Frascati.

Drink
Frascati is famous for its
white wine
, and the best (many have won awards in the past few years) are bottled DOC and DOCG Superior versions. Excellent quality /price ratio There is a big difference in quality between the best producers and some of the others. The largest producer is
Fontana Candida
and its
Superiore Santa Teresa
,
Castel De Paolis
,
Casale Mattia
,
Poggio Le Volpi
and
San Marco.
Antiche Terre Tuscolane
cooperative produces relatively small volumes of very good wine. Principe Pallavcini is top notch (Superior DOCG is calle Poggio Verde), but for a complete list check out the
consortium's website
(they are the oldest consortium in Europe).
A feature of Frascati is its
Cantine
, essentially places where you can buy and drink wine (slightly inferior on tap), and can bring your own food. During summer nights the Cantine put their tables outside on the paved roads and it seems like the whole town sits on these benches drinking, talking and laughing beneath the stars. On such nights it's easy to see why they choose to live in this small but vibrant town.
Osteria del Principe

address: Via del Castello 25

An authentic cantina, frequented by locals in the early evening.
Taglienti white wine.
Sleep
phone: +39 06 941 7883

address: Piazza del Mercato 21

Located above the Pinocchio restaurant, this small hotel has just seven rooms, all with bath, phone, TV, and minibar. Centrally located, friendly, and good value. No air-conditioning can make the rooms less comfortable on a warm night (although you can always just leave the windows open).

phone: +39 06 942 900

address: Via del Tuscolo

A fabulous old villa recently refurbished, Villa Tuscolana is well worth the 10min walk up the hill from Frascati. Take a room with views out over the town and Rome if possible. The walk up the hill can be dark and scary at night, take a taxi if you've had a little too much wine.

phone: +39 06 9464261-3475322318

address: Vicolo grotti dama 19

The apartments are situated in a quiet place surrounded by vineyards. Outside the house there is a big garden with many trees and some garden-seats. Near the garden there is a private parking-area. Discounts for stays of at least 3 nights.
Hotel Panorama, it is the one with the best view on Rome.
Go next
Frascati lies on the eastern edge of the
Castelli Romani
, a generic name for the area to the south of
Rome
, Notable cities in the area are
Castel Gandolfo
where the Pope has his summer residence and Marino.