Fraser's Hill
Fraser's Hill
(
Bukit Fraser
) is a colonial-era hill station in
Pahang
state,
Peninsular Malaysia
.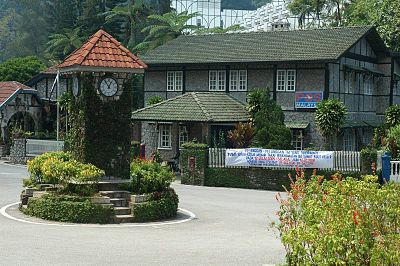 Understand
Fraser's Hill is named after Louis James Fraser, a Scotsman who prospected for gold in Australia but eventually struck tin here instead in the 1890s. Employing Chinese miners to do the hard work for him and earning his keep by operating mule trains down the mountain, Fraser set up opium and gambling dens to increase his profits, which may have had something to do with his subsequent mysterious disappearance. The tin ran out in 1913, but the lush valley within was rediscovered as a colonial hill resort that, thanks to its 1524 m elevation, enjoys considerably cooler temperatures than
Kuala Lumpur
. By 1922 a road had been cut through the mountains to the valley, which soon sprouted bungalows and even one of Malaya's first golf courses.
Not much has changed since, and Fraser's Hill retains a wonderfully weird mixed-up character, where locals eat curries off banana leaves in an English cottage next to a golf course while the call to prayer sounds from the mosque.
Orientation
Orienting yourself in Fraser's Hill is easy enough: the entrance via the Gap is at the southwest corner of the valley and the "center" as such is at the intersection of Jalan Genting and Jalan Lady Guillemard, with the much-photographed
clock tower
marking the spot. Most restaurants and shops are clustered here, while the golf course takes up the bottom of the valley and bungalows and swanky residences dot the hills all around.
Get in
Public transport on the Hill is non-existent (the bus from Kuala Kubu Bharu no longer runs) and you'll have to arrange your own wheels in some form or another.
By road
Fraser's Hill is located 105 km north of
Kuala Lumpur
, around 2 hours by car. For a long time, access to Fraser's Hill was possible only via a 8 km one-lane road known as
The Gap
, used by uphill and downhill traffic in turns. A new road was completed in 2001, but it has been plagued by repeated landslides, and is frequently closed for repairs.
NO MORE TRAFFIC CONTROL
, there's a new road to go down and the old gap road maintain to go up traffic. No hassle of waiting...
When the new road is open
: All downward traffic uses the new road, while the old Gap road is designated for upward traffic, with no time restrictions round the clock.
For road conditions from
Kuala Kubu Bahru
(KKB) or
Raub
to Fraser's Hill, contact the police station in Fraser's Hill at
+60
9 3622222.
By train
The KTM Komuter's northern run from Kuala Lumpur now reaches Kuala Kubu Baru, although you'll need to switch trains in Rawang (platform 2 for trains to KKB). From Kuala Kubu Baru, you can hire a taxi or local driver for the going rate of RM80 one way. Arrange to have your driver pick you up when you want to return, as getting a taxi back otherwise will be tough.
By taxi
Apart from your own car, the easiest way is by using taxi from Kuala Lumpur. Normal KL taxis can't do the trip, but you can arrange one from the Puduraya bus station, or call up Selangor Radio Taxi (tel. 03-2936213) or Comfort Taxi (tel. 03-7330495). You can expect to be quoted around RM200 for a one-way transfer, but this can be negotiated down, even more so for a return trip.
Get around

For getting around Fraser's Hill, your own car is the best option. However there is no petrol station up in Fraser's Hill so remember to fill your tank before going uphill. Should you get caught without sufficient petrol in Fraser's Hill, ask the locals and they may sell some petrol to you in 1 litre bottles.
Most distances are, however, walkable if you're not in hurry and don't mind going up/downhill or taking the trails through the jungle.

See
Fraser's Hill is famed worldwide as a
birdwatching
destination, with over 250 species recorded. Winners during the annual
Bird Race
have spotted as many as 70 species within 24 hours!
Clock Tower. The central point of Fraser's Hill, this exceedingly British-looking little stone building covered with creeper vines is the most popular place to get your picture taken. The clock tower was designed by Malaysian Landscape Architect Z.Jaal and built by the Frasers Hill Development Corporation in 1989.
Jeriau Waterfalls, 5 km (30 min drive) from the town centre and then a 15-min walk. The falls are 6 meters high and fall into a shallow pool suitable for bathing. The area is equipped with restrooms and shelters for picnics.
Do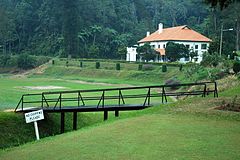 The top activities in Fraser's Hill are
hiking
,
golf
and
birdwatching
.
Birdwatching
One of the most popular activities in Fraser's Hill is bird watching given the many different species of birds in the locality, particularly in June when the International Bird Race event is held here due to many migratory species passing through.
Hiking
There are eight signposted
trails
around Fraser's Hill (
map
), although some have been closed at least temporarily after a well-publicized incident in 2005 when three young boys got lost in the jungle. Watch out for leeches.
Hemmant Trail. An easy 20-minute trail along the north side of the golf course.
Bishop's Trail. Effectively a continuation of the Hemmant Trail, this is a slightly more challenging half-hour track through the jungle. Slippery when wet.
Pine Tree Trail. A challenging 6 kilometer trail up and down hills to the eponymous Pine Tree Hill, and you'll have to return the way you came to boot. This is a full-day hike that will take 7-8 hours at a moderate pace.
Golf
Fraser's Hill Golf Club. (All day 9 hole - Walking course) A short but very tight course. Open daily 8AM-7PM, green fees RM30/40 weekdays/weekends (whole day). Carry fee RM10. Golf sets available for rent at the Sports Complex.
Tennis
With such a delightful climate, Fraser's Hill ought to be perfect for tennis. Unfortunately, the courts have been neglected. Both Pines Resorts and SilverPark have courts, but they have fallen into disrepair. There are two public courts on the Pines Road (next to the Pahang Instana), but they are barely playable. The courts are filthy, so be prepared to discard your balls after a few plays (they turn from yellow to black).
Buy
While you can get your fill of Fraser's Hill T-shirts and fridge magnets from the souvenir shops around the clock tower, the most useful local fashion accessory in these parts is a pair of
leech socks
. Baggy stockings of unbleached cotton worn over your pants, these not only prevent unwanted blood transfusions, but also double as handy Christmas decorations if you paint on a reindeer or two.
Kraftangan & Cenderamata Bukit Fraser,a souvenir shop at the Sports Complex. T-shirts (RM19.90 to 35.90), fridge magnets, accessories (3 For RM10), and local souvenirs. Open on weekends/holidays only.
Eat
Arzed Restauarant, Food Garden ( Children's Playground ) - Rotis, local ala carte, Ice Creams, Smoothies. Price range : RM 4.50 - RM 6.50
Food Court, Jalan Genting (just south of the mosque; uphill from clock tower). This is actually just a small cluster of hawker stalls serving up cheap and tasty, if somewhat flyblown, local food. Most meals under RM5, but prices may add up if you order off the menu.
Hillview Restaurant, Puncak Inn (at clock tower) serves Chinese and Western food. Tasty and relatively good value; Chinese meal for four at RM60. Serves excellent hot soup which is perfect for such cold weather. Has recently moved to the new food court near the playground. From puncak inn, drive all the way straight till you see a roundabout, take a left turn. The restaurant directly on your left.
Smokehouse Restaurant, is an expensive place for a western food but well worth a visit. A ribeye steak costs about RM55. There is a corkage charge of RM40 if you decide to BYO.
Drink

Nightlife in Fraser's Hill is basically nonexistent, but the Smokehouse can serve you a pint of Guinness.

Sleep
Most visitors come during the weekend, so it's not unusual for rates to be discounted as much as 50% on weekdays.
Mid-range
Jelai Highlands Resort, Jalan Ampang, tel. +60 9-3622600. This aging resort looks more appealing from afar than up close, but it's comparatively economical and functional. Standard (twin) room RM90/110, double (queen) room RM130/160 weekdays/weekends.
Fraser's Pine Resort about less than 10 minutes drive from the clock tower. The units are poorly maintained, facilities are old, dirty and dusty.
Puncak Inn / Puncak Apartment / Puncak Bungalow: located at the town centre opposite the clock tower offers a well good night sleep. Newly renovated Puncak inn and newly refurbished apartment & bungalows are well maintain with affordable rates.
Splurge
The best way to splurge on Fraser's Hill is to rent a
private bungalow
. Rates vary widely, from under RM300/day for a small, crumbling bungalow to RM1500/day for a top-of-the-line outfit complete with housekeeper. All bungalow have multiple bedrooms and can easily fit 4 or more people. Book directly with the
Fraser's Hill Development Corporation/Information Counter /Puncak Inn
, tel. +60 9-36220007.
phone: +60 9-3622226

Jalan Jeriau. This Tudor-style house is the best choice for a spot of colonial swank. Rooms from RM280+, including English breakfast. Avoid ground floor rooms you won't be able to sleep from the noise of the guests above walking around. Breakfast is great, but dinner is overpriced.
Connect

Start your visit by dropping into the Fraser's Hill Tourist Information Centre on Jalan Genting, to your left past the top gate of the Gap. They hand out a useful (albeit scaleless) map and can advise on trails and such.

Stay safe

The trails are fairly well marked but not trivial, so register your intentions with the Tourist Information Centre ( 09 3622007 )if you plan on tackling the longer ones. Watch out for muddy trails after rain and take precautions against leeches. Malayan tigers have been spotted very occasionally, but they shy away from humans.
Be careful not to leave anything of value in your car or trunk of value when you are visiting places like the waterfall, as there have been cases of cars being burgled.