Fredericia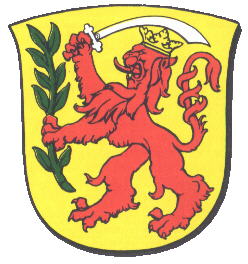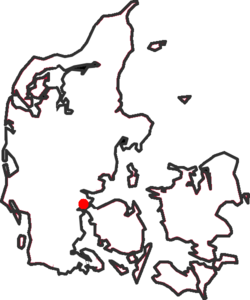 Fredericia
(IPA: ) is a medium-sized fortress town which is in the Fredericia municipality in the eastern part of Jutland, Denmark. The town was founded in 1650 by Frederick III, after whom it was named.
Fredericia was almost selected as the Danish capital, due to its central location and large port, but in the end, Copenhagen retained the title due to its larger population.
Get in
By plane
There is no local airport in Fredericia. There are several nearby domestic and international airports in Aarhus, Billund, Esbjerg & Copenhagen. All of these airports are served by buses and/or trains which then travel onwards to Fredericia. The closest airport to Fredericia is Billund.
Aarhus Airport (AAR

), take the airport shuttle-bus to the train station in the city centre where you may take a train to Fredericia. Trains depart roughly every 30 minutes during the day & every two hours after 01:00. It is served by Ryanair, SAS & others.

Billund Airport (BLL

), this is the closest airport to Fredericia. From Billund airport there is no direct train line, instead you should take a bus to Vejle, Kolding or Aarhus (Vejle & Kolding are much closer) & then get a train onwards to Fredericia. Trains depart roughly every 30 minutes during the day & every two hours after 01:00. The total trip is roughly 70 minutes. It is served by Ryanair, SAS & many others.

Copenhagen/Kastrup Airport (CPH

),take the train from the airport directly to Fredericia via Copenhagen City. This trip can take about 120 minutes. (On trains leaving from Copenhagen Airport it is important that you clip your train ticket prior to boarding).

Esbjerg airport take the local bus from the airport directly to the town centre where you can then take a train to Fredericia. It is served by Ryanair from London.
By train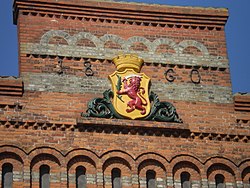 DSB provides rail-links between Fredericia & many of Denmark's major towns + cities. Because of Fredericia's position next to The Little Belt Bridge connecting Jutland to the island of Funen (And thus linking it with Copenhagen) Fredericia has a very well serviced line. Danish IC & Regional trains are of a very high quality, offering travellers very comfortable seating & have food + drinks served on board. So you do not have to worry if you miss breakfast, it should be available on board. (Food & drink are not served on regional trains, for example the train between Odense & Fredericia.) During peak times it might be advisable to book yourself a seat, this cannot be done on the ticket machines, you can book your seats at the ticket desk. Booking a place is generally not required very early in the morning or late at night.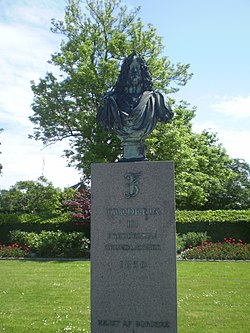 Trains are very regular & generally leave exactly on time. Ticket checks take place on every journey, thus it is very important that you are in possession of a valid ticket. Smoking is not permitted anywhere on the train or in the train stations.
Fredericia is:
Roughly between 1½ hours & 2 hours from Copenhagen City. Trains depart every hour. (Average cost: kr 250)
Around 35 minutes from Aarhus.
Around 45 minutes from Esbjerg in southern Jutland.
45 minutes from Odense on Funen.
Between 4 and 5 hours from Hamburg in Germany.
The train station is outside of the main tourist part of the city, follow signs leading to Centrum, it will take about 5 minutes. Similarly there are taxis available outside the station.
(There are two exits in Fredericia station, make sure that you leave via the ticket desk & shop, the other exit leads away from the town centre.)
For further details on train schedules & visit, www.dsb.dk . (Available in English, German & Danish.)
By car
Fredericia is just beside the Little Belt Bridge linking
Funen
&
Jutland
. Thus it is quite easily accessible by car on the highway to & from
Funen
and
Zealand
.
Get around
By foot
The majority of Fredericia's tourist attractions, bars, restaurants, hotels, beaches & shopping areas are very easily accessibly by foot. It is strongly recommended that visitors go for a walk along the city walls & the sandy beaches.
Much of the main shopping areas in the city centre are fully pedestrianised streets.
By taxi
Taxis (Danish:
taxa
) are available right outside of the train station. These can be quite expensive, especially for longer trips. Since taxis are restricted to roads it can also be difficult to see some of the towns best attractions if you restrict yourself to taxi travel.
By car
There are 2500 free parking places available in Fredericia, however to use these places you need to drop into the Tourist Office for a free parking disc.
Cars can be rented in Fredericia from Hertz. Details are as below.
Hertz Biludlejning Autohuset Vestergaard A/S

phone: +45 70 26 90 96

address: Strandvejen 220, 7000, Fredericia
By bike
Like most Danish towns Fredericia is very well suited to cyclists. Cycling in Fredericia is one of the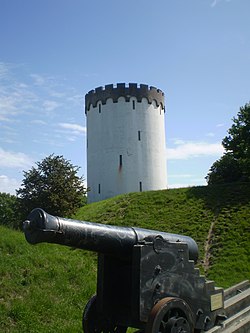 fastest, cheapest and environmentally friendly ways to get from place to place. If you already have a bike in Denmark it can be taken on-board trains or taxis so that you can transport it with you directly to Fredericia.
However if you do not have a bike in Denmark you could consider renting one for your stay in Fredericia. Below is a company which specialises in renting bikes to tourists.
phone: +45 7592 1409

address: Venusvej 4, 7000, Fredericia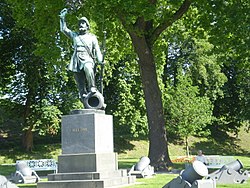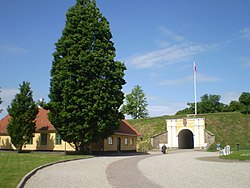 By boat
Some local companies offer trips along the fjord, this can be a great way of touring the coastline & getting a much closer look at The Little Belt Bridge. Details can be found in the 'Do' section of this article.
See
Landsoldaten

address: At the main entrance to the city.

The Foot Soldier is a statue of a proud Danish soldier which commemorates the battle of 1849. It is said to be the oldest monument in the world celebrating the unknown soldier. It is at the main entrance to the city & serves as the main starting point for any visit.

Det Hvide Vandtårn (The White Water-Tower.)

phone: +45 72113511

address: Located on top of the Frederecia's city walls.(Close to the 'Landsoldatpladsen'.)

Det Hvide Vandtårn sits on top of Fredericia's city walls which makes it the ideal place to get views over the Ramparts, The Little Belt Bridge & the entire city.

The Beach

address: Skærbæk, 7000, Fredericia

Fredericia is blessed with a beautiful, blue-flag beach. The beach is in a small town outside Fredericia called Skærbæk. Here you will find an old fishing-envoirment and beautiful houses. This area of the town also offers visitors and locals the opportunity to admire the views of nearby Funen, walk along the golden sand or have an ice-cream. The beach has no lifeguard.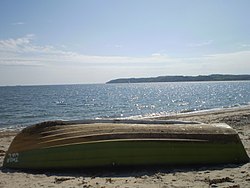 The City Walls

address: Surrounding the city centre.

For a gorgeous 1-hour stroll you can set out on a walk around Fredericia's walls. The route is littered with historical statues, old cannons and information desks offering details on the various gates, ramparts and buildings. Start at the Kongens Port (King's Gate).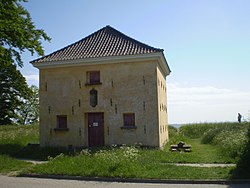 address: Øster Voldgade

Opposite the Citadel is the powder tower on the Lolland Bastion. This is the oldest military building in Fredericia, built in 1675. It is a very small building on the coast overlooking the sea.

phone: +45 7591 1900

address: Kongensgade 25

The oldest house in Fredericia. Offers visitors beautiful flower arrangements and a small art gallery.
Do
Fredericia Badeland

phone: +45 72106082

address: Vestre Ringvej 100

It's close to the Trainstation Fredericia Badeland offers 2 swimming pools (25m & 50m), a separate baby pool, sauna, solarium, water slide.

Madsby Play Park

address: Lumbyesvej 45, 7000 Fredericia (Close to the trainstation, look for Vejlevej.)

Madsby Play Park, is a large family fun park with free activities for kids of all ages. These include, a large playground, driving school, cowboy town & a mini train. During the summer months puppet shows are also scheduled. There is a small charge for the minitrain.

phone: +45 72113511

address: Gl. Havn, Oldenborggade 30,

Take a boat along the fjords and along The Little Belt Bridge. Alcohol, soft drinks & coffee available on board. This is a very relaxing way to unwind on a hot summer day.

Fishing: Palsgaard Lake

phone: +45 75957090

address: Bøgeskovvej 64

An anglers' lake with shelters nearby. This lake is populated with carp, eel & rainbow trout & offers a good day out for experienced and inexperienced fishermen. North of Fredericia.
Eat
phone: +45 75910000

address: Best Western Hotel Kronprinds Frederik, Vestre Ringvej 96

Cafe Gammelhavn

phone: +45 75 93 06 36

address: Gl. Havn, 7000,Fredericia

An ice-cream & traditional Danish sausage outlet beside the old harbour, with a view of the water & ships.

phone: +45 75 92 25 64

address: Vandmøllevej 4A, 7000, Fredericia

Børkop Vandmølle forms a delightful framework around one of the best restaurants in the area, with the added attraction of Denmark's oldest functioning water mill.

phone: +45 75 92 85 87

address: Hannerup Brovej 9

A view of woods and sea. Enjoy your lunch or dinner on the terrace or in the attractive dining rooms.

phone: +45 75 92 09 69

address: Sønder Voldgade 10

Cosy maritime lunch and dinner restaurant in the city centre near the old harbor. Eat out on the terrace in summer. Varied seasonal menu.

phone: +45 7593 3355

address: Norgesgade 3

Known as one of the best restaurants in Denmark, Ti Trin Ned mixes the hyped New Nordic kitchen with more traditional French and Mediterranean cuisine. In the high season it is advisable to book four or five weeks in advance.
Drink
phone: +45 7210 6710

address: Kirkestræde 3

Pakhuset is an intimate music venue with its own cafe. Music every weekend from September to June. Ask for programme at the Tourist Office.
Sleep
Hotel Gammel Havn: Fredericia Sømandshjem

phone: +45 75920199

address: Gothersgade 40

This is a centrally located family-hotel, close to Fredericia´s old harbour, which offers good quality Danish cuisine at reasonable prices.

phone: +45 7620 2100

address: Søndermarksvej 150

Fuglsangcentret is in the beautiful area next to the Fuglsang Forest. Offering bright and handicap-friendly hotelrooms all with terrace to garden as well as attractive modern facilities of high standard in quiet, delightful surroundings. Own swimming pool & sauna and a café/bar.

Hotel Postgaarden

phone: +45 7592 1855

address: Oldenborggade 4

Postgaarden is in the centre of Fredericia.
Go next
Fredericia's position next to the bridge between Funen & Jutland means that many of Denmark's other towns and cities are easily accessible by rail & by road. For a day trip or a few hours outside of Fredericia you could try some of the following: