Frederikshavn
Frederikshavn
is a city in
North Jutland
,
Denmark
. And has a population of 60,315 inhabitants (as of 1. April 2017) in the municipality.
Understand
Frederikshavn describes itself as the northernmost municipality on the European continent.
Frederikshavn was originally named Fladstrand, until 1818 where it was changed to Frederikshavn.
Frederikshavn translates to "Frederik's harbour", named after Danish King Frederik VI.
Tourist office
phone: +45 9842 3266

address: Skandiatorv 1, 9900 Frederikshavn

Generel tourist information, Fishing license, Ferry tickets to Sweden and Norway, Tickets for concerts and other arrangements at Det Musiske Hus and Arena Nord, Roadmaps, Bicycle maps and rental.
Get in
Passengers traveling from other parts of Denmark can reach Frederikshavn by train, bus or airplane. The journey time by train or bus from Aalborg, the nearest large town to the south, is approx. between 1 hr 10 mins - 1 hr 45 mins. (40 minutes in car). From Aalborg Airport to Frederikshavn station is the journey time approx. 1.5 hour by bus.
By train
The is located not far from the town center and this connects you to pretty much all of Denmark.
Frederikshavn is on the
Hjørring
,
Aalborg
,
Aarhus
,
Odense
,
Roskilde
,
Copenhagen
, Line. It takes approximately 5 hours 50 minutes to reach
Copenhagen
and is operated by
DSB
There is also a train line between Frederikshavn and
Skagen
, known as Skagensbanen, which is operated by
Nordjyske Jernbaner
and stops in Strandby, Jerup and Ålbæk. It takes approximately 40 minutes to reach
Skagen
.
By bus
X-bus from Aalborg.
By boat
Frederikshavn can be reached by ferry from
Norway
(
Oslo
) and
Sweden
(
Gothenburg
) and connects Læsø Island to
Jutland
.
operates the route Gothenburg - Frederikshavn which takes 2 hours with Stena Line Express and 3 hours 15 min. with Stena Danica/Jutlandica and the route Oslo - Frederikshavn which takes 12 hours.
operates the route Læsø - Frederikshavn which takes 90 min.
By car
From Aalborg: Use the E45 northbound to Frederikshavn.
From Aarhus: Use the E45 northbound to Frederikshavn via Aalborg.
From Hirtshals: Use the E39 to Hjørring and from there use Road 35 towards Frederikshavn.
Get around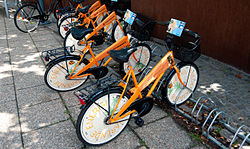 Frederikshavn does have a public bus system, that mainly connects the rim areas of the city with the city centre. For getting around in the centre, walking is the easiest solution, given the size of the area.
Frederikshavn has a public bike system, where bikes can be borrowed for free, with a DKK 100 depost in one of the bicycle hubs (at the tourist agency, by most hotels and at the camp site). The bicycles are available from Easter until November. The bikes can be used to getting around to attractions, outside of Frederikshavn city centre easily, as the city has, and expands on, a quite well functioning web of bicycle paths and roads and it is also possible to take the bike with you on the train to
Skagen
if space is available.
Getting around in own car is rather easy, as Frederikshavn has quite a number of parking areas, of which the majority is free. City centre is an exception to this, with a couple of paid parking areas.
See
phone: +45 9842 3111

address: Dr. Margrethesvej 6, 9900 Frederikshavn

Bangsbo Museum is located in an old manor house, surrounded by a moat, a small botanical garden and a forest playground. The museum houses exhibitions about the Danish Resistance during World War II, ships and sailing history and textiles. Bangsbo Museum is now a part of Nordjyllands Kystmuseum.

phone: +45 9848 6069

address: Brønderslevvej 61

Observation tower of 60 meter at 160 meter above sea level. This is the most famous landmark of town. The top is reached by stairs or elevator and gives a fantastic view of the surrounding landscape. The tower was built in 1962 at the initiative of Christian Cloos. It has a small shop with snacks and souvenirs. You can sit down in the tower or outside for a picnic.

phone: +45 98423266

address: Strandgade

This is a cluster of fishermen's cottages in oldest part of Frederikshavn origianlly from the 16th century, but the houses you can see now are from the 18th century.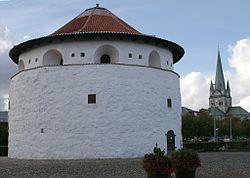 phone: +45 9843 1919, +45 9842 3111

address: Kragholmen 2

Martello tower built in 1686-1690. The top floor (cannon deck) houses a range of artillery. The lower floors have exhibitions of the history of Fladstrand and the harbor. Citadel Fladstr. was used as a base by the Danish Navy during the Great Northern War (1709–20) and the war against GB (1807–14). Tordenskioldsdage is a historic festival that with a spectacular staging of the Powder Tower brings the audience back to the year 1717.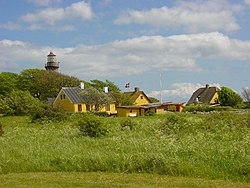 Do
Festivals and events
phone: +45 2257 9910

address: Fodboldvej 7, 9900 Frederikshavn

A youth soccer tournament for both boys and girls. Held week 28 every year. Many teams from several nations attend.

address: Hjørringvej 180A, 9900 Frederikshavn

Music festival.
Buy
Frederikshavn has a small pedestrian area, surrounding the main pedestrian street, which contains the south end of Danmarksgade and north end of Søndergade. The main pedestrian street is approximately 750 metres long, and the area houses a number of retail shops with various consumer goods, such as clothes, telecom shops, radio/TV shops and restaurants.
For bigger shops such as supermarkets, DIY retailers, furniture shops and such, the north/west end of the city houses the majority of those along Hjørringvej between Suderbovej/Knivholtvej and Toftegårdsvej/Maigårdsvej.
Opening hours follows those otherwise found in Denmark; supermarkets are mainly open between 09:30 and 18:00, other shops between 10:00 and 17:30 and restaurants between 11:00/16:30 and 22:30-23:00.

Eat
Budget
phone: +45 9843 1360

address: Gammel Skagensvej, 9900 Frederikshavn

phone: +45 9842 1513

address: Tordenskjoldsgade 5, 9900 Frederikshavn

Burger restaurant.

phone: +45 9842 3789

address: Søndergade 133, 9900 Frederikshavn
Mid-range
Splurge
phone: +45 9842 4200

address: Havnepladsen 1, 9900 Frederikshavn

From the top floor of Hotel Jutlandia where the restaurant is located you have a stunning view of the harbor front.

phone: +45 9843 4400

address: Skovallèen 45, 9900 Frederikshavn

A restaurant a few kilometers southeast of the city center, located in Bangsbo. Some of the oldest buildings in Frederikshavn. Seasonal menu prepared with the different ingredients of the season.
Drink
phone: +45 9842 4200

address: Havnepladsen 1, 9900 Frederikshavn

A pub near city center with draft beer, and there are pool tables and darts.

phone: +45 3054 2389

address: Skandiatorv 4, 9900 Frederikshavn

Pub combined with a nightclub for the mature crowd.

phone: +45 2681 5440

address: Søndergade 9, 9900 Frederikshavn

Bar.

phone: +45 4598 4265, +45 2043 7740

address: Havnegade 9B, 9900 Frederikshavn

Bar with live music every weekend.

Fregatten

phone: +45 9842 2066

address: Danmarksgade 45, 9900 Frederikshavn

Bar
Sleep
Budget
Mid-range
Best Western Hotel Herman Bang

phone: +45 9842 2166

address: Tordenskjoldsgade 3, 9900 Frederikshavn

Offers 60 rooms with/without shower. Various rooms available – from business to family rooms suites and apartments. Car park. Color TV. American restaurant. Walking distance of Frederikshavns train station and the harbour, located at the very center of Frederikshavn. Also has spa & wellness. 2 Jan, 22 Dec.

phone: +45 9842 2255

address: Jernbanegade 7, 9900 Frederikshavn

Offers 20 rooms with all comforts. Wireless Internet. Parking. Restaurant/library bar/patio. 300m from the port with ferries to Gothenburg, Oslo and Læsø. 11 Jan-19 Dec.

phone: +45 9843 3233

address: Tordenskjoldsgade 14, 9900 Frederikshavn

Offers 210 rooms, including 12 superior rooms and two top-suites. Rooms with writing desk and telephone, TV with in house movies, ironing board, minibar and free internet in several rooms. 111 family rooms for two adults and two children. 20 meeting and breakout rooms. Sub-tropical water park, fitness room, sauna, table tennis, restaurant, brasserie and nightclub. Free public car park. Free WiFi. From 300 Kr
Splurge
Connect
Internet
phone: +45 9845 9100

address: Parallelvej 16, 9900 Frederikshavn

The library offer free internet access for one hour at a time. Also possible to use printer and copy machine at a cost.

phone: +45 9620 4700

address: Færgehavnsvej 9, 9900 Frederikshavn

Offers everyone having business at the ferry port access to fast and free internet connection. The guests frequenting the port are even provided with an additional service, as the opening page facilitates information about e.g. events taking place in the town, weather forecasts, and timetables for ferry, train and bus.
Go next
There are lots of beautiful nature areas around, easily accessible by car. There are also several smaller cities in Frederikshavn municipality which offers cosy small town feel.
Sæby - Small town with a seaport.
Skagen - Denmark's northernmost town with a thriving tourist industry.
Strandby - Small coastal town 4 km north of Frederikshavn.
Ålbæk - Also a smaller coastal town.
Østervrå
Elling - Small village where the Elling Å stream is and a 13th-century church.
Kilden
Gærum
Dybvad - Quiet small town situated in the south of Frederikshavn. Dybvad hosts an open air music festival in August, called Dybvad Open Air.
Ravnshøj
Jerup - Here State Prison of Kragskovhede is located.
Voerså