Fredonia (New York)
Fredonia
is a small town in
New York's
Southern Tier
, near the shores of Lake Erie.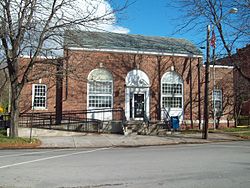 Get in
By car
Fredonia is right off exit 59 on the
New York State Thruway
(I-90), it can also be reached via NYS Route 60 from Jamestown and other parts of Chautauqua County.
By bus
Coach USA (Erie) serves Fredonia with five daily round trips (two on Sunday) to the Buffalo Metropolitan Transportation Center. Bus departs from the Mason Hall traffic circle on the SUNY Fredonia campus, purchase tickets at the main campus box-office in the Williams Center, or when that building is closed, from the driver. At Buffalo, connections can be made to Greyhound, New York Trailways, Megabus.
By plane
Buffalo-Niagara International Airport
(
BUF
) has non-stop, mainline service to many destinations primarily on the east coast, although Southwest has direct flights to Phoenix and Las Vegas. Erie International Airport (ERI) in Northwestern Pennsylvania on the other hand is primarily served by smaller regional carriers. Both are around a 45 minute drive from Fredonia, or from Buffalo you can take NFTA to the Metro Transit Center to grab a bus to Fredonia (see above).
There is also a small airport in the neighboring City of Dunkirk (DKK). There is no scheduled passenger service, but the airport is a viable option for private aviation and charters.

By train
Despite the plethora of rail lines intersecting through Fredonia and Dunkirk, Penn-Central discontinued rail service to Dunkirk in the early 1970s leaving only freight service primarily for the power plant and the City's few remaining factories. Although there are discussions to have Amtrak's existing Lake Shore Limited stop in Dunkirk and the infrastructure (station house and platform) already exist, of 2011 this has yet to materialize. The nearest Amtrak stations are in Buffalo (Buffalo-Depew), with direct service to Boston, Chicago, New York City, Toronto, and many points in between and in Erie, although the latter is unstaffed with the only departures being between midnight and 6AM.

Get around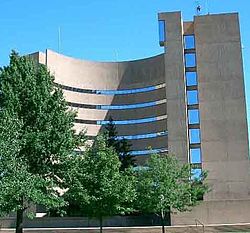 Walk - The Village of Fredonia is fairly compact, and most attractions worth seeing, including the University, are easily walkable.
SUNY Fredonia operates a community shuttle service serving Fredonia. Free if you're a student, faculty or staff member; $0.75 for everybody else.
Several bus lines of CARTS (Chautauqua Area Regional Transit System) do run through Fredonia. They are not city lines, however, and are more useful for reaching some of the more rural areas of the county rather than travelling point to point in Fredonia.
See
State University of New York (Fredonia)
Do
There isn't a whole lot to do in the town of Fredonia, but the university always has concerts, plays, open mic nights, etc.
There is a lot of public land around the neighboring towns that makes for great hiking, not to mention some pretty impressive secluded ponds, gorges, and waterfalls.

Eat
Rocco's Restaurant

phone: +1 716 679-0044

address: 44 Orchard St

Friendly Italian restaurant
Drink
Possibly the only thing to do for people between the ages of 20 and 50, there are over a dozen bars to choose from packed into a couple blocks. Since there are so many bars and such a small population to use them, competing establishments have some ridiculous drink specials to lure the crowds.
BJ's is the main hub for live local music, Fredonia rock bands, Indie, etc. Not to mention specials for every night of the week. Tequila Tuesday (Dollar Shots), Quads on Thursdays (4 shots, 4 dollars), Saturday dollar pints from 3pm-8pm and free hot dogs, as well as dollar well drinks and bottom shelf shots all night long.
Heenan's Pub is a favorite for many locals because it is a traditional Irish Pub. You can find your Irish family crest on a map next to the dart boards. $5 pitchers and friendly bartenders make it a good time for all. If you frequent the bar enough, or if a bartender appreciates your compliments or tips they'll flip you a wooden Heenan's coin that is redeemable for a free drink.
Liberty's is a bar in a residential area. Students hardly ever go near the place, but usually the student bartenders are so happy to see someone their age that they will give you some great deals. Everybody smokes indoors and there is a big room with pool tables/games/etc.
The best place for specialty beers and micro brew, as well as a rooftop patio, live music, and great food. Ellicottville Brewing Company (EBC) is the place to be. They feature many house beers and this is the place to purchase growlers. Bring them back for a cheap refill any time.

Sleep
The White Inn. The place is as old as the town and it is pretty expensive. It is said to be haunted. There is a very classy restaurant and martini bar. This is a great place for wedding receptions, gala events, and celebrations.

Go next