Free State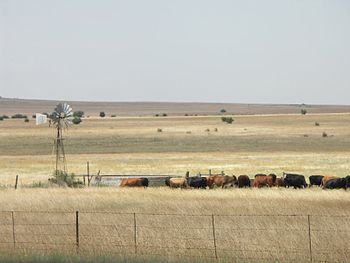 The
Free State Province
is situated in the heartland of the
Karoo
semi-desert of
South Africa
.
Regions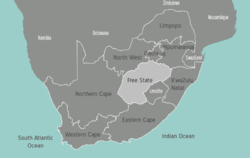 null
Western Free State, also known as the Free State Gold Fields
null
Large portions of this area still show the scars of the Vredefort Dome meteor impact.
null
Eastern portion of the Free State, bordering onto the
Lesotho
highlands to the south.
null
The southern grass plains
Other destinations
National parks
Other nature reserves
, near Caledon
, just outside Theunissen
Gariep Dam Nature Reserve, at Gariep Dam
, close to Fauresmith
, near Bloemhof
Soetdoring Nature Reserve, just outside Bloemfontein
, outside Bethulie
, near Ventersburg
, near Harrismith
, near Harrismith
Understand
The former Oranje-Vrystaat (Orange Free State) was the heartland of the white Afrikaner population and therefore most people in this region speak Afrikaans, although the majority have SeSotho as mother tongue. It was one of the first independent states, before joining the South African Union, and the people here still live up to the Voortrekker traditions of braaing. The rich soil and pleasant climate allow a thriving agricultural industry. With more than 30,000 farms, which produce over 70% of the country's grain, it is known locally as South Africa's breadbasket.
Bloemfontein
is the judicial capital of South Africa, mainly because the founders of the Union of South Africa wanted to unite all people, including the Afrikaner population.
The Free State is an important agricultural area in South Africa, with beef and maize the primary products.
Talk
Afrikaans is still the first language of many, but most will definitely understand and speak English. Be prepared for understanding through the accent.

Get in
Get around
Best by car, as there are little means of public transport and great distances between each of the towns and cities.
The traffic police is very active, especially on the N1 - keep to the speed limit!

See
Do
Stay safe
Always have enough water with you, in case your car has a break down. Tell your last hotel where you are going to and which route you use, especially when going into a less populated and rural area.

Go next