Freiburg
Freiburg im Breisgau
is a major city in
Baden-Württemberg
in southwest
Germany
, situated on the edge of the
Black Forest
(Schwarzwald)
. Picturesquely located on the river Dreisam, in between green mountainsides, it enjoys one of the sunniest and warmest climates among German cities.
Freiburg was founded in 1120 and has been a city of importance ever since, which is reflected in the rich medieval and renaissance architectural heritage of its
Altstadt
. That said, being a university town for centuries, it also has a very forward-looking outlook, and is a centre of sustainable development. There are many solar-energy-related businesses headquartered there, and much of the city, especially the newer quarters, is arranged using cutting-edge sustainable development ideas.
Freiburg is actually closer to
France
and
Switzerland
than most of Germany, being situated at a corner where the borders of the three countries meet. This is reflected by the city sharing its airport with
Basel
in Switzerland and
Mulhouse
in France - the unique EuroAirport whose grounds straddle national borders. Do note that while this is THE Freiburg most probably referred to when the name is invoked, it is actually one of many places sharing that name. When ordering train tickets and similar items online, be careful not to confuse Freiburg (im Breisgau) with Freiburg (an der Elbe) in
Lower Saxony
or
Fribourg
in Switzerland.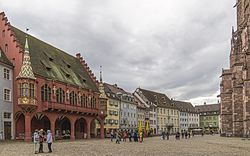 Understand
Lying in a secluded wine-rich corner of
Baden-Württemberg
state in
Germany
, Freiburg is a laid-back, beautiful university city. Known throughout Germany for Albert Ludwig University of Freiburg, good weather, and vineyards, Freiburg is considered by Germans to be a desirable place to live.
Due to its secluded location in the "Dreiländereck" (Three-country corner) and being fairly removed from any other larger German cities, locals will frequently go shopping in France and Switzerland for their respective native products and go to museums and theaters in
Basel
or
Zürich
. One can find a strong local patriotism, which shows itself in the anthem of Baden (the former independent state), which can be heard more often than the national anthem.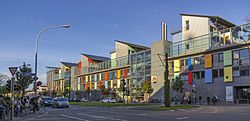 Although Freiburg is not itself a major tourist destination or a large city, it can serve as a relatively inexpensive base from which to explore much of central Europe. Thanks to its excellent connections via rail and road to the outside world, Freiburg can allow you to travel to all of
Switzerland
,
Germany
,
Austria
, the
Low Countries
, and
France
with little trouble and at good prices. If you plan on an extended stay or travel to these destinations, it can be a welcoming base to return to after each segment of your journey, with more than enough to entertain you for a few days while you stay in Freiburg.
Get in
By plane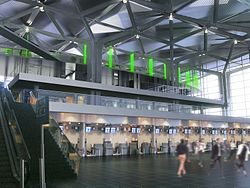 The closest airport with a good selection of international destinations, though much less frequent than the major airports
Frankfurt
(
FRA
) or Zürich (ZRH), is the Euroairport Basel/Mulhouse/Freiburg (EAP, BSL and MLH). Buses run frequently from the airport to Freiburg; see the schedule here.
Baden Airpark , situated between Karlsruhe and Baden-Baden, is another airport close to Freiburg, and has some international flights to various cities operated mainly by Ryanair and Eurowings. It is a short 40 minute train ride to the north of the city, but you will have to connect by bus at the train station, which will add extra time to your journey. You will need to plan ahead to make the trip easier, and Deutsche Bahn's website can give you approximate connection times with bus services. Another possible airport is Stuttgart, which has less convenient train connections but is much closer than Frankfurt.

Many visitors to Freiburg will also arrive via Frankfurt Airport or Zurich Airport, both about a 2-hour train ride away with direct connections from Frankfurt. InterCity Express or ICE trains leave in the direction of Freiburg almost every hour from the Fernbahnhof in Frankfurt Airport. Just follow the signs once you arrive and buy your ticket at the Deutsche Bahn Reisezentrum (DB Travel Center). Most trains travel directly through Freiburg, although a few require a train change in Mannheim. Booking ahead online can shave the train ticket from Frankfurt Airport to 29€ on the special-fare, which requires use of the selected train. If your plane is late, you will have to buy a new ticket. A standard ticket from the DB office at the Fernbahnhof to Freiburg is €62. Most airlines serving Frankfurt will also offer rail&fly which gives you a highly flexible train ticket at rates usually not much higher than the cheapest discount tickets, but the airlines set the prices, so you might pay more or even get it for free.

By train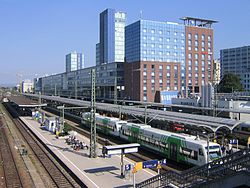 The Freiburg Hauptbahnhof (QFB

)

is situated close to the inner city. Frequent connections run to the north towards Frankfurt and south to Basel, with fast ICE trains leaving in each direction each hour. Again, planning ahead can get cheap fares of 29€ each way. From the Hauptbahnhof, you have direct access to the Tram (Straßenbahn) which runs directly overhead the main station and offers an easy route into the city. The Hauptbahnhof is also within easy walking distance of the inner city and several good hotels. Main direct destinations include:
A single change can bring you to:
Local and regional trains can be good for day trips or for traveling to nearby cities. In the main station ask for the Ländertickets or the Regio-tickets. Such tickets can be used by a group of up to 5 persons in the RB, RE an S-Bahn trains as well as for local transport. They are a much cheaper alternative for a group of travelers going to cities nearby or going for a day trip.

By car
Freiburg is connected to the German highway system via the A5, running along the Rhine Valley from south to north, starting at the Swiss border. It also is accessible through the Black Forest via the B31 (Ost). To France it takes about 30 minutes by car. To Switzerland it is about 40 minutes. Heidelberg is a 1.5 hour car ride to the north, using the A5. Lake Constance is reachable in two hours via the B31.

By bus

Freiburg is served by Flixbus and Eurolines. You will find direct international connections to and from Italy (Milan), Switzerland (Zurich, Berne, Geneva, Basel), France (Paris, Lyon, Strasbourg), Belgium (Brussels), Croatia (Zagreb), Slovenia (Ljubljana, Hungary (Budapest) and Austria (Vienna).

Get around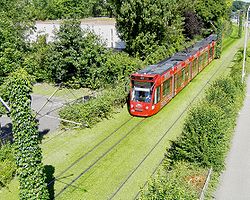 The best way to get around Freiburg is by use of public transit and walking. Freiburg has an excellent, but slightly expensive, bus and tram (Straßenbahn) system. The tram system works all night on weekends and national holidays.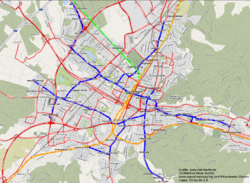 The public transportation network is operated by several companies, but ticketing is unified among the local
RVF
transportation association. Tickets can be used on all buses, trams & local trains in the area. The RVF area is divided into three zones on which the ticket price depends. A single ride is 2.30 € for Zone A (Freiburg city area), 4 € for Zone A/B and 5.70 € for Zones A, B, and C. You can buy a pack of 8 tickets for 16,60 € valid within Zone A from the VAG Pluspunkt shop, located near the Martinstor downtown. In the shop you can also pick up tickets using a point system; 20 points costs 14,70 € and in each direction you will use 3 points in Zone A, 5 points if you cross into Zone B, and 7 points if you cross into Zone C. You will most likely only use the tram and bus systems in Zone A for the majority of your stay. If you come for a short stay or a weekend, buy a
Regio 24
which will give you 24-hour unlimited travel within Zone A for one person for 6,40 € and up to five people for 12,80 €. The
Regio 24
is also available for 2 or 3 zones. These cards will allow you to use all of the public transport within Freiburg, and also take the DB Regio trains that service the greater region free charge. Timetables and tickets can be found on the
VAG Freiburg website
.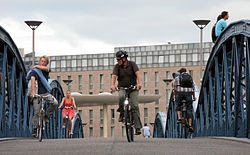 Biking is another convenient way of getting around, and Freiburg's sidewalks and streets have dedicated bike lanes. Many of Freiburg's citizens use their bikes and you can easily get a real feel for the city this way. Bikes can be rented at various shops, the most convenient for tourists being the
Mobile
at the main railway station (Hauptbahnhof). In May 2019 the public bike sharing scheme
"Frelo"
started with 400 bikes at around 50 stations. There are 3 day passes for just 3 € available which allows you to ride the first 30 min for free.
Most of Freiburg's important sights are situated close to each other in the inner city. You can cross the inner city by walking in about 10–15 minutes or by riding the tram. Although passengers are rarely controlled, riding without a valid ticket (Schwarzfahren or "Black riding") incurs a 60€ fine! Passengers without tickets have been witnessed being forcibly restrained and removed from the train. The same applies for regional trains, which are controlled about 25% of the time. Those repeatedly caught without a valid ticket can face court orders, as it is considered a criminal offence.
If you have rented a car or drive to Freiburg, you will be able to quickly access most areas with your car. Be aware that parking is relatively expensive but there are many garages available where you can park and then walk to nearby destinations. The city of Freiburg is a
Low emission zone
(Umweltzone). This means all cars - and yes that includes electric cars - driving in the city need a badge (Feinstaubplakette) indicating their pollution category. In the pedestrian zone bike riders must walk their bikes during daytime on weekdays.
See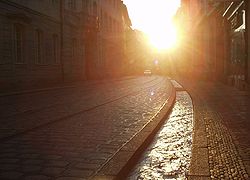 phone: +49 761 208 59 63

address: Münsterplatz 1

The cathedral is Freiburg's biggest sight in the city, one of the oldest and most beautiful in all of Europe. The gargoyles are not to be missed - be sure to study every corner of the Munster. Make the effort to climb to the top of the tower for the fabulous views (1.50€). A guided tour is offered every day at 2 p.m. (5€). Every day in the morning until 1 p.m. Mon-Fri and 1:30 p.m. Saturday, there is a market on the square surrounding the church. Visit on Saturday morning, as it then will be the biggest and nicest. Vendors are pleasant and sell local produce and goods. Buy a Bratwurst mit Brötchen (Bratwurst in a bun) or Currywurst for around 2,20€. It will be an inexpensive, authentic, and delicious lunch or snack. Note: the tower is closed for visits until mid-October 2018 (maintenance works).

Freiburger BächleSmall canals with crisscross the streets of the inner city. These canals were once meant as a way to fight fires in medieval Freiburg. The locals say that if you accidentally fall or step into one, you will marry a Freiburger.

SchwabentorOne of two remaining old city gates. The gate is beautifully decorated, including with a large picture painted by Matthias Schwäri in 1572.
MartinstorThe other old city gate, which is well known locally for the McDonald's next door which has placed its logo on the gate.

Historical Merchants' HallLocated on the square surrounding the Muenster

Altes RathausThe old city hall now contains the tourist information desk

Neues Rathaus

Seepark BetzenhausenA man-made lake and a popular escape from the urban housing estate of Betzenhausen. Complete with beer garden and a restaurant, Seepark is popular with families and those planning a walk around the stunning green-belt area.

Botanic garden– Open daily 8-18 h, Greenhouse: Mo-Thu: 12-16 h, Sun and holidays 14-16 h.
Museum
Augustinermuseum– Opened again in March 2010 with a spectacular new exhibition.

Museum fuer Neue Kunst

Colombischlössle Archaeological Museum

Museum fuer Stadtgeschichte
Do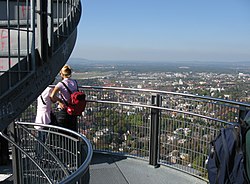 Hike up the SchlossbergOn the way up there is a beautiful square called "Kanonenplatz". The view there is nice, but it is still recommended to struggle a bit more uphill to reach the observation tower called the . It takes about 15 minutes from the old city and offers you an amazing view of the Black Forest, Freiburg, the Kaiserstuhl and the Vosges mountain range in France.
address: Am Schlossberg 1

Another way to get to the top of Schlossberg is to ride this mountain funicular.
SchauinslandTake the Tram 2 then bus 21 to the Schauinsland cable car. At the top great views as far as the Swiss Alps await you. Warning - doesn't run in bad weather. It's also possible to hike up Schauinsland from the start of the Schauinslandbahn Station. But make sure that the weather is forecasted to be good, and allow 3 to 5 hours for the uphill climb, and around 1 to 2 hours for climbing down.
phone: +49 761 243480

address: Gerberau 46

Try the organic house beer at Feierling, an amazing fresh Inselhopf only available there. It's €2,90 for a small glass (0,3 L), and one can also purchase a 2L bottle for €10, which is €5 to fill at any time - you can take it home and bring it back as often as you want. The beer garden is nice in summer, and when the weather is good hundreds of people gather in nearby Augustinerplatz (many with the 2L bottles) to drink and socialize.
Borderline Trail (mountain bike downhill trail)Amongst mountain bikers, Freiburg is famous for being close to the Schwarzwald, but also for its own trails which have been installed and are maintained by an association. The first one starts very near the Rosskopf peak. Further information on the association's website.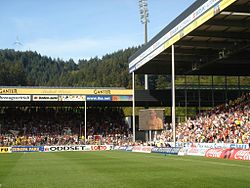 Watch a soccer game of SC Freiburg

phone: +49 761 385510

address: Schwarzwaldstraße 193

Every other weekend there is a game of the local soccer club. It is not easy to get a ticket because the stadium is sold out quickly. Great atmosphere in the stadium with the most scenic surroundings of the Bundesliga.
Learn
The University of Freiburg is one of the most famous German universities. Founded in 1457, it attracts 22,000 students to Freiburg, giving it the flair of a student town. This is a good destination to study in Germany as an exchange student or for language classes. Additionally there are several other schools which contribute to the student image of the city. The biggest of these is the Pädagogische Hochschule Freiburg, located in Littenweiler to the east of the city.
There is also a Goethe-Institut in Freiburg, where foreigners can learn German.

Work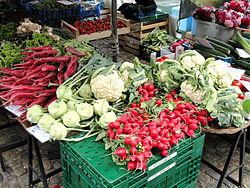 Buy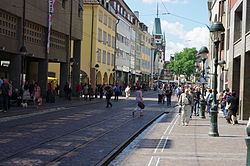 As in most other German cities, the inner city is the place to go shopping. There you will find everything from H&M to shops selling Armani.
Two department stores and several other stores are located on Kaiser-Joseph Straße, with smaller independent shops in the many back-streets and alleyways. Outside of the city centre one can find several large supermarkets, such as Real, E-Center and Kaufland.
The large Farmer's market in the 'Münsterplatz' (Minster square) at the foot of the 'Münster' (Minster cathedral) is where Freiburgers buy their locally produced flowers, fruit and vegetables as well as enjoy a traditional 'wurst' (German sausage) as a snack. Every weekday (until early afternoon) and Saturday morning, the Münsterplatz is a bustling market of commerce.
Grocery stores: Rewe is located at Fahnenbergplatz as well as in the basement of Karstadt at the north end of Kaiser-Josef-Straße. Aldi, in the basement of Schwarzwald City, is among the cheapest. Kaufland to the north of the city on Waldkircher Straße has an impressive range. Treff discount supermarkets are also excellent for the budget-conscious.
Due to the large city centre-based university, many large bookstores can also be found in the heart of Freiburg, selling both new books and second-hand.
The 'Kartoffelmarkt' (potato market), situated close to the 'Stadttheater' (city theatre) has a couple of stalls selling alternative hippie-style clothing, jewellery and accessories every weekday morning.
Eat
Budget
phone: +49 761 33033

address: Schwabentorring 7

This pub/restaurant has seen generations of students drink, eat, dance and flirt. A real institution in the city. Super cheap and delicious German cuisine.

phone: +49 761 281187

address: Eschholzstraße 17

Restaurant famous among students due to its very reasonable prices. It features a daily spaghetti special from 6p.m. to 7:30p.m. (€1.80 a plate).

phone: +49 761 73336

address: Schützenallee 1

Another pub/restaurant popular with students.

address: Grünwälderstraße 4

A very interesting and cheap place to eat. During the day, various small stores from all around the world offer cheap but good dishes. Check out the Indian place. It has good curries.
Three Italian restaurants situated just outside the inner city have acceptable pizza from €2 up. They are called Firenze, Milano and Bella Italia. The once famous Laubfrosch changed its strategy and now is more exclusive.
For fast food, check out the area around the Martinstor (sometimes known as McDonald's-Tor because of the McDonald's sign defacing the historic landmark). In that area, you will also find many other fast food places, ranging from Chinese to Turkish, as well as some cafés.
The Afghan Ecke is a very popular place with locals in Freiburg, located at Siegesdenkmal.
Euphrat located near the university has good Turkish Döner, and an excellent vegetarian selection.
Mensa Drei (Niemenstraße 7) has good currywurst. You can choose how hot (scharf) on a scale of 1-9 (although they will let the adventurous order off the menu too). €5,50 for currywurst, pommes and coke.
Mid-range
phone: +49 761 38388191

address: Adelhauserstraße 29-31a

This restaurant servers organic and vegetarian dishes in a nice location. In the summer you can sit on a calm hidden square next to the ancient monastery Adelhausen.
phone: +49 761 72001

address: Basler Straße 10

A charming, cosy restaurant whose specialty is the potato... imagine it in many wholesome yet creative forms; they are all good. There's a particularly wonderful ambience in winter when it's freezing outside. Prices are fair and service is excellent.

Tacheles

phone: +49 761 3196669

address: Grünwälderstraße 17

Claims to have 300 varieties of schnitzels, which each come with a small salad and choice of side dishes.
Splurge
phone: +49 711 20260

address: Colombistraße 16

Freiburg's only restaurant with a Michelin star.
Other expensive restaurants include the
Greifenegg Schlössle
, situated next to the Kastaniengarten and offering an excellent view over the city to accompany dinner, as well as
Hotel Zum Bären
on Salzstraße and
Enoteca
near Schwabentor.
Drink
phone: +49 761 32728

A beer garden, which lies perched on the slope of the Schlossberg, overlooking both the city and the valley leading into the Black Forest. On nice summer days, this is the best location to relax over a cool beer, and enjoying the views of the Munster, the old city gates and the inner city. Additionally, in good weather conditions you can see as far as the Vosges, a mountain range in France. To get there, head to the Schwabentor, one of the old city gates, then cross the bridge on its left and head up the mountain a bit.
Grace is a stylish bar in the city center, also serving lunch and dinner. Maria is serving for a student clientele nearby.
The Feierling brewery in the heart of the Altstadt close to the Augustiner Kloster has excellent selfmade, organic beer and is famous for it among the locals. In summer it also has an enjoyable beer garden outside. However, for the experience of the beer garden, go to the Kastaniengarten. For good beer, Feierling is the best option.
Drifters is a nice location for House music. It is situated in the same building as the club Cräsh, a hang out for alternative people, which turned from a more punk into a metal place.
Waldsee is a nice location a bit out of the way. It features "Rootdown" once a month and "Montage", both nice clubs for electronic music. It is excellent during the summer months, as the location offers open space next to a lake. Wonderful menu for warm snacks too.

JazzhausIs one of Freiburg's most popular spots, featuring the best in live music, both international and local. There is something to suit everyone, from classical to reggae to cabaret. The regular theme nights are also a hit: "Funky Dance Night" and "Sister Zone" (women only) are favorites, not to mention the 60s, 80s and 90s nights.

The Strandcafe is a cafe run by the on-profit association "Zusammen Leben e.V.". From Tuesday till Thursday its open from 11 am till 9 pm. It's located in the "Grether"-Area , an alternative living-and working project close to the inner city. Its much cheaper then other bars in Freiburg and there is no obligation to consume. Very calm.
The StuSie is the bar of the student village located at tram stop "Am Bischofskreuz". Cheap and good Beer, Cocktails... Shot-night every Wednesday and decent breakfast on Sundays. Many international students. They have started checking IDs at the door, you must be a student with a valid student ID card (ISIC or Albert-Ludwigs Universitaet) to enter.
The KTS is an instituted left-wing autonomous center in the south of the city. Many concerts, parties, meetings, political organisations...
In the summer check out the Sternwaldwiese, an area in the Wiehre, where many people make campfires and party all night. Bring your own beer and watch your backpack. Another good place to meet local folk is the Augustinerplatz located next to the Feierling-brewery. Bring your own beer or buy it from the pubs around.
The Atlantik is a bar everybody should have seen when visiting Freiburg. Food, beer, rock music and people that hang out in this place since 20 years. Located behind the Schwabentor.
The Mu-dom Bar is a student-run bar in the neighborhood of Stühlinger. Located in the basement of a former hospital, the space once served as a morgue. Cheap prices and international folk. They have started checking IDs at the door, you must be a student with a valid student ID card (ISIC or Albert-Ludwigs Universitaet) to enter.

O'Kelly'sIs a good Irish pub in Freiburg and is actually the first Irish pub to open in Freiburg in 1990. Is at Milchstraße 1, right behind the Theater Freiburg and the University Library (UB1). O'Kelly's is a cozy, typically Irish pub with low ceilings, a warm atmosphere, and fresh, homemade Irish and German food. Live music can be enjoyed F-Sa evenings and all major sporting events are shown on the big screens, from Irish TV and German TV. Every M night at 9PM there is the O'Kelly's Pub Quiz, run by Moe, that includes a multimedia round on the big screens. Teams come back week after week and fight hard to win free booze. They also show NFL and NCAA games on Saturdays and Sundays.

El Bolero and Cafehaus both have a lovely and secluded outdoor seating area which is popular in the summer, located just off of Martinstor at the Holzmarkt.
Cohibar, located next to the University Library (Stadttheater stop) has the best cocktails in town, with (limited) outdoor seating in the summer.
Sleep
Budget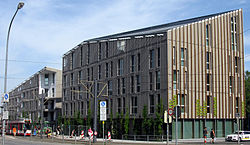 Mid-range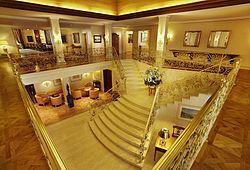 Splurge
Cope
Religious services
Holy Mass takes place in various Catholic churches in the city center:
Münster Unserer Lieben Frau, Münsterplatz (800 m from central station). Sun: 07:00, 08:30, 10:00, 11:45, 20:00; Mon-Sat: 07:00, 08:00, 18:30; Wed, Sat: also 09:00
St. Martin, Rathausplatz (600 m from central station). Sat: 18:00; Sun: 07:30, 09:30, 11:15; Tue-Sat: 07:00; Mon, Tue, Fri, Sat: 09:00
Herz Jesu, Stühlinger Kirchplatz (back-side of the Omnibusbahnhof). Sat: 19:00; Sun: 09:30 (Croat.), 11:00; Tue: 09:45; Fri: 18:30
Tourist Information
Freiburg has its very own Tourist Information Office. They can provide maps and hotel booking information. Opening hours for the Tourist Information office are:
June - September (Monday-Friday 10a.m.- 8p.m., Saturday 10a.m.- 5.30p.m., Sunday and Holidays 10a.m.- noon)
October - May (Monday-Friday 10a.m.- 6p.m., Saturday 10a.m.- 2.30p.m., Sunday and Holidays 10a.m.- noon)
Stay safe
There is not much to worry about in Freiburg. However, always take the same precautions as you do traveling anywhere else. No need to provoke a pickpocket. However, one should avoid the banks of the Dreisam at night. One should also avoid at night the area near the tram stop Runzmattenweg which is between the main street train station and the Bissierstraße tram stop. It is locally known to be a common spot for muggings of international students.

Go next
Staufen: With its castle ruin and nice old city, Staufen is a pretty, small German town. Note that the devil took the real-life Faust (known from Goethe's Faust) in one of the local hotels. So watch out for any weird guys with horns. Staufen lies about 20 minutes by car or ~25 minutes by train south of Freiburg.
Vogtsbauernhof: By car (B33 trunk road from Offenburg in the direction of Villingen-Schwenningen or vice versa) or by rail (the Black-Forest route from Offenburg in the direction of Konstanz or vice versa to Hausach station, then 30 minutes on foot) a beautiful outdoor farm life museum, demonstrating 400 years of Black Forest domestic life.
Hike in the Kaiserstuhl, it's lovely. Go and check a so-called Straußenwirtschaft (a bar where the wine growers offer their wine & food).
Take a boat-tour in the Taubergießen a floodplain wetland close to the Rhine.
Colmar: Situated across the border in France, Colmar is a beautiful small city. Many locals from Freiburg like to take visitors there for a quick taste of France, as it is only about 1 hour by car. The local VCD gathers information about public transport connections into the Alsace. In the summer, take the back roads for glorious views of sunflower fields.
Alsatian villages: gorgeous, unspoilt villages in the Alsatian wine region: Riquewihr, Ribeauville, Haut Königsberg.
The Black Forest: Go hiking or skiing or biking. Just go.
Titisee, a touristy Black-Forest town, lying in the margins of the lake Titisee.
Schluchsee, a bigger and less-known lake in the Black Forest. To get there take a Regional Bahn Train from Freiburg Main Station (Hbf) towards Seebrugg. This train travels normally once an hour, and the trip takes around one hour.
Take one of the wonderful Black-Forest tracks like Feldberg or Schauinsland. The nearest train station to Feldberg is Hinterzarten. Schauinsland can be reached by local buses traveling from Freiburg in the direction of Günterstal.
Take the Aerial tramway of Schauinsland, which travels for 3.6 km over the Black Forest, reaching a place with a very nice panorama.
During the summer months there are 'Weinfeste' in many towns celebrating their wine.