Freising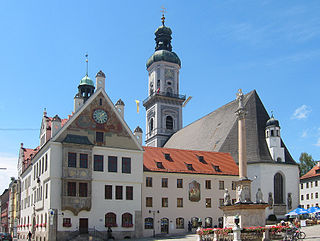 Freising
is a city in
Bavaria
, 40km (25 mi) North of
Munich
. Freising is known as the historical center of the Catholic Church in Bavaria and as the location of the world's oldest continuously operating brewery. The campus of Munich University located in Freising offers the world's only regular university course for brewery, including post graduate research into chemistry and biology of beer brewing. Due to the faculties large international undergraduate and post graduate student body, most master brewers in the world's major breweries have a professional or educational relationship to Freising. Freising is the closest place of touristic interest to
Munich Airport
.
Understand
Though archaeological finds show that the area was settled since the Bronze Age, there is no evidence that there was continuous settlement until the 8th century, when Saint Corbinian settled at a shrine on
Weihenstephan
hill in 724. Corbinian was a forerunner during the christianization of Southern Germany and first bishop of Freising. Freising quickly became an important town and religious center in Bavaria, and therefore emperor Otto III granted the settlement city rights in 996. The town's significance declined sharply, though, after Duke Henry the Lion destroyed Freisings Isar bridges and salt works in 1158 to boost his own Isar crossing in Munich, which by the time was a mere toll station. However, the prince-bishopric of Freising kept its independence and stayed the religious center of Bavaria until the beginning of the 19th century, when it was politically merged with Bavaria.
During World War II Freising was only of minor importance and as it housed a military hospital for foreign officers was therefore considered safe from attacks. The only major air raid was conducted shortly before the end of the war on 18.04.1945 targeting the cities station and a vehicle factory. On 29.04.1945 Freising surrendered to the approaching American troops (after a brief artillery bombardment), though the retreating SS managed to blow up the cities main bridge in an attempt to delay the American advance.
Freisings economical resurgence and major growth began with the planning and construction of
Munich Airport
, which was opened in 1992 bordering the city. Today Freising is economically healthy, with one of the highest residency growth rates and lowest unemployment rates in Germany. The cities university, which is part of the Technical University Munich, is renowned in the field of life science, agriculture, and brewing technology. The cities most well known institution, is the
Weihenstephan brewery
, founded in 1040 and therefore is considered the worlds oldest continuously operating brewery.
Get in
Freising is the closest town to Munich airport allowing for a quick visit during a 3h stopover. For a visit to downtown Munich a 5-6h stopover is required.
By plane
The city is easily reachable by plane via
Regional bus 635
connects the airport to the city.
By Taxi
Freising is a 15min/25€ Taxi ride from Munich airport.
By train
Freising is part of Greater Munich's public transportation network MVV. Regional trains, S-Bahn, buses and Munich U-Bahn and tram are all part of the same ticketing network and system and you can transfer between all modes during the validity of your ticket.
Freising stationFreising station is a major stop on the regional train line from Munich to Landshut and Regensburg. Virtually every train along that line stops in Freising, with the major benefit of a much faster speed, compared to the S-Bahn. The suburban train (S-Bahn) S1 leaves Munich Central Station every 20 min and needs approx. 45 min to reach Freising. Be aware that the S1 train is split before it reaches Freising and one half is going to the airport, so make sure you are in the right part.
By car
Freising is well connected to the German autobahn network. The city has three exits -
(5) Freising-Süd
,
(7) Freising-Mitte
,
(8) Freising-Ost
- along autobahn
A 92
from Munich to Landshut and
Deggendorf
in west-eastern direction, and one exit -
(67) Allershausen
- along autobahn
A 9
from Munich to
Nuremberg
and
Berlin
in south-northern direction.
By bicycle
The
Isarradweg long-distance cycling route
runs from
Bavarian Alps
to the
Danube
along the river
Isar
through the city.
Get around

Due to the relatively compact size of the city, Freising is easily navigable on foot, whereas parking is scarce and going by car therefore not a real option. For those refusing any exercise or physically unable to walk the city provides a bus system, which is also part of Munich's fare system MVV.

See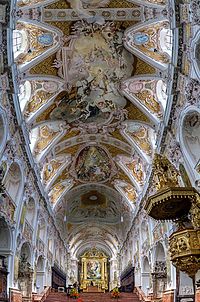 Do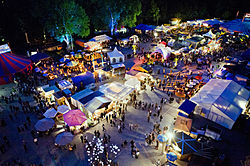 phone: +49 8161 4920494

address: Luitpoldstraße 1

Uferlos is a culture and music festival with performances, a market for handicraft and art, and food stalls.

phone: +49 8161 498745

address: Bachstraße 17

PLUS is a neat music festival at small lake outside Freising. The line-up is made up of mostly local and German bands.
Buy
phone: +49 941 89964140

address: Weinmiller Straße 5

Here you can buy everything for your daily needs. There is also a pharmacy and a hairdresser.
Eat
phone: +49 8161 13004

address: Weihenstephaner Berg 10

The Bräustüberl is next to the premises of the Weihenstephaner brewery on top of a steep hill. The restaurants serves traditional Bavarian cuisine. They also have a beer garden, where you are allowed to bring your own food, and just have to buy the drinks.

phone: +49 8161 6010

address: Lankesbergstraße 5

Hofbräuhauskeller is part of Hofbräuhaus Freising and located right behind the Baroque Revival brewery. The restaurant serves Bavarian food and also has a beer garden, where you can bring your own food.

phone: +49 8161 548686

address: General-von-Nagel-Straße 5

Every bigger town in Bavaria needs its own wheat beer (Weißbier) brewery and this used to be Freising's, before the brewery was baught by Hofbräuhaus Freising. The restaurant in the city center serves traditional Bavarian food and has also has a beer garden.
Drink
phone: +49 8161 7079

address: Vöttinger Straße 2a

The speciatlity of this students pub is the huge selection of beers - they generally serve more than 40 different varieties of regional beers, plus changing specials. The homemade pizza goes well with the hoppy beverages.

phone: +49 8161 919191

address: Marienplatz 2

The place is a Cuban themed cocktail bar at Marienplatz, the very center of the city.

Carlitos

phone: +49 8161 4923523

address: Obere Hauptstraße 64

Carlitos is a small cozy pub with fair prizes, that is always well-frequented.
Sleep
phone: +49 8161 538300

address: Untere Hauptstraße 3

The hotel is located in an historic town building in the center and has 70 room.
Connect
Wifi Hotspot

address: Untere & Obere Hauptstraße

In the city center along Untere Hauptstraße and Ober Hauptstraße there is a free-of-charge wifi hotspot. Without prior registration everybody has 30 min free internet and data transmission.
Go next