Fremont
Fremont
is a suburban city in the southern part of the East Bay of the San Francisco
Bay Area
; it is the 4th largest city in the Bay Area by population. Fremont is in the southern part of
Alameda County
, California, between
Union City
to the north,
Sunol
and the hills to the east,
Milpitas
and
Santa Clara County
to the south, and the San Francisco Bay to the west. The city of
Newark
, near the edge of the Bay, is surrounded by the city of Fremont.
Fremont industry is not particularly large relative to other parts of the Bay Area, but neither is it a bedroom community. Many people in Fremont work locally in the electronics and high-tech industry, while many others commute to Silicon Valley or San Francisco locations for work. Fremont, however, is growing again and attracting more and larger businesses; for example, Tesla Motors has taken over the former NUMMI factory owned by Toyota and General Motors.
The city is home to one of California's original "Hollywoods", the Niles district where many of Charlie Chaplin and other silent movie era stars established their careers. It is also home to one of California's missions, and many other interesting destinations.
The City of Fremont is named after Civil War general John C. Fremont, who prior to the war in the mid-1840s had mapped a trail through Mission Pass to provide access for American settlers into the southeastern San Francisco Bay Area. John Fremont was one of California's first senators and went on to be the first U.S. presidential candidate for the Republican Party.
Understand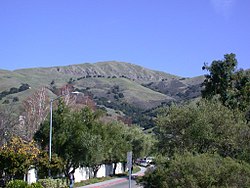 Unlike most sprawling suburbs, Fremont was planned and designed to be the way it is.
In the 1950s, fearing that they would be annexed by the growing city of
Hayward
to the north, eight very small towns decided to unite to avoid annexation. Two towns (Alvarado and Decoto) closest to
Hayward quickly incorporated into Union City. The six remaining towns got together and extensively planned how things would be. Space was allocated for industry and for homes. Space for roads large enough to support the massive traffic flows was set aside. One of the small towns (
Newark
) dropped out of the coalition because it was slated to become an industrial zone. The five remaining towns Centerville, Niles, Irvington, Mission San Jose, and Warm Springs, from north to south -- annexed all the surrounding land to form the City of Fremont in 1956.
The oldest of the small towns was Mission San José, named for a Spanish mission founded in 1797. When this Mission was founded it was named "La Mision del Gloriosisimo Patriarch San José" in honor of St. Joseph. It is sometimes incorrectly called the Mission San José de Guadalupe, after "El Pueblo de San José de Guadalupe" founded (1777) 20 miles south near the Guadalupe River, which became the present day city of San Jose.
Fremont has been multicultural since its inception, and is home to dozens of immigrant communities and a broad range of ethnicities. Today's visitor is likely to hear half a dozen languages spoken even during a fleeting trip through the city. It is said that the largest population of Afghanis outside Afghanistan live in Fremont, and it also has a large and growing south Asian community as well.
Because of their entangled history and their present sprawl that makes them blend into one another, the three cities—Fremont, Newark, and Union City—are sometimes called the Tri-Cities.
Get in
By plane
Oakland Airport (OAK

) is about 20–40 minutes away by car via I-880 depending on the time of day. Rush hour traffic will almost certainly take 30–40 minutes, but most other times it is a very quick 15-20 minute drive. Or, you can take a shuttle from the airport to BART—the Bay Area's rapid transit system—which runs directly to Fremont.

San Jose Airport (SJC

) is about half an hour away via I-880 or I-680. During commute hours the traffic can be horrific along the 880, but 680 is often faster.

San Francisco International Airport (SFO

) is about 45–60 minutes away via US101 and SR84 (the Dumbarton Bridge), or via 101 to 84 to US92 (the San Mateo Bridge) to 880. This is the most difficult airport to get to and is also has more flight delays than other airports in the area. However, it is one of the largest and busiest airports in the world, so there are likely to be more airlines and more flight options going into and out of SFO. Avoid SFO if you can get a flight direct to Oakland or San Jose instead. There is a BART station in SFO which can take you to Fremont in about an hour and a half.
By car
From Oakland and Berkeley, take I-880 south
From San Jose, take I-880 or I-680 north
From San Francisco and Palo Alto, take US-101 to either US-92 or SR-84 (the Dumbarton Bridge; preferred)
From more eastern parts of the region or the central valley, get to I-680 and head south
By train
address: 2000 BART Way

Bay Area regional train service with its southernmost stop in Warm Springs/South Fremont, opened March 2017, five miles south of the Fremont station. From Warm Springs/South Fremont there are trains north through Oakland, with the Daly City line serving the station before 6PM on weekdays and the Richmond line serving the station after 6PM on weekdays and all day on weekend. By changing trains it is also possible to go inland all the way to Dublin/Pleasanton (changing at Bay Fair station), continue beyond Daly City to Millbrae, passing San Francisco International Airport (SFO) on the way, go to the Oakland Airport (OAK), and to destinations on the Pittsburg/Bay Point line. Passenger service south to the Milpitas and Berryessa stations in Santa Clara County is projected to start in 2019, and the second phase of the Silicon Valley extension will serve downtown San Jose and Santa Clara when complete.

address: 37260 Fremont Blvd

The Capitol Corridor is an Amtrak route from downtown Sacramento to downtown San Jose passing through Fremont's Centerville district. From this line, you can transfer to BART at the Oakland Colliseum, or connect to long distance trains at the Emeryville depot. There are also bus links to the western outskirts of Oakland and Berkeley, and a short bus ride to downtown San Jose.

Altamont Commuter Express (ACE)

address: 37260 Fremont Blvd

The ACE train connects towns east of Fremont (Stockton, Tracy, Livermore, Pleasanton) with the Silicon Valley (Santa Clara, San Jose). This train runs only from the east four times a day during the morning commute and back to the east four times a day during the afternoon/evening commute.
By bus
Valley Transit AuthorityLine 180/181 bus runs from downtown San Jose to Fremont BART station, including service on weekends and holidays.

AC TransitThe U line runs from Stanford University to the Fremont BART station, and the Dumbarton Express (DB line) runs from Palo Alto through Ardenwood to the Union City BART station, but only during weekday commute hours.
Get around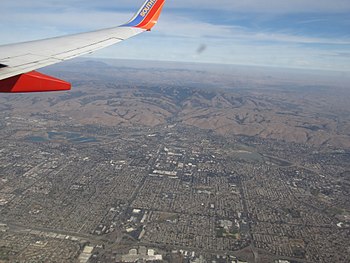 The geography of city of Fremont and its street system is defined by the bay to the west and the hills to the east. Mission Blvd runs along the hills and most streets more or less perpendicular to it have address numbers increasing as you move away from Mission Blvd. Most streets running more or less parallel to the hills have address numbers in the five digits in Fremont, increasing as you move further south (e.g., 40000 is near Stevenson Blvd and represents roughly the 400th block from Lake Merritt, Oakland). Locals call streets running parallel to the hills north-south streets, although they are more like northwest-southeast.
Fremont Blvd is the main street running more of less parallel to the hills, cutting straight through the middle of the city of Fremont, making a turn at Irvington. In the middle part of city of Fremont, the major streets are on a grid, with Fremont Blvd and Blacow Rd one mile apart. Perpendicular to them, Central Ave, Mowry Ave, and Stevenson Blvd are also one mile apart, on the bay side of Fremont Blvd.
By car
Driving is the preferred method for getting around. Fremont streets are usually easy to navigate as difficult intersections were re-engineered for efficiency several decades ago, though some corridors such as Mission Blvd remain moderately congested.
The major freeways through Fremont are the bayside Nimitz (I-880) and the inland I-680. Although the two freeways are only a mile apart in Fremont-Warm Springs, they do not intersect. Motorists will find travel to be very slow during commute hours in the unfavorable direction; especially so on I-880.
Mission Blvd crosses I-680 twice at Exits 16 and 12. Locals sometimes refer to Exit 16 as "North Mission" and Exit 12 as "South Mission." Fremont Blvd crosses I-880 twice at Exit 22 and Exit 13. The locals call Exit 22 "North Fremont" and Exit 13 "South Fremont." So if someone tells you to take the "Fremont Blvd" exit or the "Mission Blvd" exit, make sure you know which one they're talking about. The exit number increases as you move north.
By bike
Bike lanes are present on many major roads in Fremont. For maximum safety, avoid
the large roads that lead to the freeway since they are the most congested, and your
bike isn't going to go on the freeway anyway, is it?
The city of Fremont publishes
information for bicyclists
including a detailed map. Print copies of the map are available at various bicycle shops.
By bus
The
AC Transit bus system
serves the city of Fremont as well as other cities in the East Bay. Bus routes and schedules are designed for the daily commuter, not the casual traveler. In the middle of the day, buses may run as infrequently as once per hour, so be sure you have an up-to-date bus schedule and know when your bus is coming. The Fremont BART station serves as a bus terminal for transferring between the various bus routes.
By taxi
Taxis are not common in Fremont, and you will not be able to 'flag one down' while making your way about town. The only taxi stand of note is the one at the Fremont BART Station, where typically several taxis are lined up in a queue. There are many taxi companies that service the area, however you will not find many driving the streets all day. If you need to travel by taxi, plan ahead of time and schedule a taxi with one of the companies serving the area.
See
Attractions
address: 34600 Ardenwood Blvd

Ardenwood is a 200-acre working farm founded in 19th century and was the home of gold miner and sharecropper George Patterson. On Thursdays through Sundays, park staff and volunteers dress in Victorian costumes and demonstrate farm chores. Visitors can help with the crops, visit the farm animals, ride a hay wagon or horse-drawn train, and observe a blacksmith at work.

Fremont Central Park and Lake Elizabeth

phone: +1 510 790-5541

address: 40000 Paseo Padre Parkway

Huge park south of the Fremont BART station (bounded by Paseo Padre Pkwy, Stevenson Blvd, and the Union Pacific Railroad) with paved trails around Lake Elizabeth and with Mission Peak as backdrop. Great for a picnic, kite-flying or exercise. Aqua Adventure water park anchors the south side of the park (off Paseo Padre near Grimmer). Moving north on Paseo Padre, one finds the Community, Senior, and Visitor Centers, respectively. Boat rentals available at the Boathouse near the Visitor Center. Along the Stevenson Blvd edge of the park are the Fremont Main Library and Police Department. The north side of the park supports 6 softball fields, 10 soccer/football fields, and 18 tennis courts.

Don Edwards San Francisco Bay National Wildlife Refuge

phone: +1 510 792-0222

The baylands around the south end of the San Francisco Bay have been turned into a federally-regulated Wildlife Refuge. A new small visitor center at the Fremont headquarters on Marshlands Road provides information about and maps of the Refuge bayland trails and hilltop lookout. These marshlands are also home to Drawbridge, California, a long-abandoned ghost town along the railroad lines into the area, however current safety regulations imposed by the refuge prohibit entering the area.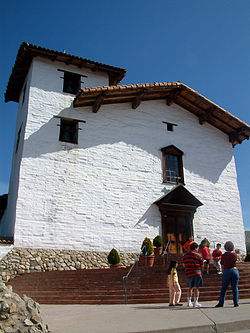 phone: +1 510 657-1797 ext 100

address: 43300 Mission Blvd

This mission founded in 1797 by Fermin Lasuen as the 14th California mission. The original 1809 adobe church (which served as a saloon and general store during secularization) was destroyed by an 1868 earthquake along the Hayward fault. The current mission building underwent a four-year reconstruction project to produce a modern replica of the 1809 adobe church with 4'-5' steel-reinforced walls and was dedicated in 1985 for daily Mass and tours. The only surviving building from the Spanish period is a monastery, which serves as a small museum of seven rooms that houses a collection of artifacts, vestments, and memorabilia. The small cemetery holds the graves of many prominent Spanish and American settlers.

Sunol Water TempleAll tourists will want to see some of California's infamous waterworks and the surprisingly attractive Water Temple is the closest exemplar.
Performing arts
phone: +1 510 683-9218

4000-B Bay Street. A stage company that performs five plays every year in a very intimate setting. Expect well-performed, offbeat plays. They also hold dinner mystery theaters, and plays by local writers.

phone: +1 510 797-2000

address: 39160 Paseo Padre Parkway

Shows Bollywood films produced on the other side of the globe, most with English subtitles. The concession offers good-quality snacks like pakoras and samosas.

phone: +1 510 494-1411

address: 37395 Niles Blvd

Showcases silent films, many which were produced locally and are now shown with their original accuracy. Films are shown Friday and Saturday nights for a small fee, and fine homemade snacks are served. The theater also has an attached museum exhibiting the Niles district's deep roots in California's burgeoning film industry of the early to mid 1900s.
Do
Buy
Asian supermarketsThe cheapest way for Americans to travel to the Pacific Rim is to visit one of these stores, which are full of exotica but also a great place to buy Asian cookware or pick up healthy take-out food.
:
99 Ranch Market
phone: +1 510 791-8899
address: 34444 Fremont Blvd
One of the first 99 Ranch in the East Bay (opened in 1995) with a great hot deli takeout.
:
Maiwand Market
phone: +1 510 796-7090
address: 37235 Fremont Blvd
Afghan grocery store, bakery, and butcher shop.
:
Marina Food
phone: +1 510 249-9199
address: 46196 Warm Springs Blvd
In the Fremont Times Square shopping center, this supermarket is the fourth Marina Food and the most modern.
:
99 Ranch Market Fremont Mission
phone: +1 510 659-8899
address: 46881 Warm Springs Blvd
Eat
Many restaurants cater to Fremont's large immigrant community. Chinese, Vietnamese, Indian, and Afghani food are very common.
The local blog:
Fremont foodie
reports on the city's gastronomic offerings.
Aberdeen Cafe

phone: +1 510 659-0888

address: 46831 Warm Springs Blvd

Hong Kong cuisine in Fremont, located in the shopping center anchored by 99 Ranch Market Fremont Mission.

Asian Pearl

phone: +1 510 979-1368

address: 43635 Boscell Rd

Large restaurant quite popular for expensive (from $300 to over $1000 per table) Chinese banquets. Serves also wide array of Chinese dishes and great dim sum. Suitable for special occasions.

phone: +1 510 796-3408

address: 3954 Mowry Ave

A good cheap bay area Indian "fast-food" chain that serves wraps, kebobs and curries.

Country Way

phone: +1 510 797-3188

address: 5325 Mowry Ave

This restaurant is of notoriety for Fremont residents. Ask anybody and they will tell you that this place has the best, most filling meals. Especially for breakfast.

De Afghanan

phone: +1 510 745-9599

address: 37405 Fremont Blvd

Across the street from Salang, and not quite as good.

Dino's Family Restaurant

phone: +1 510 792-6533

address: 36930 Fremont Blvd

Be sure not to confuse this with Dina's Family Restaurant on 40800 Fremont Blvd. Dino's is a charming "mom & pop" American food diner: complete with friendly staff, plentiful portions, and very reasonable prices. Don't be surprised when you're called "dear" or "sweetheart," here.

Food Talk Cafe

phone: +1 510 668-0898

address: 43755 Boscell Rd

Good Taiwanese-Cantonese food served in a small modern cafe setting with black tabletops, white china, silvery chop sticks, and soft lighting.

phone: +1 510 668-1333

address: 40460 Albrae St

A fine place for dim sum on weekends from about 10AM-2PM. Not recommended for regular meals.

phone: +1 510 659-9034

address: 3906 Washington Blvd

"The Flavor of Lebanon." A small and noisy neighborhood place with tasty food.

phone: +1 510 657-0683

address: 47966 Warm Springs Blvd

Szechuan and Mandarin cuisine in a very stylish contemporary setting. Ho Chow uses fresh ingredients and no added monosodium glutamate. The wine list has fine wines from California and France. Lunch entrees are inexpensive. Dinner entrees are carefully planned and spiced creations. Check their website for menus.

phone: +1 510 795-2888

address: 39226 Argonaut Way

The best cheap fast and filling Asian noodle dishes in town. Order at table and pay at the cashier by giving the table number.

La Casita Restaurant

phone: +1 510 657-8602

address: 41420 Fremont Blvd

This restaurant has some of the best Mexican food in town! Try the enchiladas there may be a wait on Fridays.

La Sen Restaurant

phone: +1 510 494-8300

address: 181 Fremont Hub Courtyard

Well presented very good Vietnamese food in the middle courtyard of the Fremont Hub. Specialty dishes include a delicious cubed filet mignon steak rice plate for only $9.

New Yong Kang Seafood Restaurant

phone: +1 510 252-9926

address: 40900 Fremont Blvd

Surprisingly, Fremont is home to an award winning restaurant: the New Yong Kang. The Chinese food here is probably one of the best in town, although the atmosphere is not. Order three large dishes for $22.50.

Pho Miss Saigon

phone: +1 510 792-9991

address: 3241 Walnut Ave

Very good Vietnamese cuisine served in one of the largest Vietnamese restaurants in town, with Vietnamese chatter from the kitchen and piped in Western pop music. Inexpensive.

Salang Pass

phone: +1 510 795-9200

address: 37462 Fremont Blvd

An upscale, superb Afghani restaurant with superb kabobs and beautiful decor. Possibly the best Afghani food in the Bay Area. If you're looking for something cheaper, "De Kabob House", across the street, is excellent and has lots of character, but tiny and slow. Just look for the long line of hungry people standing outside a door. No alcohol is served.

phone: +1 510 792-0770

address: 39170 State St

Good Thai food in a nice setting. Special lunch menu M-F 11AM-3PM is good value.

Shalimar

phone: +1 510 494-1919

address: 3325 Walnut Ave

Great Indian/Pakistani food. Always filled with Indian people which is a good sign! Order at the counter. But you might want to get it take-out if you don't want to have to wait for a table.

phone: +1 510 668-1007

address: 40575 Fremont Blvd

Small popular noodle house. Get there early on weekends.

The Vine

address: Niles Blvd

Cuisine: American, Vegetarian, Contemporary, Californian. Family Friendly

phone: +1 510 656-5021

address: 1932 Driscoll Rd

Outstanding sushi and traditional Japanese dishes prepared with flare. Quite possibly Fremont's finest Japanese restaurant. Be prepared to wait during peak hours.
Sleep
The City of Fremont provides
useful maps
on their website, including a downloadable Hotels Map in pdf.
Courtyard Fremont Silicon Valley

phone: +1 510 656-1800

address: 47000 Lakeview Blvd

phone: +1 510 656-2800

address: 46101 Warm Springs Blvd

Fremont Marriott Silicon Valley

phone: +1 510-413-3700

address: 46100 Landing Parkway

This hotel has indoor pool and 24 hour fitness center. The restaurant serves breakfast, lunch and dinner.

phone: +1 510 498-1900

address: 6500 Landing Parkway

Hyatt Place Fremont/Silicon Valley

phone: +1 510 623-6000

address: 3101 West Warren Ave

Free breakfast, 24/7 Gallery Market, and free wifi.

phone: +1 510 445-0808

address: 46200 Landing Parkway

Good free breakfast, free high-speed internet in some rooms, but call the local number to make sure you are really getting one of the right rooms--don't rely on the description when booking on the web.

Lord Bradley's Inn

phone: +1 510 490-0520

address: 43344 Mission Blvd

phone: +1 510 793-4848

address: 34047 Fremont Blvd

This chain is a great cheap place to stay when you're out in the middle of nowhere on a highway. And usually terrible in major cities. Fremont resembles the latter.

Residence Inn Fremont Silicon Valley

phone: +1 510 794-5900

address: 5400 Farwell Pl
Go next