Fremont (Ohio)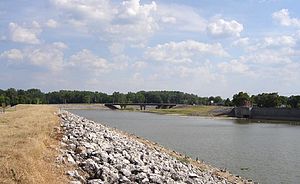 Fremont
is a city in
Ohio Erie shore west
. It is the county seat of
Sandusky County
. Although Fremont has a rich, historic history, today many visitors come to Fremont to wade in and fish the Sandusky River. This is especially true at spawning time, when the river and banks are loaded with fishermen and State Wildlife Inspectors. Fremont is a beautiful city, with well maintained residential neighborhoods. Due to the location, it is a destination for those who enjoy Lake Erie and would prefer to be a bit away from the lake front and the little bit faster pace of life.
Get around
By car
Roads are well maintained, driving is easy and pleasurable.
Perfect setting for motorcycle or bike.
No public transportation.
By boat
If you are trying to access the
Sandusky River
, the only marina between here and Lake Erie can be accessed by the 1st road south of the turnpike on the east side of the road. There are also three public boat ramps to the North along the river before Sandusky Bay.
By Plane
phone: +1 419-332-8037

address: 365 S State Rt 53

A general aviation airport. Offers fueling and maintenance services.
See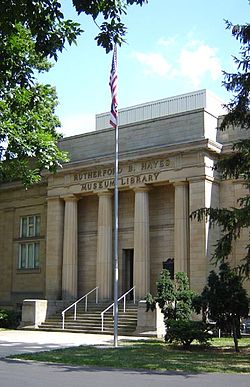 phone: +1 419 332-2081

address: 712 North St

The first American Presidential Library. Rutherford B. Hayes, nineteenth president of the United States and Mrs. Hayes are buried on the grounds at Spiegel Grove. Spans 26 acres, includes his home, his tomb, the Presidential Library and Museum.

Mull Covered BridgeA historic wooden covered bridge constructed in 1851.

Frederick Fabing HouseA historic house built in the second empire style.

Soldiers and McKinley Memorial ParkwaysA historic neighborhood.

Sandusky County Historical Museum

phone: +1 419-332-0303

address: 514 Birchard Ave
Do
The Hayes Presidential Center has numerous events throughout the year, including History Mystery and the Hayes Civil War Encampment on the grounds, in early October of each year.
phone: +1 419-333-0478

address: Sandusky County Fairgrounds

One-third mile Sprint car track.

phone: +1 419 332-1192

address: 2641 East State Street

Bowling alley

North Coast Inland Trail6.5 mile paved hike/bike path.

Birchard Park
Learn
phone: +1 419 334-8400

address: 2830 Napoleon Rd
Buy
phone: +1 419-332-4481

address: 107 N. Ohio Ave

Sells and repairs bicycles. Also sells fitness gear.
Eat
Casa Fiesta

phone: +1 419 332-0811

address: 2455 Hayes Ave

Whitacres Restaurant & Lounge

phone: +1 419-334-2682

address: 3422 North State Rt. 53

The 818 Club

phone: +1 419 334-9122

address: 818 Croghan St
Produce Stands
Outside the city, many farmers sell their own fresh produce at their farms.
Brubaker's Acres

phone: +1 419-986-6391

Potter's Berry Farm

phone: +1 419-332-5890

address: 2275 North CR 239

Rimelspach Produce

phone: +1 419-334-4100

Rimelspach's Red Barn Country Market

phone: +1 419-334-4323

address: 4148 SR 53 North
Drink
phone: +1 419-334-9133

address: 1673 E State St
Sleep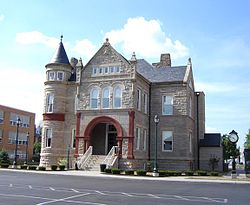 Comfort Inn & Suites

phone: +1 419 355-9300

address: 840 Sean Dr

Days Inn

phone: +1 419-334-9551

address: 3710 North SR 53

Hampton Inn & Suites

phone: +1 419 332-7650

address: 540 East County Rd 89

Holiday Inn

phone: +1 419-334-2682

address: 3422 North SR 53

Travelodge

phone: +1 419 334-9517

address: 1750 Cedar St
Connect
phone: +1 419 334-7101

address: 423 Croghan St

Offers public computers and WiFi
Go next
Green Springs is a small village with mineral springs, one of the largest sulfur springs in the world.