Freycinet National Park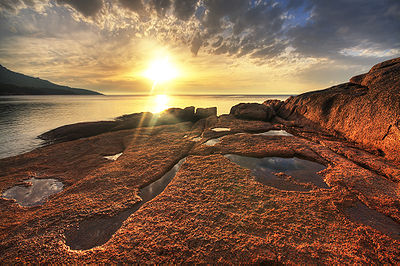 Freycinet National Park
is on the
East Coast
of
Tasmania
.
Freycinet National Park consists of knuckles of granite mountains all but surrounded by azure bays and white sand beaches. The dramatic peaks of the Hazards welcome you as you enter the park.
Freycinet National Park offers a wide variety of activities. Take a walk to the pass overlooking the perfectly shaped Wineglass Bay or try less strenuous activities like beach strolls, swimming or wildlife spotting.
Understand
Freycinet National Park is administered by the
Parks and Wildlife Service
of Tasmania.
History
Freycinet National Park was named after its first European visitor, Louis de Freycinet.
Landscape
Freycinet has stunning scenery - from the peaks of the Hazards of Coles Bay to the wonderful crescent of Wineglass Bay, Freycinet is a fascinating and breathtaking experience - one not to be missed on a visit to Tasmania.
Flora and fauna
You will be sharing the park with wonderful flora and fauna
Feeding of animals in the park is strictly prohibited, and is unhealthy for the animals. Fines will be imposed if you are caught feeding animals. Rangers are on patrol around the park. You can report people feeding animals to the visitor centre.
Climate
The climate in Freycinet is like most of Tasmania - relatively cool all year round. As it is windy, bringing an umbrella is not practical. Be prepared for all kinds of weather.
Get in
By car
Freycinet National Park is 2½-3 hours drive from either
Hobart
or
Launceston
. All roads to Freycinet are sealed, so a 4WD is not needed.
When driving from dusk to dawn, do take care as you are sharing the road with wildlife. Drive cautiously and keep a lookout for wallabies and wombats. An advisory speed limit of 60 km/h applies on the roads to and from the park after dark because of the risk of hitting wildlife.
Fees and permits
You need a permit for all of Tasmania's national parks. They can be bought at the national park visitor centre at the park entrance, and there are several different options from a day pass for just this one national park to a pass that is valid for an entire year and includes all national parks of Tasmania.
The fees are shown below:
Daily Pass: up to 24 hours
Per vehicle (up to 8 people): $22
Per person: $11

Holiday Pass: up to 8 weeks
Per Vehicle (up to 8 people): $56
Per Person: $28


Get around

You can get to the major locations by car or bicycle, but then you will have to walk. There are some tours offered to the park.
However, if you do wish to follow tours or use public transport, find more information at the Parks and Wildlife Services of Tasmania's Freycinet National Park Section.

See
Wineglass Bay has been voted by several travel magazines as one of the top 10 beaches in the world. Located on the south-eastern side of the peninsula, the bay can only be reached by boat or by a 3-hour hike over hills from the car park.
If you do not wish to get to the beach, go to the Wineglass Bay Lookout. It is the same walk as the one which takes you to Wineglass Bay, but it is half the journey. Enjoy spectacular views and take postcard shots from there.
The Hazards These spectacular mountains of pink granite welcome you as you enter the park.
Do
Take the many walks at Freycinet. Be sure to wear proper walking shoes and have a good map. Here is a guide:
Short walks (under 2 hours return):
Sleepy Bay
Little Gravelly Beach
Wineglass Bay Lookout, well formed, well signposted.
Scenic Lookout, Friendly Beaches
Saltwater Lagoon, Friendly Beaches
Medium walks (2-4 hours return):
Long walks (4-8 hours return):
Wineglass Bay/Hazards Beach Circuit
Hazards Beach
Be sure to check the weather before planning the walks. Besides these walks, there are other shorter walks, like 5-10 minute walks which are worth taking. Get more information at the Freycinet Visitor Centre.
Do take scenic drives around Freycinet. Here is a guide:
Cape Tourville: The 6.4-km sealed road to Cape Tourville leaves from the main road just after the Freycinet Lodge. From the carpark, take the short, boardwalked track around the cliffline to the lighthouse. Along this fenced track are sweeping views along the coast.
The Friendly Beaches: Spectacular views and miles of unspoiled white sand beaches are the main features of The Friendly Beaches, which were added to the national park in 1992. The beaches can be reached via a signposted turnoff on the Coles Bay Road. Facilities are being upgraded, which at present are only basic. Gravel roads lead to car parks overlooking the beaches at a couple of points. Some information signs point out interesting features and foot tracks lead to the beaches.
Do participate in water activities at Freycinet. Swim at Wineglass Bay, snorkel and dive at Sleepy Bay and Honeymoon Bay.
address: walk@freycinet.com

The Freycinet Experience Walk is a four-day journey along the Freycinet Peninsula on Tasmania's east coast which combines coastal and mountain walking. The walk will take you along deserted beaches, up pink granite monoliths and through the heart of the rich native heath lands of the Freycinet National park, including the iconic Wineglass Bay. The walk covers between 33 and 37 km depending on which walking option you choose. Regardless of choice you will travel from the southern tip to the north of the Freycinet Peninsula in a continuous journey and the best part is that because this bushwalk is lodge-based you don't have to carry a heavy back pack. No-one except your fellow walkers and the four staff will be at the Friendly Beaches Lodge with you. Stays at the lodge include food and wine.
Buy
Souvenirs can be bought at the Freycinet Visitor Centre. They are rather affordable, and you can find good stuff there.

Eat
Oystercatcher Cafe: Affordable, delicious fresh local seafood and amazing coffee. The Oyster Catcher Cafe can be found at Coles Bay at the town centre, close to the post office and ATM. The best fish and chips in the Freycinet Peninsula.
Drink
There is one pub in Freycinet, the Iluka Tavern in the town of Coles Bay which has a bottle shop as well.

Sleep
It is a popular area over summer so booking in advance is advised. Camping in the park over summer is by application and ballot. There is also accommodation in nearby
Coles Bay
and
Bicheno
.
Big4 Iluka on Freycinet Holiday Park, Coles Bay

address: Coles Bay,

The park is just outside the entrance to Freycinet. In addition to the caravan parks, there are some very comfortable cabins that can be booked. The park is a very short walk away, and is also conveniently located for the local shops. A fantastic base for exploring this incredible area.
Camping
You need a camping permit to camp at Freycinet. For more information, inquire at the Freycinet National Park Visitor Centre.
Stay safe
Bring sufficient water when going for walks. Temperature and weather can change drastically, and should be prepared to be caught in a thunderstorm when just minutes ago it was bright and sunny.
Bring raincoats, energy bars and some candy on the longer walks. Anything can happen and you find yourself stranded. Bring basic first aid equipment - some of the walks in Freycinet involve climbing, and a sprained ankle can cause you to be stranded in the middle of nowhere. However you should be more confident to attempt the Wineglass bay lookout walk, which is well formed, signposted, and popular.
On the road, observe speed limits: 50 km/h on all Tasmanian streets, and 100 km/h on highways unless otherwise signed. Fines are imposed if motorists fail to observe speed limits.
Do not provoke animals, and remember not to feed them.
Go next
Going south - Hobart, capital of Tasmania
Going north - East Coast