Friday Harbor
Friday Harbor
is the main city on
San Juan Island
, the most populous of the
San Juan Islands
. It is also the county seat of San Juan County. Friday Harbor is quite commercially developed, considering its remoteness, and offers more of a laid-back, country club vibe than one of a fishing community.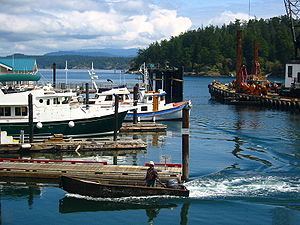 Get in
By ferry
phone: +1 206 464-6400

Allows vehicles, bikes, and walk-on passengers. The schedule is posted on the WSDOT website. It's recommended that you make a reservation. Public transportation options between the ferry terminal and downtown Anacortes and the Amtrak Station in Mount Vernon are available through the Skagit Transit bus system. Connections to downtown Seattle and SeaTac airport are available through the Bellair Airporter shuttle.

Victoria Clipper FerryThe ferry runs during the summer months (Seattle & San Juan). It leaves from Seattle's pier 69, near the Sculpture Park, at 7:45AM, and gets into Friday Harbor at 11:15AM. They recommend checking in in Seattle one hour early. The ferry leaves Friday harbor at 16:30 and gets back to Seattle at 19:15. The ferry is comfortable and offers very scenic views. It is a convenient way for the car-less to get to the San Juans from Seattle.
By sea plane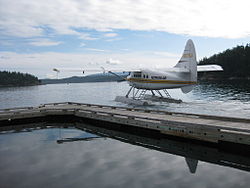 Kenmore AirKenmore Air seaplanes make up to seven flights daily from downtown Seattle's Lake Union to Friday Harbor Marina (as well as to Roche Harbor Marina at the northwest corner of San Juan Island. Kenmore Air Express also offers daily land plane service between Seattle's Boeing Field/King County International Airport () and Friday Harbor Airport (). Complimentary shuttle transfers are available to/from Seattle-Tacoma International Airport () for passengers on either Kenmore Air service. A quick and spectacular, though not cheap, way to arrive.
By plane
Friday Harbor has a well-equipped though modest airport.
Kenmore Air
serves Seattle Boeing Field airport directly (35 minute flight). It is a US Customs Port of Entry, so it can be your first stop from Canada by personal aircraft.
By boat
If you have access to a boat, guest moorage is available in the marina. Friday Harbor is an official U.S. ports-of-entry and can process boaters through customs. The Cardinal Rule is touch land at customs dock before any other stops, fines for not doing so can be up to $5000. Besides a passport for everyone on board, you will need your boat's license number and User Fee Decal number.
Customs enforces USDA guidelines for what foods are acceptable to bring into the country and these guidelines are constantly changing so it is best to check in with them before arriving. Boaters are responsible for knowing the prohibited foods and can be fined for not declaring them.
By bus
phone: +1 360 378-7438

Island Airport runs one trip each day to/from Sea-Tac Airport to two locations on the San Juan Islands including Friday Harbor and Roche Harbor. Ferry boarding is guaranteed and the trip is scheduled to take 3 hours and 45 minutes.
Get around
Everything is within walking distance from the harbor and there are plenty of places to eat and things to do for those arriving by ferry to spend a day or two.
phone: +1 360 378-2794

address: 725 Spring St

A car can be returned at any time on Sunday when the dealership is closed.

phone: +1 360 378-4941

address: 380 Argyle Ave
See
Friday Harbor LaboratoriesFriday Harbor houses one of the oldest and most famous marine research institutions, Friday Harbor Laboratories (or Labs, as it better known to locals). Situated inside University of Washington Biological Reserve (2.5 miles north of Friday Harbor), you will see island raccoons, Tree frogs, Banana slugs, Columbian black-tailed deer, Norway rat, White-footed mouse etc.
The laboratories are located on a 476-acre biological preserve which is open to the public for day-use. Public visitors are asked to check in at the Office before exploring the Preserve and to stay on the well-traveled, wide, fire-access road (the "fire trail"). The shore trail splits from the fire trail and goes along the coastline.
phone: +1-800-946-7227 ext 30
address: 62 1st St
The Sea Shepherd GalleryThe small shop and information center for the Sea Shepherd, the activist ship from Whale Wars and Sharkwater.
San Juan Islands Museum of Art
phone: +1 360 370-5050
address: 540 Spring St
Do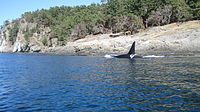 Kayaking — There are several kayaking tour organizers in the town. Typically costs $85 for one day trips up to $150 per day for camping tours.
Washington State Ferries — Watch the majestic Washington state ferries sweeping in and out of Friday Harbor. Produces no waves even at 25 knots speed!
Sea-Planes — Watch the take-off and landing of seaplanes (Kenmore Air)from the south edge of harbor.
Whale watching — West-coast of the island is famous for whale watching. You can get all relevant information in couple of tourist centers.

Orca Whale Watching & Wildlife-San Juan Island, WA

address: 2 spring Street landing

Orca whale watching plus see porpoise, dolphins, eagles, rafts of sea birds and the coastlines of the San Juans.

Adventure Attractions North West

phone: +1 360 378-6545

address: Spring Street at First St

Whale watching, sea kayaking, seeing seeing by seaplane; bike touring; fishing.

Popeye

address: Port of Friday Harbor

Popeye the harbor seal has been coming into Friday Harbor for 24 years. Walk out on the pier past the sea plane reservations and the dumpsters for the moored ships, and head down the ramp. There will be a seafood shop on your left.

Birding
Buy
Friday Harbor Marketplace

phone: +1 360 378-3238

address: 515 Market St

phone: +1 360 378-2638

address: 85 Nichols Street

Friday Harbor's oldest antique store, with eclectic assortment. Fine antiques to funk.
Eat
address: nichols St

Serves Island grown Pacific cuisine with an international flair. Coho's team of talented chefs have created an exciting menu developed around the seasonality of fresh ingredients from the surrounding Islands with menu ideas drawn from the owner's European heritage and her Cookbook, La Cucina Anna Maria: Good Life Recipes from San Juan Island. Each night they showcase simple and artful fare that allows the flavors of the individual ingredients to resonate on the palate.

Vic's Drive In

address: 25 2nd St

since 1958! Basic burger joint, good food at good prices.

Roy's Drive-Thru

phone: +1 360 378-8822

address: 25 Nichols St

Roy's milkshakes are particularly popular.

The Hungry Clam

phone: +1 360 378-3474

address: 205 'A' St

Greasy but good. Delicious fish and chips, and the few taps they have are interesting. $9.99 for two-piece fish and chips.

Spring Street Deli

phone: +1 360 378-5959

address: 135 Spring St

Hot and cold sandwiches and wraps, freshly made to order. Good selection of beer available across the hall at the Spring Street General Market.
Drink
Herb's Tavern

phone: +1 360 378-7076

address: 80 1st St

Dive bar with greasy burgers and beer. Karaoke night is at Wednesday and stories that Free Willy II was filmed at least in part in the tavern.
Sleep