Friedrichshafen
Friedrichshafen
is a city at the northeastern corner of
Lake Constance
(
Bodensee
), near the lake's widest point in the German federal-state of
Baden-Württemberg
. The city has played a vital role in the history of aviation, as this is where Graf Ferdinand von Zeppelin developed and built his famous airships which dominated the skies in the early 20th century, and where similar smaller airships are made to this day. Friedrichshafen features a wealth of aviation-related attractions and museums. It also has one of the longest waterfront promenades along the
Bodensee
.
Understand
This mostly modern city was almost completely rebuilt after bombing in World War II. It also has a nice view of Austria and Switzerland and the alps across the lake on a clear day. In addition, the town's other highlights are three interesting museums and the dome-capped Schlosskirche, the premier remaining reminder of Friedrichshafen's baroque past. Friedrichshafen also was a major player in
aviation history
with the world famous Zeppelin company, that exists to this day and still produces small airships as well as the Dornier company which after several mergers and acquisitions now forms a part of the Airbus company.
Get in
By plane
Bodensee-Airport FriedrichshafenThe city's small international airport. It has direct flights from Toulouse, London-Gatwick (seasonal), Hamburg and Düsseldorf, as well as up to four daily flights to Lufthansa's largest hub, Frankfurt Airport. From the airport's train station (Friedrichshafen Flughafen), there are regular commuter trains to Friedrichshafen, and in the opposite direction to Ravensburg and an hourly service to Ulm. A cab from the airport to downtown will cost between €10-15, depending on where you go.
You can also to fly to
Zürich Airport
(
ZRH
) in Switzerland and take one of the hourly trains to Romanshorn, and then take the ferry across Lake Constance. Since the last ferry during the off-season departs around 19:30 this is not an option for late arrivals. Alternatively take a train to Zurich main station and take Flixbus from there.
Another option is to fly to Allgäu Airport Memmingen (FMM) and taking the train from Memmingen to Friedrichshafen. The train ride takes between 2 and 3 hours.

By bus
The private bus company Flixbus serves Friedrichshafen from Berlin, Munich, Zurich and other large cities. The buses arrive/depart at the square in front of the Friedrichshafen Stadt train terminal.

By car
22 km (14 miles) west of Lindau, 20 km (12 miles) south of Ravensburg.

By ferry
There is a ferry port in the very centre of Friedrichshafen with many frequent services to other ports on Lake Constance shores:
A 45-minute car ferry service links Friedrichshafen to Romanshorn on the Swiss side of the lake. From there, you can board express trains to Swiss cities like Zürich, Lucerne and Berne.
A 40-minute Speedboat (Bodensee Katamaran) (pedestrians and cyclists only) links Friedrichshafen and Konstanz. There is a train station close to where the speedboat docks in Konstanz, where trains from many Swiss destinations, including Basel and Zürich, call.
By train

There is a regular train service from Stuttgart and Ulm to Friedrichshafen. Another train line runs along Lake Constance (though mainly inland and not very scenic) from Lindau via Friedrichshafen to Radolfzell, Schaffhausen and Basel. The main train station is , but there is also a small train station very close to the ferry terminal called Friedrichshafen Hafen. Both train stations are within walking distance of the city center. In summer time, the trains to and from Friedrichshafen might be crowded with groups of cyclists.

Get around

The town of Friedrichshafen covers a fairly large area along the lake side and the hinterland. There is public transportation, including a fairly priced night-bus system, but the best way to get around is by bike or car. During high-season in summer and large exhibitions (e.g. Eurobike or Interboot) roads can get quite crowded and traffic jams getting in and out of Friedrichshafen are frequent. In particular on the B31 (Lindau-Friedrichshafen-Immenstaad-Hagnau-Meersburg-Überlingen).
There are plenty of opportunities to rent bikes in Friedrichshafen.

See
The at the square next to the main station could be a good starting point before venturing to explore the city.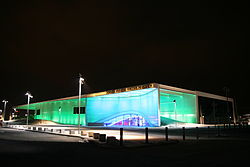 phone: +49 7541 48736 11

address: Claude-Dornier-Platz 1

Everybody can be a pioneer – this is the central message of the Dornier Museum Friedrichshafen. Situated next to Friedrichshafen airport, the museum opened in the summer of 2009, offering a 100 years of aviation and aerospace history as a fascinating experience. The extraordinary architecture accommodates almost 400 exhibits on 5000 m², including 12 original aircraft, 7 exhibits from space travel and a full-size model. Pioneering spirit at your fingertips – for all those who are interested in technology and history, for families as well as all friends of aviation.

phone: +49 7541 32622

address: Friedrichstraße 14

At the Schulmuseum Friedrichshafen (school museum) it's like going back to school. During your visit you will find out how schools developed and what classrooms looked like in 1850, 1900 and 1930. Historic teaching materials and quaint exhibits like old slate pencil boxes, satchels and the big cardboard cones filled with sweets and little presents received on the first day of school, bring back fond memories of long-gone schooldays. On the two seater school bench you can try out writing on slates. Negative aspects of former school life are represented too, for example how discipline and obedience were enforced on pupils by caning, shaming them on a wooden donkey or making them kneel on a three-sided piece of wood.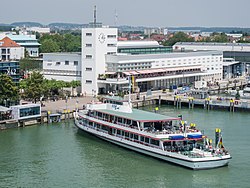 address: Seestraße 22

This museum in the historic harbour station building presents the world's largest collection on the subject of airship history, construction and travel. Under the same roof you can visit an important collection of art dating from the late Middle Ages to the present day. The main attraction is the 33-m-long reconstruction of part of LZ 129 Hindenburg in its original size, which visitors can board just as the original passengers did in the 1930s. The authentically fitted passenger rooms give an impression of how people travelled during the period of the "silver giants". Two entire storeys of the Zeppelin Museum are dedicated to different aspects of Zeppelin history and technology. In addition to the permanent exhibition the museum organizes special events and temporary exhibitions.

phone: +49 7541 21308

address: Schloßstraße 2

The Schlosskirche with its two 55-m-high domed towers made from Rorschach sandstone is the landmark of Friedrichshafen. It was built by Christian Thumb from 1695 to 1701 and belongs to the famous Upper Swabian baroque buildings. Since 1812 it has been a Protestant church. In 1944 it was partly destroyed by air raids, reconstructed from 1947 to 1951 and then given back to the Protestant community.

Viewing tower on the pierA 22-m-high construction which offers good views of the city, palace church and seafront.
Do
Waterfront promenadeWalk along the expansive waterfront from east of the harbour to the Palace Church (in the west).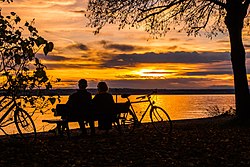 CyclingRent a bike or bring your own and cycle along the lake to Meersburg (in the west) or Lindau (in the east). The cycleway towards Lindau is more enjoyable, since one does not have to stick to the main road. It is also fairly popular to do a tour around the entire lake in one (sportive with shortcuts), two (reasonable), three or more (leisure) days.

CanoeingThere are probably more scenic locations along the lake where you can do canoeing, but there is a canoe rental in Friedrichshafen and they also organise tours on one of the small tributaries into the Lake of Constance.

ClimbingBesides an indoor climbing facility operated by the DAV (Deutscher Alpenverein) for its members and affiliates, there is an adventure park in nearby Immenstaad (about 12 km from Friedrichshafen) that is more geared to families, children or groups on a team building exercise (see map marker).
phone: +49 7541 5900 0

address: Messestraße 132

You can board the Zeppelin airship and get a bird's eye view of the lake and the surrounding area, depending on the tour. Tours last between 30 minutes and 2 hours.

phone: +49 7541 28078

address: Königsweg 11

If you happen to be in Friedrichshafen during the warm period of the year it is worth going to the Strandbad, the local open-air swimming bath.
Buy
address: Meistershofener Straße 14

Relatively large mall with all types of shops.
Eat
phone: +49 7541 6818

address: Friedrichstraße 21

phone: +49 7541 31077

address: Zeppelinstraße 140

phone: +49 7541 4040

address: Poststraße 1-3
Sleep
Go next