Fujinomiya
Fujinomiya
() is a city in
Shizuoka
,
Japan
, on the southwestern slopes of
Mount Fuji
.
Get in
Fujinomiya is on the
JR Minobu Line
, linking
Fuji
on the JR Tokaido Line with
Kofu
on the JR Chuo Line.
There are a few ways to get to Fujinomiya from
Tokyo
, but the fastest method is to use the Tokaido route from Tokyo: to take a Tokaido Shinkansen
Kodama
train to Mishima, and change there for a Shizuoka-bound JR Tokaido Line local train. At Fuji station, you need to change again to the JR Minobu Line for the final run to Fujinomiya. This whole process will take about two hours with good connections at a cost of ¥4710.
Even substituting the
Kodama
journey with Tokaido Line local trains, the trip still takes about three hours from Tokyo if the connections are good, at a cost of ¥2520.
Get around
The best way to get around in Fujinomiya is by bus or taxi - both leave from Fujinomiya station.

See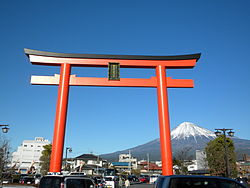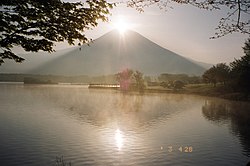 Sengen ShrineWalk straight out from station past 7-Eleven and turn left at stoplight. Walk a few blocks and you will see the big red torii gate on your right.

Shiraito WaterfallsAwesome waterfalls from the water running down from Mt. Fuji. Take bus from Fujinomiya Station at platform 3 to Shiraito no Taki bus stop. About 30 minutes. Plenty of souvenir shops and vendors.

Lake TanukiFamous for its reflection of Mt. Fuji. 4-km path around the lake, good for walking. Can rent a bike. Lots of room for picnic. Camping is available. Take bus from platform 3 at Fujinomiya station, about one hour - buses only leave about once every 2 hours.
Do
Hana no yuTake bus 37 from the station or sengen shrine and get off when you see the big yellow CoCo's sign. Hananoyu is the big building with the floral mural on it. Has a variety of indoor and outdoor baths (including tea baths, wine bath, sulfur bath, bubbly bath, jacuzzi, salt water bath, and more), sauna rooms with tv. Provides shampoo, conditioner, body wash, razors, toothbrushes and more. Free massage chairs and internet access. TV/Nap room - each chair has its own TV with speakers in the headrest. Restaurants, exercise machines, hair salon. Spa treatments available for extra cost.

ParaglidingAt Asagiri heights 40 minutes by bus from Fujinomiya station of JR.
Eat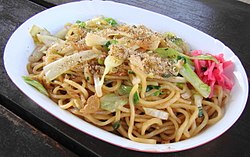 Cafe Pizza OvenGreat pizza and pastas. Owner speaks really good English and is very helpful! Quaint, quiet atmosphere.

YakisobaFujinomiya is famous for it own version of yakisoba(やきそば) check out any of the small shops with the big yakisoba flag outside. Many near the station. Ask for a tourist map at the station. Some will cook on the table right in front of you. One characteristic is the thick, chewy noodles, made in a factory in the city of Marumo. The other characteristic is ground meat, called 'Nikukasu' in Japanese. This yakisoba is one of the pride of Shizuoka.
Go next