Fujisawa
Fujisawa
(藤沢) is a small town near
Kamakura
,
Japan
. It is also the name of the municipality that encompasses Shonandai and
Enoshima
.
Get in
Most visitors arrive to Fujisawa station via the Odakyu line from
Shinjuku
and
Machida
in
Tokyo
, or from
Hakone
to the west. After arriving, they immediately change to the Enoden line and continue onward to
Enoshima
and
Kamakura
.
The Odakyu Line trip from Shinjuku to Fujisawa takes 54 minutes via
Rapid-express
(快速急行) or 66 minutes via
Express
(急行) and costs 570 yen.
The trip to Fujisawa on JR takes about 50 minutes from both Tokyo and Shinjuku. The trip costs 950 yen from both locations, and is a good choice for Japan Rail Pass holders.
Get around
Enoden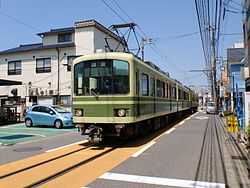 This is a small, scenic train that connects
Kamakura
and Fujisawa station. This train runs along small roads, near the Shichirigahama beach and on roads with cars like a tram.
For any railfans, this train is one of the famous lines in the Kamakura area.
Oddly, you catch the Enoden in the Fujisawa station at the Odakyu department store, but you catch the Odakyu line across the plaza underneath the JR station.
See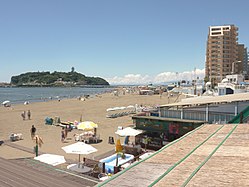 Surf city Enoshima is administratively a part of Fujisawa City and just a short train ride away.
Other beaches are also nearby, including:
Kugenuma beach

Shichirigahama beach
Do
Every year, a festival is held in August. Here, you can challenge kingyo sukui. Kingyo sukui is a game which you scoop goldfish with a paper scoop. In this festival, you can see the largest kingyo sukui in the world. It is even recorded in the guinness book!

Drink
Free Culture

phone: +81 466-26-4880

address: Tatumi Bldg 1F, Fujisawa 556

Expats and locals party at one of the few hot spots in the city.
Sleep
phone: +81 466 41-0213

Near the Shonandai station.This station can fast Enoshima,Shinjuku and Yokohama.Very comfortable.
Go next