Fukui
Fukui
(
福井
) is the capital city of
Fukui prefecture
,
Japan
.
Understand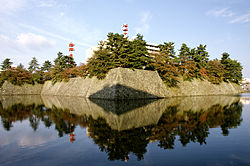 Get in
By plane
The nearest airport to Fukui is in
Komatsu
. Buses connect Komatsu Airport with Komatsu Station for ¥260, from which you can take a Hokuriku Line local train for the 50-minute run to Fukui (¥820).
If coming internationally, the best airport to arrive in is
Kansai International Airport
in
Osaka
. From the Airport, you can reach Fukui by train in about 3½ hours by taking the
Haruka
limited express train to Shin-Osaka, and transferring across the platform to the
Thunderbird
, described below.
By train
Fukui is a major station on the
JR Hokuriku line
, which links
Toyama
with
Maibara
. A connection to the
Kosei Line
at
Tsuruga
provides a direct link to
Kyoto
and
Osaka
.
Fukui is connected to Kyoto and Osaka 1-2 times per hour by the
Thunderbird
train. This train makes the run from Osaka to Fukui in about 1 hr 50 min. From Kyoto, the run takes about 1 hr 20 min. The price for the service is ¥5700 from Osaka and ¥4600 from Kyoto.
The
Shirasagi
limited express also stops at Fukui on runs from
Nagoya
and
Maibara
. From the latter it takes one hour and costs ¥3100.
If coming from
Tokyo
, take the hourly Tokaido Shinkansen
Hikari
service that stops at Maibara station. From Maibara, take the
Shirasagi
to Fukui (3½ hours, ¥14000).
There is no charge for the above services with the Japan Rail Pass.
By bus
The
Dream Fukui
overnight bus service runs from both
Tokyo Station
and
Shinjuku
to the Keifuku Bus Terminal in Fukui (9 hours, ¥7,800-9,200 one-way). The price varies between seasons. Two departures nightly.
Get around
By tram
Fukui Railway runs a tram that makes the city more accessible and is relatively cheap. Trams conveniently depart from Fukuieki Station (outside JR Fukui Station). There are two lines, one traveling north and the other south. The northern line runs to Tawaramachi Station (convenient for the art museum, history museum, and Yokokan Garden) while the southern line runs all the way to Echizen-Takefu Station in
Echizen
. Within city limits the final station is Sanjuhassha Station, although most visitors will find most attractions accessible from Asuwayama-Koenguchi Station.
By bus
On foot
While there are enough sites within walking distance of the station to tour on foot, many sites are too far apart for walking to be a viable option. In many cases, it's best to at least use public transport to get you within reasonable distance to start your walk.
See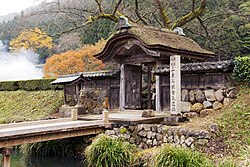 Fukui Castle

phone: +81 776-20-2051

The castle was built in 1606 by Yuki Hideyasu after he was given control of the province as thanks for siding with the victors in the Battle of Sekigahara. The castle name (as well as the city and prefecture) comes from a lucky well (福の井) which you can still visit today on the castle grounds. The castle has some well-preserved walls and moat but none of the buildings remain. The prefectural office is located within the ruins where parts of the castle once stood, but visitors are free to roam the grounds outside of the prefectural office.

phone: +81 776-21-0489

address: 3-12-1 Hoei

Contains interesting displays on the history of the local area from early civilizations to its days as a castle town to the bombings in WWII.

phone: +81 776-20-5367

A small but scenic strolling garden.

phone: +81 776-22-0011

address: 3-15-12 Ote

Touted as the only museum of its kind outside of Bhutan, the museum has a variety of Bhutanese cultural items on display for visitors to see and learn more about. They also feature many pictures of scenery and famous places in Bhutan. Fukui City has a special relationship with the kingdom of Bhutan, so cultural exchanges between the two take place annually. There are also many books for those with more time who really want to learn more about the country.

Fukui Prefecture Fine Arts Museum

phone: +81 776-25-0452

The prefectural art museum with special exhibits throughout the year.

Fukui City Museum of Natural History

phone: +81 776-35-2844

A museum showcasing the local flora, fauna and geology.

Osagoe Minkaen

phone: +81 776-34-3794

A small folk village with historic thatched-roof houses on display as an open-air museum.

phone: +81 776-33-2990

The permanent exhibit contains many sculptures by Hiroatsu Takata, but special exhibits are the biggest draw. Check to see what will be featured during your visit to determine if it's worth your time to visit.

Ichijodani Historic Site

phone: +81 776-41-2173

Ichijodani Asakura Family Museum

phone: +81 776-41-2301

A museum showcasing artifacts excavated from the nearby Ichijodani Asakura Historic Site.
Do
phone: +81 776-53-4126

address: 1 Chome-118 Kaihotsu (開発1丁目118番地)
Buy
Aossa- Aossa de aossa! A shopping mall that created a lot of excitement when it opened in 2007, but then turned out not to be worth all the fuss. It has a cafe and some clothing stores on the first floor and a movie theatre above. It is across from Fukui Station.
LPa/Lovely Partner (福井市大和田2丁目1212番地) - a popular shopping mall that is unique to Fukui prefecture. Above it is the cinema, Korona World.
Eat
Katsudon - While most of Japan prefers to eat its katsudon (breaded pork cutlet on top of rice) topped with a sweet omelet, Fukui is famous for creating the sauce katsudon, which is instead covered by a sweet and salty sauce similar to Worcester sauce. It is ubiquitous on menus throughout the prefecture.
Oroshi Soba - Cold or hot buckwheat noodles with grated Japanese radish. Restaurants serving oroshi soba can be found throughout the prefecture. A budget and convenient restaurant is Imajo Soba (今庄そば) in the Fukui St building.

Maruhachi

phone: +81 776-26-8108

address: 1-1-9 Miyuki

Serves oroshi soba and katsudon among others.

phone: +81 776 21 3573

address: 2-12-17 Junka

This is a Katamachi (片町) branch of Akiyoshi, a locally owned yakitori (grilled chicken skewers) restaurant which has many branches hroughout Fukui and the larger area. All branches have a picture menu, and most have an English one, if you ask (or they notice that you're not Japanese). Look for a red lantern sign at the entrance, and a line of business men eating and drinking at the counter. The surrounding street of Katamachi is full of other izakaya, Japanese-style pubs.

OgawayaOne of the most famous sauce katsudon restaurants in the city.

phone: +81 776-21-4681

One of the most famous sauce katsudon restaurants. It's quite typical for there to be a line outside waiting to enter.

Fukushin

phone: +81 776-54-7100

A sauce katsudon restaurant known for its generous portions of pork.
Drink
CASAA weekend night club with DJs and dancing.
Sleep
Go next