Fulda
Fulda
is a small city about an hour away from
Frankfurt
by train in Central
Germany
. It has a nice small-town feel, and manages to have good tourist resources without feeling touristy. The more laid-back feeling here is a nice change from nearby Frankfurt.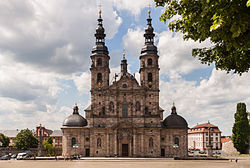 Get in
By plane
Fulda is reachable by train from
Frankfurt Airport
. While there
are
other airports in the area (particularly in Hannover and Kassel) they have rather limited connections and you are unlikely to arrive there, especially in Kassel.
By train
Fulda has an excellent (in most cases a direct) connection with many mayor German cities. Hamburg, Munich, Berlin can be reached in about 3 hours. Frankfurt and Kassel in less than 1 hour. As Fulda lies on the main North-South high speed rail line of Germany that connects Hamburg and Munich, every major city in Germany can be reached in a few hours with no more than one interchange. Even international destinations are within reach, sometimes requiring an interchange in Hamburg, Frankfurt or Berlin but often direct as well. In addition to trains run by
Deutsche Bahn
,
Locomore
, a private competitor, also served Fulda. Locomore tickets were not valid on DB trains and vice versa. Locomore filed for bankruptcy and ended all services in May 2017. The company hopes to be able to restart services by finding new investors.
By car
Fulda is about 1 hour's drive from
Frankfurt
along the A66 and just of the A7 about 1 hour north of
Würzburg
. Keep in mind that Fulda can get very congested during weekends all through the summer holidays. As it lies in the middle of Germany and many Germans drive to
Italy
and the North Sea Coast destinations of
Niedersachsen
and
Schleswig Holstein
in the summer, it is prone to heavy traffic jams in both directions. If you have to drive during those weeks, bring patience and listen for the word
Stau
on the Radio.
Get around

You'll arrive at Fulda's central train station. If you're on foot, you'll probably want to go downstairs from the train station, as doing so will funnel you towards the major sites, hotels, the tourist office and the downtown. If you stay upstairs and cross the street you will reach the bus terminal which is very close.
Unless you have a lot of luggage or don't care for walking, you won't need any transportation as the town is fairly compact. If you do want transportation however, you can catch some city buses at the central train station, or a taxi. Both are available on the road outside the upstairs of the train station.
Fulda also has a bus station so you can go to local villages from the city of Fulda if you are only visiting the city on a day trip. You can get tickets quickly and easily from the Fahrkarten Automat (automatic ticket machines) you will also find these at Fulda's Hauptbahnhof.

Understand
address: Bonifatius Platz 1

There is a tourist computer-terminal available for extended hours with hotel, sights, and other tourist information.
See
Fulda's architecture mostly escaped the baroquization that took over much of Europe. The lack of decoration makes the buildings gives the eyes a rest from the ornateness of other cities.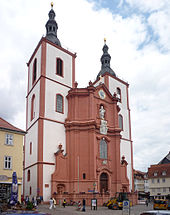 Fulda CathedralBaroque, former abbey and burial place of Saint Boniface.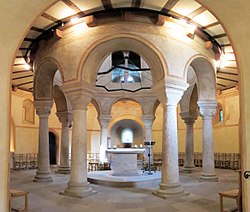 St. Michael's Churcholdest Holy Sepulchre church in Germany, built in the Carolingian architectural style around 820
Palace
Stadtschlossbuild 1706 - Head out of the bottom of the train station and go straight for 5 blocks, turn right and head about three blocks. You will be able to see it. The castle used to used by the princes of the region, but is now the seat of local government and other services, including the police station. The gardens are very nicely taken care of, and there are benches scattered throughout.

Orangeryand Flora Vase

Schlossgarten

Barockviertel and barocke Adelspalais

Schloss Fasanerie
Do
Events
City celebration (Bahnhofs Fest) - The last weekend of May is always a party right outside the train station. The surrounding blocks are filled with food and snack stands, carnival games, souvenirs, etc. Live bands start playing around 20:00.
Buy

Fulda is a great place to go to if you want to get a look of the German high street shopping scene. In Fulda you have Galleria Kaufhof, Karstadt, and Müller which are all major German retail stores.

Eat
If you head towards the tourist office, you can turn left on either of the last two streets to find several smaller restaurants at various levels of price and formality. Most have outdoor seating weather permitting. The plaza where the tourist office is located also has several restaurants.
Budget
Cafe Palais

address: Bonifatius Platz 1

Cafe shares an entrance with the tourist office. The tourist computer kiosk is actually in this cafe's lobby. This place looks a lot more relaxed than the bar/restaurants across the plaza.
Grocery store - Upstairs in the train station is a grocery store with good prices. There is no fresh fruit, or bakery style bread, but it's open till at least 23:00. Also caries basic amenities.
Mid-range
Splurge
phone: +49 661 250 40 35

address: Am Abtstor 35
Sleep
Budget
phone: +49 661 73389

address: Schirrmannstraße 31

phone: +49 661 250 55 8 0

address: Habsburgergasse 5-11/ Ecke Kanalstraße 1b
Mid-range
phone: +49 661 97980

address: Wiesenmühlenstraße 6

phone: +49 661-250 80-0

address: Kanalstraße 18–20

phone: +49 6657 980 0

address: Knesheckenweg 2, Dipperz

This hotel offers beautiful views and friendly service. Ask for one of the renovated rooms though, as the ones that are not are dated and walls are thin. It's a popular place with business travellers but it's also at a convenient location if you're looking to explore the natural surroundings. There's a pool and several wellness facilities.
Splurge
Connect
Internet cafe - $3.00/hour, M-F 6:00-24:00, Sat/Sun 0:00-24:00 internet cafe/interactive games shop is on the top level of the train station.
Go next