Funchal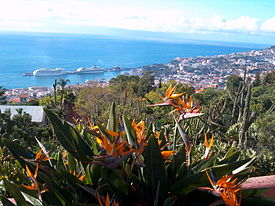 Funchal
is the capital and main city, of the autonomous region of Madeira, on the island of
Madeira
, in the south between
Santa Cruz
and
Camara de Lobos
cities.
The city's name comes from the abundance of fennel (
funcho
) found on the island. It was an important shipping center during the 15th-17th centuries. It is one of the most beautiful cities in Portugal.
Get in
By plane
Funchal Airport
(
FNC
) is in nearby Santa Cruz, sometimes known as Madeira International/Santa Catarina/Funchal. Once famous for its hair-raisingly short runway ending at a cliff over the Atlantic Ocean, the airport has been expanded to handle all sizes of aircraft. There are several daily flights from most major cities in Portugal (Lisbon, Porto). Flight time from Lisbon is 1½ hours.
Also, there are good connections from London (mostly Gatwick) with TAP/Air Portugal and British Airways; its flying time is estimated at 3½ hours.

By car
Funchal is served by highway ER101 which runs along the coast. An easy way to get to the city centre by car is to take exit 11 and head downhill towards Funchal. Continue on this road (ER103) until you pass under an overpass. Immediately on your right is a large parking garage (closed on Sundays). From here it is only a few minutes walk to Mercado Dos Lavradores / Sé Cathedral.

Get around
The city centre is small enough to explore on foot. Orange city buses can take you around and up to Monte (lines 20, 21). Buy a giro card from the office for €2.20, it is already pre-loaded with two journeys and can be topped up with additional journeys for €1.50 a piece. At the bus driver you pay €1.90 for a ride. Most city buses start from the waterfront area. If you are lucky you can acquire a bus timetable for the local and regional buses starting in Funchal at the tourist information.
Timetables and a map are also available
.
See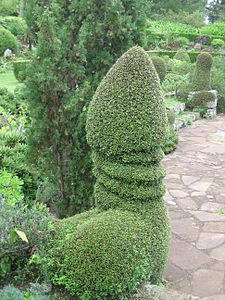 Quinta do Palheiro Ferreiro Park

phone: +351 291 793 044

address: Sao Goncalo, Palheiro

The Quinta do Palheiro Ferreiro Park is a typical example of a manor in British colonial style. While the manor itself is private and can't be visited, you can enjoy the public park. On first sight it looks like an English park, old Platanes form a long alley from the main gate to the gardens. But when you look closer you see all the tropical plants that build the basis, completed by hundreds of plants from al over the world. So around the year there ar always some plants blooming. The main part of the park is formed by several gardens, e.g. a French Garden, a Sunken Garden, the Ladies Garden, a Rose Garden and some more. On the opposite of the main gate is a Tea House, which is connected to the golf course. The serve some good tea, cakes, pastries, snacks and small lunches. The way back to the main gate is formed by the Camellia Avenue, a flourish firework between end October and March.
The park is situated on 500m altitude. Between 9 - 11:30 the park is often crowded by bus tourists, choose the afternoon for a more laid-back visit. Entrance fee 10,50€
Public busses frequently connect Funchal with the park: line 36 or, if you have strong nerves, line 37 for a more spectacular ride.

Madeira Botanical Garden

address: Caminho Meio Quinta do Bom Sucesso

The more than 2000 plants of these hillside gardens, plus the view of Funchal make this one of the major attractions of the whole island. The gardens also feature a collection of parakeets and parrots.

Market - Mercado Dos Lavradores

address: Rua Brigadeiro Oudinot, Down Town (Zona Velha)

The historic building with an open patio offers on two levels the fresh fruits and vegetables from all over the island. On lower level is also a separate hall for the fish vendors selling the fresh caught fishes to everybody. Eat and buy local fruits like the small Madeiran mangos, bananas, philodendres and plenty kinds of maracujas. Taste the offers from vendors. But be careful, they sometimes try to rip you off and selling you over-ripe fruits or some heavy mangos for the (expensive) price of light maracujas. There are also some nice pastelarias and coffee bars in and around the building. Often crowded while rain and when large cruise ships are on the pier.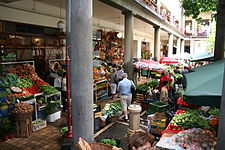 Monte Palace Hotel GardensThe gardens of this defunct hotel include a Chinese garden, artwork, a small lake, and a variety of flora and fauna.

Santa Clara Convent

address: Calçada de Santa Clara 15

Dating from the end of the 15th century, this convent, now a national monument, was founded by João Gonçalves da Câmara. The azulejo tiles are especially notable.

São Lourenço Palace

phone: +351 291 202 530

address: Avenida Zarco

Half fortress and half palace, this construction is a good example of mannerist architecture. Highlights include the Noble Salon (Salão Nobre), the Green Room (Sala Verde), the Audience Hall (Sala de Audiências), and the gardens.

Sé CathedralThe central point in Funchal, and its most-visited monument. Commissioned by the king Dom Manuel I through Portuguese explorer Gil Eanes, the cathedral was built between 1493 and 1517. The ceiling is made from local wood.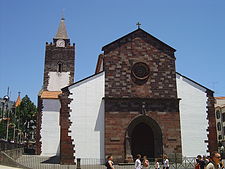 address: Rua dos Ferreiros, 105

This Jesuit temple, completed in 1647, is a striking building with a stunning interior. Today it is part of Madeira University.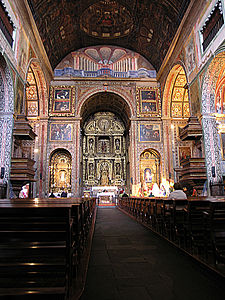 IBTAM Museum

address: Rua do Visconde de Anadia

Museum of the Institute of Embroidery, Tapestry and Craftsmanship of Madeira. The exhibits give some idea of the tradition of embroidery in the island in the past centuries

São Tiago FortBuilt in 1614 to defend the city from pirate attack, the fort houses today the small Contemporary Art museum.
Do
Visit the fair/market, old port and gardens.

phone: +351 291 140 424

address: Avenida do Infante

The only casino on the island. The building's unusual shape was designed by Brazilian architect Oscar Niemeyer. Casino da Madeira offers table games such as Texas Hold 'em, blackjack, baccarat and American roulette (with 0 and 00) and slots. Outside of gambling there is the Palm bar, the Rio casual restaurant, the formal Bahlia restaurant and the Copacabana nightclub that hosts live musical performances (just like the Barry Manilow song). Note that the premises have dress code that forbids sandals, flip-flops and sports wear. Free parking and Wi-Fi for patrons.

address: Rua do Balacal 29

address: Almirante Reis

View the city from above in a gondola. The upper station is at Monte, where you can visit the Monte Palace gardens and the church at Monte. Another cable car goes down from this point to the Botanical Gardens. Combination tickets for the ride and attractions are available.
Watch football ie soccer. Funchal has two teams playing in Primeira Liga, the top tier of Portuguese football. CS Marítimo play at Estádio do Marítimo (capacity 11,000), 2 km west of the old town. CD Nacional play at Estádio da Madeira (capacity 5500), 4 km northeast.

address: Madeira Mountains

Tandem Paragliding flights.
Buy
Flowers & fruit (check with the airline/ship if they can be brought abroad).
The island is world-famous for its wines. Several stores offer varying selections.

Eat
Funchal has an abundance of good, if not necessarily cheap, eating places. Most places serve traditional Madeiran and Portuguese food, which is well-prepared and well-tasting, but not terribly exciting. One of the most typical dishes and served almost everywhere, is
espada com banana
, scabbard fish with banana. It is usually served with fresh salad and potatoes. A bit more expensive, bacalhau (dried, salted codfish) is served in many restaurants. One of the more common, and best, varieties is "bacalhau com natas", codfish in cream sauce.
Budget
Bar Beer Garden, Estrada Monumental, Arieiro. Recommended dish is Picado (beef steak served with chips). The normal size (€10) should be enough for 2 persons. The bigger size (€13) could serve 3 - 4 persons.

address: Rua da Carreira, 306

This place sells only 3 types of hamburgers: normal, special, and super. Also try their smoothies.

phone: +351 291 627 418

address: Largo do Socorro, 1

While many affordable cafes in Funchal have similar prices on burgers and tostas, Barreirinha also offers plenty of outdoor tables overlooking the ocean. Relaxing yet hip atmosphere. Occasional live bands or DJs.

Indian House

phone: +351 291 241 653

address: Rua da Carreira 144

Quality Pakistani and Indian food with plenty of vegetarian options. Meat also offered for a few Euros more.

Pingo DoceThe chain of department stores also have a restaurant in its more bigger stores. Two notable ones are in Dolce Vita (Mall) and Anadia Shopping Centre. These restaurants serve lunch and dinner offering various Portuguese dishes and is sold by weight. In Funchal especially, they also provide their dinner menu and their entire bakery catalog for half-price after 21:00.
Mid-range
phone: +351 291 708700

address: Rua de Leichlingen, 7, Promenade

Italian restaurant. À la carte lunch and dinner served inside and on the terrace. Children's menu. Reservation recommended.

Doca do CavacasFish restaurant.

Japanese Restaurant

phone: +351 291 223 165

address: Rua Brigadeiro Oudinot, nº 2 - 3th floor (level)

Small restaurant, centrally located close to city market, in a iconic building (Edifício Oudinot), with one terrace with view to the port. Small menu with 10 fish and 10 various meat dishes, and a side vegetarian/vegan menu. Portuguese (Mediterranean)-influenced contemporary European kitchen, author cuisine. Excellent house wine and other good wines (from €12.50 house bottle). Nice interior around a Art Deco-influenced staircase, friendly staff.
Splurge
Les Faunes

phone: +351 291 71-71-71

address: Estrada Monumental 139

Top quality French restaurant.

phone: +351 291 707 700

address: The Cliff Bay Hotel Estrada Monumental, 147

First Michelin Star restaurant on the island. Mediterranean gourmet cuisine. A jacket and tie required for gentlemen. Reservation recommended.

Xôpana Restaurant

phone: +351 291 20 6020

Choupana Hills Resort and Spa. Award winning restaurant at the Choupana Hills Resort, with a magnificent view over Funchal and world-class food and wine.
Drink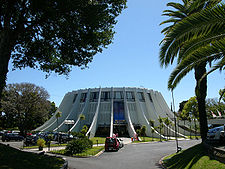 Not the party capital of the world: most bars are very quiet, except during a football match.
Bar Amazónia

address: Rua de São Filipe 19

A pleasant little bar.

Café do Teatro

address: Avenida Arriaga Ed. Teatro Municipal Baltazar Dias

Chameleon Disco-Bar

address: Rua Imperatriz D. Amelia Nº119

Café and bar with a tropical atmosphere. Karaoke on Mondays and Tuesdays, live music on Thursdays, and ladies' night on Sunday.

FX Bar

address: Largo das Fontes 39

phone: +351 291 140 424

address: Casino da Madiera, Avenida do Infante

A casual bar that's part of the Casino da Madeira.

Vespas

address: Avenida Sá Carneiro 60

Dance club very popular with young people.

phone: +351 291 765 443

address: Estrada Monumental 238

if you require an Irish pub
Sleep
Budget
During low season (winter) prices may drop significantly, e.g., from €50 to 35. Time around Christmas is high-season.
phone: +351 291 241 031

address: Rua das Hortas 14

Simple and somewhat cramped rooms but very clean and with a low price. Double rooms with private ensuite bathroom around €18–25/night depending on season. Located in the historical center, so ideal if you don't have a car.
Residencial Melba (Melba Pension), Azinhaga da Casa Branca 8. Lies in Western Funchal. 12 rooms.
Mid-range
Pestana Hotels & Resorts - Funchal: Pestana Miramar, Pestana Village, Pestana Palms, Pestana Bay, Pestana Gardens

Quinta Da Casa BrancaAn old quinta converted into a boutique design hotel, set in the heart of Funchal, among colourful gardens.

Quinta Perestrello Heritage HouseRua Drº Pita nº 3. A small hotel, One adult 33€ per night and breakfast (special offer low season), 37 double rooms, located near Reid's Palace. 24 hour reception.

Hotel Monte Carlo, Calçada da Saude Nr. 10. Beautiful, old hotel with a great view over the city of Funchal. Directly near the Convent St. Clara. Reasonable priced and not directly in a desiganted tourist district. Lots of good and affordable restaurants nearby.

phone: +351 291 206 700

address: Avenida do Mar, nº 50

Just in front of the sea and the city harbour, in Funchal´s Old Town, near Cable Car, Forte de São Tiago and Mercado Lavradores.

phone: +351 291 703 700

address: Rua Simplício dos Passos Gouveia, 21

One of the three hotels in the resort Vila Porto Mare, near Lido´s promenade, tropical gardens with more than 400 specimes, five pools, four restaurants, sports and spa.

phone: +351 291 708 700

address: Rua de Leichlingen, 7

One of the three hotels in the resort Vila Porto Mare, near Lido´s promenade offers a wide selection of carefully furnished and fully equipped apartments. The Residence apartments combine views over the ocean with tropical gardens.

phone: +351 291 700 700

address: Rua do Gorgulho, 2

One of the three hotels in the resort Vila Porto Mare, near Lido´s promenade, kitchenette, tropical gardens with more than 400 specimes, five pools, four restaurants, sports and SPA. Totally refurbished in 2009.
Splurge
Connect
Internet Access - There exist various public free Wi-Fi hotspots sponsored by the Madeiran government. One can find such locations by looking for blue and white boards with the Wi-Fi logo on them. A lot of bars and cafes offer Wi-Fi which is usually sponsored by an ISP by the name of "Zon". These are usually password restricted but the owners are usually very friendly in providing them. One of the larger public squares by the name of "Praca do Municipio" for instance has free Wi-Fi. Other locations include: Avenida Arriaga (2 x around the Golden Gate Café and the Cathedrale), Praca de Colombo.
Post Office - Stamps are rarely available at vendors selling postcards. A post office (CTT Correios) is near the cathedral in the Avenida Zarco and the Rua Calouste Gulbekian near the Casino. Postcards to EU countries are €0.72 (June 2015).
Cope
Nivarte Barber/Hairdresser

phone: +351 958 747 709

address: Rua das Hortas 1, Unit 102 (Piso 1)

Quality and inexpensive haircuts for both men and women. One of the barbers, Paolo Silva speaks English, and gives the best hot towel shave on the island.
Go next
Porto Santo — A wonderful quiet beach community, Porto Santo is a small island on the North-East of Madeira can be reached by either boat or plane. It is well worth a visit for it's nice small restaurants, it's long beach, and the Christopher Columbus house.
Anywhere else on the island of Madeira — Numerous guided day-tours around the island offer pick-up from Funchal hotels. In addition, Rodoeste buses connect Funchal to points westward, and S.A.M. buses connect to points eastward.