Gävle
Gävle
, archaic spelling
Gefle
or
Gavle
, (
pr. Gevluh
) is the seat of
Gävleborg County
, the gateway to
Norrland
, and a major port on the Baltic Sea.
Just over 100,000 people live in the municipality; 76,000 of them in Gävle itself, which has an industrial heritage, large parks and a small university college. The
old town
with its colourful wooden houses is authentic.
Get in
By plane:
Stockholm-Arlanda Airport
(
ARN
) is the nearest international airport, with extensive global connections. It's 130 km south of Gävle and there's no need to travel via central Stockholm. Instead, take a bus or train towards Uppsala:
by bus, take UL bus 801 from the bus station beneath Terminal 5. This takes 25 mins to Uppsala and runs twice an hour, 3 am to midnight. Change there for bus or train to Gävle.
by train, take the SL commuter train (pendeltåg) from Arlanda Central station within the Sky City complex (not from Arlanda South or North - these only have expresses to Stockholm city). Trains take 18 minutes to Uppsala Central and run every 30-60 mins between 05:00 and 01:00; some of them continue north to Gävle.

By train: There are direct trains at least hourly from Gävle to Stockholm, taking 80 min via Arlanda Central and Uppsala. (Beware, if you buy a cheap ticket to Stockholm but get off at Arlanda Central ie the airport, you'll be surcharged.) Trains run north every couple of hours to Sundsvall (2 hr 15 min), Umeå and Luleå, including the Norrland sleeper trains. Direct trains also run to Linköping, Norrköping and Östersund. Regional trains connect with Dalarna region and Örebro.


Gävle Central stationThe station is very close to city centre. It has five cafes, with more in nearby streets. There are ticket machines (but no staffed kiosk) in the station building and in the underpass to the platforms, and left-luggage lockers. Use IATA code for booking "flights" through Arlanda Airport. Exit the station west for local taxis & buses and city centre, exit east for out-of-town taxis and buses including rail replacement buses.


By bus: SGS Bussen run to Gävle from central Stockholm, 4-6 per day, taking two hours. The bus stand is on the west side of Gävle Central railway station.
Swebus services between Stockholm and northern cities such as Sundsvall call at Gävle Bro, a service area on the E4 highway at the western edge of town.
By car: Major routes through Gävle are E4 south to Stockholm and north to Sundsvall, E16 west to Falun and eventually Oslo, and R76 south along the coast.

Get around

Gävle has an excellent bus network connecting most suburban areas with city center. Lines #1-4 are express services while lines with higher numbers usually take longer routes. Line #13 starts departing for Läkerol Arena, the hockey stadium, a few hours before a match. All buses stop at Rådhustorget in central Gävle.
Taxi service is usually reliable and can show up on short notice (15 minutes or less), although on busy weekends you might have to wait up to 45 minutes. A typical ride will cost you somewhere between 130-160 kr. As in most places in urban Sweden, taxi drivers speak good English.
You can get about everywhere in town on bicycle. Walking is the obvious option in the compact city center, it takes less than 10 minutes to walk from the central Stortorget square to the pubs and restaurants of Söder. Most hotels are clustered around these two areas too. The train station is at the eastern end of the central shopping district.

See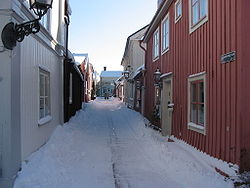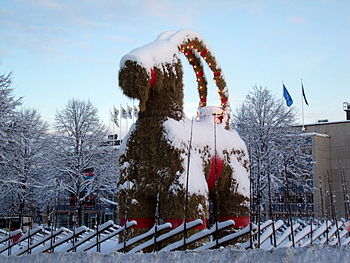 A few blocks is all that remains of
Gamla Gefle
, Gävle's old town, after several devastating fires and excessive demolition in the 1960s. It's on the south side of the Gavleån river, and makes for a nice afternoon walk. The Art and Prison Museums are also here.
phone: +46 26 655 600

address: Södra Strandgatan 20

The county's regional history and art museum.

address: Hamiltongatan 1-3

In two buildings. Start in the main block, the 19th-century two-storey former jail. Then the annex on nearby Timmermansgatan depicts its 18th-century predecessor.

address: Karlsborgsgatan

Old locomotives in engine shed. The Train Hall is part of the Swedish Railway Museum, and the only part that is open. The main museum, on a separate site on the southern edge of town, is closed for renovation until at least 2019. It hosts one of Europe's largest collection of old locomotives and rail cars, including a 1980 working replica of the Novelty, the engine that lost to Rocket at the Rainhill Trials in 1829.

address: Nedre Bergsgatan 28

This was the birthplace in 1879 of Joel Emmanuel Hägglund, better known as Joe Hill. In 1902 he emigrated to the USA, where he became a labor organizer, song-writer and activist for "Industrial Workers of the World", the "Wobblies". In 1914 a Salt Lake City grocer and his son were shot dead by two intruders; Joe Hill came to a local doctor that evening with a gunshot wound to his chest. He was eventually convicted of the murder, and executed by firing squad in Nov 1915. The prosecution case was shaky and his many supporters believed he was shot for being a "wobbly", but his refusal to convincingly explain his wound sealed his fate.
The Gävle Goat or Gävlebocken is a large straw goat, built annually in Castle Square for the first Sunday in Advent, to promote Christmas shopping. Alas it has only a slim chance of lasting until Christmas, as it is more often than not burnt down by vandals.
Do
The countryside around Gävle is good for
outdoor life
, especially during summer. Canoeing on the numerous lakes is popular. Fishing is free in the Baltic Sea, but requires a license in the lakes.
Boulonger Park is a large park along the Gavlegån river at the western edge of the city. Popular in summer for strolling, jogging and family picnics.

phone: +46 26-172900

address: Kungsbäcksvägen 22

Gävle's symphony orchestra gives regular concerts at the main concert hall, often with guest artists.

phone: +46 26-541880

address: Kolonnvägen 2

Mackmyra is a distillery that introduced the first Swedish whiskey in 1999, now with branches across the country. The distillery offers weekly tours with tasting sessions, book via email. Also a restaurant.

Furuvik ParkSmall theme park and arcade for toddlers as well as a small zoo and Cold War-era coastal defence installation and museum.
Buy
There are a few enclosed shopping malls downtown, but most stores are along the main drags downtown and south.

Eat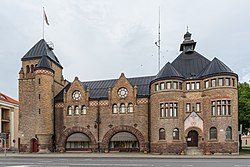 The dining scene in Gävle is evolving rapidly and excellent restaurants have opened. There are also many mid-range places that will serve you tasty and filling food for a decent price. If you're looking for lunch options for a group and can't decide, there is a large
food court
in the central shopping mall,
Galleri Nian
.
Restaurants
Cafés
Café Bogården

phone: +46 26-627914

address: Västra Gränsgatan 1

Perhaps Gävle's most unknown café. This small gem is tucked away in Villastan, the historic upper class garden city west of downtown. Serving a small but excellent selection of homemade pastries and classics such as egg and herring sandwiches, Bogården is a good choice to visit after a stroll among the majestic surrounding villas or in the nearby Boulogner park.

Épi Bageri & Café

phone: +46 26-128800

address: Norra Kungsgatan 11

Café and bakery that serves delicious pastries and sandwiches.

phone: +46 26-611942

address: Södra Kungsgatan 10

While there are several Lido cafés around town, this is the original one dating back to 1954. Has a large selection of pastries and also serves a very popular brunch on Sundays.
Drink
The
coffee
brand
Gevalia
bears the latinized name of Gävle. It is advertised as the treat for an unexpected visit.
Most bars and clubs are within walking distance, so follow the crowds. There are several bars clustered in
Söder
along
Södra Kungsgatan
, most with a relaxed atmosphere. If you are a student at the university or manage to befriend one you should try out the
student pubs
at the campus. You must be either a registered student or get one to sign you up for the guest list. The main venue is
Kåren
, usually open twice a month and associated with dirt-cheap beer (around 25 kr) and students going wild.
Sleep
Stay safe
While Gävle is generally a safe city, main risk factors are petty theft and nightlife brawls, as well as
winter driving
outside the city.
Go next
Easy day trips from Gävle are:
Älvkarleby is a small town 20 km south, where the river Dalälven reaches the Baltic Sea. There's a hydroelectric power station and the unusual Dragon Gate: a Chinese hotel with a museum of Swedish culture.
Sandviken, about 27 km west, includes the Högbo Bruk recreation area.
Uppsala with its ancient burial mounds, and University, is 40 min south by frequent train.
Another 30 min south brings you to
Stockholm
, with connections all over Scandinavia.