Görlitz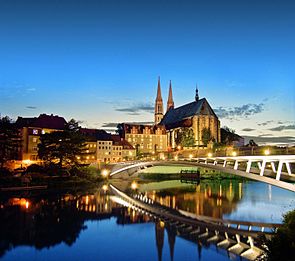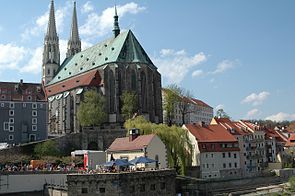 Görlitz
is
Germany
's easternmost town, situated across the Neiße River from its
Polish
sister city of
Zgorzelec
. It is very well preserved and survived the Second World War more or less intact. A lot of money was spent in the 1990s to restore the city's old town. It is located on the rail and autobahn routes from
Dresden
to
Wrocław
, Poland. The town has often been used as the setting for films (especially those set during and before
World War II
).
Valkyrie
and
The Grand Budapest Hotel
are two of the more well-known examples. Görlitz is also the easternmost point of Germany and as chance would have it the 15th meridian East, which defines Central European standard time runs through town. So large parts of Europe could be described as being on "Görlitz time".
Get in
By plane
The closest airport is in
Dresden
(
DRS
) (25 minutes from Dresden main station by S-Bahn); however, the connections are limited. Other international airports are in Leipzig/Halle (LEJ)(situated near the town of Schkeuditz, some 20 minutes by S-Bahn from Leipzig main station), Berlin and Wrocław (Poland). It takes between three and four hours (with at least one change) to get from Berlin to Görlitz and two to three hours (direct trains available) to get from Wrocław to Görlitz.

By train
From the west
The city of Dresden is a hub in train transport in eastern Saxony. Regional trains run frequently and take around one hour. The Sachsen Ticket costs around €24 (plus €3 per additional person in your group) and is valid on all regional trains and trams in Görlitz and Leipzig, but not Dresden.

From the north
You can get to Görlitz using regional trains from Cottbus, which has a connection to Berlin.

From the east
There are several connections daily from Görlitz and more frequent connections from the Polish twin city Zgorzelec to Wrocław. Polish trains also now stop at Görlitz Hauptbahnhof.

From the south
There is a regional line connecting Görlitz and Zittau at the Czech/Polish/German border, sometimes this train also connects to Liberec in the Czech Republic.

By car
East-west axis
Görlitz is situated on the European Route E40, which in Germany is called motorway A4, coming from Cologne via Chemnitz and Dresden. This motorway connects to Wrocław and Katowice on the Polish side of the border.

From the north
Görlitz can be accessed via federal highway (Bundesstraße) B115 from Cottbus, which connects to Berlin. However, passing through many small villages you have to factor in a substantial amount of time.

Get around
On foot
You are most likely to stay in the old town and city centre for most of your stay. These areas are sufficiently confined and you should be fine walking.
By tram
Two tram lines connect the suburbs with the city centre. The outer regions of the suburbs are from the city centre. A tram ride there takes about 15 min. Single fare for adults is €1.40, a day ticket is €3 (2014). Validate your ticket as soon as you board the tram. The tram does not cross the Neiße.
Görlitz is part of
ZVON
, a regional transport network. All ZVON tickets from other cities and regional trains, which cover the fare zone of Görlitz are valid there too, as is the
Sachsen-Ticket
.
By bus
Suburbs that are not covered by trams can be reached on local buses.
The tickets you buy for trams are also valid on buses. Validate your ticket as soon as you board the bus.
See
Görlitz, being the largest city in Germany not damaged during the war, has a medieval, baroque and renaissance old town, surrounded by a belt of 19th century tenements, villas and industrial areas, which stretches across the Neiße to what was East Görlitz, now Zgorzelec in Poland. Only the far outskirts have newer buildings. Görlitz has served as a backdrop for several movies (set in pre 1945 Germany) since 1990 where its historic buildings stand in for other (now destroyed and rebuilt) German cities. The film boom has earned the town the nickname of "Görliwood" in the press and if you are lucky you might happen upon a film being shot.
After German unification most of the buildings were renovated. This makes Görlitz a unique heritage city with several thousands of listed buildings. Simply stroll around the town and enjoy the atmosphere.
St. Peter and Paul ChurchA spectacular Gothic church from the end of 15th century.

Schönof - One example of this rich architectural heritage, the Schönof is one the oldest civic renaissance buildings in Germany.
The marker of the 15th meridian (which defines the Central European time)
Do
Visit the Silesia Museum - a museum dedicated to the history of Silesia.
Walk along the Neisse (pol. Nysa) river bank and enjoy the view of the older buildings and the abundant nature.
Tour the cathedral and the main street in the Old Town.
Take a stroll across the Neisse River into Poland using the new pedestrian footbridge and get a different perspective of the old town from a distance.
Walk up the Landeskrone Mountain. Landeskrone is roughly 200 m above city level, and the walk up is about one hour from the tram station in Biesnitz (tram-line #2 from city centre). Nice weather provided it makes for a good afternoon stroll.
visit the new lake on the southern limits of town. This lake has been made in the recent years to rehabilitate an open-pit coal mine, that has been closed in the early 1990s.
Buy
Souvenirs from various Silesian themed souvenir shops in the old town. You will frequently find porcelain with a distinctive pattern. This porcelain is known as "Bunzlauer Keramik" (ceramika bolesławiecka), named after the German name of the city Bolesławiec in Poland.
Antiquarian booksellers in the Old Town always have nice bargains. The number of foreign-language books is limited, though.
Bring a bottle of the local beer. It is called Landskron, after the mountain close by. It is (by virtue of Görlitz being Germany's easternmost town) Germany's easternmost brewery.
Eat
There are some very nice restaurants in the Old Town. Compared to bigger cities like Dresden or Berlin, eating out in Görlitz is rather cheap. The cuisine served, is mostly the local Saxonian or Silesian cuisine, which traditionally involves meat, gravy and potatoes. Try a Silesian dish called 'Silesian Kingdom of Heaven' ('Schlesisches Himmelreich'), a dish of pork cooked in plum gravy.
Some nice restaurants in the Old Town:
phone: +49 3581 406661

address: Hotherstraße 20

Zur Goldenen Sonne

address: Demianiplatz 54

phone: +49 3581 411657

address: Obermarkt 18

phone: +49 3581 400697

address: Langenstraße 1
Drink
Beer
Germany is known for its long tradition of brewing beer, and Görlitz and eastern Saxony is no exception. There is a brewery in Görlitz, called the Landskron Brauerei (ultimately owned by Carlsberg). Eibau is another local brewery, about 20 km away.
The main product of the Landskron Brewery is a pilsner. Pilsner can be compared to what is known as lager outside of Germany, however, this type is stronger and has a more distinctive hop taste.
The brewery also produces seasonal beers, for example "Maibock", a beer that is only sold in spring and is stronger than normal pilsners.
Other pilsners well known in the area are Radeberger or Freiberger, which are from breweries close to Dresden.
The Eibau brewery some 20 km from Görlitz is best known for its dark beer. Dark beers are different from pilsners: they use roasted malt which gives the beer a deep, dark colour and a distinctive taste.
Another dark beer well known in the area is from the Köstritzer brewery, which is located in Thuringia, some 400 km west of Görlitz.

Sleep
Budget
Mid-range
phone: +49 3581 423980

address: Büttnerstr. 13, 02826 Görlitz
Splurge
phone: +49 3581-6620

address: Uferstr. 17f

phone: +49 3581 47310

address: Peterstr. 8, 02826 Görlitz
Go next