Göttingen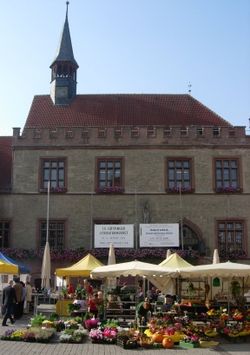 Göttingen
is a city in the southernmost part of the
German
state of
Lower Saxony
, bordering
Hesse
and
Thuringia
.
Understand
The population of Göttingen in 2017 was about 134,000, of which over 31,000 are students at the
Georg-August-Universität Göttingen
.
The prestigious Max Planck Society (a German organization for scientific research) was founded in the city in 1948. The Max Planck Institutes for Solar System Research, Dynamics and Self-Organization, for Experimental Medicine, for Biophysical Chemistry, and for History are located in Göttingen.
44 Nobel Prize winners
have studied or taught in the city, and these and other notable former Göttingen residents are commemorated by white plaques on many buildings throughout the town. Its nickname is therefore the
Stadt der Wissenschaft
(City of Science), with a pun: while "Die Stadt der Wissenschaft" means 'the city of science',
Die Stadt, die Wissen schafft
(identical pronunciation apart from der ~ die) means 'the city that creates knowledge'.
Today, Göttingen is a charming university town, off the radar screen for most English-speaking tourists, but well worth a visit.
Get in
Göttingen lies in the very center of Germany and is easily accessible from most parts of the country. It has no airport, but can be easily reached by
train
or car from larger cities that do. is a stop on the ICE (Inter City Express) train line between
Hamburg
and
Munich
and also on one ICE line between
Berlin
and the South of Germany. Göttingen is approximately half an hour south of
Hanover
, two hours south of
Hamburg
, two hours west of
Berlin
, four hours north of
Munich
, and two hours north of
Frankfurt
. Göttingen is also served by
Flixtrain
. Flixtrain tickets are not valid on DB and vice versa.
Get around
Göttingen has an extensive bus network which criss-crosses the city center and extends out to the surrounding. Information about the city bus network is available from the
Goettingen Verkehrsbetriebe
(under Fahrplanauskunft, click "Netzplan" for a map and "Einzelfahrpläne" for schedules).
A single ride within Göttingen costs
(Einzelfahrschein)
: €2, children 6–14 years
(Kinder)
: €1, a day ticket
(Tageskarte)
costs: €5, a day ticket for five persons
(Kleingruppenkarte)
: €9,40. For multiple trips, save money by asking for the €7 "Viererkarte" (four tickets at once) or for the €13 "Achterkarte" (eight tickets).
See
There is a nice self-guided City Walk on the city's
tourism website
, which takes you by all the main sites. Highlights include: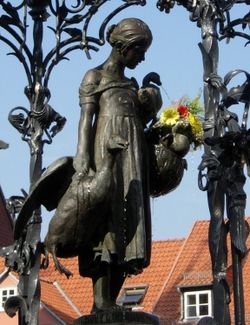 Altes RathausMarktplatz. Built 1369-1444, the Altes Rathaus was the town hall until 1978, and it now houses the Tourist Office. The coats of arms of other members of the Hanseatic League are painted on the walls.

GänselieselMarktplatz. This fountain outside the Altes Rathaus is Göttingen's most famous figure. She is known as the "most kissed girl in the world" since every local student who receives a Ph.D. gives her a kiss (after being dressed up with a silly graduation hat and wheeled to the statue in a handcart).

AlbanifriedhofOne of the city's cemeteries, famous for Johann Carl Friedrich Gauss's grave.

StadtfriedhofHistoric cemetery with graves of important scholars, including eight Nobel Prize winners: Max Born, Otto Hahn, Max von Laue, Walther Nernst, Max Planck, Otto Wallach, Adolf Windaus and Richard Zsigmondy.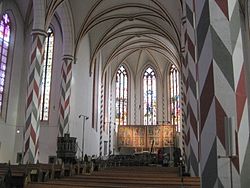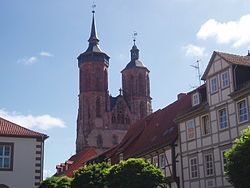 Botanical Gardensaccess behind the Auditorium at Weender Straße and Nikolausberger Weg. These gardens, established in 1736, are well worth a visit for plant-lovers. The former city wall around the Altstadt (old city) is also a circular green area, popular with joggers. Gauss's grave is on the southwest side.

Georg-August UniversityThe university is actually spread out in many sections around the city, though you see a couple of its buildings (the Auditorium and Aula) on the self-guided tour. Former staff and students include Gauss, Riemann, Dirac, Bismarck, Oppenheimer, Born, Hilbert, Teller, and Weyl.
The university runs several museums on a wide range of topics. An overview can be found at the university's website. A large, more ambitious museum focusing on question such as what is knowledge, how is it acquired, etc., the Forum Wissen is going to be opened soon.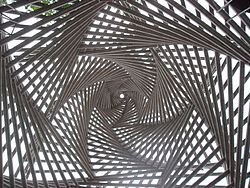 Synagogue MemorialObere-Masch-Straße and Untere-Masch-Straße. This memorial, designed by Corrado Cagli in 1973, stands on the site of a synagogue that was destroyed in 1938. The names of Göttingen's Jewish residents who were murdered during the "dark time" are listed below an abstraction of the Star of David.

Half-timbered houses. Since Göttingen was not bombed during WWII, it still has many original buildings. Particularly impressive are the 1549 Schrödersches House (Weender Str. 62), the 1497 house at Paulinerstr. 6, the 15th century Junkernschänke (corner of Jüdenstr. and Barfüßerstr.), the 1536 house on Barfüßerstr. (between Jüdenstr. and Weender Str.), and the 16th century house at Groner-Tor-Str. 28, which was only recently revealed beneath a thick layer of plaster. (Half-timbering was regarded as unfashionable from the Baroque era into the 20th century, and many beautiful old buildings have only recently been discovered.)
Churches
Four of Göttingen's churches can be seen from the metal
Vier Kirchenblick
in front of the Altes Rathaus (James's, John's, Alban's, and Michael's). Mary's is also worth a peek inside.
JacobikircheJacobikirchhof and Weender Straße. Built 1361-1461, St. James' has the most interesting interior of Göttingen's churches, with fascinating original paintwork (not unlike that of a barbershop) and modern stained-glass windows. The Ott organ is also impressive. It is sometimes possible to climb the tower, although the last set of stairs to the view may be blocked off - ask before paying a euro.

JohanniskircheJohanniskirchhof. Built around 1200, St. John's is the oldest of Göttingen's churches. It was mostly rebuilt in the 14th century (the north-side doorway dates from 1245). The interior is plain, although one of the two towers can sometimes be climbed.

AlbanikircheAlbanikirchhof. Built 1423-1467, St. Alban's stands on the site of an earlier mission chapel. Hans von Geismar painted the altarpiece in 1499, and he added himself to the scene of Mary's death as the 13th apostle.

St. Michael KircheKurze Straße. Built 1787-1789, St. Michael's was Göttingen's first Catholic church after the Reformation.

NikolaikircheNikolaistraße. An English Catholic mass is held here every second Friday at 19:00. The area around the church is also used for flea markets on weekend mornings in the summer.

MarienkircheNeustadt and Groner-Tor-Straße. The church bell tower used to be the gate into the neighboring city Neustadt (new city), which Göttingen bought in 1319. St. Mary's is probably older than that; it was formerly the church of the Teutonic Knights. The altar triptych was carved by Bertold Kastrop in 1524.
Do
Check the city calendar for local events, or pick up a schedule in the Tourist Office in the old town hall. The symphony orchestra is impressive for such a small town.
One of Göttingen's public swimming pools, Badeparadies Eiswiese, is a roughly 20-minute walk south of the city (or a ten minute bus ride on line 4 or 14). But if you enjoy the water, they offer a plethora of swimming pools (indoor, outdoor, large, small, hot, cold), saunas, jacuzzis, and solaria.

Göttinger Stadtwald(follow Herzberger Landstr. east) is full of pleasant hiking trails, as well as the Bismarck Tower, which you can climb for a gorgeous view in the summer (though you may need to ask directions, since the tower is hard to find).

CinemaxxA cinema on the back side of the train station. They show contemporary movies mainly in German (no subtitles).
Theatres
Several theatres are located in the town. Most plays are in German but on special occasions English performances takes place as well.
Deutsches TheaterBest known theatre in the city. Events take place at almost every day. The building is worth-seeing and close to the former fortifications which surround the city.

Junges TheaterAiming at a younger audience

Theater im OP (ThOP)Run by university students. Plays are performed in the former operating theatre. A single performance is usually played every evening for about two weeks. The ThOP regularly features English plays produced by the English Drama Workshop.
Buy
Weender Straße is the main pedestrian shopping street, cutting north-south through the middle of the old town. But most shops in this area are shopping chains; you will find more interesting, small and independent shops in the backstreets, like Rote Straße, Theaterstraße, Barfüßerstraße, Lange Geismarstraße, Johannisstraße.
The weekly Wochenmarkt is on Tuesday, Thursday, and Saturday mornings; look for signs into the square from Kurze Str. or Lange-Geismar-Str. It's the best place in town to buy local produce from Göttingen and the surrounding region. (Perhaps this should say "the second-best place", as there is a health food store within the old town walls, and a second outlet just a few blocks to the east, that sells organically grown produce - and a lot of what you find there is grown by the people who run the store, and may have been picked that same morning. Boyer's Health Food Store (Bioladen) is on Burg Straße, between Friedrich Straße and Theater Straße.)
In December there are two Christmas markets, one small one outside the train station and the other sprawling from the Marktplatz area to behind the old town hall and St. John's Church. You can buy a variety of traditional German gifts, mulled wine (Glühwein), and German foods.
Eat
Da Claudio Eiscafe, Ice-cream, Lange-Geismar-Str. 39 and Goethe Allee 25, 49-(0)551-5177452. Delicious Italian gelato.
Döner. Ask anyone in Göttingen and they will recommend their personal favourite of the many Döner kebab shops in the city. Perfect after meeting the Gänseliesel and visiting the Johannis church is the City Döner (Johannisstr. 1), which is an insider among students, and Euphrat (Düstere Str.), which has the cheapest Döner in town (€1.50).
Maharadscha, Gartenstr. 25, 49-(0)551-4886125. Good Indian dishes.

phone: +49 551 44263

address: Rote Str. 13

Although the sign might lead you to think it is Asian, the noodle dishes here are more Italian-inspired; head past the spaghetti straight to the house-made wide noodles in fresh, inventive vegetarian, meat- and fish-based sauces. The Biergarten is wonderful in the summer.
Restaurante Fellini, Groner-Tor-Str. 28, 49-(0)551-4995936. Italian food.

Trattoria Salvatore

address: Theaterplatz,10 37073 Göttingen

Delicious pizza and wine. Prices are slightly higher, but the quality of food is worth it. The chef is Italian and he really knows his job!

phone: +49 551 5313001

address: Rote Straße 16 (Börner-Viertel)

Cafe Botanik

phone: +49 551 2502858

address: Untere Karspüle 1

This Persian cafe has huge bowls of spiced tea and delicious yogurt dips. The breakfasts are traditional German, not Persian.

Cron & Lanz

phone: +49 551 56022

address: Weender Str. 25

The place for delicious Kaffee & Kuchen (coffee & cake) and people-watching from window tables on the second floor. Finest cafe in town, but the service is very reserved, and can thus feel a bit unfriendly.

phone: +49 551 57699

address: Nikolaikirchhof 11

At St Nikolai churchyard, nice little cafe-bar, wonderful place outside in summer. Good breakfast, delicious baguettes.
Drink
phone: +49 551-45664

address: Mühlenstraße 4

Mühlenstr. 4. Probably the best place in town for live music. It's also the only pub in Göttingen to serve Strongbow.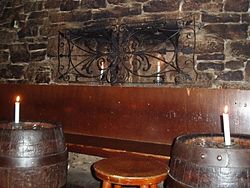 phone: +49 551-43971

address: Burgstraße 20

If you want a more German experience, check out this atmospheric student pub, located in an underground cavern which was once a kind of student jail.
Gartenlaube, Markt 7, 49-(0)551-47373. The best place in town to sit with a beer and people-watch in the summer.
Alpenmax, Weender Landstr. 3-7, 49-(0)551 - 3706130. A twisted German schlager/apres ski theme club famed for the €0.99 night on Wednesdays.

T-Keller

address: Bürgerstraße

A nice leftist bar with cheap beer and free table soccer and billiard.
Sleep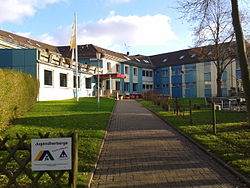 phone: +49 551 57622

address: Habichtsweg 2, 37075 Göttingen

On Habichtsweg, a 20-minute walk from the centre of the city, is somewhat austere and suffers from enforcing a midnight curfew; it is, however, the only place you'll find in town where you can get a bed for the night for about €24. Take bus 80 from train station.

Hotel Berliner HofOn Weender Landstr., opposite the Shell petrol station, might be a more realistic option, with rooms starting at €30. It is particularly well-located for those who are in Göttingen to spend time at the University.

phone: +49 551 547960

address: Goethe-Allee 21, 37073 Göttingen

phone: +49 551 99770

address: Kasseler Landstr. 25d, 37081 Göttingen

Best Western Hotel Am Papenberg

phone: +49 551 30 550

address: Hermann-Rein-Straße 2, 37075 Göttingen

Near the faculties for phsyics, chemistry, medicine and geology ("Nord-Campus") and the Max Planck Institute for Experimental Medicine.
Go next
As mentioned above, Göttingen's location at the cross of two ICE train lines makes it easy to reach most other major German cities. There are also a number of smaller towns that are worth a visit, which could be seen on a day trip from Göttingen. For the local trains that go to these towns, you can buy cheap group train tickets that can be used for up to 5 people: the €29 (single: €21) .
Niedersachsen-Ticket
is good for all-day travel within Lower Saxony on any day of the week, and the €40 Schönes-Wochenende-Ticket is good for all-day travel anywhere in Germany on a weekend day. You can reach any of these places on local trains in under 2 hours: