Göygöl National Park
Göygöl National Park
is in
Ganja Region
of
Azerbaijan
.
Understand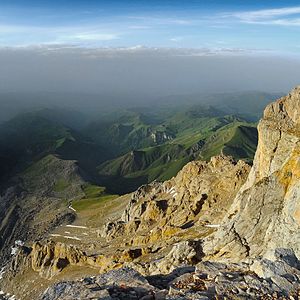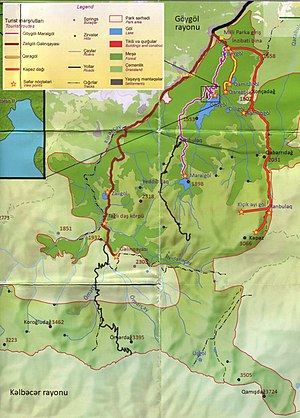 The meaning of
göl
is lake.
History
Lake Göygöl was formed by an earthquake on 30th September 1139, that caused the summit of the mountain Kapaz to collapse in the gorge of the Akhsu river, turning it into a dam.
According to the studies of many authors, the lake has a glacial origin. This opinion is confirmed by Dr. Paffengolts and Dr. Leontyev, who found traces of ancient glaciation in the form of small circuses and cars in the upper reaches of the Shamkirchay River.
Established in 1925, the National Park is the first in Azerbaijan.
In 1965 the area of the Göygöl National Park was significantly. During those times the total area became 6,739 ha.
The latest increase of the are of National Park was past in 2008 and for today its total area is 12,755 ha.
Landscape
Göygöl National Park is on the northeastern part of Lesser Caucasus Mountains and has the forest landscape with several lakes and the rock of Mount Kapaz. Also the area is rich with many river valleys and gorges.
Altitude: 1,000–3,600 m.
Flora and fauna
The park's wildlife wild mammal and bird species that consists of a lot of these noble Caucasian deer, bear, deer, fox, wild cat, sable, lynx, rabbit, squirrel, birds, and Caspian snowcock, black vulture, partridge etc. can be shown.
Climate
References
News
on the reopening of the park.
Fees and permits
2
manat
.
Get in
It is best to take a shared taxi from
Göygöl
for the 20 km. Göygöl can be reach by local bus from
Ganja
. A private taxi from Ganja can be as little as 12-14 manat (Bolt).
National Park AdministrationEntrance and starting point of all tracks.
Get around

Some sites within the park can be reached by car, but mostly you would come here for hiking.

See
Both lakes Göygöl and Maralgöl are very beautiful, but most pictures of Göygöl are actually of Maralgöl, because it gives much better pictures. Also, Maralgöl is crystal clear and turquoise, just a more impressive mountain lake.

Do
All tracks start at the National Park Administration building. In the following the official documentation, and the according listings with the translated information as well as GPS details.
Eat
Cənnət Bağı

Göygöl MehmanxanaRecommended.
Sleep
Camping
Camping should not pose an issue further in on one of the longer trails.
Lodging
Goygol lake accommodation is only open 2-3 months in summer.
Lotos Otel Ailevi Merkezi

phone: +994 50 2272777

Cennet Mekani

phone: +994 50 6423707

Not highly recommended.

Family Cottages by Göygöl Lake

phone: +994 55 4509900

address: Göygöl-Maralgöl Rd

phone: +994 55 4509900

Göygöl ResortNot highly recommended.
Stay safe
Even though close to the border with
Nagorno-Karabakh
and previously closed to the public, it is now safe to enter and for leisure. However, feel free to verify the current situation with the local people, e.g. when arriving in
Ganja
.
There is extensive fencing around the hotels just near Göygöl (lake), but this seems to be mainly for the guests and not to secure the trails or anything beyond.
Stay away from sheep herds and camps, the dogs are aggressive. However, picking up up a stone (such that the dogs see it), will trigger their hesitation. Otherwise, when there is the need to cross a herd, collude with the shepherd.
Some say, bears are active in the area and even at Maralgöl prints can be found. So, take precautious measures.