Gabon
Gabon
is a country in
Central Africa
with an array of landscapes and wildlife in its 13 national parks.
A small population, and oil and mineral reserves, have helped Gabon become one of Africa's wealthier countries. The country has generally been able to maintain and conserve its pristine rain forest and rich biodiversity.
Regions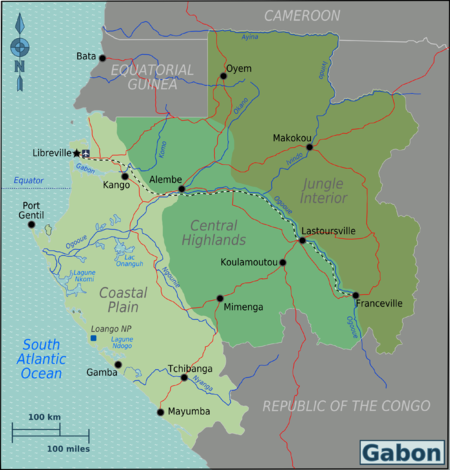 Coastal Plain
flat riverplains and lagoons with dense rainforest on the Atlantic coast as well the capital city and majority of the population
Central Highlands
the Cristal Mountains and Chaillou Massif with huge tracts of highland rainforest
Jungle Interior
the eastern region mostly bordering Republic of the Congo; more rainforest.
Cities
- the capital
- on the coast of the South Atlantic Ocean
Other destinations
— mangroves & tidal flats are home to migratory birds and turtles.
— savanna crossed by rivers with rope bridges for the locals; home to forest elephants, buffalo, & antelope.
— misty forests rich in orchids, begonias, & other flora.
— two of Central Africa's most magnificent waterfalls; gorillas, chimpanzees, & forest elephants gather around its rivers and waterholes.
— a 100-km stretch of virgin beaches and adjacent rainforest, both scenic and a place to view leopards, elephants, gorillas, & monkeys on the beach.
— mix of savanna & dense forest along the Ogooue River; float along the river in pirogue, view ancient rock engravings, or track gorillas or mandrill monkeys with a pygmy guide.
— sandy peninsula home to the world's largest population of nesting leatherback turtles.
— highland forest with large sandstone domes, home to elephants and forest-dwelling antelope and giant hogs.
Understand
History
What is now Gabon has been inhabited for thousands of years, first by Pygmy hunter-gatherers and then starting perhaps as early as 1500 BC, various different Bantu tribes arrived in several waves. Portuguese explorers and traders were the first Europeans to arrive, in 1472. The nation's present name originates from "Gabão", Portuguese for "cloak", which is roughly the shape of the estuary of the Komo River close to the capital of Libreville. Soon, Europeans were trading for natural resources and slaves. In the 19th century, the French became ascendant in the area. The coast was colonized by the French in 1839, and the remainder of Gabon in 1885. Gabon gained independence on 17 August 1960.
Since independence, Gabon has been one of the more stable African countries. Autocratic President Omar Bongo was in power from 1967 until his death in 2009. Gabon introduced a multi-party system and a new constitution in the early 1990s that allowed for a more transparent electoral process and for reforms of governmental institutions. A small population, abundant natural resources, and considerable foreign support have helped make Gabon one of the more prosperous sub-Saharan African countries. Despite being made up of more than 40 ethnic groups, Gabon has escaped the strife afflicting other West African states.
Climate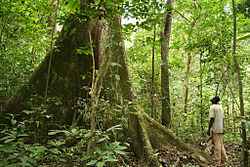 Tropical; always hot, humid. During the months of June to September, the climate is a little cooler (20-25°C).
Terrain
Narrow coastal plain; hilly interior; savanna in east and south. Highest point is
Mont Iboundji
at 1,575 metres. Gabon is crossed by the
Ogooué
, the country's longest river which is 1,200 kilometres long.
Important holidays
Independence Day
: 17 August 1960 (from France)
National holiday
: Founding of the Gabonese Democratic Party (PDG), 12 March (1968)
Get in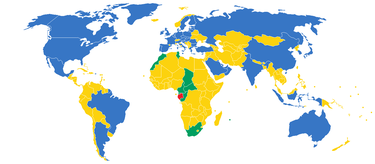 Visa
Citizens of Cameroon, Central African Republic, Republic of Congo, Chad, Equatorial Guinea, Mauritius, Morocco, South Africa and Tunisia can enter without a visa. Citizens of European Union, Australia, Argentina, Bahrain, Brazil, Canada, China(including Hong Kong and Macau), India, Indonesia, Japan, Kuwait, Mexico, Oman, Qatar, Russia, Saudi Arabia, South Korea, Turkey, United States and United Arabic Emirates can obtain
visa on arrival for 90 days
. All holders of an entry authorisation issued by Immigration prior to arrival can also obtain visa on arrival. The e-visa system is usable by citizens of any country which requires a visa to visit Gabon. The visa is issued 72 hours after the application and is valid only for those arriving via Leon Mba International Airport in Libreville. The fee for a visa to enter the country is typically €70.
By plane
Air France flies to
Paris Charles de Gaulle Airport
, other airline mostly fly to inner-African destinations.
Air France fly from
Paris
to
Libreville
, Royal Air Maroc flies from Europe via
Casablanca
. Turkish Airlines fly from North America, Europe and Asia via
Istanbul
, RwandAir fly from Europe, West Africa, East Africa and Southern Africa via
Kigali
, Ethiopian Airlines fly from north America, Europe, east Africa, Southern Africa via
Addis Ababa
. There are also flights to
Brazzaville
, Congo with RwandAir.
Libreville International Airport
By car
There are several border crossings, though the roads are not good and a 4x4 is recommended.
Get around
The easiest way to get around outside of cities is by bus (typically 6- or 9-seater cars, but sometimes minibuses). There are many and they are very cheap (e.g.,
FCFA
7000 to go from Libreville to Lamberene). Within cities, taxis are plentiful and are very cheap. No fare should be more than FCFA 5000 for one person. Fares depend on distance (and whether the driver will be able to find more fares at your destination). A 2- or 3-minute drive will cost FCFA 100, and FCFA 2000 is plenty to go from Owendo train station to the centre of Libreville. Taxi prices typically double after 21:00.
By plane
Air Service has scheduled flights to Oyem, Makouko and Franceville/Mvengue. Air Nationale flies to Franceville/Mvengue. There are flights to Franceville/Mvengue every day of the week except Tuesdays and Thursdays. Africa's Connection has daily scheduled flights between Libreville and Port Gentil, weekly flights from Port-Gentil/Libreville to São Tomé & Príncipe and to Loango National Park.
By car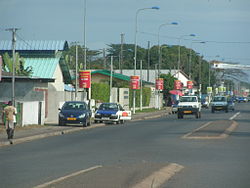 There are some paved roads in Gabon, if you are staying in one of the major cities a car should suffice. If you plan on venturing onto some of the unpaved roads outside the major cities a 4x4 is required. There are less than 800km of tarred roads in Gabon - some of them in a bad condition. During the rainy season it is difficult to travel outside the major city areas even in a 4x4 vehicle.
By train
The Trans-Gabon railway goes from Owendo to Franceville. The trip takes 12-18 hours, and is often delayed. Train times change according to the season. The current timetable (Basse 2014 as of March 2015) has trains both ways on Tuesday, Thursday, Friday, and Sunday. Two trains are in use - the Omnibus and the Express. Both take a similar time, but the Express stops at less small stations. Air-conditioning is present in VIP, 1st and 2nd on the Express, and only VIP and 1st on the omnibus.
By bus
A few wealthy Gabonese entrepreneurs have invested in new buses for bus lines to service the larger interior cities. Mostly these buses serve the cities with paved roads leading to and from them. Since Air Gabon closed down, these bus lines have greatly increased their routes.
By boat
Boat travel is available all along the coast of Gabon and dozens of miles up the Ogooue river to Lambarene. Boats leave daily to/from Libreville and Port Gentil. River trips from the mouth of the big river at Port Gentil to Lambarene (Albert Schweitzer Hospital) are available every few days. Hotel Olako arranges weekly boat transfers between Port Gentil and Omboué (close to Loango National Park), transfers take between 3 and 4½ hours (depending on the type of boat and engine).
Talk
French is the sole national language, with 80% of the population able to speak it. The are various native languages as well, the most significant is
Fang
, spoken by 32% of the population as their mother tongue.
There are moves to promote English in education, but it is generally not widely spoken.
See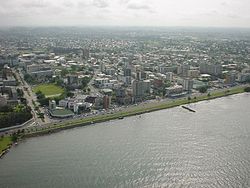 Do
Chez Beti - a small seaside safari camp near the village of Nyonie owned and operated by a French ex-pat. Clean, air-conditioned cottages and all-inclusive family style meals accompany the evening Landcruiser and sunrise walking safaris. Wildlife sightings can include elephants, buffalo, monkeys, parrots, hornbills and other local fauna. The camp is located just a few km south of the equator, along a pristine stretch of beach. Prices are very reasonable and include roundtrip transportation from the marina in Libreville; consisting of an hour long boat transit to a small landing in the mangroves, followed by a 45 minute 4x4 trip along jungle roads to the camp. Contact information: tel. 07 57 14 23 or 06 03 36 36, e-mail: castorene7@live.fr

Buy
Money

The currency of the country is the Central African CFA franc, denoted FCFA (ISO currency code: XAF). It's also used by five other Central African countries. It is interchangeable at par with the West African CFA franc (XOF), which is used by six countries. Both currencies are fixed at a rate of 1 euro = 655.957 CFA francs.

ATMs
All Ecobank ATMs in Gabon take Mastercard and Visa card for cash withdrawal.

Eat
The Balbool restaurant serves delicious western food with very cheap prices. Ask for the big Balbool soup.

Drink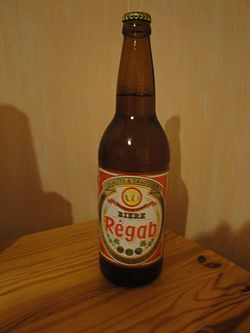 The cheapest local beer is Regab, it costs FCFA 500-2000 and comes in a 650 mL bottle.
There are fantastic fruit juices available: "D'jino" Pampelmousse (grapefruit), Ananas (pineapple), Citron (Lemon) in 300 mL bottles at FCFA 400 and in a 1.5 L bottle at FCFA 900 if bought in a shop.
Sleep
There are three international name hotels - Le Meridien, Intercontinental and the Novotel. Apart from these, there are several other budget and economy hotels.
Long-term lease on apartments is also an option.

Work
A visa and letter of invitation are required for foreigners working in Gabon.

Stay healthy
Malaria
is common, so visitors should take malaria pills and a mosquito net when travelling in Gabon.
HIV/AIDS
is a common disease in Gabon with 8% (1 in 12) of adults infected.
Don't drink the
tap water
.
Respect
The people are generally very friendly, respectful and helpful to visitors.